The agritourism market size was valued at $ 42,460.3 million in 2019, and is estimated to reach $ 62,982.6 million by 2027, registering a CAGR of 13.4% from 2021 to 2027. 
Agritourism refers to the enterprises that combine the farm activities and tourism for the purpose of entertainment and recreation. Agritourism is known for various names such as agri-tourism, sustainable agriculture, farm tourism, agrotourism, agricultural tourism, and village tourism. There are various activities involved in Agritourism, which include agricultural museum and displays, barn dances, biking trails, bird watching, breweries, corn mazes, cut flowers, farm cooking contest, farm store, and herb walks. People are increasingly finding innovative and new ways of entertainment and peace in their life and finding different ways to go and stay in village areas. Agritourism is one of such ways opening new door for tourism where people can experience farm activities, rural lifestyle, green peace ambiance, which people cannot find it easily in urban areas.  Agritourism is gaining major traction in the farmer community as it not only provides additional income to the farmers along with their farm production activities but also better sustainability. It has immense potential to provide good business to the farmers as it is cost-effective, demand for family-oriented recreation environment, and growing curiosity regarding farm activities in young minds.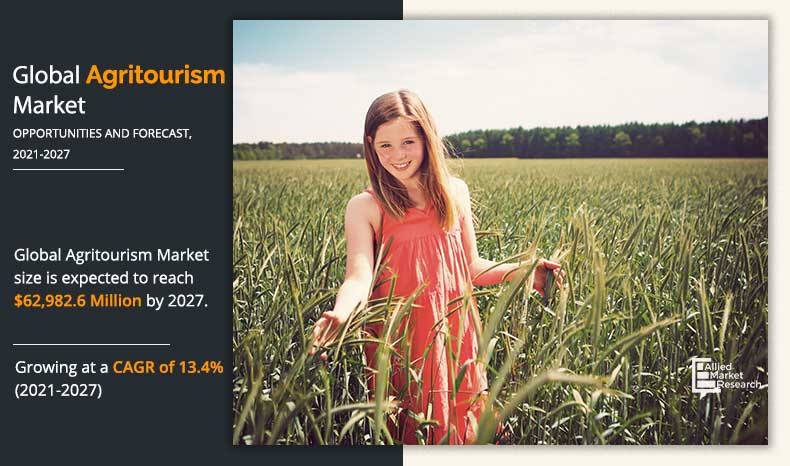 The outbreak of the COVID-19 pandemic has adversely affected the agritourism market. People are restricted to stay at their homes to stop the spared of the corona virus. In most of the countries, boundaries are closed that directly affect the Agritourism activities. The tourism sector is majorly affected industry, owing to the growth of the corona virus cases in the world. Decrease in cases of corona virus and development in corona virus vaccination have been further supporting the tourism industry to regain its position.  
Agritourism is subset of the rural tourism, which bridge up the gap between rural and urban people. It is untapped, niche, and emerging market. Most of the big giant companies, operating in the tourism industry are investing in the farm-based tourism segment. This is majorly attributed to growing interest of the new generation people in farm activities and they want to have some knowledge along with entertainment. Educational tourism is one of such segments in Agritourism, which provides knowledge regarding the various activities involved in the daily farm activities. Activities involved form cultivation to harvesting. In this, form of Agritourism people actually experience the farm activities along with farmers. Educational Agritourism has been gaining major traction form various agricultural and non-agricultural educational institution and is likely to sustain its traction during the forecast period. This is majorly attributed to growing admissions for agriculture related professional courses.       
According to the agritourism market analysis, the agritourism market is segmented into activity, sales channel, and region. On the basis of activity, the market is categorized into on-farm sales, outdoor recreation, agritainment, educational tourism, accommodations, and others. By sales channel, it is segregated into travel agents and direct. Region wise, it is analyzed across North America (the U.S., Canada, and Mexico), Europe (Germany, the UK, France, Russia, Italy, Spain, and rest of Europe), Asia-Pacific (China, Japan, Australia, India, South Korea, and rest of Asia-Pacific) and LAMEA (Latin America, the Middle East, and Africa)
On the basis of activity, on-farm sales segment accounted for the around one-third half of the global agritourism market share in 2019, and is expected to sustain its share during the forecast period. On-farm sales is crucial and major revenue making part of the Agritourism centers. Cattle farming farmers, wine breweries, and grapes growers are having significant profit from on-farm sales of their products. Some farmers are operating their own farm sales chain outlets to increase the on-farm sales of the products. Various products are considered in the on-farm sales and it totally depend on what farmer is producing and type of Agritourism operating in, products such as grapes, apples, wine, goats, and rural antique show pieces. People are increasingly purchasing products form on-farm sites as it is an incredible experience for the people to pick farm products by their own hand, and also the products are fresh and non-adulterated.   
Agritourism Market

---
By Activity
On-farm Sales segment helds the major share of 57.9% in 2019
According to the agritourism market trends, depending on sales channel, the travel agents segment was valued at $28,678.3 million in 2019, and is expected to reach $41,657.9 million by 2027, with a CAGR of 13.1%. 
Agritourism Market

---
By Sales Channel
Travel Agent segment helds the major share of 67.5% in 2019
Agritourism is niche and emerging market segment of the tourism industry and it has been gaining major traction in the urban areas. This is majorly attributed to growing demand for farm stays and rising curiosity about the rural and farm activities in young minds. Travel agents in Agritourism are playing very crucial role in marketing and selling of the Agritourism packages as people hardly know about the Agritourism, ecotourism, and related concepts. It is unexplored sector of the tourism industry, most of the people may have experienced the farm stays and farm activities but they unaware that it is Agritourism. Travel agents not only provide holyday packages but also create awareness about Agritourism concepts, which is likely to escalate the growth of the market during the forecast period.      
Agritourism Market

---
By Region
North America region helds the higest market share of 38.7% in 2019
According to agritourism market report, North America dominated the agritourism market size in 2019, and is expected to sustain its dominance throughout the agritourism market forecast period. The key factors
driving the growth of the agritourism market in the region are farmers in the region are finding adjoined business and additional revenue along with their regular farm activities. Therefore, farmers in the U.S. are opening their farm and agro-based companies for visitors and showing them how they produce it and invite them to take actual experience on the farm.  Furthermore, growing demand for nature tourism and health wellness tourism are expected to drive the agritourism market growth as agritourism is collective experience of nature, greenery, fresh air, calm & peace, and rural lifestyle.    
The players operating in the global agritourism market have adopted various developmental strategies to expand their market share, increase profitability, and remain competitive in the market. The key players profiled in this report include Agricultural Tour Operators International, Agrilys Voyages, Bay Farm Tours, Blackberry Farm, LLC, Farm to Farm Tours, Greenmount Travel, Harvest Travel International, Field Farm Tours Limited, Select Holidays, and Stita Group. 
Key Benefits For Stakeholders
The report provides a quantitative analysis of the current market trends, estimations, and dynamics of the market size from 2019 to 2027 to identify the prevailing opportunities.
Porter's five forces analysis highlights the potency of buyers and suppliers to enable stakeholders to make profit-oriented business decisions and strengthen their supplier–buyer network.
In-depth analysis and the market size and segmentation assist to determine the prevailing Agritourism market opportunities.
The major countries in each region are mapped according to their revenue contribution to the market. 
The market player positioning segment facilitates benchmarking and provides a clear understanding of the present position of the market players in the agritourism industry.
 Agritourism Market Report Highlights
Aspects
Details
BY ACTIVITY

On-farm sales
Outdoor recreation
Agritainment
Educational tourism
Accommodations
Others

By Sales Channel
By Region

NORTH AMERICA (US, CANADA, MEXICO)
EUROPE (GERMANY, FRANCE, UK, ITALY, SPAIN, RUSSIA, REST OF EUROPE)
ASIA-PACIFIC (CHINA, JAPAN, AUSTRALIA, INDIA, SOUTH KOREA, REST OF ASIA-PACIFIC)
LAMEA (LATIN AMERICA, MIDDLE EAST, AFRICA)

Key Market Players
AGRICULTURAL TOUR OPERATORS INTERNATIONAL (ATOI)., AGRILYS VOYAGES., BAY FARM TOURS, BLACKBERRY FARMS, LLC., FARM TO FARM TOURS, GREENMOUNT TRAVEL., .HARVEST TRAVEL INTERNATIONAL, FIELD FARM TOURS LTD., SELECT HOLIDAYS, STITA FARM TOURS.