Agrivoltaics Market Research, 2031
The global agrivoltaics market was valued at $3.6 billion in 2021 and is projected to reach $9.3 billion by 2031, growing at a CAGR of 10.1% from 2022 to 2031.
Key Report Highlights:
The agrivoltaics market has been analyzed in terms of value (billion) and volume (MW) covering more than 15 countries.

For growth prediction, we have looked into historical trends including present and future activities of key business players.

The report covers detailed profiling of the major 10 market players.
The COVID-19 impact on the market was low since the market is still not commercialized at a wider level. It is a growing concept that is still not as accepted by farmers and also lacks supporting data. Furthermore, the weakened global economy, ongoing civil unrest in many parts of the world, developed economies entering into recession, and the Russo-Ukrainian war resulting in disturbed trade relations discourage agrivoltaics market growth.
Agrivoltaics is a combination of agriculture and photovoltaics (PVs). The simultaneous use of farmland and solar PVs is done to generate power. There are several synonyms for agrivoltaics such as agripv, agrisolar, agriphotovoltaics, and dual-use solar. Agrivoltaics systems are designed in a way that the land can be used for farming, grazing, livestock, and setting solar panels. This reduces competition for land between agriculture and solar energy players. There was a time when land could either be used for farming or for setting up solar farms and gardens, but with agrivoltaics both sectors can co-exist. Agrivoltaics offer a solution to use both simultaneously which benefits each other significantly.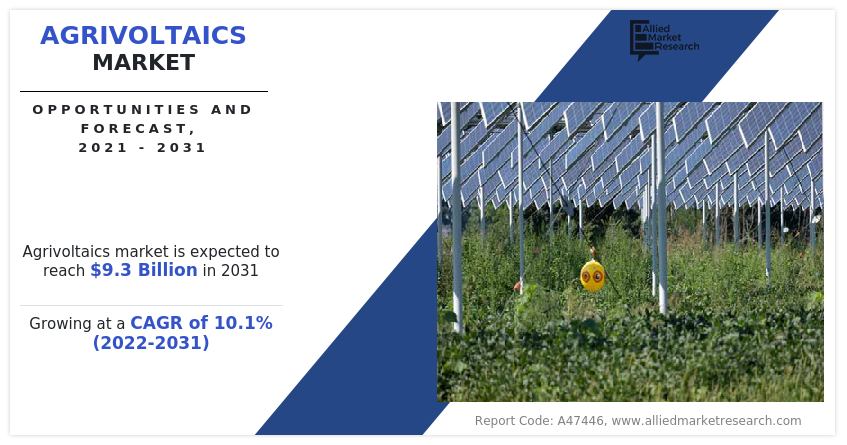 There are several benefits of agrivoltaics. These include increased crop production, increased soil moisture, increased water retention capacity of the soil, and rainwater harvesting. The agricultural practices in ancient times were organic and use organic fertilizers for nourishing the crops. After reaping the crops, crop rotation was practiced, and after some time land was left uncultivated for a while to let the soil regain its nutrition. However, farming practices have changed, with increased food demand. Using chemical-based fertilizers and continuously cultivating crops on the same land has led to the deterioration of soil. According to Conscious Planet Organization which is leading the Save Soil Movement, globally, 52% of agricultural land is already degraded. This will lead to food and water crisis.
Agrivoltaics, farming or ranching under solar panels, has been gaining traction around the world as prime solar land becomes scarcer. An agrivoltaics array is typically raised above 8 ft to allow agriculture to continue underneath, providing revenue from solar while keeping the original use of the land. The use of solar panels above farmland is proven to have reduced the evaporation of water from the soil. The crop efficiency also increased as the soil was able to hold moisture and capable of holding its nutrition. Moreover, growing vegetation on grazing land which is covered through rooftop solar panels also promotes healthy and efficient growth of vegetation. In addition, the power generated from the panels also generates revenue for the farmer.
According to the United Nations, the world population is expected to grow to 8.5 billion by 2030 and to 9.7 billion by 2050. This will lead to various uncertainty in the world. The struggle for food and land will be among the top challenges that will be faced by humans. Moreover, the demand for primary energy will also increase multi-fold. This arises the need to look for options that will yield optimum results without posing threat to nature. Agrivoltaics offers just the solution. Studies have shown that using agrivoltaics systems has led to increased efficiency of soils in crop production. Moreover, the power generated from solar panels will aid in solving the power crisis and cut down dependency on fossil fuels.
Market Dynamics
Advancements in farming techniques drive the agrivoltaics market growth
Agriculture is an important aspect of life. For countries like India, the total land covered by the agriculture sector in the nation is around 60%. Increased pressure on the agriculture sector for the production of more food for consumption owing to the rise in population, acts as a primary factor for advancing techniques in farming. These techniques involve using smart equipment for sowing, irrigation, reaping, crop protection, and many more. Agrivoltaics systems offer just the solution for enhanced productivity as well as soil protection.
Investment from government and private players boosting research and development drives the agrivoltaics market growth
There have been tremendous investments and subsidies from the government to boost solar sectors. To achieve net zero carbon emission targets, every government is transitioning its fossil fuel-based economy to a renewable fuel-based economy. Several programs are being enforced to create awareness about solar-based energy generation, especially in the commercial and residential sectors. There are huge subsidies offered by the government for those who adopt solar models of energy generation. In the agriculture sector, using solar PVs is a new concept, and lack of data to validate to address the concerns of farmers. Thus, an increase in research and development activities to gather informative data and a surge in awareness among farmers about benefits related to agrivoltaics aids market growth.
High installation costs restrain the agrivoltaics market growth
Since solar PV modules are costly, the overall installation cost is high. The solar PV industry is experiencing growth owing to energy shifts taking place globally for reducing carbon emissions. This shift is expected to eventually bring down the costs for solar PVs as the rising demand for solar PVs will lead to mass production and the entry of new players in the industry. However, the current installation cost is a higher expense to be initially borne by the farmer despite the aid from government subsidies and income that is likely to be reaped from solar power.
The agrivoltaics market size is studied across System Design, Cell Type, Crop, and Region.
Agrivoltaics Market

---
By System Design
The fixed solar panels segment is expected to grow at a higher pace.
By system design, the agrivoltaics market is bifurcated into fixed solar panels and dynamic. Dynamic agrivoltaics systems dominated the agrivoltaics market share as they are specially designed depending on the type of crop, land, weather requirement, and other such factors. They need to be installed as per requirement and need to be moved or adjusted as and when needed. They are actually a pricey solution and thus incur a high cost of installation. However, fixed solar panels are expected to grow at a faster pace during the projection period as they are best suited for permanent installations. They are weather resilient and will typically develop less heat generation since there is an air gap between the cells and the surface. Fixed solar panels have no moving parts, are very resilient, and need little maintenance. Fixed solar systems are eligible for financial incentives.
Agrivoltaics Market

---
By Cell Type
The monocrystalline segment is expected to grow at a higher pace.
By cell type, the market is divided into microcrystalline and polycrystalline. Monocrystalline dominated the agrivoltaics market share and is expected to continue so during the forecast period. Monocrystalline solar panels are the oldest solar panels that were developed for harnessing solar power. They are built from a single crystal of silicon solar cells. Pure silicon is made into a bar and then cut into wafers with smooth and round edges. Monocrystalline solar panels are expensive and exhibit higher efficiency. They are durable and have high power output owing to the formation of a single cell. They are best suited for smaller roofs as they offer great efficiency.
Agrivoltaics Market

---
By Crop
The crops segment is expected to grow at a higher pace.
By crop, the market is categorized into vegetables, fruits, crops, and others. The crops segment dominated the market share and is projected to grow at a faster pace during the agrivoltaics market forecast period. The rise in increasingly extreme weather has a far more radical impact on agriculture than on almost any other economic sector, with conditions at times too hot and dry or others characterized by sudden hailstorms. This is where photovoltaic systems can help. They shield crops from too much sun and dehydration as well as from hailstones by breaking their fall. Thus, this acts as a driving factor for the agrivoltaics market growth.
Agrivoltaics Market

---
By Region
The North America region is expected to grow at a higher pace.
Region-wise, the agrivoltaics market analysis is done across North America, Europe, Asia-Pacific, and LAMEA (Latin America, the Middle East, and Africa). North America dominated the market for 2021 and will continue its dominance during the projection period. Land availability has become an issue in the U.S. as solar targets are dramatically increased to accelerate the energy transition. This is compounded by increasing water issues in many regions, loss of biodiversity, and farmers seeking additional sources of income. In addition to crop-based agricultural production, grazing, water management, and biodiversity enhancement, such as supporting pollinators, play a key role in Agri-PV systems.
The key players operating in the agrivoltaics industry are Next2Sun, Sun'Agri, Ombrea, Namaste Solar, Mirai Solar, SunSeed APV, Enel Green Power S.p.A., JA SOLAR Technology Co., Ltd., BayWa AG, and Insolight SA.
Key Industry Facts
By 2050, ground-based solar could need about 0.5% of the land in the contiguous U.S. To put this into perspective, about 5% of the land is already in urban areas and roads, and another 0.1% is in golf courses. Agriculture occupies about 43% of the lower forty-eight states' surface area. A total of 8% of land in the U.S. comes under disturbed land. These lands can be reclaimed or reused as they offer vast opportunities to convert them into agrivoltaics and thus drive industry growth.
Office of Energy Efficiency & Renewable Energy, U.S. has Foundational Agrivoltaics Research for Megawatt Scale (FARMS) Funding Program which offers new economic opportunities to farmers, rural communities, and the solar industry. The U.S. Department of Energy (DOE) Solar Energy Technologies Office (SETO) announced the $8 million FARMS funding opportunity on May 5, 2022, and the six selected projects on December 8, 2022. The selected projects will be developing impact studies to examine the effect of agrivoltaics designs on both agriculture production and energy production, and the integration of agrivoltaics into existing solar farms and developing resources that will lower the barriers of entry to agrivoltaics. Additionally, the experimental projects will help project partners with agricultural extensions and aid to educate farmers on agrivoltaics practices.
A 2021 amendment to the German Renewable Energy Act has scheduled a 50 MW tender with the more cost-competitive rooftop & floating photovoltaic on parking lots till April 2022. Vattenfall, leading a Dutch consortium in a research project, is investigating whether agrivoltaics is compatible with strip cropping. Axial Structural, a Spanish company, is launching a new type of tracker for agrivoltaics installations.
The product can be modified & used in different ground conditions & gradients, with programmable to modulate shade & light for different crops in different climates. Siberia is expected to launch one of the largest agrivoltaics projects "Agrosolar Kula", worth $340 million, which, in the same area, will allow simultaneous production of crops & energy from solar energy.
Key Regulation Analysis
In June 2021, the Dual-use Solar Act was passed in New Jersey. This act set up a pilot program "to enable a limited number of farmers to have agrivoltaics systems on their property while the technology is being tested, observed and refined." The New Jersey Agricultural Experiment Station was allocated $2 million in the 2022 state budget specifically for building research and demonstration agrivoltaics systems on their research farms.
In 2018, the Massachusetts Department of Energy Resources established the Solar Massachusetts Renewable Target (SMART) program, which regulates incentives associated with new solar PV development. Agrivoltaics is included in the SMART program.
Policymakers in Korea have designed their APV implementation regulation in such a way that projects are executed by farmers in cooperation with local technicians such as mechanics and electricians, thereby ensuring a decentralized, equal distribution of APV.
Key Benefits For Stakeholders
This report provides a quantitative analysis of the market segments, current trends, estimations, and dynamics of the agrivoltaics market analysis from 2021 to 2031 to identify the prevailing agrivoltaics market opportunities.
The market research is offered along with information related to key drivers, restraints, and opportunities.
Porter's five forces analysis highlights the potency of buyers and suppliers to enable stakeholders to make profit-oriented business decisions and strengthen their supplier-buyer network.
In-depth analysis of the agrivoltaics market segmentation assists to determine the prevailing market opportunities.
Major countries in each region are mapped according to their revenue contribution to the global market.
Market player positioning facilitates benchmarking and provides a clear understanding of the present position of the market players.
The report includes an analysis of the regional as well as global agrivoltaics market trends, key players, market segments, application areas, and market growth strategies.
 Agrivoltaics Market Report Highlights
Aspects
Details
Market Size By 2031
USD 9.3 billion
Growth Rate
CAGR of 10.1%
Forecast period
2021 - 2031
Report Pages
312
System Design

Fixed Solar Panles
Dynamic

Cell Type

Monocrystalline
Polycrystalline

Crop

Vegetables
Fruits
Crops
Others

By Region

North America (U.S., Canada, Mexico)
Europe (Germany, UK, France, Italy, Spain, Rest of Europe)
Asia-Pacific (China, Japan, India, South Korea, Australia, Rest of Asia-Pacific)
LAMEA (Brazil, South Africa, Saudi Arabia, Rest of LAMEA)

Key Market Players
SunAgri, Ombrea, Namaste Solar, Mirai Solar, Insolight SA, JA Solar Holdings Co. Ltd., Enel Green Power Spa, Next2Sun Technology GmbH, SunSeed APV Private Limited, BayWa AG