AI In Insurance Market Research, 2031
The global ai in insurance market size was valued at $2.74 billion in 2021, and is projected to reach $45.74 billion by 2031, growing at a CAGR of 32.56% from 2022 to 2031.
During the COVID-19 epidemic, the AI in insurance industry was positively impacted due to the sudden lockdown in 2020. Moreover, with the rise in COVID-19 pandemic various companies are implementing AI into their processes, it can save time, reduce costs, improve customer experience, and increase profitability. Indeed, AI can transform typically tedious and time-consuming processes, underwriting, claims management, fraud detection, and customer service.
AI (Artificial Intelligence) helps insurance companies by reducing repeatable tasks from operational teams and in performing more complex actions. Furthermore, it helps in optimizing the services that insurers provide to customers, brokers, and other external third parties, on the basis of their relationships, preferences, and past interactions.
Increase in investment by insurance companies in AI & machine learning and rise in preference for personalized insurance services boost the growth of the global AI in insurance market. In addition, increase in collaboration between insurance companies and AI & machine learning solution company positively impact growth of the AI in insurance market. However, higher deployment cost of AI, advanced machine learning, and lack of skilled labour hamper the AI in insurance market growth. On the contrary, increase in government initiatives and rise in investments to leverage the AI technology are expected to offer remunerative opportunities for expansion of the AI in insurance market during the forecast period.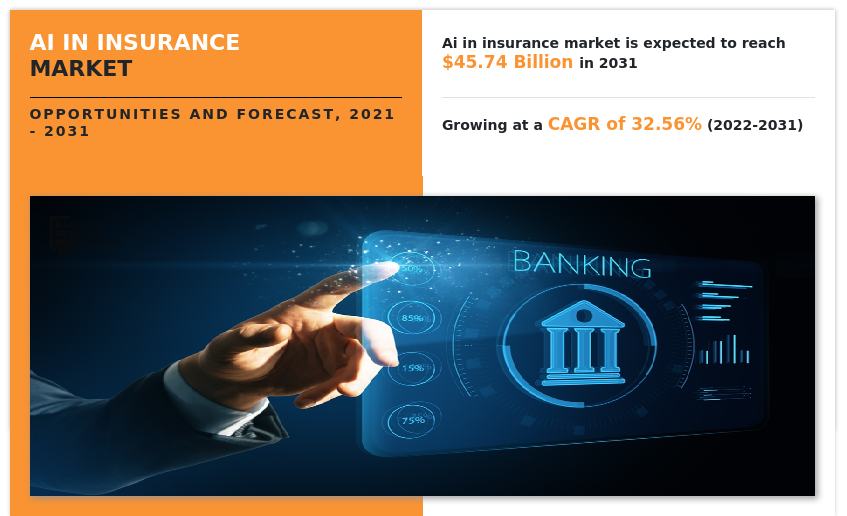 The ai in insurance market is segmented into Offering, Deployment Model, Technology, Enterprise Size, End-user and Application.
Segment review
The AI in insurance market is segmented on the basis of offering, deployment model, technology, enterprise size, end users, application, and region. On the basis of offering, the market is categorized into hardware, software, and service. On the basis of deployment model, the market is bifurcated into on-premise and cloud. By technology, it is classified into machine learning, natural language processing, computer vision, and others. On the basis of enterprise size, the market is classified into large enterprise and SMEs. On the basis of end user, it is classified into life & health Insurance and property & casualty insurance. On the basis of application, the market is classified into fraud detection & credit analysis, customer profiling & segmentation, product & policy design, and underwriting & ai in insurance claims assessment. By region, the market is analyzed across North America, Europe, Asia-Pacific, and LAMEA.
The key players that operate in the AI in insurance market are Applied Systems, Cape Analytics, IBM Corporation, Microsoft Corporation, OpenText Corporation, Oracle Corporation, Pegasystems Inc, Quantemplate, Salesforce, Inc, SAP SE, SAS Institute Inc, Shift Technology, SimpleFinance, Slice Insurance Technologies, Vertafore, Inc, Zego, and Zurich Insurance Group Ltd. These players have adopted various strategies to increase their market penetration and strengthen their position in the industry.
AI in Insurance Market

---
By Offering
The software segment is expected to garner the highest market share to manage the massive volume of data and generate meaningful insights for better-informed decisions.
Get more information on this report :
Request Sample Pages
In terms of offering, the software segment holds the largest AI in insurance market share owing to, surge in demand for personalized services by the end users during the lockdown. However, the service segment is expected to grow at the highest rate during the forecast period owing to, high level of cost savings on the total cost of ownership, increased delivery speed, and quality.
AI in Insurance Market

---

By Region
Asia-Pacific countries are expected to adopt a high rate owing to, the growing digital and economic transformation of the region.
Get more information on this report :
Request Sample Pages
Region wise, the artificial intelligence in insurance market size was dominated by North America in 2021 and is expected to retain its position during the forecast period, owing to the presence of major players that offer advanced solutions and invest heavily in solutions such as 5G and IoT technologies, which offer lucrative opportunities for the market. However, Asia-Pacific is expected to witness significant growth during the forecast period owing to rise in awareness regarding importance of strengthening the overall 5G, IoT technologies, and other technology services to ensure low-cost networking, servers, storage solution, and communications service providers (CSPs).
COVID-19 Impact Analysis
The AI in insurance industry is projected to prosper in the COVID-19 situation owing to various government, public, and other ai insurance organization adopting work from home culture for their employees. In addition, various industries are adopting to promote AI in insurance market growth in next-generation tech areas such as artificial intelligence for improving the loss suffered owing to the pandemic situation and to improve their market share. Furthermore, with rapid digital transformation, various governments have introduced stringent regulations to protect end users data such as General Data Protection Regulation (GDPR) and the California Consumer Privacy Act (CCPA). Thus, governments in various countries have taken strict actions toward the policy limit, personal information of policy holder and coverage damages of COVID-19 regulations, and natural language processing technology is helping insurance companies to scan their internal policies as well as claims documents to check their compliance with different regulatory policies.
Moreover, insurance companies are expanding product offerings and services to make them more widely available throughout the world. As a result, there is a rise in number of Software as a Service (SaaS), cloud-based client interaction, remote connection, and fraud detection solutions during the COVID-19 pandemic. However, COVID-19 pandemic is making it even harder for larger insurers to keep pace, and even more difficult for midsize and smaller insurers to adopt AI/ML technologies, owing to long development timelines and high investment requirements.
Top Impacting Factors
Increase in investment by insurance companies in AI and machine learning
Insurance companies are increasing investment in machine learning and AI solutions to transform the management process of insurtech and to provide better services to end users. In addition, with incase in complexity and competition in the insurance sector, the demand for industry-specific solutions increased to meet its goals. Thus, to meet the requirement of customers, various insurance companies and insurtech are investing in AI solution, which, in turn, drives the growth of the AI in insurance industry. Furthermore, AI and machine learning can assist insurance companies at various stages of risk management process ranging from identifying risk exposure, measuring, estimating, and assessing its effects.
In addition, insurance companies are adopting and developing machine learning techniques to analyze large volume of data and to deliver valuable insights to customers. Moreover, increase in investments in AI and advanced machine learning by insurtech to enhance the automation process and to offer more streamlined and personalized customer experience propels the growth of the market. For instance, on June 2022 MS&AD Indian based company partnered with Akur8 is revolutionizing insurance pricing with transparent AI this partnership helps to foster further innovation development processes by automating risk modeling, using transparent artificial intelligence proprietary technology it  benefits for insurers to increase predictive performance and speed-to-accuracy for higher market reactivity and immediate business impact, while maintaining full transparency and control on the models created, thus augmenting the growth of the market.
Rise in preference for personalized insurance services
End users are increasingly preferring personalized insurance services, owing to surge in adoption of chatbots among personalize insurance services and increase in competition among the insurance companies for garnering maximum market share. Various insurance companies are providing budget management apps powered by machine learning, which help customers to achieve their financial targets and improve their money management process, thus driving the growth of the market.
Furthermore, robo-advisors are one of the other rapidly emerging trends in personalized insurance services, as they specifically target investors with limited resources such as individuals and small- to medium-sized businesses for managing their funds. In addition, machine learning-based robo-advisors can apply traditional data processing techniques with algorithms to create client portfolios and solutions such as trading, investments, and retirement plans for their users. For instance, on April 2022 CLARA Analytics has released CLARA Optics, a software product that uses AI and machine learning to scan, sort and analyze bills and medical documents to create a claim-based medical record and helps to provides artificial intelligence technology for the commercial insurance industry
Moreover, with rise of usage-based insurance machine learning and AI technologies are helping to calculate the premium suitable for each individual, which, in turn, propels the growth of the market.
Key Benefits For Stakeholders
This report provides a quantitative analysis of the market segments, current trends, estimations, and dynamics of the ai in insurance market analysis from 2021 to 2031 to identify the prevailing ai in insurance market opportunities.
The market research is offered along with information related to key drivers, restraints, and opportunities.
Porter's five forces analysis highlights the potency of buyers and suppliers to enable stakeholders make profit-oriented business decisions and strengthen their supplier-buyer network.
In-depth analysis of the ai in insurance market outlook segmentation assists to determine the prevailing market opportunities.
Major countries in each region are mapped according to their revenue contribution to the global ai in insurance market opportunity.
Market player positioning facilitates benchmarking and provides a clear understanding of the present position of the market players.
The report includes the analysis of the regional as well as global ai in insurance market trends, key players, market segments, application areas, and ai in insurance market forecast strategies.
 AI in Insurance Market Report Highlights
Aspects
Details
By Offering

Hardware
Software
Service

By Deployment Model
By Technology

Machine Learning
Natural Language Processing
Computer Vision
Others

By Enterprise Size
By End-user

Life and Health Insurance
Property and Casualty Insurance

By Application

Fraud Detection and Credit Analysis
Customer Profiling and Segmentation
Product and Policy Design
Underwriting and Claims Assessment

By Region

North America (U.S., Canada)
Europe (United Kingdom, Germany, France, Italy, Spain, Netherlands, Rest of Europe)
Asia-Pacific (China, India, Japan, South Korea, Australia, Rest of Asia-Pacific)
LAMEA (Latin America, Middle East, Africa)

Key Market Players
Salesforce, Inc., Zego, Oracle Corporation, Slice Insurance Technologies, Pegasystems Inc., SAS Institute Inc., Microsoft Corporation, Vertafore, Inc., SimpleFinance, Quantemplate, IBM Corporation, SAP SE, Shift Technology, Applied Systems, OpenText Corporation