AI In IoT Market Research, 2032
The global ai in iot market was valued at $10.3 billion in 2022, and is projected to reach $91.7 billion by 2032, growing at a CAGR of 24.8% from 2023 to 2032.
Artificial intelligence (AI) in Internet of Things (IoT) signifies the use of AI technology to analyze the massive amounts of data produced by IoT devices, including machine learning and deep learning. It entails using AI algorithms to the IoT data in order to gather insightful information, identify trends, and make predictions or decisions. In addition, automation is another aspect of AI in IoT, in which AI-powered solutions streamline procedures, improve business processes, and allow for autonomous decisions throughout the IoT ecosystem. Furthermore, the integration of artificial intelligence and IoT has the potential to create several benefits for businesses and consumers alike. AI in IoT solutions may help to improve efficiency and productivity for businesses, as well as reduce costs. Moreover, it can provide enhanced convenience and a better user experience for consumers, such AI in IoT market trends are anticipated to create numerous growth opportunities during the forcast period. In addition, the use of AI in conjunction with IoT can help to improve data management and analytics, as well as provide businesses with a better understanding of their products. Such enhanced factors are expected to provide lucrative opportunities for artificial intelligence in IoT market growth during the forecast period.
Factors, such as growth in digitalization, rise in need for intelligent business systems, and increase in the adoption of advanced technologies, positively impacted the growth of the market. In addition, the increasing adoption of IoT devices, advancements in artificial intelligence (AI) technology, and growing demand for industrial automation are expected to fuel the growth of the market during the forecast period. Furthermore, the expansion of AI in IoT applications in various industries such as healthcare, agriculture, retail, and others are expected to provide lucrative growth opportunities for the market in the upcoming years. Moreover, the development of edge computing technology to enable real-time processing of data and reduce latency and the adoption of cloud computing to enable scalability, flexibility, and cost-effectiveness of AI in IoT solutions are also anticipated to create lucrative opportunities for artificial intelligence in IoT market growth. 
Moreover, the increasing integration of digital devices and growing demand for effective process operations in different sectors positively impacts the growth of the market in the future. In addition, growing investment in industry 4.0 technologies is expected to propel the global market growth. However, the lack of skilled professionals in AI infrastructure and data privacy & security concerns are expected to hamper market growth. On the contrary, the rising advancements in AI technologies create numerous opportunities for AI in IoT solutions to optimize resource management, reduce energy consumption, and improve quality of life.  Moreover, the reduction in the cost of connected devices is expected to offer remunerative opportunities for the expansion of the global market during the forecast period.
The COVID-19 pandemic is expected to positively impact the overall economy of the AI in IoT market, as corporates and businesses had to adopt remote working and monitoring tools, which in turn bought in large investments in the internet devices space. Moreover, virtual desktop utilities were playing a crucial role in facilitating remote working during the period, as these tools provided cost-effective management and working solutions for employees. Such factors further supported the growth of the AI in IoT market during the period.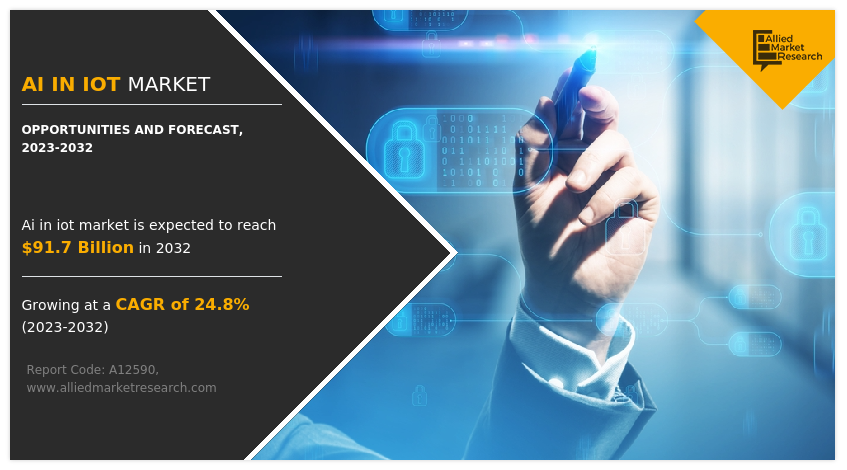 The ai in iot market is segmented into component, technology and industry Vertical.
Segment Review
The AI in IoT market is segmented into component, technology, industry vertical, and region. As per component, it is classified into platform, software, and service. By technology, it is divided into machine learning and deep learning, and natural language processing (NLP). Depending on industry vertical, the market is classified into BFSI, IT & telecom, retail and e-commerce, manufacturing, healthcare, energy and utilities, transportation and mobility, and others. Region wise, it is analyzed across North America, Europe, Asia-Pacific, and LAMEA.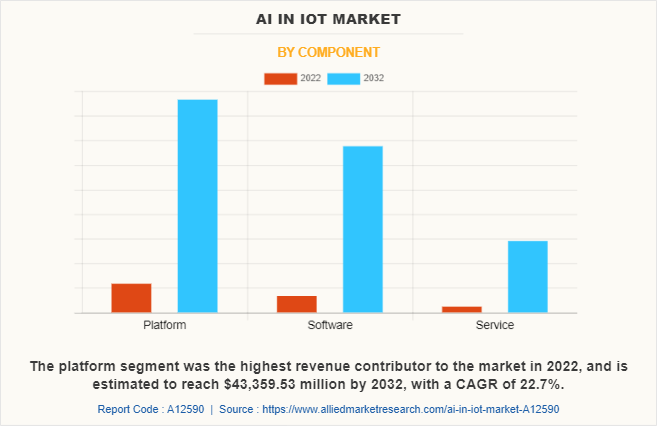 On the basis of component, the global AI in IoT market share was dominated by the platform segment in 2022 and is expected to maintain its dominance in the upcoming years, owing to advances in technologies enabling AI in IoT platform to transform industries globally, from BFSI, to manufacturing, and healthcare. However, the service segment is expected to witness the highest growth in the upcoming years as AI in IoT services help to reduce the time and costs associated with optimizing systems in the initial phase of deployment.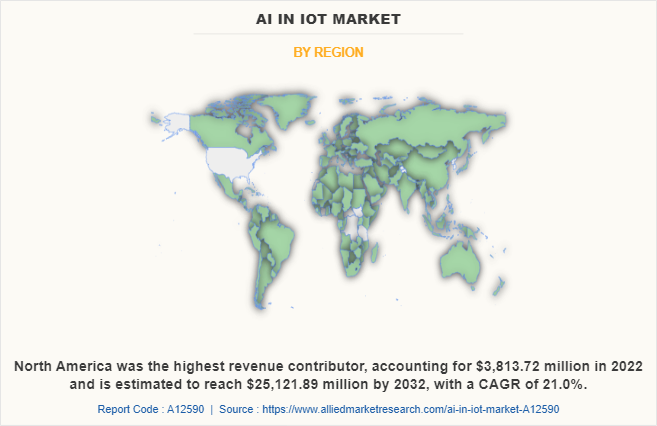 By region, North America dominated the market share in 2022 for the AI in IoT market. The increasing investment in advanced technologies, such as cloud-based services, AI, ML, business analytics solutions, and IoT to improve businesses and the customer experience, is anticipated to propel the growth of the AI in IoT market. However, Asia-Pacific is expected to exhibit the highest growth during the forecast period. This is attributed to the increase in penetration of digitalization and higher adoption of advanced technology which are expected to provide lucrative growth opportunities for the market in this region.
COVID-19 Impact Analysis
The global AI in IoT market has witnessed a significant impact during the COVID-19 pandemic. This is attributed to rapid growth in digital technologies and proliferation of smartphone and internet devices due to social distancing policies. Furthermore, the increased number of COVID-19 cases caused many organizations to adopt remote working tools. According to an article published by TechTarget, in December 2020, more than 67% of organizations that adopted work-from-home policies post the outbreak of COVID-19 plan to keep their remote working options available for their employees even after the period of pandemic. Thus, such factors propelled the growth of the global AI in IoT market during the period.
On the other hand, some countries also experienced supply chain disruption, workforce limitations, and economic crises. These factors led to delays and slowdowns in the deployment of IoT devices and infrastructure development, which, in turn, affected the implementation of AI in IoT market. Moreover, the pandemic highlighted the focus on safety and security across several sectors. AI in IoT solutions played a major role in enabling contactless interactions, temperature screening, occupancy monitoring, and enforcement of safety protocols. This will boost safety and internet operation in the industries. Consequently, these factors are expected to have a less negative impact on the growth of the global AI in IoT market in the short run of the pandemic. In the long-run outlook, the market witnessed a significant upturn, owing to the robust demand for advanced technologies across the globe and escalating use of digital services in maintenance post the COVID-19 pandemic, thus accelerating market growth.
Top Impacting Factors    
Increase in adoption of IoT devices
The rise in trend of IoT devices in almost every industry sector to improve process optimization is directly influencing the growth of the global AI in IoT market. Radical advancements in the technological environment, enabled through communication technologies, require revising present business models and strategies. Consequently, AI in IoT solutions is gaining significant adoption to increase the use of IT and control systems among industry operators, particularly IoT and other digital technologies such as AI. In addition, increased use of IoT solutions helps businesses to improve network availability, prolong asset lifetime, and collect and exchange data over the internet. These factors are expected to enhance the AI in IoT market growth, globally. 
Furthermore, the integration of IoT devices allows businesses to efficiently manage their business operations. For instance, in the healthcare sector, IoT devices can be used to monitor patient health data in real time. In addition, the integration of automated systems in organizations has reduced the rate of errors, such as network traffic congestion, as well as operating costs. Hence, these multiple benefits offered by IoT devices use in business operations and maintenance services will boost the demand for AI in IoT market. Moreover, regional governments and public and private businesses are continuously involved in promoting the usage of IoT devices in several sectors. For instance, in March 2023, the government of Canada raised $1.81 million (C$2.4 million) in funding for providing high-speed Internet access to just under 300 homes in Campbellville, Ontario. Such investment pooling in the digitalizing of the country's infrastructure will fuel the demand for AI in IoT, which in turn, augments the market growth on a global scale.
Growth in demand for automation and efficiency
The growth in demand for industrial automation and efficient operations is a significant driver of AI in IoT market. Industrial automation includes using IoT devices and AI technology to automate processes and operations in businesses such as manufacturing, logistics, and agriculture. Hence, by automating processes and operations, businesses can improve efficiency, reduce costs, and enhance productivity. Moreover, the COVID-19 pandemic has disrupted many industries and has resulted in a limitation of skilled labor in several sectors, such as manufacturing, healthcare, and retail. This is driving businesses to adopt automation solutions to compensate for the lack of workers, mainly AI in IoT solutions. For instance, in March 2021, the SnapLogic report reveals that nearly 78% of businesses intend to boost their expenditure on automation projects in the coming 12 months. Such factors are further expected to significantly contribute to the huge potential for the growth of AI in IoT market forecast. 
Furthermore, there is increasing demand for automation in manufacturing industries, as the industry uses technology and machines to perform critical tasks. In addition, organizations are increasingly developing and investing in AI in IoT technologies, with more companies using IoT devices and systems to improve operations and gain efficiency. For instance, in February 2022, The National Association of Software and Services Companies (NASSCOM) collaborated with Capgemini for research study on the adoption of Industry 4.0 in India's manufacturing sector. In this study, it is estimated that between $4.5 and $6.5 billion has been invested in industry 4.0 by the Indian manufacturing sector during 2020–2021. Therefore, such initiatives further are expected to accelerate the use of automation and wireless technology, which plays a significant role in the continued growth of the AI in IoT industry.
Key Benefits for Stakeholders
The study provides an in-depth AI in IoT market analysis along with the current trends and future estimations to elucidate the imminent investment pockets.

Information about key drivers, restraints, and opportunities and their impact analysis on the AI in IoT market size is provided in the report.

The Porter's five forces analysis illustrates the potency of buyers and suppliers operating in the AI in IoT industry.

The quantitative analysis of the global AI in IoT market for the period 2022–2032 is provided to determine the AI in IoT market potential.
 AI in IoT Market Report Highlights
Aspects
Details
Market Size By 2032
USD 91.7 billion
Growth Rate
CAGR of 24.8%
Forecast period
2022 - 2032
Report Pages
284
By Component

Platform
Software
Service

By Technology

Machine Learning and Deep Learning
Natural Language Processing (NLP)

By Industry Vertical

Others
BFSI
IT and Telecom
Retail and E-commerce
Manufacturing
Healthcare
Energy and Utilities
Transportation and Mobility

By Region

North America (U.S., Canada)
Europe (UK, Germany, France, Italy, Spain, Rest of Europe)
Asia-Pacific (China, Japan, India, Australia, South Korea, Rest of Asia-Pacific)
LAMEA (Latin America, Middle East, Africa)

Key Market Players
SAP SE, Softweb Solutions Inc., SAS Institute Inc., Amazon Web Services Inc., IBM Corporation, Hitachi Ltd., Oracle Corporation., Salesforce, Inc., PTC Inc., Google LLC
Analyst Review
As the AI in IoT industry continues to evolve, CXOs are evaluating the opportunities and challenges regarding this emerging technology. The AI in IoT industry has grown rapidly in response to the massive amounts of data generated by Internet of Things (IoT) devices, and the need for AI-powered analytics and decision-making. CXOs are considering the benefits that AI in IoT can offer, such as the ability to provide a unified and scalable solution for managing and processing data from a vast array of IoT devices, enabling real-time insights and decision-making. In addition, AI in IoT may help organizations optimize their operations, reduce costs, and improve customer experience by automating routine tasks and providing personalized services. Such factors are expected to provide lucrative opportunities for market growth during the forecast period.
Furthermore, AI in IoT can enable innovation and collaboration by providing an open and modular architecture that allows developers and partners to build and integrate new applications and services. However, CXOs also recognize the challenges associated with AI in IoT. One significant challenge is the industry's fragmentation, with multiple vendors offering different solutions and technologies, which can make it challenging for organizations to select the right platform for their needs. In addition, AI in IoT requires significant investment in infrastructure, data analytics capabilities, and talent, which can be a barrier to entry for small and medium-sized enterprises (SMEs).
Furthermore, ethical and regulatory concerns related to data privacy and security must be addressed, as well as the need for a strong ecosystem of partners and developers to build and integrate applications and services. CXOs must evaluate the services based on their industry specific needs and requirements, including factors such as real-time monitoring and process optimization in almost every sector. By addressing these challenges, CXOs can unlock the full potential of AI in IoT to transform their operations, create value, and gain a competitive advantage in their industry. For instance, in July 2021, Microsoft Corporation partnered with NEC Corporation. In this alliance both companies leverage Microsoft Azure, Microsoft 365, NEC's network and IT expertise, including 5G technologies, and other AI and IoT solutions to help enterprise customers and the public sector across multiple markets and industries further accelerate their cloud adoption and digital transformation initiatives.