The global air defense systems market was valued at $46.2 billion in 2021, and is projected to reach $78.2 billion by 2031, growing at a CAGR of 5.6% from 2022 to 2031.
Air defense systems include land, aerial, and marine-based technologies used by the defense forces to guard against a variety of missiles, including cruise and ballistic missiles. Amid rise in conflicts and war-like situations across different parts of the world, the demand for air defense systems have grown at a significant rate. Air defense systems ensure the safety of national assets and citizens against missile attacks. With the introduction of more lethal, covert, and nimble enemies, the character of modern warfare has evolved. As the nature of warfare has changed, countries tend to invest in defensive spending; this has resulted in the development of numerous air defense systems. Currently, large defense corporations globally are substantially investing on the development of missile defense systems.
The COVID-19 has a major impact on overall defense industry, followed by the impact on air defense system as well. Allocation of majority of country's financial and non-financial resources towards managing the pandemic has slowed the process of acquisition and deployment. Moreover, global shutdown of trade, logistics, and manufacturing of required component and scarcity of raw materials have also delayed the delivery cycle. However, the sudden outbreak of Russia-Ukraine war has allowed nations to increase their focus on defense systems, supporting business opportunities within the segment.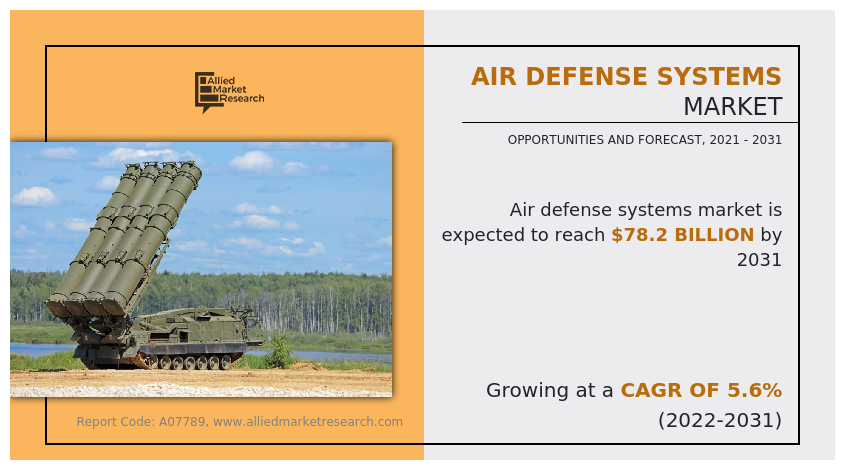 Growth of the air defense system market is driven by factors such as increase in cross border conflicts, technological advancement in weapon system, usage of new age weapons such as drone, and increasing defense budget expenditure are primary factors supporting the market growth. The global defense expenditure has seen exponential growth in recent years. According to Stockholm International Peace Research Institute (SIPRI), global defense spending reached $1,981 billion in 2020 with a 2.6% year-on-year increase. The military expenditure accounted for 2.4% of the global gross domestic product (GDP) in 2020. Thus, increase in global military expenditure has augmented the adoption of efficient missile defense systems, including the U.S.'s Terminal High Altitude Area Defense (THAAD), Israel's Iron Dome, and Russia's S-400.
The air defense system market is segmented on the basis of component, range, platform, type, and region. The component segment is divided into weapon system, fire control system, command and control system, and others. The range segment is divided into short range air defense system, medium range air defense system, and long range air defense system. The platform segment includes ground, naval, and airborne. The market within the type segment is divided into missile defense system, anti-aircraft, and counter rocket, artillery, and mortar system. By region, the market is categorized into North America, Europe, Asia-Pacific, and LAMEA.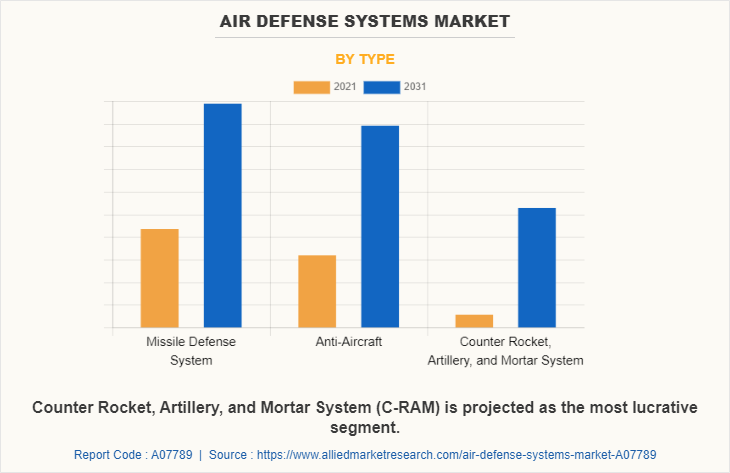 Companies have adopted product development and product launch as their key development strategies in the air defnse system industry. Moreover, collaborations and acquisitions are expected to enable leading players to enhance their product portfolios and expand into different regions. The key players operating in the air defense system market are Saab AB, Lockheed Martin Corporation, BAE Systems PLC, Rheinmetall AG, Thales Group, Kongsberg Gruppen, Raytheon Technologies, MBDA, Northrop Grumman Corporation, Boeing, Hanwha Corporation, Leonardo S.P.A., Airbus Defense and Space, Aselsan A.S., Elbit Systems, and General Dynamics.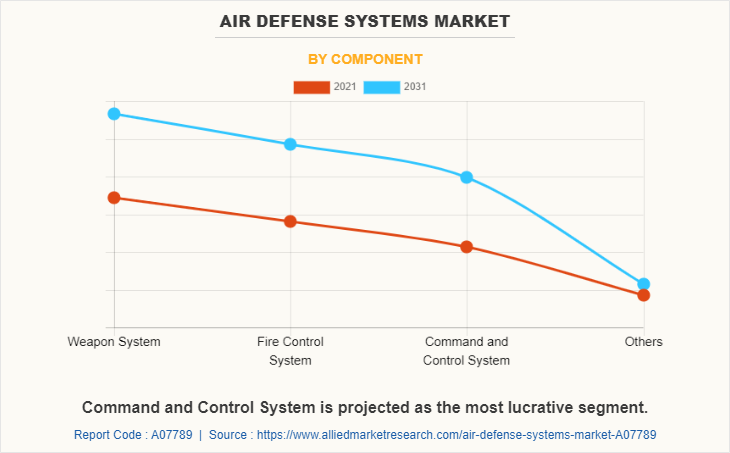 Increasing defense programs of nations to protect against various threats
The capacity to protect a nation's air space has grown more crucial as air combat technologies have developed, coupled with increased terrorism and cross border conflicts. The force is shielded from enemy air and missile attack by the air defense system. The effectiveness of the U.S. weapon systems aids the nation in guaranteeing that the U.S. military has a tactical fighting edge over any foe. For instance, the U.S, Department of Defense (DoD) requested $247.3 billion for acquisition (Procurement and Research, Development, Test, and Evaluation (RDT&E)) funding for 2020. This amount includes funding from the base budget and the overseas contingency operations (OCO) fund, which totals $143.1 billion for Procurement and $104.3 billion for RDT&E.
Increasing use of early warning systems for potential air and missile attacks
A variety of enemy airborne forces, including aircraft, unmanned aerial vehicles (UAVs), ballistic and cruise missiles, are monitored by air defence systems. For surveillance, these systems often employ long-range L-band radars and satellites. To fight modern ballistic and hypersonic missile threats, system designers are combining high-performance radar, electro-optical sensors, and the most recent digital signal processing on land and in space. To help Polish military officials deal with ambiguous intelligence about prospective air and missile assaults, the Polish government awarded Northrop Grumman Corporation a contract for $350 million in March 2019. The contract calls for the development of two combat management systems.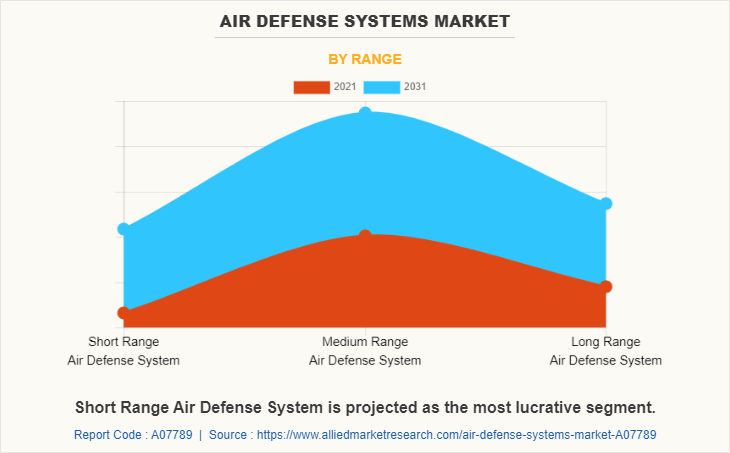 High cost associated to Air defense system
One of the major issues igniting the defense program was the expense of the air defense system. High cost associated with integration and implementation of air defense systems is limiting several nations to undergo long-term acquisition and operation contract. However, these nations practice acquisition and operation of second-hand air defense system, which are scrapped by first world nations. Excluding the cost of manufacturing and constructing nuclear weapons, the U.S. Army successfully designed and then installed the safeguard anti-ballistic missile (ABM) system in North Dakota for $23 billion in 2000. The goal of the Safeguard ABM system is to defend an ICBM launch area against Soviet attack in the form of a retaliatory strike. The system was completely compliant with the ABM Treaty as well as the current consensus strategic approach. However, it only lasted for four months when the U.S. Department of Defense decided to shut it down because running it was too expensive, considering what was eventually thought to be its minimal value to the U.S. security.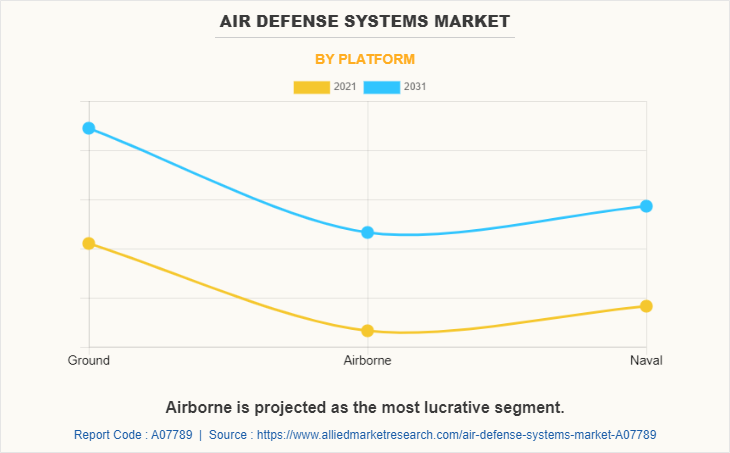 Development of new-generation air and missile defense systems
Technology superiority is increasingly going to be the decisive factor in future battles. The development of new-generation missiles with high-end technologies is a major threat to strategic locations and platforms, such as military airbases and ships. Some of these new developments include, nuclear-capable ballistic missiles and high-speed cruise missiles. Various countries are developing such advanced weapons that are capable of defeating high-end air defense systems, such as the Medium Extended Air Defense System (MEADS), the patriot advanced capability-3 (PAC-3), and the S-400.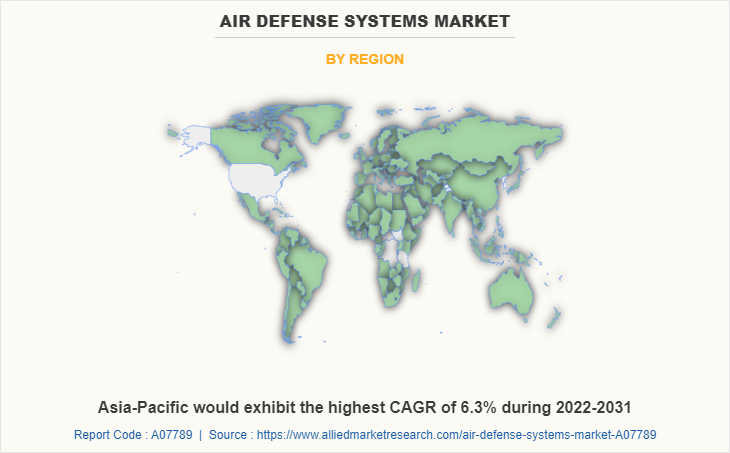 Key Benefits For Stakeholders
This report provides a quantitative analysis of the market segments, current trends, estimations, and dynamics of the air defense systems market analysis from 2021 to 2031 to identify the prevailing air defense systems market opportunities.
The market research is offered along with information related to key drivers, restraints, and opportunities.
Porter's five forces analysis highlights the potency of buyers and suppliers to enable stakeholders make profit-oriented business decisions and strengthen their supplier-buyer network.
In-depth analysis of the air defense systems market segmentation assists to determine the prevailing market opportunities.
Major countries in each region are mapped according to their revenue contribution to the global market.
Market player positioning facilitates benchmarking and provides a clear understanding of the present position of the market players.
The report includes the analysis of the regional as well as global air defense systems market trends, key players, market segments, application areas, and market growth strategies.
 Air Defense Systems Market Report Highlights
Aspects
Details
Market Size By 2031
USD 78.2 billion
Growth Rate
CAGR of 5.6%
Forecast period
2021 - 2031
Report Pages
345
By Type

Anti-Aircraft
 Counter Rocket, Artillery, and Mortar System
Missile Defense System

By Component

Weapon System
Fire Control System
Command and Control System
Others

By Range

Short Range Air Defense System
Medium Range Air Defense System
Long Range Air Defense System

By Platform
By Region

North America (U.S., Canada, Mexico)
Europe (UK, Germany, France, Russia, Italy, Spain, Rest Of Europe)
Asia-Pacific (South Korea, Rest Of Asia-Pacific, China, India, Japa, Australia)
LAMEA (Latin America, Middle East, Africa)

Key Market Players
Boeing, BAE Systems PLC, L3Harris Technologies, Thales Group, Northrop Grumman Corporation, Kongsberg Gruppen, Rheinmetall AG, MBDA, Elbit Systems, Lockheed Martin Corporation, Hanwha Corporation, Raytheon Technologies, Saab AB, General Dynamics, Leonardo S.P.A., Airbus Defense and Space