Air Freight Market Statistics 2021-2027:
The global air freight market was valued at $270.2 billion in 2019, and is projected to reach $376.8 billion by 2027, registering a CAGR of 5.6%.    
The logistics industry witnessed a huge decline in demand due to the global spread of the coronavirus pandemic in 2020. The air freight shipments were fairly low throughout 2020. The economic crisis caused due to the implementation of strict lockdowns severely affected the international air freight deliveries. The widespread outbreak of the novel coronavirus led to the sudden closure of national and international airways while aircraft had to be grounded for months. In early 2020, various nations imposed a ban on international flights, and later domestic flights were also suspended. Facing a decline in air freight capacity, various air freight carriers have been trying to tackle the situation by employing several strategies such as airplane transformations and more chartered flights.
Air freight is a transportation mode of delivering fast-speed shipments via aircraft mostly for longer distances. Air freight contributes to the global economic development as the global economy relies on the capability to transport valuable and superior quality products rapidly to consumers across the world. Attributed to fast delivery speeds and temperature-sensitive space in aircraft, vaccines are usually sent via aircraft to help reach their required destination in time to be effective. According to the World Health Organization, vaccinations programs help prevent around 3 million child deaths annually. Air freight plays a crucial in delivering temperature-sensitive medications in the best conditions by means of state-of-the-art procedures and technologies. Although air freight accounts approximately 1% of the total freight activities by weight, and it is quite expensive to ship products via aircraft, it is quite valuable mode to transport jewelry, perishable items, pharmaceuticals, costly electronic items, and others.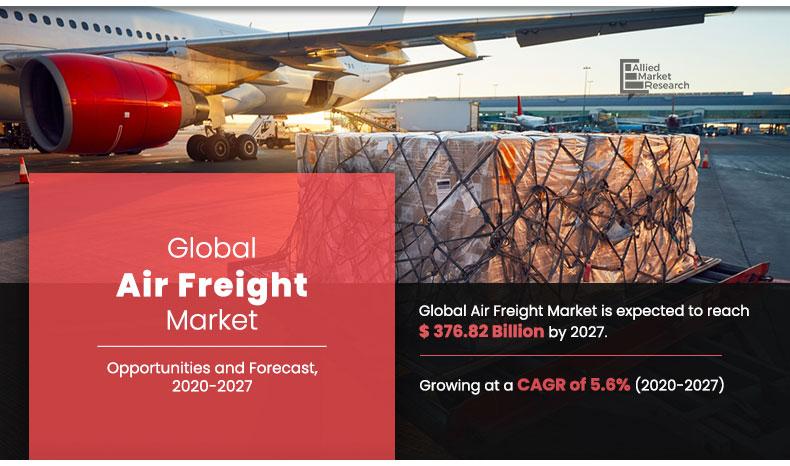 The air freight business is experiencing a transformation in technology and is evolving from an excessive usage of old mainframe systems to more adaptable interfaces employed for processes such as flight operations, revenue accounting, networking planning, and others. Moreover, the rising usage of cool-chain tech, robotics, automated systems, artificial intelligence (AI), Big Data, deep learning, IoT, and augmented & virtual reality across several operations is anticipated to boost the growth of the global air freight market over the forecast period. 
Faster delivery of shipments as compared with other logistics solutions and rising popularity of consolidated airfreight service are anticipated to boost the growth of the air freight market during the forecast period. However, high costs associated with air freight solutions are expected to hinder the growth of the market. 
The market segmentation is based on service, destination, end-use, and region. The service segment is divided into freight, express, mail, and other services. Depending on destination, the market is bifurcated into domestic and international. By end-use, it is fragmented into private and commercial. Region-wise, it is analyzed across North America, Europe, Asia-Pacific, and LAMEA.
Key players operating in the global air freight market include Bolloré Logistics, DB SCHENKER, Deutsche Post AG, DSV Panalpina, Expeditors International of Washington, Inc., FedEx, Hellmann Worldwide Logistics, Kuehne+Nagel International AG, Nippon Express, and United Parcel Service, Inc.
Faster delivery of shipments as compared with other logistics solutions
The delivery of items via cargo planes is the fastest way among other modes of transportation. While other modes of transportation, for instance, shipping, rail or road transport, usually take days or weeks to deliver the items, air transport makes the delivery of items in just a few hours. Attributed to the presence of lesser stock to unload in comparison with cargo ships, the customs clearance is quick and the requirement for local warehousing is much lesser. Moreover, air freight is the safest among all other modes as goods sent via air go through least handling and the safety controls at airports are strictly managed.
This decreases the risk of both theft and damage to the shipment. In addition, as the shipment duration is quite short, the insurance premiums on air freight are usually low. These factors make air freight a superior and essential mode of goods transportation. Air cargo ships of around $6 trillion worth of goods account for nearly 35% of the global trade by value. According to IATA, 328 billion letters and 7.4 billion packages are delivered annually, and air freight plays an important role in their delivery. 
Air freight is particularly favorable for shipment of high-value goods such as electronics, jewelry, pharmaceuticals, perishables, and other items. Initially, only fruit, flowers, and vegetables were transported via cargo aircraft. However, over the years, airlines have managed to develop procedures and facilities for handling frozen and chilled items with chilled storage and freighter capacity along with the development of temperature-controlled packing techniques. Moreover, attributed to the high-profit margins associated with jewelry and pharmaceuticals and the fact that several electronic goods are delicate, air freight is the most suitable form of transport.
Rising popularity of consolidated air freight service
Air freight service providers offer four options for making the delivery. They are charter, standard, deferred, and consolidated. Consolidated air freight service provides the users with an economical method of transportation that offers the advantage of lower rates and reliable schedules, enabling their users to perfectly plan their supply chains. While air freight offers some advantages over ocean freight (a much cheaper logistics mode), such as quicker delivery times and less handling time of high-value goods, it at times faces low acceptance due to its high cost. However, air freight is a flexible transportation mode that can be custom-made to fit the client's needs. As the option of consolidated air freight service increases the feasibility of air freight services, several major companies, such as The Maersk Group, DSV, UPS, DHL, QATAR Cargo, and FedEx, offer consolidation services.  
Consolidated air freight option gives the opportunity to the clients to bundle their consignment with a number of other items to create a full load, owing to which consolidated air freight becomes quite economical for moving the goods via plane. Moreover, consolidated freight is profitable to both delivery service companies and airlines as it is more cost-effective to fly an airplane with a full cargo load in comparison with flying an airplane with partial load. Air freight consolidation is the most affordable way to ship goods in a faster & safer way, and the rising popularity of consolidated air freight service is expected to drive the growth of the global air freight market over the forecast timeframe.  
High costs associated with air freight solution
Air freight is selected by global importers and exporters to deliver goods quickly and safely. Although around 90% of deliveries are shipped through ocean freight, air freight makes the deliveries much faster; for instance, it cuts the U.S.-China freight delivery time from about 20 to 30 days by the ocean to just 3 days via air. However, air freight incurs huge costs. According to the World Bank, air freight incurs around 4-5 times the price involved in road transport and 12-16 times the amount spent on ocean freight. 
When it comes to air freight delivery, weight and volume are the key factors that determine the cost of shipping. Air carriers typically charge by considering either the volumetric weight or real weight, depending on which is more costly. Beyond this, the air freight price also probably includes several costs such as fuel surcharges, terminal handling charges, security surcharges, and airport transfers. In addition, for door-to-door delivery, the amount comprises air cargo services, including pickup & delivery, cargo insurance, customs brokerage, and accessorial charges. Moreover, the fluctuating prices of aviation fuel also impact air freight operations. Therefore, the high cost related to air freight deliveries is anticipated to hamper the growth of the global air freight market over the forecast timeline.
Significant growth rate in the e-commerce sector
Over the last few years, e-commerce has gained strong traction across the globe to become a crucial part of the global sales structure. It has transformed the methods of logistics. Today, numerous customers are requesting faster deliveries; hence, the operational models are evolving to speed up shipping. Air freight is quite suitable for offering swift deliveries. International Air Transport Association (IATA) estimated that e-commerce held a market share of about 15% of air cargo volumes in 2019. This trend toward e-commerce is continuously expanding and has speeded up during the COVID-19 pandemic.
Since 2005, worldwide internet retail trade has grown by around 20% a year on average, which is far rapid than conventional store-based sales. The International Post Corporation (IPC) considers that the share has now registered 25%. Besides the increasing domestic volumes shipped by small and large e-retailers, the swiftly-growing cross-border e-commerce remains a key growth driver for the overall increase in e-commerce sales. According to IATA, air cargo holds a share of more than 35% of international trade by value. People are now purchasing more and more often via online platforms while cross-border e-commerce volumes are also increasing. E-commerce is expected to be the future growth driver for the air freight industry as online retailing increases the demand for package transport services across the world. The rising e-commerce shipments across the globe via air freight are anticipated to bolster the growth of the global air freight market over the forecast timeframe. 
COVID-19 Impact Analysis 
The COVID-19 impact on the air freight market is unpredictable and is expected to remain in force till the second quarter of 2021. 
The COVID-19 outbreak forced the governments to impose strict lockdown measures that resulted in flight cancellations, closure of ports, and ban on e-commerce services, which led to massive decline in logistics activities across the world. 
Moreover, nationwide lockdowns disrupted the supply-chain as several manufacturing facilities across the globe had to partially or fully shut down their operations.
The adverse impacts of the COVID-19 pandemic resulted in huge supply-demand issues and resulted in long delays in the activities of air freight operations globally. 
Key Benefits For Stakeholders
This study presents the analytical depiction of the global air freight market analysis along with the current trends and future estimations to depict imminent investment pockets.
The overall air freight market opportunity is determined by understanding profitable trends to gain a stronger foothold.
The report presents information related to the key drivers, restraints, and opportunities of the global air freight market with a detailed impact analysis.
The current air freight market is quantitatively analyzed from 2019 to 2027 to benchmark the financial competency.
Porter's five forces analysis illustrates the potency of the buyers and suppliers in the industry.
Key Market Segments
By Service
Freight
Express
Mail
Other Services
By Destination
By End-Use
By Region
North America
Europe

Germany
France
Russia
UK
Rest of Europe

Asia-Pacific

China
India
Japan
South Korea
Rest of Asia-Pacific

LAMEA

Latin America
Middle East
Africa
Key Players
Bolloré Logistics
DB SCHENKER (Deutsche Bahn Group (DB GROUP))
Deutsche Post AG (DHL GROUP)
DSV Panalpina 
Expeditors International of Washington, Inc.
FedEx
Hellmann Worldwide Logistics
Kuehne+Nagel International AG
Nippon Express
United Parcel Service, Inc. (UPS)