Air Humidifier Market Overview:
Air humidifier is an air conditioning appliance that increases the moisture level of air in a room or an entire building. Generally, for the humidification of a single room residential humidifiers are used, while to provide humidity to the entire house, the furnace or whole-house humidifiers are connected to a home's HVAC system. The air humidifiers are also available for commercial, industrial, institutional buildings, and shopping complex and others. Humidifiers help reduce symptoms of chronic obstructive pulmonary disease (COPD). Air humidifiers help to maintain the safe electric environment and reduce the static electricity effectively, which is the primary issue for compact discs, storage devices for computer, and other electronic equipment. Air humidifiers help maintain the indoor plants when the temperature of outside environment is low or below the normal temperature which is required for the plant growth. Moreover, in some European countries government regulation are very strict regarding the maintenance of humidity. In such countries, it is mandatory to maintain oxygen, humidity, and light for the manufacturing, packaging, filling process, warehouse, and other commercial and industrial sectors, which is also responsible to drive the growth of the global air humidifier market.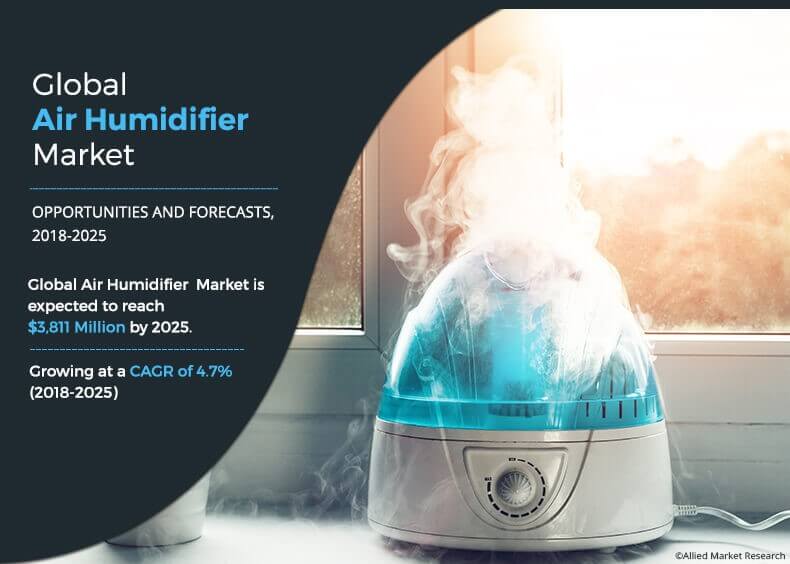 Increase in diseases such as asthma, sinusitis, and other allergies owing to dry air have created awareness among customer to maintain specific humidity in air by using humidifier appliances. In addition, the low humidity in air makes breathing less laborious and can also cause lung secretions in infants. This is one of the key reasons that customers rely on air humidifier during the winter months as low humidity causes asthmatic cough.
Whereas, therapy using air humidifier adds moisture to air, thus, preventing dryness in skin, throat, nose, irritated vocal cord, dry cough, and cracked lips. According, to the United States Department of Labor has set a certain rule standards and regulation for humidity control and temperature control in industrial work place. This helps prevent fatigue as well as dry air diseases among workers and provide a healthy work environment. In addition, these regulations are also followed by other countries with certain modification according to the suitable temperature and atmosphere in that particular country.
The global air humidifier market is segmented based on type, application, and region. Based on product type it is classified as vaporizers, impeller humidifier, ultrasonic humidifier, and wick/evaporative systems. The application segment comprises of commercial, industrial, and residential. Based on region, the market is analyzed across North America (U.S., Canada, and Mexico), Europe (Germany, UK, France, and rest of Europe), Asia-Pacific (China, Japan, India, and rest of Asia-Pacific), and LAMEA (Latin America, Middle East, and Africa).
Based on type, the market is categorized into vaporizers, impeller humidifier, ultrasonic humidifier, and wick/evaporative systems. In 2017, vaporizers was the leading segment in the global market, due to recent  developments in vaporizer lead to automatic regulation of humidity level due to inbuilt hygrometer, which is responsible for tracking the level of humidity in the room. In addition, these humidifiers are economically priced, and hence affordable.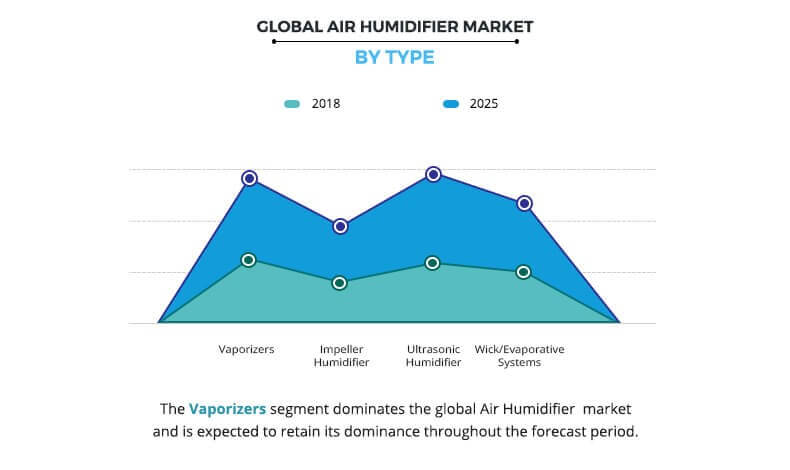 Based on application, the market is categorized into commercial, industrial, and residential. In 2017, residential was the leading segment in the global market, owing to Increase in need to maintain indoor air humidity in winter season is expected to drive the growth of the residential segment in the air humidifier market. In addition, rise in awareness of the ill effects of the dry air such as dry skin, sinus congestion, dry throat, nose irritation, dry cough, bloody noses, and others is expected to drive the market growth.
In 2017, the application of air humidifier in residential segment was due to cold seasons when heating systems dry the internal atmosphere, the air can often drop below 40% relative humidity (RH). At this level it will draw moisture from any available source that includes our bodies, materials such as wood and textiles, and the fabric in the house. This will not just leave the consumer feeling dehydrated but can have serious implications over his health.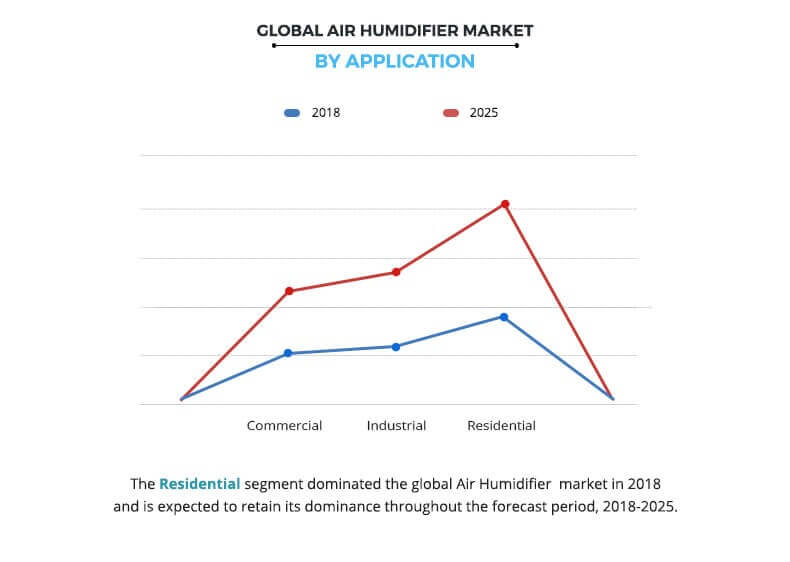 By region, North America was the largest market for air humidifier in 2017 owing to high consumer awareness about the ill effect of dry air and presence of cold and low humid climate. In addition, vast presence of manufacturers and product promotion from regulatory bodies including American Society of Heating, Refrigerating and Air-Conditioning Engineers (ASHRAE) and the U.S. Environmental Protection Agency (USEPA) are expected to further drive the growth of the market.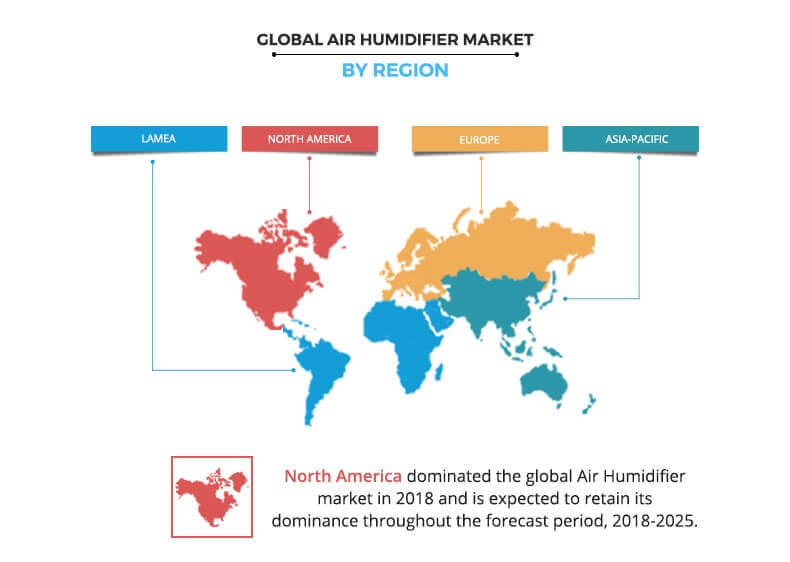 Some of the major players in the global air humidifier market analyzed in this report are Armstrong International, Inc., Carel INDUSTRIES S.p.A., Condair Group, Coway Co., Ltd., Honeywell International Inc., Koninklijke Philips N.V., Mitsubishi Heavy Industries, Ltd. (MHI), Munters, Skuttle Indoor Air Quality Products, and United Technologies Corp.  
Key Benefits for Air Humidifier Market :
This report provides a quantitative analysis of the current trends, estimations, and dynamics of the global air humidifier market size from 2018 to 2025 to identify the prevailing market opportunities.

The key countries in all the major regions are mapped based on their market shares.

Porter's five forces analysis highlights the potency of buyers and suppliers to enable stakeholders to make profit-oriented business decisions and strengthen their supplier buyer network.

A comprehensive analysis of factors that drive and restrict the growth of the air humidifier market is provided.

An in-depth analysis of the global air humidifier market helps determine the prevailing market opportunities.

The report includes details of the analysis of the regional and global markets, key players, market segments, application areas, and growth strategies.
 Air Humidifier Market Report Highlights
Aspects
Details
By HUMIDIFIER TYPE

Vaporizers
Impeller humidifier
Ultrasonic humidifier
Wick/Evaporative systems

By APPLICATION

Commercial
Industrial
Residential

By Region

North America (U.S, Canada, Mexico)
Europe (GERMANY, UK, FRANCE, REST OF EUROPE)
Asia-Pacific (China, India, Japan, Rest of Asia-Pacific)
LAMEA (Latin America, Middle East, Africa)

Key Market Players
MUNTERS, KONINKLIJKE PHILIPS N.V, CAREL INDUSTRIES S.P.A, UNITED TECHNOLOGIES CORP, SKUTTLE INDOOR AIR QUALITY PRODUCTS, COWAY CO., LTD, ARMSTRONG INTERNATIONAL, INC, MITSUBISHI HEAVY INDUSTRIES, LTD, CONDAIR GROUP, HONEYWELL INTERNATIONAL INC