The global air quality monitoring market size was valued at $4,178.5 million in 2020, and is projected to reach $8,032.6 million by 2030, registering a CAGR of 6.7% from 2021 to 2030. Air quality monitoring device detects and monitors pollutants present in air such as carbon monoxide, nitrous oxide, sulfur dioxide, and volatile organic compound, both indoors and outdoors. The need for air quality monitoring has increased as a result of the necessity to maintain air quality, as poor air quality includes hazardous pollutants that cause health issues. These harmful pollutants are discharged into the air as a result of emissions from numerous industries automobiles and domestic fossil fuel consumption.
The COVID-19 outbreak has affected the growth of the air quality monitoring industry owing to the lockdown measure in the countries and delay in production and manufacturing of air quality monitoring which are utilized in government & academics, oil & gas, power, commercial & residential, and other industries.
The growth of the air quality monitoring market growth in awareness regarding chronic obstructive pulmonary disease, asthma, cardiovascular problems and lung cancer, which have all become highly prevalent, as pollution levels have increased. Furthermore, favorable government policies pertaining to air pollution monitoring & management as well as rise in public–private partnerships for air quality monitoring have boosted demand for air quality monitoring devices. However, the market expansion is limited by high pricing and technological difficulties of air quality monitors. In recent years, improving economic conditions in emerging countries have accelerated the pace of industrialization, resulting in increase in air pollution levels. The air gets polluted with the emission of toxins such as carbon monoxide and sulfur dioxide. As a result, there has been a surge in the need for air quality monitoring systems to manage and monitor the amount of air pollution.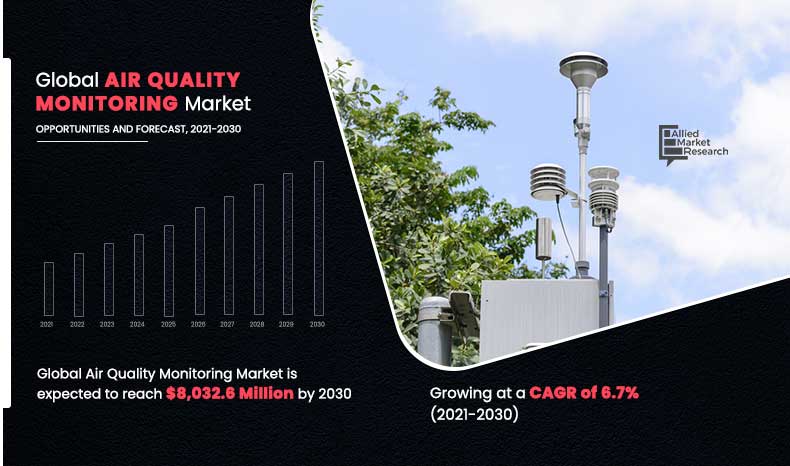 Furthermore, indoor air pollution is becoming a significant problem. According to a survey conducted by the U.S. Environmental Protection Agency, the average individual spends more than 90% of time indoors. As a result, air quality monitors are installed by house or building owners, industrial specialists, and facility staff for a healthy indoor atmosphere. Technological advancements and the mass adoption of the smart home concept have largely fueled the global expansion of air quality monitoring market.
Air Quality Monitoring Market

---
By Product Type
Outdoor air quality monitors segment is projected to grow at a significant CAGR
The novel coronavirus has rapidly spread across various countries and regions, causing an enormous impact on the lives of people and the overall community. It began as a human health condition and has now become a significant threat to global trade, economy, and finance., The COVID-19 pandemic has halted the production of many products in the air quality monitoring business due to the lockdown. Furthermore, the number of COVID-19 cases are expected to reduce in the near future as the vaccine for COVID-19 is introduced in the market. This has led to the reopening of air quality monitoring companies at their full-scale capacities. This will help the market to recover by the start of 2022. After COVID-19 infection cases begin to decline, equipment & machinery producers must focus on protecting their staff, operations, and supply networks to respond to urgent emergencies and establish new methods of working.
Air Quality Monitoring Market

---
By Pollutant Type
Chemical segment holds dominant position in 2020
The global air quality monitoring market is segmented into product type, pollutant type, end user, and region. By product type, the market is categorized into indoor monitor and outdoor monitor. Depending on pollutant type, it is segregated into chemical, biological and physical. On the basis of end user, it is fragmented into government & academic, oil & gas, power plants, commercial & residential and others. Region wise, the global market analysis is conducted across North America (the U.S., Canada, and Mexico), Europe (the UK, France, Germany, Italy, and rest of Europe), Asia-Pacific (China, Japan, India, South Korea, and rest of Asia-Pacific), and LAMEA (Latin America, the Middle East, and Africa).
Competition Analysis
The key companies profiled in the air quality monitoring market report include Emerson Electric Co., General Electric Company, Siemens AG, Testo AG, 3M Company, Horiba, Ltd., Merck KGaA, Teledyne Technologies Inc., Servomex Group Ltd., and Thermo Fisher Scientific, Inc.
Air Quality Monitoring Market

---
By Region
North America holds a dominant position in 2020 and Asia-Pacific is expected to grow at a significant rate during the forecast period.
Key Benefits For Stakeholders
The report provides an extensive analysis of the current and emerging air quality monitoring market trends and dynamics. 
In-depth air quality monitoring market analysis is conducted by constructing market estimations for key market segments between 2021 and 2030.
Extensive analysis of the air quality monitoring market is conducted by following key product positioning and monitoring of top competitors within the air quality monitoring market framework.
A comprehensive analysis of all the regions is provided to determine the prevailing opportunities.
The global air quality monitoring forecast from 2021 to 2030 is included in the report.
The key players within market are profiled in this report and their strategies are analyzed thoroughly, which help understand the competitive outlook of the air quality monitoring industry.
 Air Quality Monitoring Market Report Highlights
Aspects
Details
BY PRODUCT TYPE

Indoor Monitor
Outdoor Monitor

BY POLLUTANT

Chemical
Biological
Physical

BY END USER

Government & Academics
Oil & Gas
Power Plants
Commercial & Residential
Others

BY REGION

North America
Europe

Germany
UK
France
Italy
Rest of Europe

Asia-Pacific

China
India
Japan
South Korea
Rest of Asia-Pacific

LAMEA

Latin America
Middle East
Africa