The global air scrubbers market was valued at $1,883.3 million in 2020, and is projected to reach $4,306.4 million by 2030, registering a CAGR of 8.5% from 2021 to 2030. 
The COVID 19 outbreak has affected the growth of the air scrubbers industry owing to the lockdown measure in the countries and delay in manufacturing and production of air scrubbers which are utilized in food & beverage, metal processing, construction, and other industries.
An air scrubber employs purifying filters to assist remove impurities from the air as it circulates through the system. The scrubber removes contaminated air from the area many times an hour while also pumping in new, chemical-free air. A portable filtration system that captures airborne particles and improves air quality is known as an air scrubber. There are numerous sectors that use air scrubbers to address indoor air quality concerns. A filtration system is the greatest answer for filtering out harmful airborne particles if the working space lacks clean, healthy air.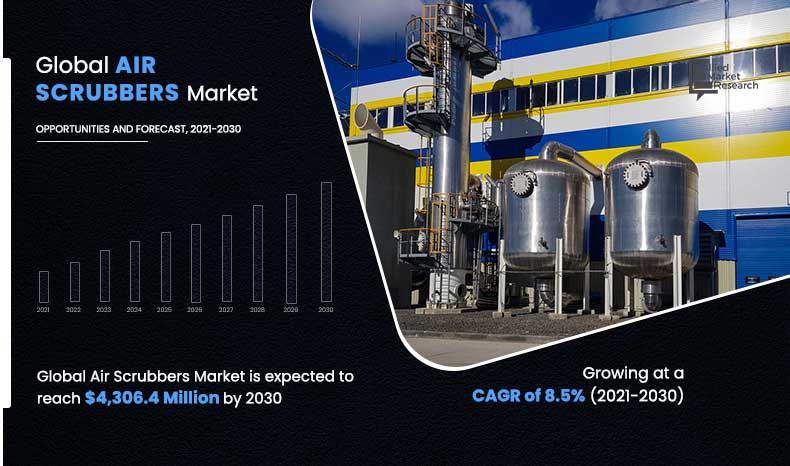 The worldwide air scrubber market is being propelled by rising concerns about indoor air quality as a result of rising air pollution and the need to reduce greenhouse gas emissions. As a result, air scrubbers are now widely used in a variety of commercial and industrial settings. Furthermore, the rising prevalence of airborne diseases such as asthma, bronchitis, lung cancer, and other respiratory disorders, is expected to drive market growth in the coming years. Increasing investments and supporting government policies and initiatives to conform to air quality index standards and greenhouse gas emission restrictions are also predicted to boost the market growth over the forecast period. However, a lack of knowledge about air scrubbers and their benefits can hamper the industry expansion. Furthermore, high costs of air scrubbers may limit market expansion.
The novel coronavirus has rapidly spread across various countries and regions, causing enormous impact on lives of people and overall community. Originating as a crisis to human health, it now poses significant threat to worldwide trade, economy, and finance. Due to the continuous lockdown in key global countries, the COVID-19 pandemic has halted production of many items in the air scrubber business. Market players can afford a complete lockdown only for a limited period, after which they would have to alter their investment plans. Furthermore, number of COVID-19 cases are expected to reduce in the near term as vaccine for COVID-19 has been introduced in the market. This is further expected to lead to re-initiation of air scrubber companies at their full-scale capacities, which would aid the market to recover by the start of 2022. After COVID-19 infection instances start to decline, equipment and machinery producers must focus on protecting their staff, operations, and supply networks in order to respond to urgent emergencies and establish new methods of working.
Various companies are improving their product portfolio by launching air scrubber with advance technology to strengthen their foothold in the market. For instance, in February 2020, the U.S. based Parker Hannifin Corporation launched new Pleated filters for dust collection. The ProTura SB nano-pleated filters use the most advanced nano-fiber filtration technology, which also helps reduce moisture level.
Air scrubber Market

---
By Product Type
Dry segment is projected to grow at a significant CAGR
Furthermore, in April 2021, the company launched portable system that uses advanced filtration and irradiation technology to purify the air for indoor spaces. The combination of ultraviolet energy and True-HEPA filtration captures, irradiates, and filters bacteria, dust, mold spores, odors, and virus particles as small as 0.3 microns, which is about 250 times smaller than a human hair. Hence, rising air pollution is forcing key players to come up with advance technology air scrubbers and therefore, it will boost the market during the forecast period.
Portable air scrubbers are designed to be conveniently moved around by a single operator. This high level of convenience provided by air scrubbers is a major element that renders them unsuitable for use in areas such as hospitals, construction sites, universities, and other similar settings. Few companies are launching portable air scrubber with latest technologies for clean air by killing virus and bacteria. For instance, in January 2021, Waves Aircon has launched its KJ series of air scrubber. This series products are equipped with latest technology that purifies the air and efficiently removes air particles and at the same time can sterilize the air by killing viruses and bacteria. 
Air scrubber Market

---
By End User Industry
Metal processing segment holds dominant position in 2020
The air scrubber market is segmented on the basis of product type, filter type, end-user industry, and region. By product type, the market is divided into dry and wet air scrubber. By filter type, it is divided into HEPA filter, activated carbon filter, dehumidifier filter and others. By end-user industry, it is divided into food & beverages, metal processing, agriculture, construction and others. Region wise, the market is analyzed across North America (the U.S., Canada, and Mexico), Europe (Germany, France, UK, Rest of Europe), Asia-Pacific (China, India, Japan, and Rest of Asia-Pacific), and LAMEA (Latin America, the Middle East, and Africa).
Competition Analysis
Key companies profiled in the air scrubber market report include Advanced Air Technologies Inc., Amaircare Corporation, Camfil AB, Croll Reynolds, Inc., Daikin Industries, Ltd., Honeywell International, Inc., Novatek Corporation, Parker Hannifin Corporation, SPX Corporation, and Waves Aircon Pvt. Ltd.
Air scrubber Market

---
By Region
Asia-Pacific holds a dominant position in 2020 and is expected to grow at a significant rate during the forecast period.
Key Benefits For Stakeholders
The report provides an extensive analysis of the current and emerging air scrubber market trends and dynamics.  
In-depth emerging air scrubber market analysis is conducted by constructing market estimations for key market segments between 2021 and 2030. 
Extensive analysis of the emerging air scrubber market is conducted by following key product positioning and monitoring of top competitors within the market framework.
A comprehensive analysis of all the regions is provided to determine the prevailing opportunities.
The global emerging air scrubber market forecast analysis from 2021 to 2030 is included in the report.
The key players within the market are profiled in this report and their strategies are analyzed thoroughly, which help understand the competitive outlook of the emerging air scrubber industry. 
 Air scrubber Market Report Highlights
Aspects
Details
BY PRODUCT TYPE
BY FILTER TYPE

HEPA filter
Activated Carbon Filter
Dehumidifier Filter
Others

BY END USER INDUSTRY

Food and Beverage
Metal Processing
Agriculture
Construction
Others

BY REGION

North America (U.S., Canada, Mexico)
Europe (Germany, France, UK, Rest of Europe)
Asia-Pacific (China, India, Japan, Rest of Asia-Pacific)
LAMEA (Latin America, Middle East, Africa)

Key Market Players
ADVANCED AIR TECHNOLOGIES INC., AMAIRCARE CORPORATION, CAMFIL AB, CROLL RENYOLDS, INC., DAIKIN INDUSTRIES, LTD., HONEYWELL INTERNATIONAL, INC., NOVATEK CORPORATION, PARKER HANNIFIN CORPORATION, SPX CORPORATION, WAVES AIRCON PVT. LTD.