The global air suspension compressor market size was valued at $1,987.3 million in 2020, and is projected to reach $3,909.1 million by 2030, registering a CAGR of 6.9% from 2021 to 2030. By volume, the global air suspension compressor market was at 7,566 thousand in 2020, and is projected to reach 12,935 thousand by 2030, registering a CAGR of 5.4%.
The COVID-19 outbreak had affected the growth of the air suspension compressor industry owing to the lockdown measure in the countries and delay in production and manufacturing of air suspension compressor which are utilized in passenger and commercial vehicles.
Air suspension compressor is a component of vehicle suspension system that provides comfort to the driver while driving. An electric or engine-driven air pump or compressor powers the vehicle's air suspension system. Air is pumped into the suspension system, which comprises textile-reinforced rubber, by these pumps or compressors linked to the suspension system. Air suspension compressor systems are used in cars to replace traditional steel springs, and have a wide range of applications in large vehicles such as trucks, busses, mini buses, and other heavy vehicles. The fundamental goal of air suspension is to give drivers and passengers a comfortable and steady journey.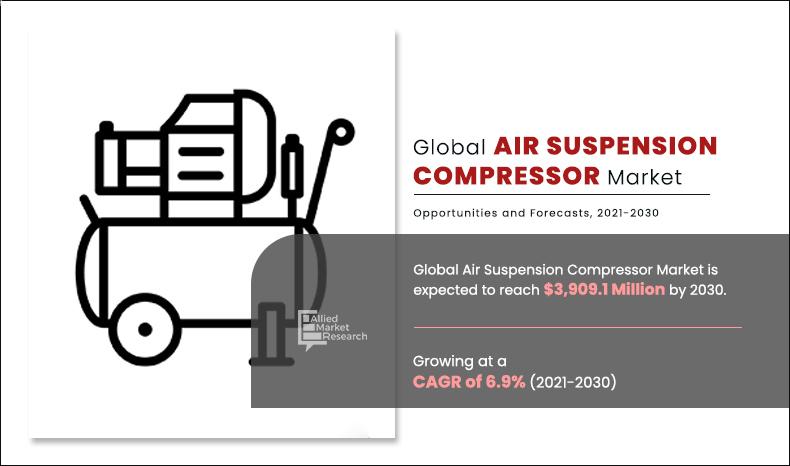 The air suspension compressor market has witnessed significant growth, owing to provide good quality and comfortable long rides to the driver and passengers as well. Furthermore, it reduces the damages caused to the goods while transportation. Suspension is in charge of ride quality and automobile handling control, since cars with firm suspension can have more control over body movements and respond faster. Ambulances, in particular, require a high degree of ride quality to prevent further harm to patients who are already unwell. As a result of these reasons, the need for increased driving comfort has increased, influencing the air suspension compressor market.
Furthermore, the market growth has been supported by the development of the automotive industry and rise in manufacture of vehicles. For instance, the market for vehicles and automobile manufacturing in the U.S. is worth $82.6 billion in 2021. Furthermore, the National Automobile Dealer Association (NADA) predicts light vehicle sales reached 16.3 million units in 2021, a 12.7% growth over 2020. As a result, increased automotive production will foster the demand for air suspension compressor systems, thereby boosting the market for air suspension compressors.
Air Suspension Compressor Market

---
By Vehicle Type
Passenger vehicle segment is projected to grow at a significant CAGR
In addition, key players are focusing on manufacturing advanced lightweight air suspension compressor systems for automotive vehicles and strengthening their market position. For instance, in September 2021, VIAIR Corporation introduced 450P-Automatic Stealth Black compressor system for automotive vehicles. It has 100% duty cycle as well as an automated shut-off feature. It can handle pressures of up to 150 PSI/1.80 CFM and can run for up to 1 hour before needs to be recharged. Introduction of such advanced products is expected to positively impact the air suspension compressor market growth during the forecast period.
The novel coronavirus has rapidly spread across various countries and regions, causing enormous impact on lives of people and overall community. Originating as a crisis to human health, it now poses significant threat to worldwide trade, economy, and finance. Owing to the continuous lockdown in key countries, the COVID-19 pandemic has halted production of many items in the air suspension compressor business. Market players can afford a complete lockdown only for a limited period, after which they would have to alter their investment plans. Furthermore, number of COVID-19 cases are expected to reduce in the near term, as vaccine for COVID-19 has been introduced in the market. This is further expected to lead to re-initiation of air suspension compressor companies at their full-scale capacities, which would aid the air suspension compressor market share to recover by the start of 2022. After COVID-19 infection instances start to decline, equipment and machinery producers must focus on protecting their staff, operations, and supply networks to respond to urgent emergencies and establish new methods of working.
Air Suspension Compressor Market

---
By Sales Channel
OEM segment holds dominant position in 2020
The global air suspension compressor market is segmented into vehicle type, sales channel, and region. On the basis of vehicle type, the market is segregated into passenger vehicle and commercial vehicle. By sales channel, it is categorized into in OEM and aftersales. Region wise, the air suspension compressor analysis is conducted across North America (the U.S., Canada, and Mexico), Europe (the UK, France, Germany, Italy, and rest of Europe), Asia-Pacific (China, Japan, India, South Korea, and rest of Asia-Pacific), and LAMEA (Latin America, the Middle East, and Africa).  
Competition Analysis
Air Suspension Compressor Market

---
By Region
Asia-Pacific holds a dominant position in 2020 and is expected to grow at a significant rate during the forecast period.
Key Benefits For Stakeholders
The report provides an extensive analysis of the current and emerging air suspension compressor market trends and dynamics. 
In-depth air suspension compressor market analysis is conducted by constructing estimations for the key segments between 2021 and 2030.
Extensive analysis of the air suspension compressors is conducted by following key product positioning and monitoring of the top competitors within the market framework.
A comprehensive analysis of all the regions is provided to determine the prevailing opportunities.
The global air suspension compressor market forecast analysis from 2021 to 2030 is included in the report.
The key players operating in the air suspension compressor market are profiled in this report, and their strategies are analyzed thoroughly, which help understand the competitive outlook of the air suspension compressor industry. 
 Air Suspension Compressor Market Report Highlights
Aspects
Details
By vehicle type

Passenger vehicle
Commercial vehicle

By sales channel

Original equipment manufacturers
Aftersales

By Region

North America (U.S., Canada, Mexico)
Europe (Germany, France, UK, Italy, Rest of Europe)
Asia-Pacific (China, India, Japan, South Korea, Rest of Asia-Pacific)
LAMEA (Latin America, Middle East, Africa)

Key Market Players
GUANGZHOU TECH MASTER AUTO PARTS CO. LTD., ZEHIJANG BOCHENG AUTOMOTIVE TECHNOLOGY CO. LTD, PARTS GERMANY (AEROSUS), VIAIR CORPORATION, DURALO, ARNOTT, MOPAR, MIESSLER AUTOMOTIVE GMBH & CO. KG, ZF FRIEDRICHSHAFEN AG, GUANGZHOU CYS AUTO PARTS CO., LTD.