Air Suspension Market Outlook-2026
The global air suspension market size was valued at $5.94 billion in 2019, and is projected to reach $9.22 billion by 2026, registering a CAGR of 6.50%. Asia-Pacific was the highest revenue contributor, accounting for $19.56 billion in 2018, and is estimated to reach $33.52 billion by 2026, with a CAGR 6.9%. Asia-Pacific and North America collectively accounted for about 67.4% share in 2018, with the former constituting around 35.2% share. Asia-Pacific and Europe are expected to witness considerably higher CAGRs of 6.9% and 6.4%, respectively, during the forecast period. The cumulative share of these two segments was 55.4% in the global air suspension market in 2018, and is anticipated to reach 56.5% by 2026.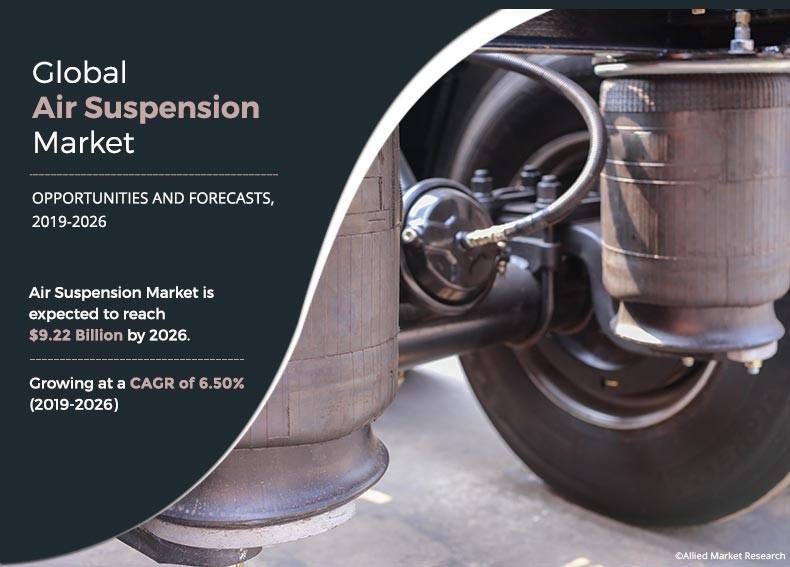 Air suspension is a type of suspension system used in vehicles to provide comfort to drivers while driving. The air suspension system present in vehicle is powered by an electric or engine-driven air pump or compressor. These pumps or compressors attached to the suspension system allows air to flow into the suspension system, which is usually made from textile-reinforced rubber. Air suspension system is used in a vehicle as a replacement for conventional steel springs and have a wider application in heavy vehicles such as buses, trucks, rolling stock, and various heavy vehicles. The main purpose of air suspension is to provide a smooth and constant ride quality to drivers and passengers. These factors have positively impacted the air suspension market growth.
A good quality ride provides comfort to passengers, minimizes damage to cargo, and reduces driver fatigue on long journeys. Suspension is responsible for quality of rides and control on car handling, as cars with firm suspension could result in greater control of body movements and quicker reactions. Ambulances have a special need for a high level of ride quality, to avoid further injury to the already ill passengers. Such factors have boosted the demand for higher driving comfort, which eventually influences the air suspension market.
Air Suspension Market

---
By Technology
Electronic is projected as the most lucrative segments
Factors such as rise in global commercial vehicle sales and increase in demand for premium and luxury vehicles drives the growth of market. However, factors such as high development and adoption cost of air suspension is supposed to hamper the market growth. Further, increase in demand for lightweight air suspension systems and rising aftermarket demand for air suspension and related components is expected to create numerous opportunities for the growth and expansion of the air suspension market.
The air suspension market is segmented on the basis of vehicle type, component, technology, sales channel, and region. By vehicle type, it is categorized into light duty vehicles, trucks, and buses. By components, it is categorized into air spring, tank, solenoid valve, shock absorber, air compressor, Electronic Control Unit (ECU) and height & pressure sensor. By technology, it is categorized into electronically controlled and non-electronically controlled technologies. By sales channel, it is categorized into original equipment manufacturers (OEMs) and aftermarket channels. Region-wise, it is analyzed across North America, Europe, Asia-Pacific, and LAMEA.
Air Suspension Market

---
By Component
ECU is projected as the most lucrative segments
Key players including Continental, ThyssenKrupp AG, Hitachi, Wabco, Firestone Industrial Products, Hendrickson, Mando Corporation, BWI Group, SAF-Holland, Accuair Suspension and others holds major air suspension market share.
Rise in Global Commercial Vehicle Sales
With the increase in automation followed by adoption of latest technologies in automobiles, the demand for vehicles equipped with latest components such as air suspension system has increased leading to the growth of the vehicle sales across the different regions. The introduction of better and advanced air suspension system in commercial vehicles has increased comfort level while driving as well as lowered the chances of damaging the cargo and reduction of driver fatigue during long journeys. These factors has increased demand for commercial vehicles sales thereby leading to the growth of air suspension market during the forecast period.
Air Suspension Market

---
By Application
Truck is projected as the most lucrative segments
Increase in Demand for Premium & Luxury Vehicles
Countries have implemented laws and regulations for vehicles to install advanced systems for comfort while driving, such as air suspension system, within a stipulated time period. Government across the globe has made mandatory rules and regulations to replace metal-based spring systems in vehicles with air suspension system keeping safety and security in mind. This has enabled vehicle manufacturers to install air suspension systems in vehicles eventually leading to the growth of the air suspension market.
Moreover, automobile manufactures need to obtain safety ratings from organizations such as the Insurance Institute of Highway Safety (IIHS), New Car Assessment Program (NCAP), and International Centre for Automotive Technology (ICAT) to access sales license of vehicles in the air suspension market. Thus, all these safety rules and regulations made by governments are anticipated for growth of the market in the coming years.
Air Suspension Market

---
By Sales Channel
Aftermarket products is projected as the most lucrative segments
High Development & Adoption Cost of Air Suspension
The high cost associated with installing suspension system in vehicles is expected to reduce the growth of the air suspension market as it increases the cost of a car. The prospect of providing premium features in vehicles incurs additional expenses to consumers in the form of hardware, applications, and telecom service charges, which eventually hampers the growth of the market. Moreover, service of vehicles is difficult and requires skilled workers due to several components and sensors in them. Complex structure of systems reduce the shelf life of vehicles. Thus, high initial cost and complex structure is expected to have a significant impact on the growth of the market.
Air Suspension Market

---
By Region
Asia PAcific region would exhibit the highest CAGR of 6.9% during 2019-2026.
Increase in Demand for Lightweight Air Suspension System
With continuous upgradation in the automobile sector, the demand for vehicles equipped with the latest and advanced components has increased across the globe. This has also increased the demand for light weight vehicles present across the globe. Thus, to meet this criterion, vehicle manufacturers have preferred light weight suspension system over metal spring-based suspension systems. This adoption has led manufacturers to use light weight components for manufacturing suspension systems. Thus the increasing demand for lightweight air suspension system has led to the growth of market during the forecast period.
Key Benefits for Air Suspension Market:
This study presents the analytical depiction of the global air suspension market analysis along with the current trends and future estimations to depict imminent investment pockets.
The overall air suspension market opportunity is determined by understanding profitable trends to gain a stronger foothold.
The report presents information related to the key drivers, restraints, and opportunities of the global market with a detailed impact analysis.
The current market is quantitatively analyzed from 2018 to 2026 to benchmark the financial competency.
Porter's five forces analysis illustrates the potency of the buyers and suppliers in the industry.
 Air Suspension Market Report Highlights
Aspects
Details
By Vehicle Type

Light Commercial Vehicle (LCV)
TRUCKS
BUS

By Component

Air Spring
Tank
Solenoid Valve
Shock Absorber
Air Compressor
Electronic Control Unit (ECU)
Height & Pressure Sensor
Others

By Technology

ELECTRONIC CONTROLLED
NON-ELECTRONIC CONTROLLED

By Sales Channel

Original Equipment Manufacturers (OEMs)
AFTERMARKET

By Region

NORTH AMERICA (U.S, CANADA, MEXICO)
EUROPE (GERMANY, FRANCE, ITALY, UK, Rest of Europe)
ASIA-PACIFIC (CHINA, JAPAN, INDIA, SOUTH KOREA, REST OF ASIA-PACIFIC)
LAMEA (LATIN AMERICA, MIDDLE EAST, AFRICA)

Key Market Players
CONTINENTAL AG., THYSSENKRUPP AG, HITACHI LTD., WABCO, Firestone Industrial Products (Subsidairy of Bridgestone), Hendrickson USA, L.L.C., MANDO CORPORATION, BWI Group, SAF-HOLLAND S.A., ACCUAIR SUSPENSION