Airborne L-Band SATCOM Market Statistics 2030 -
The global airborne L-band SATCOM market was valued $0.73 billion in 2021 and is projected to reach $1.22 billion in 2030, registering a CAGR of 5.6%.    
The COVID-19 crisis is triggering market uncertainty, a significant supply chain slowdown, a drop in corporate confidence, and an increase in customer concern. Governments of different countries have already announced total lockdown and temporary shutdowns of industries, affecting overall production and sales. As a result of the coronavirus (COVID-19) pandemic, the airborne L-Band SATCOM industry witnessed a moderate decline in 2020. The market's growth is further hindered by the temporary closure of many research and production facilities, as well as the limited number of functioning launch stations. Market demand is projected to be significantly impacted by sluggish global economies and a substantial focus on countering the pandemic. While companies operating under space industry may experience a short-term disruption in satellite development and services, this disruption may open up new opportunities for airborne L-band SATCOM adoption in the coming years, accelerating acceptance across a wide range of commercial and government organizations
When an aircraft is outside of the coverage of conventional ground radar and stations, SATCOM is a speech and data service that allows aerial vehicles to connect with air traffic control and its airline operations center via satellite. Unmanned Air Vehicles (UAV), maritime patrol aircraft, commercial or military aircraft, and other airborne platforms use airborne L-band SATCOM systems to deliver IP-based, secure, or non-secure audio, data, video teleconferencing, and fax communication via satellite.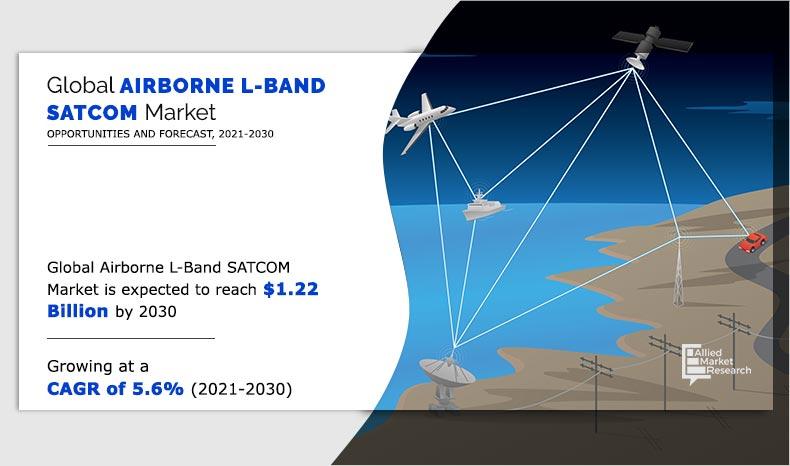 The global airborne L-band SATCOM market is expected to witness growth in the estimated timeframe as a result of increased innovation, lower drone costs, and the development of compact, lightweight airborne satellite communication terminals. The demand for remote SATCOM systems for full-time, mission-critical operations has increased in the aviation industry. For instance, Get SAT unveiled their ultra-low-profile Ultra-Blade L-Band antenna in November 2018, which is compatible with any L-Band satellite. Get SAT's solution allows for the downsizing of L-Band terminals, reducing package weight while increasing SATCOM capabilities. The need for airborne L-band SATCOM has increased as SATCOM components have gotten more lightweight and compact.
Airborne L-Band SATCOM Market

---
By Platform
UAV is projected as the most lucrative segments
The airborne L-band SATCOM market is segmented on the basis of platform, component, application, installation type, and region. The airborne L-band SATCOM market is segmented by platform into commercial aircraft, wide-body aircraft, narrow-body aircraft, unmanned aerial vehicles, military aircraft, and others. Based on component, it is further divided into transceivers, airborne radio, modems and routers, SATCOM radomes, SATCOM terminals, and others. Based on application, the market is segmented into government & defense, and commercial. On the basis of installation type, the airborne L-band SATCOM market is segmented into new installation and upgradation. Region-wise, the market is analyzed across North America, Europe, Asia-Pacific, and LAMEA.
Key players operating in the global airborne L-band SATCOM market include ASELSAN A.S., Ball Corporation, Cobham Ltd, Honeywell International Inc., Hughes Network Systems, LLC, Inmarsat Global Limited, Iridium Communications Inc., Raytheon Technologies Corporation, Teledyne Technologies Incorporated, Thales Group, and Viasat Inc.  
Airborne L-Band SATCOM Market

---
By Component
Modems and Routers is projected as the most lucrative segments
Increase in demand for SATCOM On-The-Move (OTM) Solutions 
Communications on the move (COTM) is one of the most important uses of satellite communication technology that delivers critical services to a variety of industries. COTM refers to moving aircraft, such as commercial, government, and unmanned aerial vehicles (UAVs), that are equipped with a satellite dish capable of establishing and maintaining communications with a satellite network while the aircraft is in motion. The demand for satellite-based airborne communications on the move (COTM) has emerged as a recent trend in both defense and commercial airborne communication systems. For military and commercial end-users, COTM offers critical applications for first responders, disaster recovery, emergency preparedness, remote access, and other applications. COTM solutions have become substantially more effective as a result of the introduction of high-powered L-band satellites with low gain antenna solutions, which were originally developed for the security and defense industries. For instance, Get SAT announced the launch of the Ultra-Blade L-Band antenna for on-the-go L-band airborne applications in November 2018. Operators and customers, both commercial and military, are seeking faster speeds and more competitive bandwidth rates. As different platforms require new antenna types or ways to purchase connectivity, operators' networks are being constrained, leading to the development of advanced airborne on-the-move SATCOM solutions. For instance, in May 2018, iDirect Government, UltiSat, R4, and SelectTech Geospatial partnered up to build Tactical Removable Airborne Satellite Communications (TRASC) systems. In the anticipated timeframe, the growing demand for customized on-the-go airborne satellite communication systems with omnidirectional antennas and vast coverage regions will fuel the expansion of the airborne L band SATCOM market.   
Growing adoption of high-altitude, long endurance (HALE) and medium altitude, long endurance (MALE) UAVs for surveillance applications 
The capacity of Unmanned Aerial Vehicles (UAVs) to undertake multiple duties such as Intelligence, Surveillance, and Reconnaissance (ISR) Operations, among others, has altered the combat field. Unmanned Aerial Systems (UAS), formerly known as unmanned aerial vehicles, are increasingly being developed to provide cost-effective and efficient solutions for specialized applications throughout the military and civilian usage. The High Altitude Long Endurance (HALE) UAV can fly at altitudes of more than 15000 meters for more than 24 hours and conduct extremely long-range (trans-global) surveillance. The Medium Altitude Long Endurance (MALE) UAV flies at a height of 5000–15000 meters and can fly for up to 24 hours. Their missions are similar to those of HALE systems, however, they typically operate at shorter ranges of less than 500 kilometers and from fixed bases. Due to their combined surveillance and strike capabilities, the armed services have shown a preference for medium-altitude land-based unmanned aircraft and high-altitude unmanned aircraft in recent years. For instance, Japan's Ministry of Defense (MoD) announced in May 2021 that the government will purchase the U.S. Navy MQ-4C Triton high altitude long endurance (HALE) aircraft. In order to complete missions successfully and safely, Unmanned Aircraft System (UAS) communication and data linkages should have unique requirements based on the military concept of operations. For commercial and government aerial platforms, numerous wide frequency bands are used to transmit large amounts of data. L bands can penetrate ground obstructions and use low-power transmitters, making them more suitable for use in difficult terrains. UAS payload data, particularly visual and command control data, contain time-sensitive information. Any delay or distortion in visual data transmission reduces the value of the information and makes operating the UAV payload more challenging. When a payload operator manually tracks a moving ground target with a video camera, the operator needs a real-time video to properly position the payload camera onto the target. These criteria are driving the demand for L-band SATCOM in surveillance applications across the HALE and MALE platforms. The growing use of HALE and MALE platforms for surveillance applications by government and commercial organizations are fueling the expansion of the airborne L-Band SATCOM market. 
Airborne L-Band SATCOM Market

---
By Application
Commercial is projected as the most lucrative segments
Cybersecurity Issues 
The significance of satellites in today's aviation industry has grown dramatically over the last decade, from providing geolocation capabilities to facilitating logistics and navigation to information-gathering applications. Over the last few years, the satellite sector has had a resurgence, and it is now in a good position to address ever-increasing market demands, such as 5G backhaul and the Internet of Things (IoT).
However, with the increased deployment of satellites, space-based assets of the aviation industry have become a target for hackers trying to breach critical information, potentially resulting in catastrophic repercussions. According to the UN Office of Outer Space Affairs' Index of Objects Launched in Outer Space, roughly 792 satellites were circling the planet by mid-2018, with hundreds more being used for technology development, navigation, earth science, space science, and earth observation. As the number of satellites increases, so do the security dangers and concerns, as satellite communications are not potentially safe. Though satellite systems are crucial for aerial L-band communication bandwidth on a worldwide scale, cybercriminals are becoming increasingly interested in them. Any disruption in satellite services, whether intentional or unintentional, can have a cascading impact, resulting in economic losses or information leaks. While satellites are an important part of many aviation firms' cyber ecosystems, they rarely have a direct responsibility to govern satellite cybersecurity. Concerns about satellite communication systems' cybersecurity are impeding the growth of the airborne L-band SATCOM market.
Airborne L-Band SATCOM Market

---
By Installation Type
Upgradation is projected as the most lucrative segments
Development of ultra-compact SATCOM terminals 
Unmanned aircraft systems (UAS) with tactical, long-range capabilities are frequently utilized to collect and transmit real-time intelligence, surveillance, and reconnaissance (ISR) data to ground stations. In beyond-line-of-sight (BLOS) operations, reliable, high-performance satellite communications are critical for maintaining ongoing broadband connectivity. The need for small aerial vehicles (UAVs) with high performance and throughput L-Band SATCOM terminals with a small footprint has risen dramatically in recent years. For instance, Intellian announced in October 2021 that its new FB250 and Fleet One L-band terminals had gained type certification from Inmarsat. The Fleet One terminal from Intellian is a compact, durable, and cost-effective solution for simultaneous phone and data connectivity up to 150kbps. The ultra-compact L-Band SATCOM terminal is an ideal product for individuals operating outside of terrestrial coverage. It also ensures secure, uninterrupted access to safety alerts, navigational warnings, emails, internet-based messaging, and voice calls at any time. Leading satellite manufacturers are collaborating with innovative terminal makers to develop hardware antennas and terminals with low Size, Weight, and Power (SWaP) and high-throughput capabilities. The growing demand for high-throughput, beyond-line-of-sight (BLOS) connectivity for small aviation platforms around the world offers an opportunity for the airborne L-band SATCOM market to witness growth. 
Airborne L-Band SATCOM Market

---
By Region
Asia Pacific would exhibit the highest CAGR of 6.6% during 2021-2030.
COVID-19 Impact Analysis 
The COVID impact on the airborne L-band SATCOM market is unpredictable and it is expected to remain in force till the second quarter of 2021. 
Governments & local authorities opted for the use of drones for surveillance to prevent people from gathering. In addition, governments entered into numerous agreements with different companies for the implementation of L-band SATCOM services, which can operate on a wider location. 
Moreover, the nationwide lockdown forced the airborne L-band SATCOM provider to partially or completely shut their operations, which resulted in a loss in revenue.
In addition to street surveillance, authorities are using airborne L-band SATCOM to broadcast messages & information about lockdown measures, especially in rural areas that lack open communication channels for health information.
Key Benefits For Stakeholders
This study presents the analytical depiction of the global airborne L-band SATCOM market analysis along with the current trends and future estimations to depict imminent investment pockets.
The overall airborne L-band SATCOM market opportunity is determined by understanding profitable trends to gain a stronger foothold.
The report presents information related to the key drivers, restraints, and opportunities of the global airborne L-band SATCOM market with a detailed impact analysis.
The current drone service market is quantitatively analyzed from 2021 to 2030 to benchmark financial competency.
Porter's five forces analysis illustrates the potency of the buyers and suppliers in the industry.
 Airborne L-Band SATCOM Market Report Highlights
Aspects
Details
By Platform

Commercial Aircraft
Wide-Body Aircraft
Narrow-Body Aircraft
Unmanned Aerial Vehicles
Military Aircraft
Others

By Component

Transceivers
Airborne Radio
Modems and Routers
SATCOM Radomes
SATCOM Terminals
Others

By Application

Government & Defense
Commercial

By Installation Type

New Installation
Upgradation

By Region

North America (U.S., Canada, Mexico)
Europe (Germany, France, UK, Italy, Rest of Europe)
Asia-Pacific (China, India, Japan, South Korea, Rest of Asia-Pacific)
LAMEA (Latin America, Middle East, Africa)

Key Market Players
ASELSAN A.S., Ball Corporation, Cobham Ltd, Honeywell International Inc., Hughes Network Systems, LLC, Inmarsat Global Limited, Iridium Communications Inc., Raytheon Technologies Corporation, Teledyne Technologies Incorporated, Thales Group, VIASAT INC.