The global aircraft cabin interior market size was valued at $22.8 billion in 2021, and is projected to reach $38.5 billion by 2031, growing at a CAGR of 5.6% from 2022 to 2031.
The part of an aircraft where passengers travel is known as the aircraft cabin. Because cruising altitudes are high enough to make the surrounding atmosphere too thin for passengers and crew to breathe, most modern commercial airplanes are pressurized. The aircraft cabin is an important part of the plane's interior, made up of numerous modern plastic materials. The cabin interior components include a lightning system, seats, in-flight entertainment communication systems, windscreens, and galleys and lavatories among others. 
In addition, the cabin of an aircraft is an important part of the plane's interior, made up of numerous modern plastic materials. A number of plastic materials are utilized for aircraft interior components including galley compartments, lavatory components, seat parts, wall panels, video screen bezels, light housing, and others and assemblies.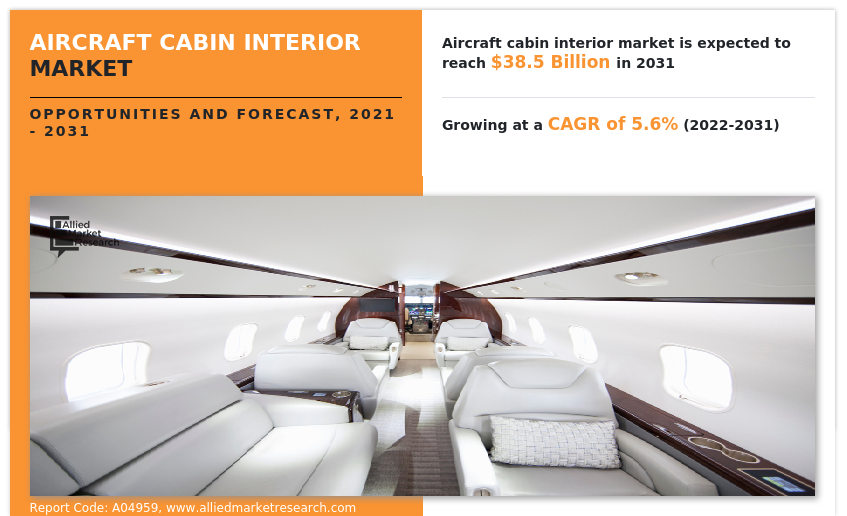 In recent years, there has been a considerable growth in the need for comfort in travel needs through various interiors such as cabin dividers for privacy concerns, comfortable seats, comfortable convertible beds for extended travels as well as in-flight entertainment and communication systems integrated with seats and coaches. This has increased the demand for better flight interiors, which give a better experience for customers.
Aircraft interior producers are also offering new comfort and safety elements, such as head injury protection and numerous seat modifications in the seats, which provide comfort to passengers during their flights. Moreover, many airlines make significant investments in technology to provide passengers with an entirely new experience by integrating virtual reality, internet connectivity, and entertainment services such as magazines, movies, and others.
Shift in preference to provide enhanced passenger comfort, increase in need for 16g seats for safety, surge in in-flight entertainment devices, and growth in Urban Air Mobility (UAM) platform are the major factors that propel the market growth. However, stringent aviation regulations on aircraft interiors and high-cost requirements for the installation of aircraft interiors are the major factors that hamper the growth of the market. Furthermore, reconfiguration of cabin designs, and adoption of low-cost carriers (LCC) in emerging economies are the factors expected to offer growth opportunities during the forecast period.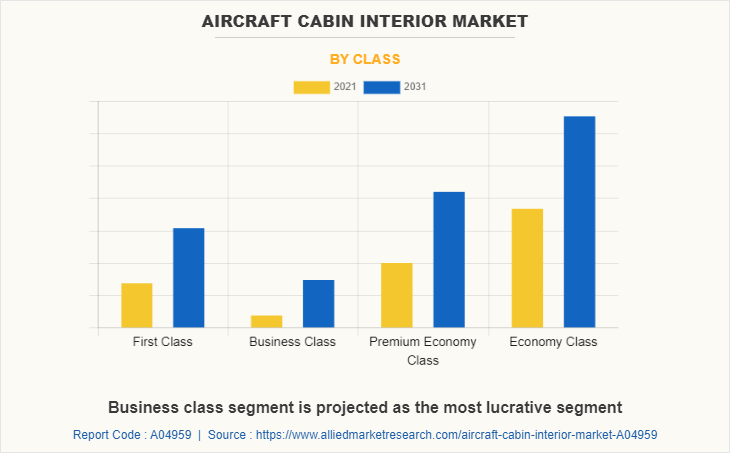 The aircraft cabin interior market is segmented on the basis of product type, aircraft type, class, end user, and region. By product type, it is segmented into seat, cabin lighting, In-flight entertainment and connectivity, aircraft galley and lavatory, aircraft window and windshields, and others. By aircraft type, it is classified into narrow body aircraft, wide body aircraft, and business jets. By class, it is categorized into first class, business class, premium economy class, and economy class. By end user, it is bifurcated into OEM and retrofit. By region, the market is analyzed across North America, Europe, Asia-Pacific, and LAMEA. 
Asia-Pacific comprises China, India, Japan, South Korea, and Rest of Asia-Pacific has one of the most lucrative countries for aviation sectors across the globe. Rest of Asia-Pacific includes South Korea, Singapore, Malaysia, Thailand, Indonesia, New Zealand, and others. Countries such as China, Japan, India, and others, in the region are developing in terms of aircraft cabin interior components. In addition, they also focused on delivering new aircraft interior components with advanced features and technologies so as to improve the overall traveling experience of passengers. In addition, several top aviation companies, notably Airbus and Boeing, have assembly factories in China, making it an attractive location for aviation technology innovation and facilitating the introduction of aircraft components, including cabin interior providers, into the region. Moreover, the large population base, multiple large cities, and strong economy are expected to create lucrative growth opportunities for the aircraft cabin interior market in the region.
The leading aerospace companies are signing contracts to accelerate development and adoption of advanced aircraft cabin interior systems in the Asia-Pacific region, which increases the demand for cabin interior systems. For instance, in April 2021, JAMCO Corporation entered into a partnership with All Nippon Airways (ANA), Japan's largest and 5-Star airline to develop the world's first hands-free door that allows easy access to lavatories on its aircraft.
Some leading companies profiled in the report comprises Acro Aircraft Seating Astronics Corporation, Aviointeriors S.p.A., Diehl Stiftung & Co. KG, GAL Aerospace, Hong Kong Aircraft Engineering Company Limited, Jamco Corporation, Raytheon Technologies Corporation, Safran S.A., and Thales Group.
The leading companies are adopting strategies such as product launch, agreement, and collaboration to strengthen their market position. In May 2022, Astronics Corporation launched the next generation of cabin management and in-flight entertainment systems (CMS/IFE) for VIP Aircraft at EBACE. In July 2021, Diehl Aviation, a subsidiary of Diehl Stiftung & Co. KG signed an agreement with HAECO Cabin Solutions (HCS) in the field of upgrade solutions for the commercial aircraft cabin. The joint capabilities will cover floor-to-floor interior components, cabin lighting, galleys, lavatories, seating, reconfiguration engineering, certification, and installation for cabin upgrade requirements of airlines and MRO providers around the world. In March 2021, Acro Aircraft Seating Ltd. entered into a collaboration with COMAC, (The Commercial Aircraft Corporation of China), the Chinese state-owned aviation manufacturer to display seats in COMAC's new customer selection center.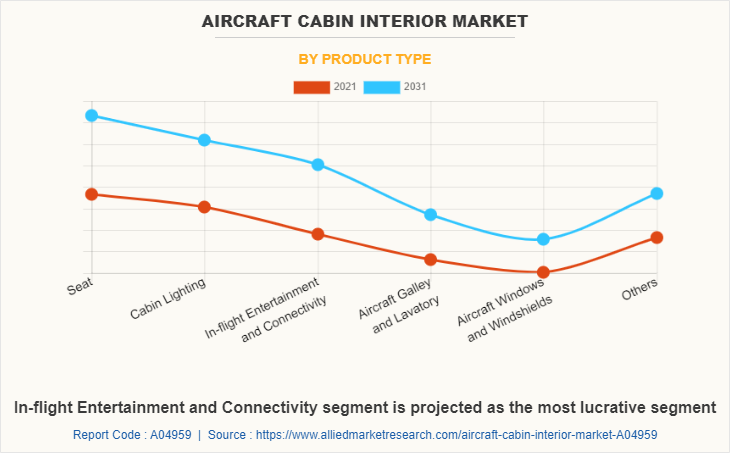 Shift in preference to provide enhanced passenger comfort 
The demand for comfort in travelling experience through various interiors such as comfortable seats, cabin dividers for privacy concerns, comfortable convertible beds for long journeys have increased significantly in recent years. This has led to rise in need for better aircraft interiors, which provides better experience for consumers. Aircraft interior manufacturers are also introducing new comfort and safety features such as protection from head injuries and various seat adjustments in the seats, which provide comfort to passengers during their journeys, which propels demand for aircraft interiors. For instance, in July 2022, ZIM Aircraft Seating, started the supply of premium eco seats for Air New Zealand's innovative cabin concept. With the improved cabin of its Boeing 787-9 "Dreamliner" fleet, the New Zealand airline   will be providing an excellent sleeping experience for long-haul customers from 2024. There are five various comfort classes in the concept.
The comfortable seats and attractive interiors also support the increasing number of consumers, which increases revenue of the company. For instance, in July 2022, IndiGo has chosen Recaro Aircraft Seating of Germany to outfit its brand-new A320neo and A321neo aircraft beginning next year. IndiGo will be the first airline in the Indian subcontinent to offer the company's economy class seats. Beginning in January 2023, 75 Airbuses will be outfitted with the BL3710 economy class seats. Thus, these types of collaborations between manufacturers of aircraft interiors and airline companies are anticipated to drive the aircraft interior market growth during the forecast period.
Moreover, the airline companies are also using the elastomeric panel isolators for reducing the outdoor noise which are providing the better atmosphere in the airplanes. For instance, in March 2020, Collins Aerospace launched a wide range of aircraft galley inserts for preparation of food and beverages. The superior performance and ergonomic designs of water heaters, quality ovens, espresso machines, beverage chillers, and other items are also expected to be appreciated by the in-flight crew. These launches are also supporting the market growth during the forecast period.
Increase in need for 16g seats for safety
The rising concerns regarding safety issues during the travelling with any aircraft as international organizations including Federal Aviation Administration (FAA) and European Aviation Safety Agency (EASA) changes some regulations on 16G seats. The FAA has finished its work on the need for firmer seats in airplanes, which must be made to boost the survival of passengers and flight attendants in accidents. The revised guidelines, which are applicable to any aircraft produced after October 2009, the seats themselves must be able to bear the same amount of gravitational force as the floors and rails on which they are mounted. In order to upgrade current fleets with stronger seats, the FAA introduced the stronger seat rule in 2002. Given that they have roughly 14 years to comply with the new standards, airlines that now use 9G seats are replacing them with 16G seats when they are due for retrofitting. Therefore, these regulations on 16G seats are anticipated to drive the demand for new seats during the forecast period, which support the aircraft interior market.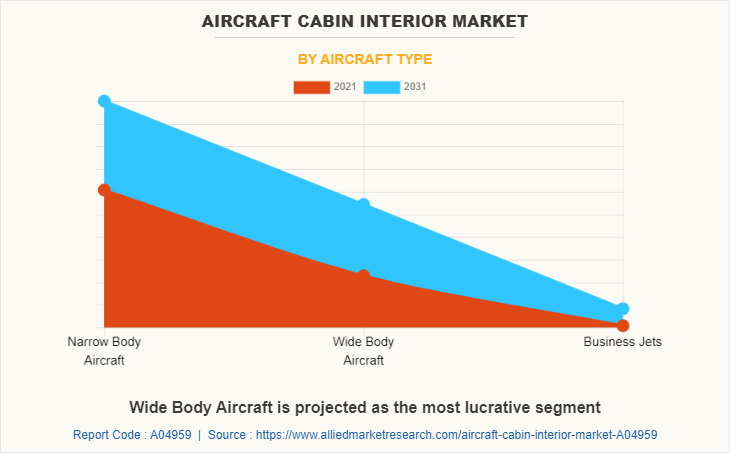 Stringent aviation regulations on aircraft interiors
When building the interior system and components of an airplane, weight and safety are two crucial considerations. The weight of the aircraft may be increased by the use of traditional materials and components in the development of this system. Therefore, the 16G seat standards that strengthen the protection against head injuries were established by the international authorized agencies in order to prevent accidents and promote passenger safety. The cost of product development is also being increased by the use of fire-retardant materials and improved test standards for components such as galleys, seats, ceilings, partitions, and stowage bins, among others. The production costs of these interiors producers rise as a result of strict aviation standards. It is projected that rising production and raw material costs are anticipated to impede market expansion. However, it is anticipated that the development of aircraft interior parts using composite materials and additive manufacturing processes would result in lower production costs and new business opportunities for the OEMs.
In the domestic aircraft market, the in-flight entertainment and connectivity market is regulated by several countries, which makes it difficult for aircraft operators to approve the installation of IFEC systems on an aircraft. The certification process for IFEC systems is exhaustive due to the long time for approval process and high costs of IFEC systems. In addition, the IFEC system must be connected to a power rail to ensure a safe landing of an aircraft. This procedure requires approval from the FAA. Thus, these regulatory frameworks and certifications are expected to ultimately curb the growth of the aircraft interior market. The maximum take-off weight of the aircraft varies depending on the aircraft model. The installation of entertainment systems, seats, galleys and toilets on board increases the total weight of the aircrafts, which increases fuel consumption. For instance, IFE systems weigh approximately 600 pounds per aircraft. An increase in the gross weight of the aircraft increases the operating costs of the airline; which affects its profitability. This is expected to restrict the growth of the aircraft interior market.
Reconfiguration of cabin designs
According to the International Civil Aviation Organization (ICAO), the introduction of low-cost airlines has changed the dynamics of global air travel, with low-cost airlines carrying approximately one billion passengers each year. Refurbishment and space optimization by low-cost and regional airlines are increasing the demand for aircraft interiors, which is supporting the growth of this market. Commercial airlines are upgrading aircraft seats to add seats to premium economy class and redesigning aircraft cabins to manage additional distances between first and business class to maximize revenue. Additionally, some airlines attract passengers by offering advanced cabin amenities such as reclining seats, mood lighting, advanced galleys, entertainment and internet access for premium passengers such as first and business class. With demand for premium economy seats growing in recent years, these options help airline users maximize their revenue. Hence, increasing passenger air traffic and aircraft deliveries is expected to propel the market over the forecast period. Aircraft cabin internal systems have a defined service life, depending on the aircraft type, interior and components. Various innovations and hardware technologies come to the fore in the design and development of cabin interiors including cabin stowage concept, active noise control technology, seat automation, and air filter system. 
Also, the development of various new materials and components for these systems is an emerging trend in this market. For instance, in 2022, the Intelligent Cabin Concept launched by Boeing aims to transform aircraft cabin technology into the Internet of Things (IoT) for flight crews. The layout and functionality of smart cabins follow the path of smart homes where smart cabins manage all components digitally. The Intelligent Cabin introduces features such as cabin lights, seats and even voice commands to operate the toilet. The Intelligent Cabin will be an integrated system with analytics solutions that help crews and airlines improve cabin accuracy. An advanced galley and lavatory configuration developed by Airbus, the Space-Flex galley and lavatory ensures efficient use of space on narrowbody aircraft.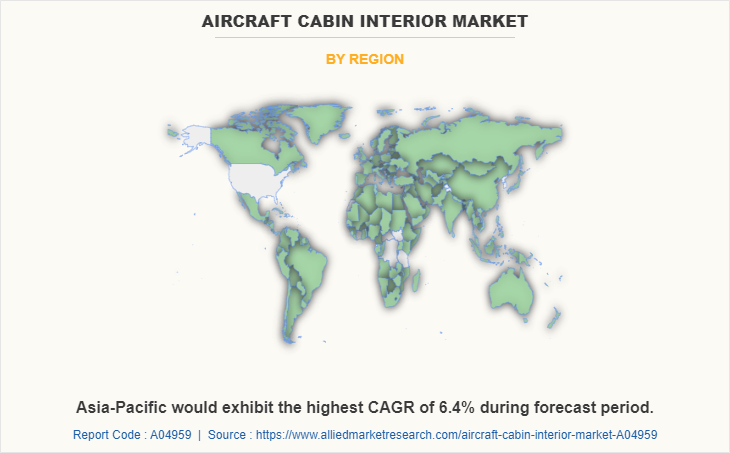 After significant disruption in aviation industry during the pandemic, the global missile aircraft cabin interior market is expected to experience growth in the coming years due to Domestic air passenger numbers have returning to the pre-pandemic levels, particularly in developing countries such as China and Russia. Also, ICAO said that, in Mid-2021 passenger numbers recovered globally to 71% of their 2019 levels (or 53% for international and 84% for domestic flights).
Key Benefits For Stakeholders
This report provides a quantitative analysis of the market segments, current trends, estimations, and dynamics of the aircraft cabin interior market analysis from 2021 to 2031 to identify the prevailing aircraft cabin interior market opportunities.
The market research is offered along with information related to key drivers, restraints, and opportunities.
Porter's five forces analysis highlights the potency of buyers and suppliers to enable stakeholders make profit-oriented business decisions and strengthen their supplier-buyer network.
In-depth analysis of the aircraft cabin interior market segmentation assists to determine the prevailing market opportunities.
Major countries in each region are mapped according to their revenue contribution to the global market.
Market player positioning facilitates benchmarking and provides a clear understanding of the present position of the market players.
The report includes the analysis of the regional as well as global aircraft cabin interior market trends, key players, market segments, application areas, and market growth strategies.
 Aircraft Cabin Interior Market Report Highlights
Aspects
Details
Market Size By 2031
USD 38.5 billion
Growth Rate
CAGR of 5.6%
Forecast period
2021 - 2031
Report Pages
335
By Class

First Class
Business Class
Premium Economy Class
Economy Class

By End-User
By Product Type

Seat
Cabin Lighting
In-flight Entertainment and Connectivity
Aircraft Galley and Lavatory
Aircraft Windows and Windshields
Others

By Aircraft Type

Narrow Body Aircraft
Wide Body Aircraft
Business Jets

By Region

North America (U.S., Canada, Mexico)
Europe (Germany, France, UK, Russia, Rest of Europe)
Asia-Pacific (China, Japan, India, South Korea, Rest of Asia-Pacific)
LAMEA (Latin America, Middle East, Africa)

Key Market Players
Thales Group, Hong Kong Aircraft Engineering Company Limited, Aviointeriors S.p.A., Raytheon Technologies Corporation, Acro Aircraft Seating Ltd., Safran S.A., Jamco Corporation, Astronics Corporation, GAL Aerospace, Diehl Stiftung & Co. KG