The global aircraft engines market was valued at $79.10 billion in 2021, and is projected to reach $158.46 billion by 2031, growing at a CAGR of 7.4% from 2022 to 2031.
Aircraft engine refers to the component of an aircraft that offers thrust to an aircraft during taxing or the course of flight. The major components of an aircraft engine encompass fan, compressor, combustor, turbine, mixer, and nozzle. Each component plays a crucial role in aircraft engine. The fan ensures required air intake for an aircraft engine, followed by compressor, which compresses the inlet air and rise the temperature & pressure. The jet fuel is introduced in the combustion chamber along with the compressed air. The reaction rotates the turbine that powers the aircraft. The reaction generated exhaust air which is then followed to mixer where excessive air from nozzle is introduced to reduce the pressure and temperature of exhaust air. The mixer ensures silent operation of an aircraft engine while maintaining optimal temperature. The nozzle finally releases the exhaust back to atmosphere.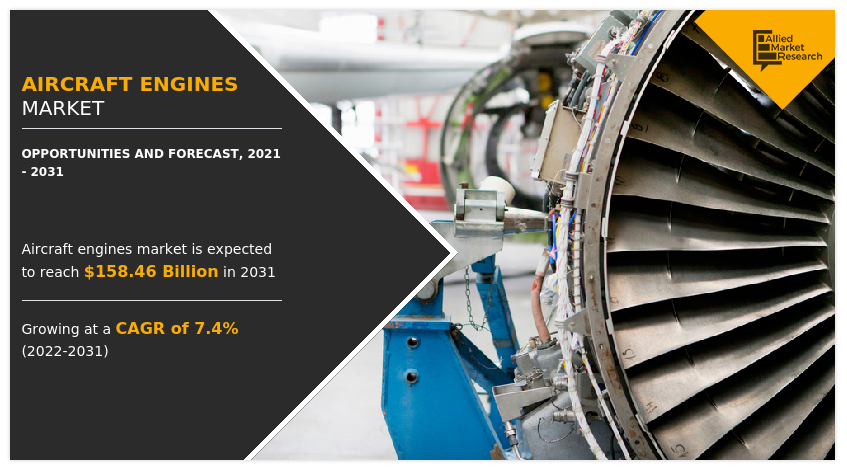 Airport traffic and income have been significantly and immediately impacted by COVID-19. Global passenger travel decreased as a result of the COVID-19 pandemic. The problem first appeared in Asia-Pacific, however according to ACI, the rapid spread of the virus and the containment measures put in place as a result, such as government advice to stay home and airport closures, led to a 22.9% decline in global air traffic in February and a 53.1% decline in March 2020. This amounted to a drop in passenger volume of 620 million in the first quarter of 2020. Owing to a 90% global reduction in passenger travel, April was an especially challenging month. The grounding of aircraft has resulted in steep decline of aircraft engines.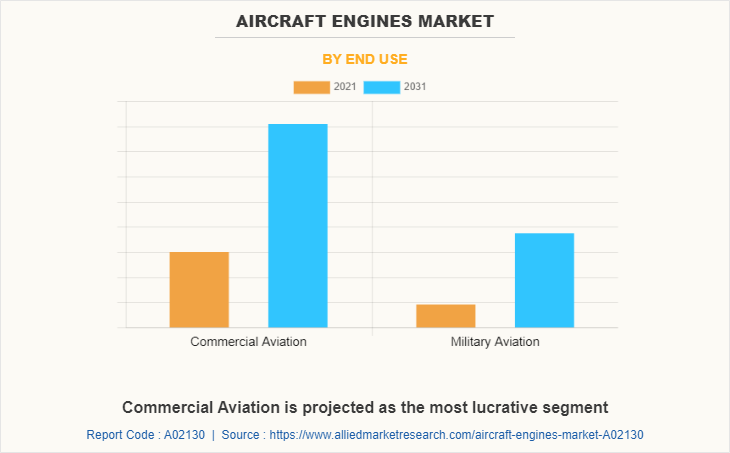 Factors such as increase in passenger traffic across the globe, rise in infrastructure investment, efforts by regional government to develop indigenous manufacturing capacities, and extensive R&D efforts taken by global players to improve operational efficiency of an aircraft engine and reduce overall carbon footprint. The manufacturing and supply chain industry is expected to is expected to play a major role in defining the market consolidation of aircraft engine. With respect to current Russia and Ukraine war, major aircraft engine manufacturers such as Boeing, General Electric, Rolls Royce, and CFM international have withdrawn from the Russian market. These players are actively looking for new raw material suppliers from Africa, Asia-Pacific, or North America regions in effort to reduce their depends from Europe.
The aircraft engine market is segmented on the basis of engine type, component, end use, and platform. By engine type, it is categorized into piston & turboprop engine, turbojet engine, turboshaft engine, and turbofan engine. Depending upon component, the market is fragmented into fan, compressor, combustor, turbine, mixer, and nozzle. By end use, it is divided into commercial and military. The platform segment is bifurcated into fixed wing and rotary wing. Region-wise, the market is analyzed across North America, Europe, Asia-Pacific, and LAMEA.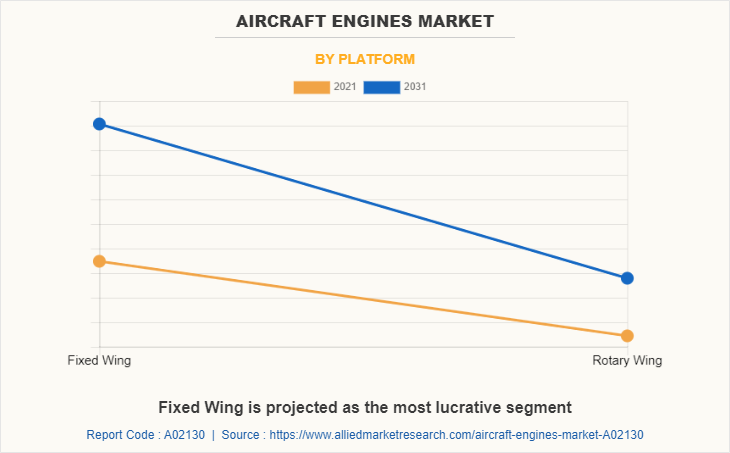 Companies have adopted product development and product launch as their key development strategies in the aircraft engine industry. Moreover, collaborations and acquisitions are expected to enable leading players to enhance their product portfolios and expand into different regions. The key players that operate in the aircraft engine market are General Electric, Rolls Royce, Safaran, Honeywell International Inc, Textron, MTU Aero Engines, Raytheon Technologies, IHI Corporation, MHI, and Lycoming Engines among others.
Increase in aircraft deliveries and rise in inflight passengers across the globe
Rise in air traffic across the globe, fleet modernization program to include fuel efficient engines, and gradually increasing pace of engine deliveries by manufacturing companies to support business opportunism within the aircraft engine market. In comparison to 29 and 72 deliveries, respectively, in the same month the previous year, Boeing and Airbus delivered 41 and 63 commercial aircraft in March 2022. Boeing delivered 95 and Airbus delivered 142 aircraft as of 2022, respectively, as opposed to 77 deliveries by Boeing and 125 deliveries by Airbus in the first quarter of 2021. Boeing and Airbus were 18 and 17 deliveries, respectively, ahead of the totals for the first three months of last year.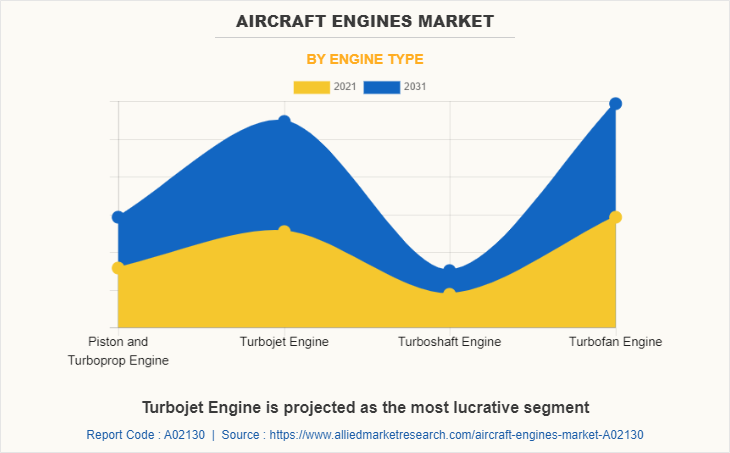 The companies are optimizing their manufacturing processes and ramping up their production capacities. Boeing delivered 41 aircraft in March 2022, including three 767s, one 777F, and 37 737s (35 MAX/ 2 NG). The official production pace of the 737 programme is now 27 per month, up from 19 at the end of October 2021, and it is almost at the short-term goal of 31 per month. According to Reuters, Boeing intends to expand 737 productions to 38 aircraft per month in the first half of 2023, and then again to 47 aircraft per month by the end of 2023. Boeing has stated that it is expected to boost the 777/777X manufacturing pace from two to three per month in 2022. The 777X is anticipated to be added to the 777 programme in late 2023 with the first delivery. The 777X and cargo portfolio of Boeing was expanded in January 2022 with the debut of a new freighter built on the 777X platform. Launch client for the 777-8F is expected to be Qatar Airways.
Introduction of new fuel efficient engines and aircraft models
An airplane's fuel economy is measured by how far it can fly on a single gallon of fuel and by how little carbon dioxide it emits. The number of seats on airplanes is anticipated to increase by around 5% every year. By 2032, there should be roughly 40,000 aircraft in the world's fleet, an increase of 20,930 aircraft. Up to 2025, the fuel consumption for aviation is anticipated to grow by around 2.3% yearly. Aircraft manufacturers and airlines are collaborating closely to increase fuel economy by adopting innovative technologies, designs, and materials, upgrading engines, optimizing aerodynamics, and using lighter materials. This is expected to cut emissions and fuel consumption. Companies operation within the aircraft engine industry such as Pratt & Whitney and NASA among others are having notable investment in R&D to improve operational efficiency of an aircraft engine. The "double-bubble" D8 design experiment, which involves shifting the engines from beneath the wings to the top of the plane toward the tail, includes Pratt & Whitney. This would significantly increase fuel economy while reducing drag and noise.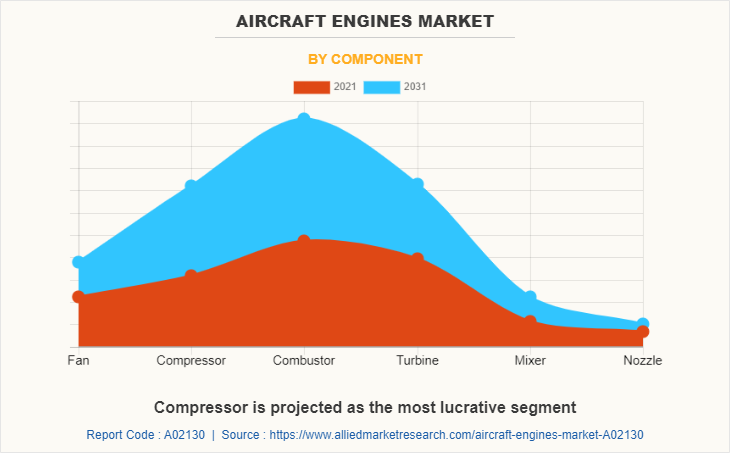 Change in consumer dynamics
The rise in aviation traffic is attributed to a variety of factors. The primary reason is population and economic expansion, which is being fueled by the burgeoning middle class. By 2035, the global economy is projected to rise by 3% annually, while aviation traffic is projected to grow by an average of 6% annually. The second development element is introducing low-cost airlines with competitive rates on well-traveled routes. They play a significant role in the intensification of air traffic in Europe; at present, they account for more than 40% of Europe's and 25% of traffic globally. By encouraging international airlines to lower ticket rates, these businesses significantly influence airline prices.
Inefficient supply chain and increasing backlogs
The sudden outbreak of COVID-19 in 2019, imposition of global trade and travel restriction in 2020 and 2021, followed by the Ukraine-Russia war in 2022 has posed a notable amount of challenges in business operations, majorly in cross border trade. Governments across the globe are limited their trade dependencies on European regions and aligning their inclination toward Asia-Pacific, African, and Middle East nation. The inter-European trade infrastructure is undergoing a major shift, casing notable business losses.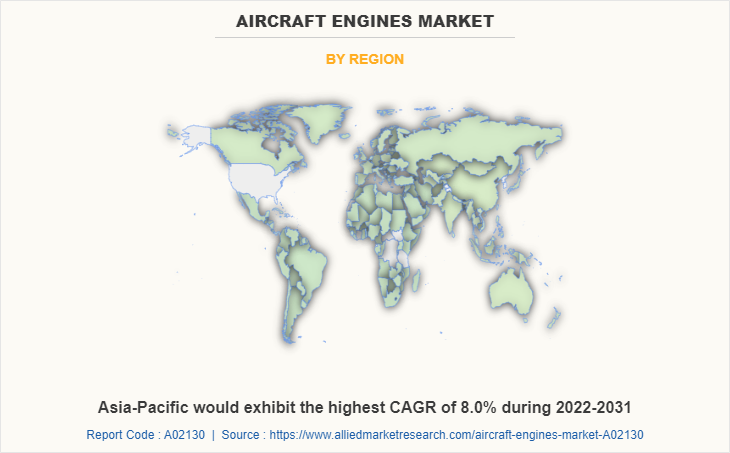 Airbus pleaded with European decision-makers not to put restrictions on Russian titanium imports. Sanctions on the metal, according to Airbus, would harm European aircraft while scarcely affecting the Russian economy. Comparatively, just one-third of Boeing's titanium demands are met by sources other than Russia for Airbus. Boeing stopped buying Russian titanium at the beginning of March. Despite this obstacle, Airbus recently reiterated its 2022 guidance and declared that its titanium sourcing requirements are met in the short and medium term. The business is stepping up its quest for non-Russian sources, though. Titanium has recently been accumulated by both Airbus and Boeing. Boeing anticipates that up to 141 of its aircraft on order, 90 of which are 737 MAX models, might be impacted by the developments in Ukraine and the sanctions imposed on aircraft supplies to Russia.
The aircraft engines market is segmented into End Use, Platform, Engine Type and Component.
KEY BENEFITS FOR STAKEHOLDERS
This study presents the analytical depiction of the global aircraft engine market analysis along with the current trends and future estimations to depict imminent investment pockets.

The overall aircraft engine market opportunity is determined by understanding profitable trends to gain a stronger foothold.

The report presents information related to the key drivers, restraints, and opportunities of

the global aircraft engine market with a detailed impact analysis.

The current aircraft engine market is quantitatively analyzed from 2021 to 2031 to benchmark the financial competency.

Porter's five forces analysis illustrates the potency of the buyers and suppliers in the industry.
 Aircraft Engines Market Report Highlights
Aspects
Details
By End Use

Commercial Aviation
Military Aviation

By Platform
By Engine Type

Piston and Turboprop Engine
Turbojet Engine
Turboshaft Engine
Turbofan Engine

By Component

Fan
Compressor
Combustor
Turbine
Mixer
Nozzle

By Region

North America (U.S., Canada, Mexico)
Europe (U.K., Germany, France, Russia, Italy, Spain, Rest of Europe)
Asia-Pacific (China, India, Japan, Australia, South Korea, Rest of Asia-Pacific)
LAMEA (Latin America, Middle East, Africa)

Key Market Players
Engine Alliance, Lycoming Engines, Honeywell International Inc., Safran, Raytheon Technologies Corporation, General Electric, IHI Corporation, Barnes Group Inc, CFM International, Rolls-Royce plc, Textron Inc, MTU Aero Engines AG, MITSUBISHI HEAVY INDUSTRIES, LTD, Euravia Engineering & Supply Co. Ltd.