The global aircraft galley market was valued at $2.4 billion in 2022, and is projected to reach $4.4 billion by 2032, growing at a CAGR of 6.5% from 2023 to 2032.
Report Key Highlighters:
The aircraft galley market study covers 14 countries. The research includes regional and segment analysis of each country in terms of value ($million) for the projected period 2023-2032.

The study integrated high-quality data, professional opinions and analysis, and critical independent perspectives. The research approach is intended to provide a balanced view of global markets and to assist stakeholders in making educated decisions in order to achieve their most ambitious growth objectives.

Over 3,700 product literature, annual reports, industry statements, and other comparable materials from major aircraft galley industry participants were reviewed to gain a better understanding of the market.

The aircraft galley market share is moderately fragmented,

into several players including Aerolux Ltd., AVIC Cabin Systems, Boeing, Bucher Group, Diehl Stiftung & Co. KG, Dynamo Aviation, GAL Aerospace Group, JAMCO Corporation, RTX and Safran. The companies have adopted strategies such as product launch, contract, expansion, agreement, and others to improve their market positioning.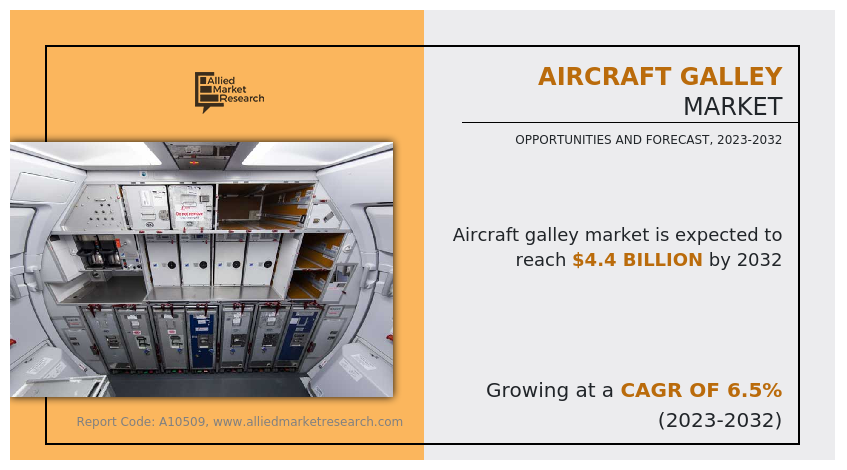 An aircraft galley refers to the kitchen area onboard an aircraft where food and beverages are prepared, stored, and sometimes even heated before being served to passengers and crew during a flight. The galley is an essential component of an aircraft's interior, especially on longer flights where passengers are provided with meals and refreshments. Galleys are equipped with various appliances and equipment necessary for meal preparation and service, such as ovens, microwaves, coffee makers, refrigerators, and storage compartments for food, beverages, and utensils. The design and layout of galleys can vary depending on the type of aircraft and the airline's specific requirements. They are typically located in specific sections of the aircraft, often near the front or rear, depending on the aircraft's configuration.
The global adoption of aircraft galley has been driven by the necessity to cater to passenger needs, the provision of in-flight services, and the efficient utilization of space within aircraft. As air travel became a fundamental mode of transportation, the demand for onboard amenities like meals and beverages led to the integration of galleys. Additionally, airlines recognized the economic benefits of offering these services, contributing to passenger satisfaction and potentially generating additional revenue streams. Consequently, aircraft galleys have become integral components of commercial aviation, enhancing the overall travel experience for passengers while serving as a strategic element for airlines' operational success.
Furthermore, in 2022, air passenger traffic experienced a further boost as restrictions were completely lifted. Recent reports from the International Air Transport Association (IATA) indicate that air passenger traffic in March 2022 exceeded that of March 2021 by over 76%. This heightened air passenger traffic prompted numerous airlines to expand their fleet sizes and modernize their existing aircraft.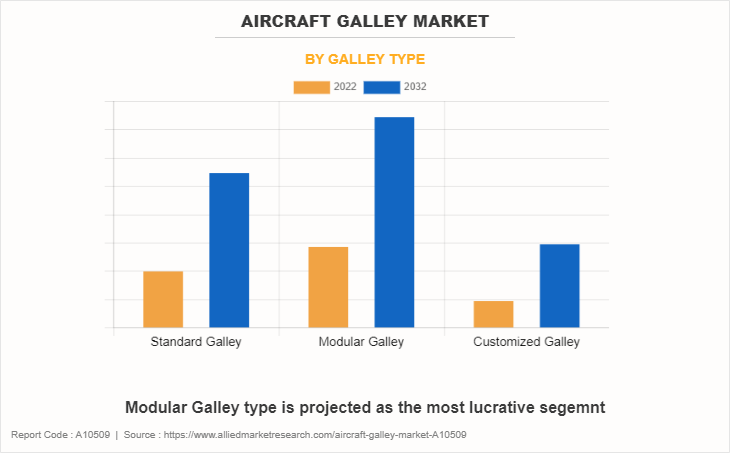 In 2021, Airbus achieved a delivery milestone of 611 commercial aircraft, surpassing its output from the preceding year, 2020. Concurrently, Boeing's aircraft deliveries for 2021 reached 340, nearly doubling its output compared to the 157 aircraft delivered in 2020. These aircraft are equipped with galleys designed to accommodate a diverse array of passengers' culinary preferences, thus necessitating the incorporation of advanced galley features like espresso machines and wine-chilling units. As airlines view distinctive services as a means to bolster their market presence and brand reputation, the acquisition of next-generation aircraft is anticipated to propel the integration of sophisticated aircraft galleys, consequently augmenting the business opportunities within the aircraft galley market.
The global aircraft galley market is segmented on the basis of galley type, fit, insert, application and region. By galley type, the market is segmented into Standard Galley, Modular Galley and Customized Galley. Further, based on fit, the market is segmented into line fit and retro fit. Based on insert, the market is segmented into electric and non-electric insert. By application, the market is segmented into narrow-body, wide-body and others. Region-wise, the market is segmented into North America, Europe, Asia-Pacific, Latin America, Middle East & Africa (LAMEA) including country-level analysis for each region.
The aircraft galley market in North America has witnessed significant growth and is poised to offer compelling opportunities in the coming years. The increasing focus on sustainability and efficiency. Airlines in North America are looking for galley equipment that not only enhances passenger comfort and service but also minimizes waste, reduces energy consumption, and lowers overall operational costs. This trend aligns with the broader aviation industry's commitment to environmental sustainability.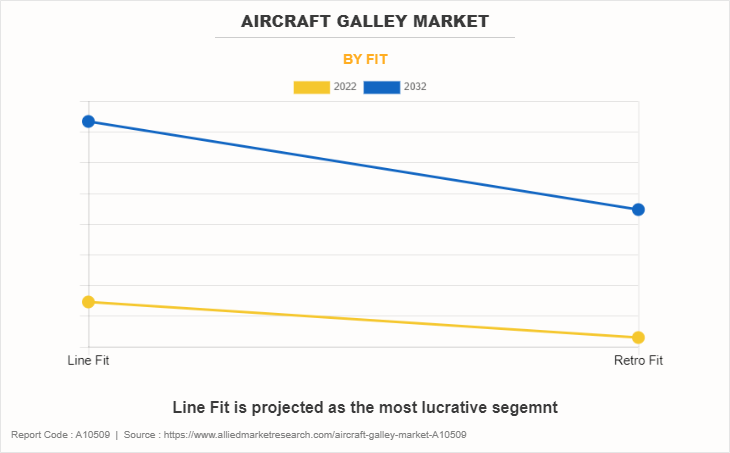 In addition, the integration of advanced technology into aircraft galleys. This includes the adoption of smart galley solutions that use data analytics and automation to optimize catering operations. These technologies can help airlines improve inventory management, reduce food wastage, and enhance the overall passenger experience. The concept of the low-cost carrier (LCC) model revolves around maximizing the passenger count on flights and offering minimal services for which passengers pay as needed. The growing worldwide presence of LCCs has brought about design difficulties in adapting to the limited space within aircraft cabins. This has compelled galley designers to downsize and lighten the galley equipment. The manufacturers in the aircraft galley market face definite hurdles in terms of technological intricacies and design intricacies.
Furthermore, the North America aircraft galley market is benefiting from the growing demand for in-flight services and premium experiences. As airlines seek to differentiate themselves and attract passengers, they are investing in upgraded galleys that can offer a wide range of culinary options, including gourmet meals and specialty beverages. This trend creates opportunities for galley equipment manufacturers to develop innovative and luxurious solutions.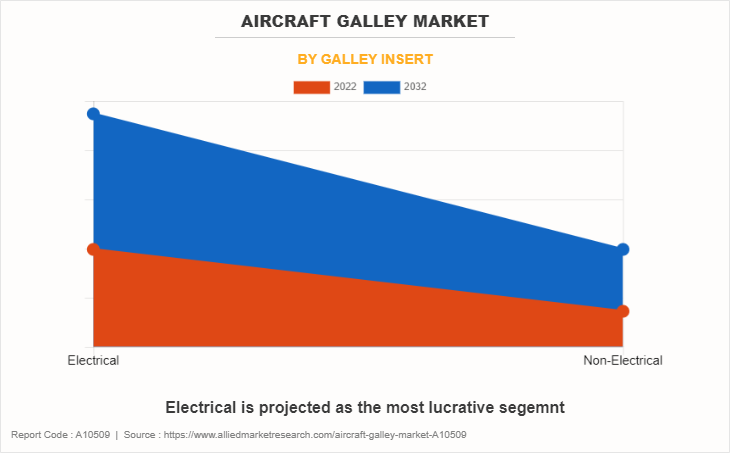 Key Developments
The leading companies are adopting strategies such as acquisition, agreement, expansion, partnership, contracts, and product launches to strengthen their market position.
In June 2023, RTX (Raytheon Technologies) through its subsidiary Collins Aerospace introduced a cost-effective wireless connectivity solution for airplane galley inserts (the appliances used to prepare inflight food and beverage). It provides operational efficiencies and cost savings for airlines while also supporting improved passenger service.
In November 2022, Bucher Group signed an agreement with Deutsche aircraft to supply Galleys and Partitions for the new D328ecoTM cabin. This strategic move plays a key development & manufacturing role in Deutsche Aircraft's new eco-efficient airplane.
In July 2021, Diehl Stiftung & Co. KG signed an agreement with HAECO Cabin Solutions (HCS) in the field of upgrade solutions for commercial aircraft cabins. It covers floor-to-floor interior components, cabin lighting, galleys, lavatories, seating, reconfiguration engineering, certification, and installation for cabin upgrade requirements of airlines and MRO providers.
In September 2020, AVIC Cabin Systems through its subsidiary AIM Altitude developed & modernize the aircraft galley and is being hailed as a solution towards increased flight hygiene.
Shift in preference to provide enhanced passenger comfort
The aviation industry has witnessed a notable shift in focus towards enhancing passenger comfort and experience, which in turn is driving significant growth in the aircraft galley market. Airlines recognize that providing a comfortable and enjoyable journey is a key factor in attracting and retaining passengers. This shift has led to increased demand for modern, well-equipped galleys that can cater to passengers' culinary preferences and dietary requirements. Airlines are now offering more diverse and higher-quality in-flight meals, including options for special diets and premium dining experiences. For instance, in August 2022, Emirates invested over $2 billion to enhance its in-flight customer experience. Customers can savor unlimited portions of Persian caviar as part of the 'dine on demand' service, with an exquisite pairing of the world-renowned Dom Perignon vintage champagne. Emirates is the only airline with an exclusive agreement to offer the luxury brand on board.
To meet these expectations, aircraft galley manufacturers are developing innovative solutions such as compact ovens that can quickly heat and serve a variety of dishes while optimizing space efficiency. These enhanced galley setups not only enable airlines to provide exceptional dining experiences but also contribute to passengers' overall satisfaction, leading to repeat business and positive word-of-mouth recommendations.
Growth in Air Passenger Traffic
The substantial growth in air passenger traffic over the years has played a pivotal role in driving significant expansion within the aircraft galley market. As more individuals opt for air travel as their preferred mode of transportation, airlines are compelled to adapt and cater to the evolving demands of their passengers. This surge in passenger numbers has spurred airlines to invest in expanding their fleets and enhancing the overall onboard experience. This in turn, has propelled the demand for modern, efficient, and technologically advanced aircraft galleys that can cater to the increased number of passengers. For instance, in 2022, there was a notable increase in air passenger traffic following the complete relaxation of restrictions. Recent updates from the International Air Transport Association (IATA) reveal that air passenger traffic during March 2022 exceeded 76% in comparison to the corresponding period in March 2021. This surge in air passenger traffic prompted numerous airlines to expand their fleet capacity and implement modernization measures on their existing aircraft.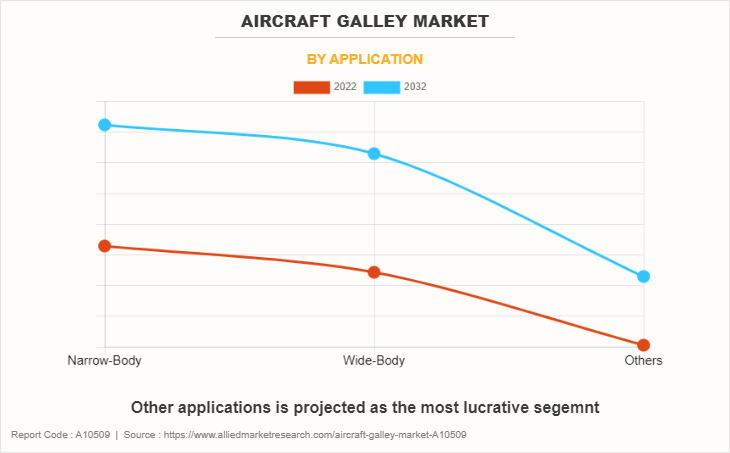 Strict Regulations and Delayed Certifications
When building the interior system and components of an airplane, weight and safety are two crucial considerations. The weight of the aircraft may be increased by the use of traditional materials and components in the development of this system. Therefore, the 16G seat standards that strengthen the protection against head injuries were established by internationally authorized agencies in order to prevent accidents and promote passenger safety. The cost of product development is also being increased by the use of fire-retardant materials and improved test standards for components such as galleys, seats, ceilings, partitions, and stowage bins, among others. The production costs of these interior producers rise as a result of strict aviation standards. It is projected that rising production and raw material costs are anticipated to impede market expansion. However, it is anticipated that the development of aircraft interior parts using composite materials and additive manufacturing processes would result in lower production costs and new business opportunities for OEMs.
The certification process for IFEC systems is exhaustive due to the long time for the approval process and the high costs of IFEC systems. In addition, the IFEC system must be connected to a power rail to ensure a safe landing of an aircraft. This procedure requires approval from the FAA. Thus, these regulatory frameworks and certifications are expected to ultimately curb the growth of the aircraft galley market.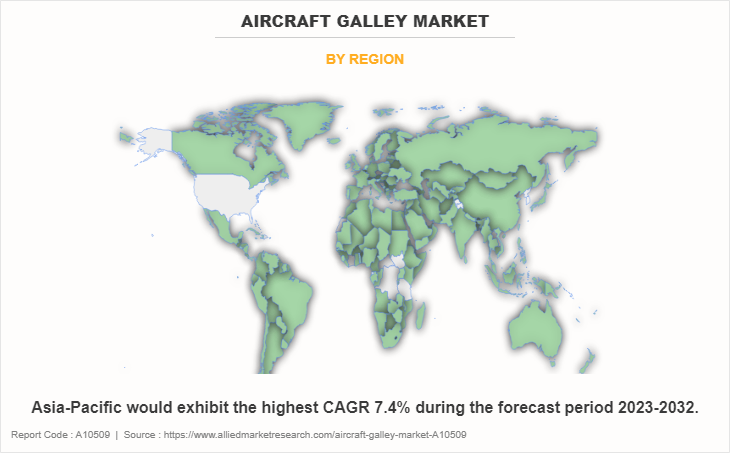 Innovations in Galley Equipment
The traditional concept of aircraft galleys, primarily focused on functionality and space optimization, has evolved into a realm of cutting-edge technologies and passenger-centric designs. With airlines increasingly emphasizing the passenger experience as a competitive edge, the demand for galley equipment that not only streamlines operations but also enhances in-flight service quality has surged. Modern galley solutions now incorporate state-of-the-art materials, modular configurations, and advanced automation. These innovations enable airlines to efficiently manage catering, reduce turnaround times and offer a diverse range of culinary options to passengers. For instance, in June 2023, Collins Aerospace, a Raytheon Technologies business, introduced a cost-effective wireless connectivity solution for airplane galley inserts (the appliances used to prepare inflight food and beverage), providing operational efficiencies and cost savings for airlines while also supporting improved passenger service.
Additionally, ergonomic layouts and creative space utilization have led to improved crew efficiency, further driving operational excellence. As airlines struggle to attract travelers, the appeal of onboard gourmet experiences and seamless service has heightened, propelling the growth of the aircraft galley market. This evolution presents a golden opportunity for manufacturers and suppliers to capitalize on the rising demand for innovative galley equipment, fostering a dynamic landscape where technological advancements intersect with heightened passenger expectations.
The conflict has led to geopolitical tensions, airspace closures, and regulatory uncertainties, all of which have disrupted normal aviation operations and caused shifts in industry dynamics. The conflict has resulted in the closure of airspace and restrictions on flight routes in the affected region, forcing airlines to alter flight paths and schedules. This has led to increased operational costs, flight delays, and decreased efficiency for airlines operating in or flying over the conflict zone. Airlines might hesitate to invest in new aircraft or upgrades during times of uncertainty, affecting orders for new aircraft and associated galley equipment. Moreover, the economic consequences of the conflict can lead to reduced passenger demand, affecting overall air travel, which, in turn, affects the need for galley services.
Key Benefits For Stakeholders
This report provides a quantitative analysis of the market segments, current trends, estimations, and dynamics of the aircraft galley market analysis from 2022 to 2032 to identify the prevailing aircraft galley market opportunities.
The market research is offered along with information related to key drivers, restraints, and opportunities.
Porter's five forces analysis highlights the potency of buyers and suppliers to enable stakeholders make profit-oriented business decisions and strengthen their supplier-buyer network.
In-depth analysis of the aircraft galley market segmentation assists to determine the prevailing market opportunities.
Major countries in each region are mapped according to their revenue contribution to the global market.
Market player positioning facilitates benchmarking and provides a clear understanding of the present position of the market players.
The report includes the analysis of the regional as well as global aircraft galley market trends, key players, market segments, application areas, and market growth strategies.
 Aircraft Galley Market Report Highlights
Aspects
Details
Market Size By 2032
USD 4.4 billion
Growth Rate
CAGR of 6.5%
Forecast period
2022 - 2032
Report Pages
410
By Galley Type

Standard Galley
Modular Galley
Customized Galley

By Fit
By Galley Insert

Non-Electrical
Electrical

By Application

Narrow-Body
Wide-Body
Others

By Region

North America (U.S., Canada, Mexico)
Europe (UK, Germany, Spain, France, Rest of Europe)
Asia-Pacific (China, India, Japan, South Korea, Rest of Asia-Pacific)
LAMEA (Latin America, Middle East, Africa)

Key Market Players
GAL Aerospace, SAFRAN, RTX, Aerolux Ltd, Boeing, Bucher Group, DYNAMO Aviation, Jamco Corporation, AVIC Cabin Systems, Diehl Stiftung & Co. KG