Aircraft Interface Device Market Size 2021-2030:
The global aircraft interface device market was valued at $163.8 million in 2020, and is projected to reach $368.9 million in 2030, registering a CAGR of 9.3%.
The COVID-19 outbreak proved very drastic for a variety of businesses and forced governments across the globe to implement strict lockdowns, which led to social distancing being made mandatory to contain the spread of the virus. As a result, people started avoiding visiting places, and the demand for any means of transportation, including air travel, observed a huge decline in 2020. As a result, thousands of airplanes were grounded worldwide, and the industry witnessed a huge slump in revenues. The aviation sector is expected to witness significant losses in the current year, 2021 owing to the uncontrolled situation of the pandemic across several parts globally. The losses witnessed by the aviation sector have impacted the adoption of critical technologies such as aircraft interface devices. Airports and airlines suffered to a large scale by the pandemic that stopped the companies and authorities to invest in advanced aircraft interface systems throughout the world.
Aircraft interface devices (AIDs) are hardware systems that enable the interface between an electronic flight bag (EFB) and the aircraft data bus. The AID makes it possible to retrieve the aircraft's location and velocity from the aircraft electronic systems by checking into the ARINC 717 and ARINC 429 data busses. This allows some of the features such as automatically update the flight plan and update weather information in-flight.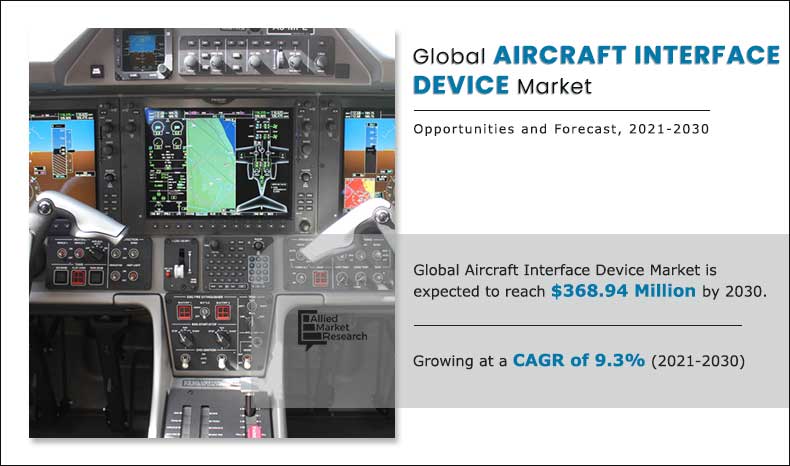 Modern aircraft interface devices not only act as an instantaneous data-crunching instrument but also empowers efficient transmission of data with ground support operators, for instance, maintenance personnel and dispatchers, and help in making improved decisions. Connecting AID hardware platform largely supports driving fuel efficiency, improving flight performance and safety, and aiding predictive upkeep of the aircraft. The main applications of the aircraft interface consist of quick access recording, aircraft condition monitoring, and flight tracking.
The aircraft interface device market is segmented on the basis of fit, aircraft type, connectivity, and region. The fit segment is further divided into line-fit and retrofit. Based on aircraft type, the market is segmented into civil and military. Based on connectivity, the market is segmented into wired and wireless. Region wise, the market is analyzed across North America, Europe, Asia-Pacific, and LAMEA.
Key players operating in the global aircraft interface device market include Anuvu, Astronics Corporation, Collins Aerospace, Elbit Systems Ltd., Honeywell International Inc., SCI Technology, Inc., Skytrac Systems Ltd., Teledyne Controls LLC, Thales Group, and The Boeing Company. 
Aircraft interface device enhances the performance of electronic flight bag (EFB) applications
Electronic Flight Bag encompasses any compact electronic display hardware designed mainly for aircraft decks. Few national-level aviation establishments have simplified their description of electronic flight bags (EFB) as any device or set of electronic devices, actively presenting EFB applications (Type A, Type B, and Type C applications). EFB devices can gather and display an array of flight data or make simple calculations for airplane performance or fuel loading operations. In order to maximize the performance of EFB applications, aviation authorities need to recover actual airplane information and external data sources. The instrument that makes this work is an aircraft interface device or AID.
High-bandwidth, high-speed data transmission between the aircraft and ground operations has become a competitive necessity. Airlines that are efficiently connected on the air and on the ground at all times can fully exploit real-time data to help advance flight deck operations, improve the passenger experience, and decrease potential schedule impacts. Several big players like Boeing have been leading in the development of cutting-edge aircraft interface devices to support airlines meet the requirement for improved aircraft connectivity. Boeing is fitting its newly developed software-configurable aircraft interface device as a standard on each under-production aircraft and as a retrofit on all company's commercial airplanes. The benefits offered by AIDs are expected to drive the growth of the global aircraft interface device market during the forecast timeframe.  
Cost savings, reduced fuel burn and efficiency, and important safety features
Electronic flight bags (EFBs) have been attracting huge popularity all across the globe with many operators for various years substituting paper graphs and folders with computer screens and tablets in the cockpits of all types of airplanes. Aircraft interface devices (AIDs) offer an interface between the aircraft data bus and an EFB. By connecting an EFB with an AID hardware platform, the EFB shifts away from being merely a reference instrument in the flight deck and turns into a powerful instantaneous data-crunching instrument as well as an information and communications center. Moreover, it makes the airplane more observable to operatives in ways earlier deemed impossible by cutting down fuel burns, aiding predictive maintenance, and enhancing flight safety. With just a connected AID, the capability to digitally send flight release documents to the aircraft may possibly decrease operational costs and reorganize processes. An additional feature that certain AIDs offer is the capability to run applications onboard the AID itself, permitting for more intricate computing to be managed entirely independent of the EFB. The aforementioned factors are anticipated to propel the growth of the global aircraft interface device market during the forecast period.
Issues relating to the certification from regulatory bodies
The manufacturers of aircraft interface devices have to certify their product through International Civil Aviation Organization (ICAO) and Federal Aviation Administration (FAA) before its installation in an airplane system. It is mandatory for the device to comply with the structural design standards, environmental standards, and durability standards, prior to its installation in an aircraft. Therefore, several trials are performed before certifying an AID. Moreover, the stringent regulations connected with the reliability of the AIDs act as one of the major hindrances that are faced by the market because even a minor variation in software and hardware can drastically impact the safety of aircraft especially during take-off and landing. In addition, the cost of software certification is basically determined by the functions implemented, and different functions entail different certification stages. Such strict protocols and certification measures are expected to obstruct the growth of the global aircraft interface device market during the forecast period.
Benefits associated with advanced in-flight entertainment services
In-flight entertainment refers to the design and development of entertainment systems offered to commercial airline commuters. Today, in-flight entertainment has evolved to become a key aspect of the pleasant passenger experience and is developing as technology advances. The in-flight entertainment services have progressed right from merely providing a conventional type of entertainment, for instance, radio, music, and movie, for particular cabins to embedded seat-back in-flight entertainment systems to each person. In-flight entertainment solutions and services also enable and deliver affluence of data that could be of assistance to commuters, for instance, info on the travel path, onboard menu and technical guidelines, and additional useful inputs. These factors have led to the rise in demand for in-flight entertainment services across the globe. 
As aircraft interface devices are an important constituent of various avionics advancements such as in-flight entertainment & connectivity (IFEC) systems, the rising demand from passengers regarding in-flight entertainment services is expected to offer lucrative opportunities for the growth of the global aircraft interface device market during the forecast period.
COVID-19 Impact Analysis 
The COVID-19 impact on the aircraft interface device market is unpredictable and is expected to remain in force till the second quarter of 2021. 
The COVID-19 outbreak forced governments across the globe to implement strict lockdowns and banned domestic and international travel for most of 2020. This led to sudden fall in demand for air-travel and hampered the adoption of technologies, into modernizing the aircraft technologies across the globe. 
Moreover, nationwide lockdowns forced avionics parts manufacturing facilities to partially or completely shut their operations.
Adverse impacts of the COVID-19 pandemic have resulted in delays in activities and initiatives regarding development of robust and innovative aircraft interface solutions globally.
Key Benefits For Stakeholders
This study presents analytical depiction of the global aircraft interface device market analysis along with the current trends and future estimations to depict imminent investment pockets.
The overall aircraft interface device market opportunity is determined by understanding profitable trends to gain a stronger foothold.
The report presents information related to key drivers, restraints, and opportunities of the global aircraft interface device market with a detailed impact analysis.
The current aircraft interface device market is quantitatively analyzed from 2020 to 2030 to benchmark the financial competency.
Porter's five forces analysis illustrates the potency of the buyers and suppliers in the industry.
Key Market Segments
By Connectivity
By Fit
By Aircraft Type
By Region
North America
Europe

Germany
UK
France
Russia
Rest of Europe

Asia-Pacific

China
Japan
India
South Korea
Rest of Asia Pacific

LAMEA

Latin America
Middle East
Africa 
Key Players
Anuvu
Astronics Corporation
Collins Aerospace
Elbit Systems Ltd.
Honeywell International Inc.
SCI Technology, Inc.
Skytrac Systems Ltd.
Teledyne Controls LLC
Thales Group 
The Boeing Company