Aircraft Lighting Market Statistics - 2027
The global aircraft lighting market was valued at $1.4 billion in 2019, and is projected to reach $2.0 billion by 2027, registering a CAGR of 4.7%.        
Lighting plays an important role in an aircraft to provide illumination for the pilot. These lightings are mounted on different locations in the aircraft that are categorized into interior lightings and exterior lightings. Exterior lighting system deployed in aircraft helps the pilot to get improved visibility of the surrounding, where as interior lights help in providing a better view in the interior of aircraft. In addition, lighting system aesthetically enhances both interior and exterior of the aircraft and correspondingly increases the conspicuity of the aircraft. Lighting comprises signaling devices as well as other display devices thus helping the passengers in an efficient way such as in emergency situations or to inform the passengers about the safety guidelines. Traditionally, incandescent lights were used in aircraft, however, the introduction of LEDs has enabled the manufacturers to install them to offer enhanced illumination, which has led to the growth of the global aircraft lighting market.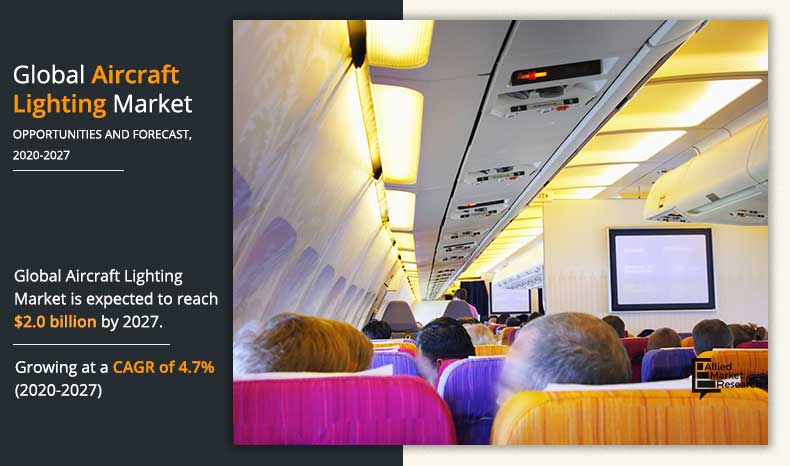 The United States has long been recognized as a vanguard of aircraft lighting innovation. With a robust aerospace industry, the country is home to several major aircraft manufacturers and leading-edge lighting technology companies. This collaborative environment has fostered groundbreaking advancements in aircraft lighting systems.
For instance, In 2021, renowned U.S.-based company Collins Aerospace, a subsidiary of Raytheon Technologies, secured a substantial contract to supply advanced interior and exterior lighting systems for various commercial aircraft. This contract exemplifies the United States' prominent role in delivering cutting-edge lighting solutions to the global aviation market.
The U.S. government has consistently invested in R&D activities for aerospace technologies, including aircraft lighting. Initiatives from the U.S. government such as the "Federal Aviation Administration's (FAA) NextGen program" have focused on enhancing the efficiency and safety of the National Airspace System through advanced technologies, which includes innovative lighting solutions.
Further, China has rapidly emerged as a significant contender in the aircraft lighting market. With a burgeoning aerospace sector, the nation has made noteworthy strides in the development and adoption of innovative lighting technologies for aircraft.
In 2020, leading Chinese aviation lighting manufacturer, Avichina Industry & Technology, reported a significant surge in orders for its advanced aircraft lighting systems. This development highlights China's escalating influence in providing high-quality lighting solutions for both domestic and international aviation markets.
The aircraft lighting market in both the United States and China signifies a steadfast commitment to innovation and safety within the aviation sector. These two global powerhouses continue to play a pivotal role in shaping the landscape of advanced lighting systems, ensuring a safe and efficient flying experience. As the demand for air travel continues to grow worldwide, the aircraft lighting market remains integral to upholding safety standards and operational excellence in the aviation industry.
Factors such as increase in aircraft demand and shift from incandescent lights to LED lights are expected to drive the global aircraft lighting market. However, high cost of LEDs and delayed delivery of aircraft are the factors that are expected to restrain the growth of aircraft lighting market during the forecast period. On the contrary, surge in demand for lightweight aircraft components is expected to provide lucrative opportunity for the growth of the global market in the near future.
The global aircraft lighting market is segmented into interior light, exterior light, aircraft application, light type, and region. Depending on interior light, the market is categorized into emergency lights, specialty lights, wash lights, reading lights, and lavatory lights. On the basis of exterior light, it is fragmented into aircraft visibility lights, pilot lights, and specific purpose lights. By aircraft type, it is segregated into commercial, business jets, military, and helicopters. As per light type, it is classified into florescent light and LEDs. Region wise, it is studied across North America, Europe, Asia-Pacific, and LAMEA. 
Aircraft Lighting Market

---
By Interior Lights
Reading Lights is projected as the most lucrative segments
Key players operating in the global aircraft lighting market include Aeroleds, Astronics Corporation, Beadlight Limited, Bruce Aerospace, Cobham PLC, Heads Up Technologies, Honeywell International Inc., Madelec Aero, Safran, and Whelen Aerospace 
Increase in aircraft demand
With improvement in economy across various countries, the demand for advanced aircraft, which are equipped with latest technologies has been witnessed to increase considerably. This need for better and efficient aircraft across the globe has enabled component manufacturers to develop advanced components such as lighting system and display system to be installed within the aircraft, which eventually supplements the growth of the global aircraft lighting market. Numerous companies such as AeroLEDs, Astronics Corporation, and Bruce Aerospace along with other local manufacturers have developed and introduced lights of different intensity, which find their major application in aircraft. Hence, increase in demand for aircraft has enabled lighting manufacturers to develop better and efficient lighting systems, which eventually leads to the growth of aircraft lighting market.
Aircraft Lighting Market

---
By Exterior Lights
Aircraft visiblity lights is projected as the most lucrative segments
Shift from incandescent lights to LED lights
Consumers have shifted their preference from the use of incandescent lights toward LEDs, owing to the introduction of LEDs to be installed within the lighting system of aircraft, which has fueled the aircraft lighting market growth. This shift is attributed to the fact that LED offers enhanced visibility as compared to incandescent lights. Furthermore, shorter service life of old halogen or incandescent lights is the major factor, which has enabled aircraft component manufacturers to opt for LED lights. These factors effectively have contributed toward the growth of the global aircraft lighting market.
Aircraft Lighting Market

---
By Aircraft Applications
Business Jets is projected as the most lucrative segments
High cost of LED
LED lights are commonly used lighting technologies in aerospace and automotive industries. Application of LED in aircraft, especially in exterior lighting has increased, due to the enhanced performance of LEDs as well as their associated benefits such as reduction in power consumption, cooler temperature, and the longer service life. However, during the installation of LED as a form of visibility light, significant amount of heat is dispersed into the emitters, which can be controlled only with the installation of other equipment such as negative temperature coefficient (NTC) thermistor, which allows a limited current to flow through the circuit, thus enabling LEDs to produce less heat. This eventually increases the cost for LED lights to be used in aircraft, thereby restraining the growth of global market.
Aircraft Lighting Market

---
By Light Type
LED is projected as the most lucrative segments
Demand for lightweight aircraft components
With the introduction of advanced aircraft across the globe, the demand for lightweight components to be equipped within the aircraft has increased. This is attributed to the fact that manufacturers have focused on offering lightweight components, which eventually help in the reduction of weight of the aircraft. Furthermore, conventional lightings used in aircraft include fluorescent lights for visibility; however, with the introduction of better and efficient lightings, the need to install them has increased as they are lighter in weight as compared to older lightings used in aircraft. Hence, the demand for lightweight aircraft components is expected to create a positive impact on the aircraft industry, thus providing remunerative opportunity for the growth of the global market. 
Aircraft Lighting Market

---
By Region
North America would exhibit the highest CAGR of 5.1% during 2020-2027.
Key Benefits For Stakeholders
This study presents the analytical depiction of the global aircraft lighting market analysis along with the current trends and future estimations to depict imminent investment pockets.

The overall aircraft lighting market opportunity is determined by understanding profitable trends to gain a stronger foothold.

The report presents information related to the key drivers, restraints, and opportunities of the global aircraft lighting market with a detailed impact analysis.

The current aircraft lighting market is quantitatively analyzed from 2020 to 2027 to benchmark the financial competency.

Porter's five forces analysis illustrates the potency of the buyers and suppliers in the industry.
 Aircraft Lighting Market Report Highlights
Aspects
Details
By Interior Lighting

Emergency Lights
Specialty Lights
Wash Lights
Reading Lights
Lavatory Lights

By Exterior Lighting

Aircraft Visibility Lights
Pilot Lights
Specific Purpose Lights

By Aircraft Type

Commercial aircraft
Business jets
Military aircraft
Helicopters

By Light Type
By Region

North America (U.S., Canada, Mexico)
Europe (UK, Germany, France, Russia, Italy, Rest of Europe)
Asia-Pacific (China, Japan, India, Australia, Rest of Asia-Pacific)
LAMEA (Latin America, Middle East, Africa)

Key Market Players
AeroLEDs, Safran, Whelen Aerospace Technologies, Bruce Aerospace, Heads Up Technologies, Madelec Aero, Astronics Corporation, Honeywell International Inc., Cobham Limited, Beadlight Limited