The global aircraft lighting systems market was valued at $1.5 billion in 2020, and is projected to reach $2.3 billion by 2030, growing at a CAGR of 4.9% from 2021 to 2030.
The lighting system that is integrated inside or outside of an aircraft to provide illumination is considered under the aircraft lighting system. Aircraft lighting system can be classified into two major categories, interior lighting system and exterior lighting system. The interior lighting system refers to the lighting system that is integrated inside the aircraft body, fuselage, and cockpit. These lightings provide illumination to cabin crew, passengers, and pilots. Floor lights, wall lights, fuselage ceiling lights, leading lights, lavatory lights, cockpit lights, and signage lights are considered under the interior lighting system. Furthermore, the exterior lighting consists of aircraft visibility lighting, pilot visibility lighting, specific purpose lighting, exterior emergency lighting, and navigation lighting. The primary function of exterior lighting is to improve visibility and avoid a collision.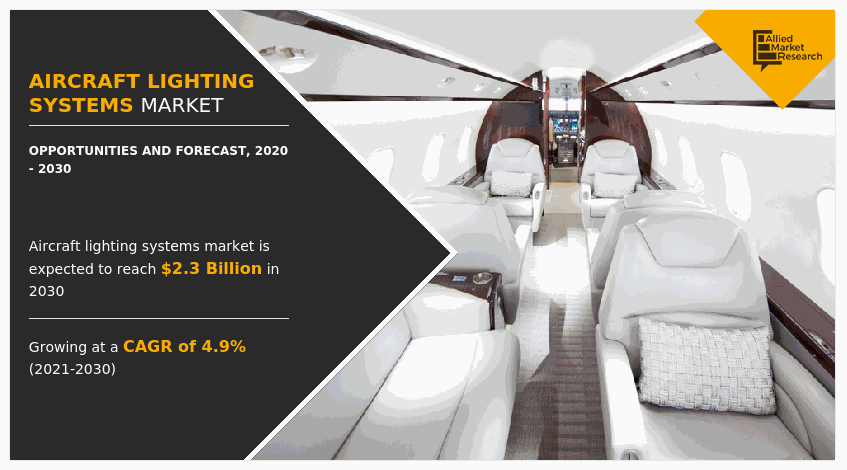 The COVID-19 pandemic has had an adverse effect on the overall aviation industry and thereby on the aircraft lighting system industry as well. Global travel restriction and grounding of commercial aviation across the globe had a significant impact on companies operating within the aircraft lighting system market. Moreover, limited logistics support due to trade and travel restrictions disrupted the manufacturing industry, resulting in increased overhead costs, enforcing companies to book losses within the forecast period. In addition, shrinking economies amid pandemic also had a notable impact on the aircraft lighting system industry. The aviation industry collapsed more than 50% during the pandemic, witnessing aggregate losses of $370 billion. Though the industry has been recovering at a rapid pace, effect of the COVID-19 pandemic is forecasted to prevail till 2025.
Factors such as revival of the aviation industry and increase in air traffic in metropolitan locations supplement growth of the aircraft lighting system market. Total number of passengers across the globe has reached 47% of the pre-covid level and is expected to reach 83% by the end of 2022. The total number of passengers as of 2024 is expected to reach four billion, exceeding the pre-covid situation. Customized lighting systems offered by industry players to cater to unique demands of customers have emerged as a unique strategic initiative practiced by industry players to increase their market share. The trend of customization is largely noticed in the interior segment of private jets. Rise in acquisition of private jets by business tycoons and ultra-reach individuals across the globe supports business opportunities in the aircraft lighting system market as well. A total of 197,103, demonstrating a 23% rise as compared to the pre-covid situation.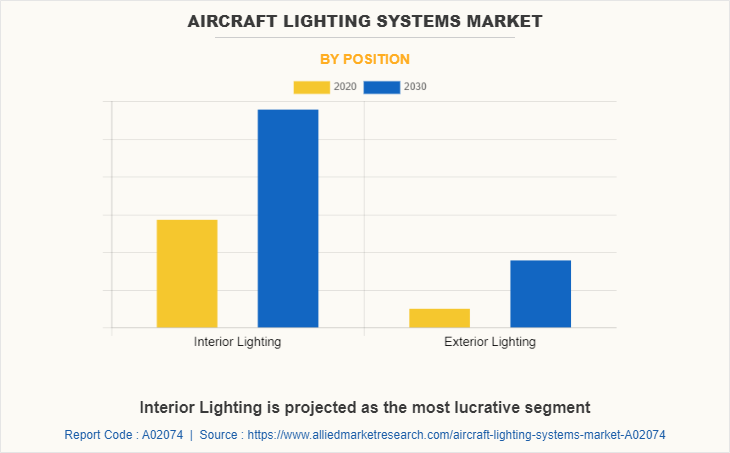 The global aircraft lighting system market is segmented on the basis of position, platform, lighting type, end use, and region. By position, it is divided into interior lighting and exterior lighting. By platform, the market is classified into commercial aircraft, general aviation and private aircraft, and freighter aircraft. The lighting type segment is divided into LED, OLED, photoluminescent, and others. By end use, it is segmented into original equipment manufacturer (OEM) and aftermarket. By region, the market is analyzed across North, Europe, Asia-Pacific, and LAMEA.
Companies have adopted product development and product launch as their key development strategies in the market. Moreover, collaborations and acquisitions are expected to enable the leading players to enhance their product portfolios and expand into different geographical regions. Key players operating in the aircraft lighting system market are Astronics Corporation, Cobham Aerospace Communications, Collins Aerospace, Diehl Stiftung & Co. KG, Geltronix, Hoffman Engineering, Honeywell International Inc., Luminator Aerospace, Safran, STG Aerospace Limited.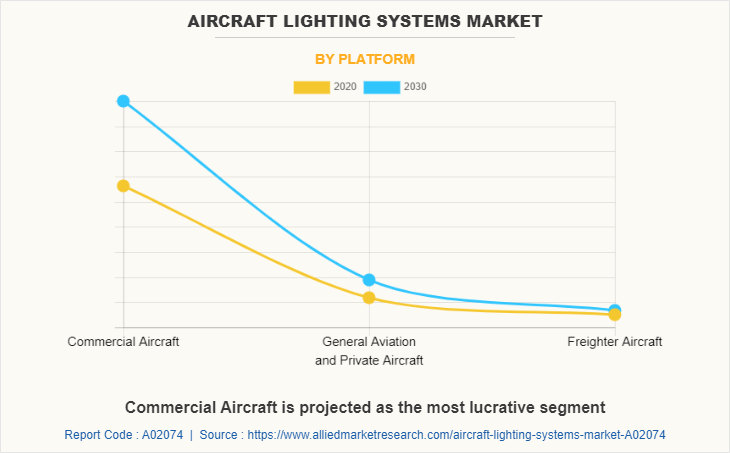 Revival of aviation industry and increase in flight operations
Revival of the aviation industry is one of the top impacting factors, supporting business opportunities within the aircraft lighting system market. The market was drastically impacted, owing to the COVID-19 pandemic but is recovering at a notable pace. Rise in air traffic eventually results in increased business activities such as aircraft acquisition, leasing maintenance, repair, and overhaul. The A check of an aircraft that happens after 200-500 flight hours has a clause to check the lighting system. Apart from that, daily check also takes into consideration exterior lighting operations. Such checks promote the aftermarket. Rise in demand for custom lighting in private jets and business aircraft is expected to augment the market growth in the coming years. Companies operating within the vertical offer unique customization as per consumer demand. The same trend can be witnessed in commercial aviation as well. Currently, companies such as STG Aerospace are providing emergency photoluminescent floor mat with custom colors or patterns as requested by clients.
Increasing demand of more efficient and robust lighting system
The COVID-19 pandemic has impacted the aviation industry at multiple levels of operations. Currently, aircraft owners or airline operators are actively looking for options that can reduce operational cost of an aircraft. In such conditions, LED lights developed by industry players are gaining traction. LED lights are capable to convert power into light directly, resulting in 10 times increased efficiency as compared to conventional lighting scheme. It draws notable less energy and does not need any external high voltage converters or supply systems. Furthermore, LED lights do not dissipate heat, are not affected by on/off cycles, are shock resistant as they are in the solid-state, and can last up to a continuous operation of 30,000-50,000 hours, eliminating the need for frequent replacement.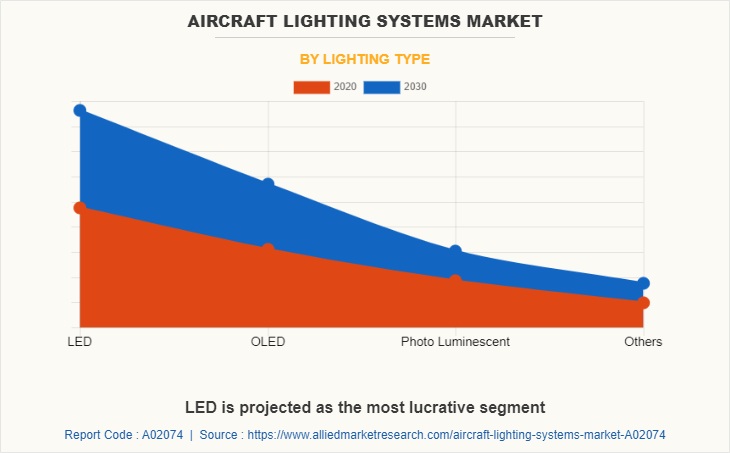 High production cost and increase in market competitiveness
High initial cost in addition to installation costs limits growth of the aircraft lighting system market. Introduction of LED lights had a notable impact on the market, which introduced certain challenges as well. The need to frequently replace burned-out incandescent bulbs has been eliminated through LED lights, however, managing optimal lighting conditions of lens and cover material of LED lights throughout the lifespan is a major challenge, incurring additional costs. Aircraft lighting exteriors are either made from borosilicate/soda-lime silicate compositions or polycarbonate/acrylic materials. These materials tend to degrade after being exposed to harsh conditions. Polycarbonate/acrylic, which is the most economically viable material, tends to degrade at a maximum pace as compared to other materials, increasing casing cost of an aircraft lighting system.
Increase in regional operations
Efforts taken by regional governments of various countries with developing economies such as India, China, and Singapore to increase their footprint in the aviation industry generates notable business opportunities at the global level. These countries have offered notable subsidiaries and tax exemptions on foreign direct investment (FDI) for global companies willing to invest within the aviation segment. In addition, the aim of these countries to become self-dependent and promote indigenous products and services in the international market is expected generate market competitiveness. For instance, a 100% subsidiary is offered by India within a certain category of the aviation industry. However, only 10% of MRO of Indian aviation is done indigenously whereas 90% of work is outsourced to other nations. Developing nations posed a huge business opportunity through investment in developing nations and increasing their regional footprint.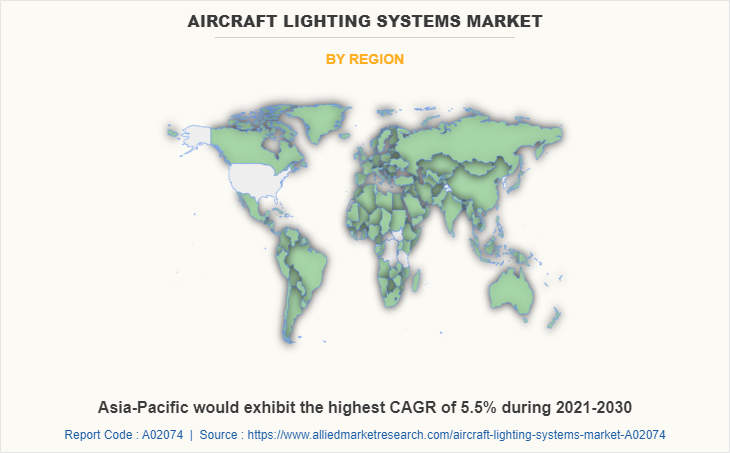 Key Benefits For Stakeholders
This report provides a quantitative analysis of the market segments, current trends, estimations, and dynamics of the aircraft lighting systems market analysis from 2020 to 2030 to identify the prevailing market opportunities.
The market research is offered along with information related to key drivers, restraints, and opportunities.
Porter's five forces analysis highlights the potency of buyers and suppliers to enable stakeholders make profit-oriented business decisions and strengthen their supplier-buyer network.
In-depth analysis of the aircraft lighting systems industry segmentation assists to determine the prevailing market opportunities.
Major countries in each region are mapped according to their revenue contribution to the global market.
Market player positioning facilitates benchmarking and provides a clear understanding of the present position of the market players.
The report includes the analysis of the regional as well as global aircraft lighting systems market trends, key players, market segments, application areas, and market growth strategies.
 Aircraft Lighting Systems Market Report Highlights
Aspects
Details
By Position

Interior Lighting
Exterior Lighting

By Platform

Commercial Aircraft
General Aviation and Private Aircraft
Freighter Aircraft

By Lighting Type

LED
OLED
Photo Luminescent
Others

By End Use
By Region

North America (U.S., Canada, Mexico)
Europe (U.K., Germany, France, Russia, Italy, Rest of Europe)
Asia-Pacific (China, Japan, India, Singapore, Australia, Rest of Asia-Pacific)
LAMEA (Latin America, Middle East, Africa)

Key Market Players
Cobham Aerospace Communications, safran, Diehl Stiftung & Co. KG, Honeywell International Inc., Hoffman Engineering, Collins Aerospace, STG Aerospace Limited, Astronics Corporation, Luminator Aerospace, Geltronix