The global aircraft micro turbine engine market was valued at $34.8 million in 2020, and is projected to reach $75.9 million in 2030, registering a CAGR of 9.0%.
The rapid spread of COVID-19 had a significant impact on the global aircraft micro turbine engine market in 2020, owing to the implementation of strict lockdown measures, and the disruption in the supply chain of required materials across the world. COVID-19 pandemic led to several challenges for the aviation sector including logistics challenges, supply-demand gap, among others. On the other hand, the aircraft micro turbine engine manufacturers had to reduce expansion and R&D investments to withstand the decline in revenue and operating performance of the airline industry. The challenges such as manufacturing difficulties and low demand for aircraft engines amid stringent lockdown measures and grounding of aircraft throughout the world were observed throughout 2020 and mid-2021, and the demand for aircraft engine engines is expected to resume back in pre-COVID-19 levels only after a few years.
Aircraft micro turbine engine is a small-sized combustion turbine that utilizes micro combustion to offer cogeneration to utilize heat & electricity at the same time. It is preferred due to its features such as utilization of a variety of fuels, small size, and efficiency. As aircraft micro engines are compact, they utilize very small space to fit in and save space for other components in design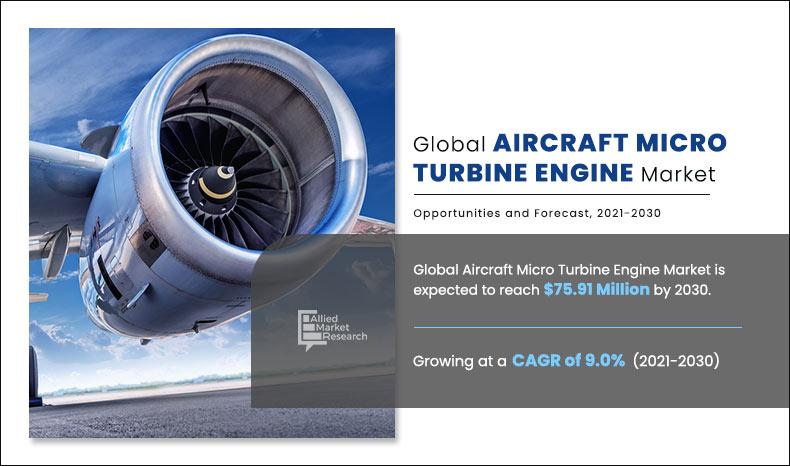 The market segmentation is based on engine type, distribution channel, application, and region. The engine type segment is further divided into turboshaft and turbojet. Based on distribution channel, the market is divided into OEM and aftermarket. By application, the market is fragmented into civil, defense, and others. Region wise, the market is analyzed across North America, Europe, Asia-Pacific, and LAMEA.
Competitive analysis and profiles of the major aircraft micro turbine engine market players include AeroDesignWorks GmbH, Elliott Company, General Electric Company, Honeywell International Inc., Kratos Defense & Security Solutions, Inc., Micro Turbine Technology B.V., PBS Group. a.s., Sentient Blue Technologies, Turbotech SAS, and Williams International.
Increase in air passenger traffic across the globe
According to International Civil Aviation Organization's (ICAO) yearly worldwide statistics, the total number of commuters carried on scheduled flights rose to 4.38 billion in 2019, which was 3.65% higher than the previous year. Highest passenger traffic was witnessed in Asia-Pacific. In October 2018, the International Air Transport Association (IATA) publicized that current developments in air transport project that the passenger count could double to 8.2 billion in 2037. The COVID-19 pandemic led to a severe downfall in air traffic figures. Although recently, in May 2021, the International Air Transport Association (IATA) stated that the global air passenger traffic is anticipated to recover to almost 88% of pre-COVID levels during 2022, and is projected to outdo this level during 2023. This signifies a robust demand for air travel globally.
The abovementioned statistics indicate considerable rise in air passenger traffic over the years internationally. This rise would result in tremendous surge in demand for new aircraft and new & overhauled aircraft components throughout the world, which would directly impact the sales of aircraft micro turbine engines throughout the world. Thus, the rise in air traffic is anticipated to drive the growth of the aircraft micro turbine engine market during the forecast period.  
Low operating & maintenance costs
Micro turbine technology offers several potential advantages compared to other technologies for small-scale power generation, including compact size, lightweight nature, lesser number of moving parts, higher efficiencies, lower emissions, and capability to utilize waste fuels. In addition, waste heat recovery can also be used with micro turbine systems so as to achieve efficiencies higher than 80%.
Attributed to their small size, relatively low capital costs, low operations and maintenance costs, and automatic electronic control, aircraft micro turbine engines are expected to witness significant demand during the forecast period. Moreover, R&D activities regarding the development of aircraft micro turbine engines have amplified over the last few years owing to the advent of technologically-advanced aircraft along with benefits such as reduced emissions, enhanced efficiency, and lower fuel consumption that are expected to fuel the growth of the aircraft micro turbine engine market during the forecast period.
High costs of micro turbine engines
Aviation is a capital-intensive industry. Even a smallest part has to be tested and improved several times before it can be installed in an aircraft. This adds up the cost of R&D for aircraft components. Moreover, manufacturers have to obtain a certificate by aviation agencies such as Federal Aviation Administration (FAA) and European Union Aviation Safety Agency (EASA) prior to the production of aircraft parts, including micro turbine engines before fitting them in respective aircraft models. Moreover, the maintenance & repair costs of used engines add up to the overall costs of aircraft micro turbine engines, thus acting as a restraint to the market growth.
Increase in procurement of military aircraft amid rise in geopolitical tensions
Currently, the world is witnessing rise in geopolitical tensions. Countries in the Middle East and Asia, for instance, China, India, Pakistan, Afghanistan, North Korea, Israel, Palestine, and others, are the epicenter of global conflicts. To be ready for war-like situations, several countries have placed orders with military aircraft manufacturers. Various countries have increased their defense spending to acquire modern defense equipment to enhance their defense capabilities. The global military expenditure has seen exponential growth in recent years. According to Stockholm International Peace Research Institute (SIPRI), the global military expenditure reached $1,981 billion in 2020 with a 2.6% year-on-year increase. The military expenditure accounted for 2.4% of the global gross domestic product in 2020. Thus, increase in global military expenditure has augmented the adoption of modern, more lethal warfare systems, including highly efficient aircraft micro turbine engines. Rise in defense spending by numerous countries globally is expected to propel the growth of the aircraft micro turbine engine market during the forecast period.
COVID-19 impact analysis 
The COVID-19 impact on the aircraft micro turbine engine market is unpredictable, and is expected to remain in force till the second quarter of 2021. 
The COVID-19 outbreak forced the governments to impose stringent lockdown measures that resulted in flight cancellations and ban on e-commerce services, which led to massive decline in commercial aviation and logistics activities across the world. 
Moreover, nationwide lockdown disrupted the supply chains, as several manufacturing facilities across the globe had to partially or fully shut down their operations.
The adverse impacts of the COVID-19 pandemic resulted in huge supply–demand issues and resulted in long delays in activities of aircraft micro turbine engine operations globally.
Key Benefits For Stakeholders
This study presents analytical depiction of the global aircraft micro turbine engine market analysis along with the current trends and future estimations to depict imminent investment pockets.
The overall aircraft micro turbine engine market opportunity is determined by understanding profitable trends to gain a stronger foothold.
The report presents information related to key drivers, restraints, and opportunities of the global aircraft micro turbine engine market with a detailed impact analysis.
The current aircraft micro turbine engine market is quantitatively analyzed from 2020 to 2030 to benchmark the financial competency.
Porter's five forces analysis illustrates the potency of the buyers and suppliers in the industry.
Key Market Segments
By Engine Type
By Distribution Channel
By Application
By Region
North America
Europe

Germany
UK
France
Russia
Rest of Europe

Asia-Pacific

China
Japan
India
South Korea
Rest of Asia-Pacific

LAMEA

Latin America
Middle East
Africa
Key Players
AeroDesignWorks GmbH
Elliott Company
General Electric Company
Honeywell International Inc.
Kratos Defense & Security Solutions, Inc.
Micro Turbine Technology B.V.
PBS Group. a.s.
Sentient Blue Technologies 
Turbotech SAS
Williams International