Aircraft Navigation Software Market Statistics: 2027
Air Navigation is a real-time aircraft moving map navigation application for various devices such as mobiles & desktops. It contains free maps of the entire world as well as official instrument flight rules (IFR) and virtual flight rules (VFR) charts for many countries. It includes thousands of airports and waypoints, elevation information and features route planning, and DIRECT-TO orders to help navigate aircrafts.  Pilots have various navigation aids that help them take off, fly, and land safely. Both external navigational aids and on-board systems help navigate any aircraft over thousands of miles with accuracy.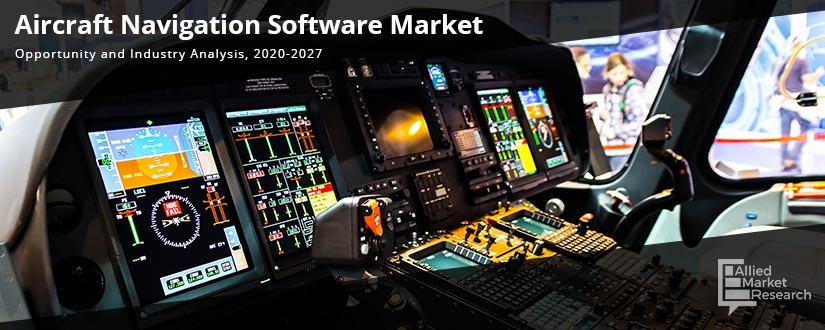 COVID-19 Scenario Analysis:
COVID-19 pose a risk for travelling as the disease can transmit between humans. Therefore, the aviation industry has been negatively affected.
India has halted nearly all passenger flights, allowing just evacuation and relief flights. The major Middle Eastern carriers are operating on reduced schedules as the UAE has halted most passenger flights.
In India, the extended lockdown to contain the COVID-19 pandemic has stalled traffic in airways and is further expected to show losses in the aviation industry. It is expected that the aviation industry would face this with a revenue loss of around Rs 24,000-25,000 crore in India.
Many airlines are cutting capacity and taking emergency measures to reduce costs. Airlines are doing their best to stay afloat as they perform vital task of linking world's economies. As governments look to stimulus measures, the airline industry would need consideration for relief on taxes, charges, and slot allocation.
Top impacting factors: Market Scenario Analysis, Trends, Drivers and Impact Analysis
Increase in procurement and delivery of aircrafts, majorly commercial aircrafts, is responsible to drive the growth of the aircraft navigation software market. Other factors that drives the aircraft navigation software industry are standard regulations set in the aviation industry and increase in airspace congestion for aircrafts. However, factors such as high maintenance cost of software and stringent government policies hinder the market. Contrarily, introduction of new technologies to provide updated version of navigation software for flights and to bring better management systems to handle air traffic are anticipated to provide various opportunities for the market. Development of advanced autonomous regional satellite navigation systems is anticipated to boost growth of the aircraft navigation software market in the future.
Adoption of automatic dependent surveillance-broadcast (ADS-B)
Route frequency has increased in the aviation industry in recent years, which leads to more congested airports. Increase in flights has corresponded with an increase in aircraft accidents and close calls. Adoption of next generation technological advancements would help in navigating through congestion. Automatic dependent surveillance-broadcast (ADS-B) is a technology that allows pilots in the cockpit and air traffic controllers on the ground to track aircraft traffic with more accuracy than other systems, specifically radar. ADS-B relies on the global navigation satellite system to determine an aircraft's precise location. The position data is combined with other information such as aircraft type, speed, altitude, and flight number. The information is converted into a digital message and broadcasted via a radio transmitter. To boost the efficiency of automatic dependent surveillance-broadcast in aircrafts, they are integrated with navigation tools to provide accuracy of air traffic and location data. Therefore, rise in adoption of automatic dependent surveillance-broadcast technology drives growth of the aircraft navigation software market.
Increase in demand for unmanned aerial vehicles
Unmanned aerial vehicles (UAVs) are becoming a larger player in the aviation industry with civilian uses increasing. UAVs can perform a wide variety of tasks in civilian environments including remote sensing, transport, scientific research, and search & rescue operations. UAVs can be fitted with various sensors, cameras, and instruments to capture scientific or research data. Aircraft can also be used to transport cargo, such as medicine or food to locations that cannot be reached by land after a catastrophic event. Local and state agencies can use UAVs to monitor engineering sites, waterways, pipelines, high crime areas, crowded settings, traffic and security situations, pollution levels, forest fire movement and crop surveillance. UAVs are aircrafts that are operated remotely and integration of aircraft navigation software in UAV allows to navigate air traffic, security, and surveillance in rescue operations. Thus, rise in adoption of aircraft navigation software in UAV dives the aircraft navigation software market demand.
Key benefits of the report:
This study presents analytical depiction of the global aircraft navigation software industry along with the current trends and future estimations to determine the imminent investment pockets.
The report presents information related to key drivers, restraints, and opportunities along with detailed analysis of the global aircraft navigation software market share.
The current market is quantitatively analyzed to highlight the aircraft navigation software market growth scenario.
Porter's five forces analysis illustrates the potency of buyers & suppliers in the market. 
The report provides a detailed global aircraft navigation software market analysis based on competitive intensity and how the competition would take shape in coming years.
 Aircraft Navigation Software Market Report Highlights
Aspects
Details
By Type
By Product

Flight Management System
Flight Control System
Navigation, Communication and Surveillance system

By Flight Instrument

Autopilot
Altimeter
Gyroscope
Sensors
Magnetic Compass

By Application

Aeronautics
Airports
Others

By Region

North America
Europe
Asia-Pacific
LAMEA

Key Market Players
Dynon Avionics, Zamar AG, Rockwell Collins Inc., Airbox Aerospace Limited, Copperchase Limited, Honeywell International Inc., Raytheon Company, The Boeing Company, Resa Airport Data Systems SAS, Kongsberg Geospatial Ltd.