The global aircraft refurbishing market was valued at $456.7 million in 2021, and is projected to reach $932.5 million by 2031, growing at a CAGR of 7.2% from 2022 to 2031.
Aircraft refurbishment is the process of replacement and maintenance of the aircraft, which includes inspection, overhaul, replacement, defect rectification, and embodiment modifications. The aircraft refurbishment companies are focused on providing innovative, fuel-saving, more durable, affordable and lighter-weight aircraft. Airline manufacturers are upgrading and refurbishing their existing aircraft fleets in order to integrate fuel efficient components in their aircrafts and provide customers comfort and convenience. For instance, 2021, Virgin Atlantic signed a deal with maintenance company Aeropeople Engineering Services to maintain the interiors of its global fleet of Boeing 787 and Airbus A330/A350 aircraft. The three-year, multi-million-pound contract saw a team of around 80 staff established at Heathrow Airport where, working in partnership with interiors service provider Cabinair, the airline was provided with an end-to-end service for cabin interior maintenance, repair, and refurbishment.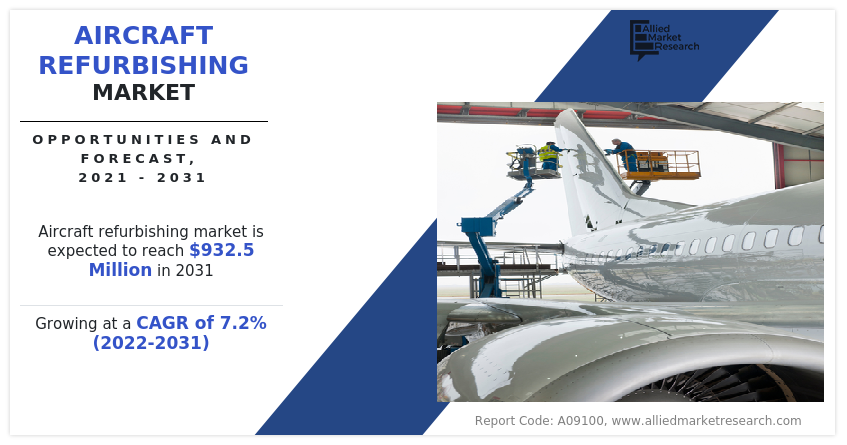 Factors such as rise in operations in the commercial aviation and increase in demand from emerging countries are anticipated to boost the growth of the global aircraft refurbishing market during the forecast period. However, surge in production and deliveries of new aircraft and high maintenance cost of refurbished aircrafts are expected to hinder the growth of the global aircraft refurbishing industry during the forecast period. Moreover, rise in air travel activities & air traffic and increasing demand for premium aircraft cabins are expected to create an opportunity for the market in near future.
The aircraft refurbishing market is segmented on the basis of refurbishing service, aircraft type, type, end use and region. The refurbishing service segment is further divided as interior and exterior. By aircraft type, the market is classified into very light aircraft, wide body aircraft, narrow body aircraft, large body aircraft, and VIP aircraft. On the basis of type, it is divided into passenger to freighter, commercial aircraft cabin, and VIP cabin refurbishing. By end use, it is bifurcated into line government and commercial. By region, the market is analyzed across North America, Europe, Asia-Pacific, and LAMEA.
Aircraft Refurbishing Market

---
By Refurbishing Service
Exterior segment is projected as the most lucrative segment
The key players that operate in this aircraft refurbishing market are Autotrade Aviation Pvt. Ltd., AFI KLM E&M, Diehl Stiftung & Co. KG, Duncan Aviation Inc., Gulfstream Aerospace Corporation, Hong Kong Aircraft Engineering Company Limited, Jamco America, Inc., Jet Aviation AG, Lufthansa Technik AG, MAC Aero Interiors, Nextant Aerospace, Raytheon Technologies Corporation, Rose Aircraft Services, Inc., Sabreliner Aviation, Safran S.A., and SIA Engineering Company.
Rise in operations in the commercial aviation
The commercial aviation industry consists of two segments, passenger aircraft and cargo aircraft. In recent years, both segments have performed well and have witnessed rapid rise in operations, which boosted the growth of the global commercial aircraft industry. With globally rising air passenger traffic, the industry has witnessed significant growth. However, the unprecedented occurrence of COVID-19 pandemic has affected the industry in terms of revenue growth.
Key aviation players around the world are finding ways to make aviation sector safer and reliable. Hence, rapid development has been witnessed in the commercial aircraft industry in the recent years. According to Boeing's Commercial Market Outlook (CMO) 2020–2039, the 2021 CMO reflects that the global market is recovering rapidly. Surge in demand for domestic air travel is responsible for the recovery of the airliner industry amid the COVID-19 pandemic.
Furthermore, intra-regional markets are expected to open with full capacity, as health and travel restrictions ease, followed by return to pre-pandemic levels by 2023 to 2024 with respect to long-haul travel scenario. It mentions that in long term, market fundamentals and resilience are expected to drive the demand for more than 43,500 airplanes by 2040. Thus, all these factors collectively are expected to fuel the growth of the aircraft refurbishing market during the forecast period. 
Aircraft Refurbishing Market

---

By Aircraft Type
Wide body aircraft segment is projected as the most lucrative segment
Increase in demand from emerging countries
The emerging countries such as China, India, and Brazil are anticipated to create new growth opportunities for prominent players operating in the market. For instance, in September 2019, according to the Commercial Aircraft Corporation of China, Ltd., Chinese market was projected to witness a strong demand for commercial aircraft over the next 20 years. In addition, according to its market forecast report (2018-2037), 9,008 passenger aircraft valued at approximately $0.16 trillion (¥9 trillion) are estimated to be delivered. Latin American countries expand the aviation sector amid rise in air traffic. Thus, these developments are expected to foster the demand for aircraft refurbishment systems, which is expected to drive the market growth in Latin America region during the forecast period. The growth in aviation industry is expected to facilitate the demand for aircraft which in turn is propelling the demand for aircraft refurbishment. In addition, surge in MSMEs involvement in aircraft refurbishment and remodeling is expected to fuel the demand for airplanes. Moreover, increased demand for commercial aircraft enforces air fleet operators to adopt refurbished aircrafts in order to meet increased demand. Thus, increase in demand from emerging countries is expected fuel the demand for aircraft refurbishing market in near future.
Aircraft Refurbishing Market

---

By End Use
Commercial segment is projected as the most lucrative segment
Increase in production and deliveries of new aircraft
Rise in delivery of aircraft as a part of fleet modernization program drive the aircraft refurbishing market. For instance, in January 2022, InterGlobe Aviation Ltd-run IndiGo received delivery of 18 aircrafts in October- December 2022, the highest quarterly number for both 2020 and 2021. Also, aviation companies adopt aggressive production plans to meet the higher output rates. For instance, in May 2021, Aerospace major Airbus SE announced increase in production of popular Airbus A320 planes. The company also planned to increase production of A220 planes to 14 planes per month. Demand for air freight has increased as air cargo transportation is perceived as means of diversification for expanding international trade. Aircraft manufacturers expand conversion lines by turning old passenger planes into freight carriers. For instance, in November 2021, Boeing announced plans of addition of three conversion lines for the market-leading 737-800BCF across North America and Europe. The company also signed a firm order with Icelease (Iceland aircraft lessor and aircraft trading entity) for eleven of the freighters. Boeing is set to increase its conversion lines capacity by 60% by 2022, while Airbus aims to triple its output of converted A321s and A330s by 2024. Accordingly, establishment of airline start-ups in Latin America and the Caribbean in the US (Avelo Airlines, Breeze Airlines), Europe (Norse Atlantic Airways), Middle East (Air Arabia Abu Dhabi and Wizz Air Abu Dhabi) and the Pacific (Bonza Airlines), promote the production of new commercial aircrafts. Thus, it further restrains the aircraft refurbishing market.
Increasing demand for premium aircraft cabins
The shift toward air travel continuously increases owing to conveyance and affordability offered to the consumers. According to the Bureau of Transportation Statistics, the US airlines & foreign airlines in the U.S. carried over 1,052.8 million service passengers in 2019, an increase of 3.9% when compared to 2018. Moreover, tourism has become a popular global leisure activity owing to rise of globalization and technological advances. According to United Nations World Tourism Organization, in 2019, the arrival of 5 billion international tourists was recorded worldwide. The projected 4% year-on-year increase in 2020 confirms significant growth in global tourism. Thus, growth in air travel activities and air traffic demand numerous new airports and require hundreds of efficient aircrafts. The refurbished aircrafts are expected fulfill this increasing demand. Refurbished aircrafts are cost effective than the new aircraft and provide similar benefits. Owing to this, airlines have adopted refurbished aircrafts in order to cut costs and minimize environmental impact. Owing to all these factors, the demand for aircraft refurbishing market is expected to grow significantly during the forecast period.
Aircraft Refurbishing Market

---

By Region
Asia-Pacific would exhibit the highest CAGR of 7.9% during forecast period.
The COVID-19 outbreak forced governments across the globe to implement stringent lockdown and ban import–export of essential raw material items for most of 2020, and few months in 2021. Governments across the globe implemented strict lockdowns and made social distancing mandatory to prevent the spread of the COVID-19 virus. Consequently, several organizations began work from home programs as precautionary measure. This led to a sudden decline in global demand for traveling, which has affected the aviation industry. However, global air travel continues to recover in 2022, as Omicron has less impact on countries other than Asia. According to IATA reports, air traffic, measured in revenue passenger kilometers (RPK), an indicator of global passenger demand, increased 115.9% year-on-year in February 2022, but it was 54.5% of the pre-pandemic levels (February 2019 level). The increase in air travel post pandemic creates immense opportunities for aircraft refurbishment companies in recent years. The momentum created by plans to reopen is expected to have a positive impact on the recovery of aircraft industry which creates growth opportunities for aircraft refurbishing market. Passenger transport is gradually recovering and is expected to reach pre-COVID levels by 2023. As air travel demand returns to pre-COVID levels, airlines are expanding their route networks and new airlines are introducing new domestic flights. Such plans are designed to accelerate market growth.
Key Benefits For Stakeholders
This report provides a quantitative analysis of the market segments, current trends, estimations, and dynamics of the aircraft refurbishing market analysis from 2021 to 2031 to identify the prevailing aircraft refurbishing market opportunities.
The market research is offered along with information related to key drivers, restraints, and opportunities.
Porter's five forces analysis highlights the potency of buyers and suppliers to enable stakeholders make profit-oriented business decisions and strengthen their supplier-buyer network.
In-depth analysis of the aircraft refurbishing market segmentation assists to determine the prevailing market opportunities.
Major countries in each region are mapped according to their revenue contribution to the global market.
Market player positioning facilitates benchmarking and provides a clear understanding of the present position of the market players.
The report includes the analysis of the regional as well as global aircraft refurbishing market trends, key players, market segments, application areas, and market growth strategies.
 Aircraft Refurbishing Market Report Highlights
Aspects
Details
Market Size By 2031
USD 932.5 million
Growth Rate
CAGR of 7.2%
Forecast period
2021 - 2031
Report Pages
344
Refurbishing Service
Aircraft Type

Very light aircraft
Wide body aircraft
Narrow body aircraft
Large body aircraft
VIP aircraft

Type

Commercial Aircraft Cabin
VIP Cabin Refurbishing
Passenger to freighter

End Use
By Region

North America (U.S., Canada, Mexico)
Europe (Germany, France, Russia, Netherlands, UK, Poland, Spain, Rest Of Europe)
Asia-Pacific (China, India, Japan, South Korea, Asean, Rest Of Asia-Pacific)
LAMEA (Brazil, UAE, Saudi Arabia, South Africa, Rest Of LAMEA)

Key Market Players
AFI KLM E&M, B/E Aerospace, Diehl Shiftung & Co. KG, Gulfstream Aerospace Ltd., Hong Kong Aircraft Engineering Co. Ltd, Jamco America Inc., Jet Aviation AG, Lufthansa Technik, Nextant Aerospace, Raytheon Technologies, Rose Aircraft Services, Sabreliner Aviation LLC, Safran SA, SIA Engineering Co. Ltd, Timco Aviation Services, Zodiac Aerospace, Inc