Airport Baggage Handling System Market Outlook: 2025
The global airport baggage handling system market was valued at $8,504.2 million in 2017, and is projected to reach $14,509.9 million by 2025, registering a CAGR of 6.7% from 2018 to 2025. North America was the highest contributor to the global market, registering a CAGR of 6.3% during the forecast period.
The baggage handling system is a type of conveyor system that is present at the airports. It is used to transfer checked luggage from the ticket counters to the place where baggage can be loaded to airplanes. This system is also used to transfer luggage from the airplane to the baggage claim area. The baggage handling system uses various technologies such as barcode scanners and RFID sensors for the processing.
The primary function of baggage handling system at airports is to transport baggage and to ensure that a bag gets to the correct location at the airport. In addition, it serves other functions such as load balancing, bag tracking, volume regulation, detection of bag jams, and automatic tag reader (ATR), tilt tray sorters, vertical sortation unit, and others.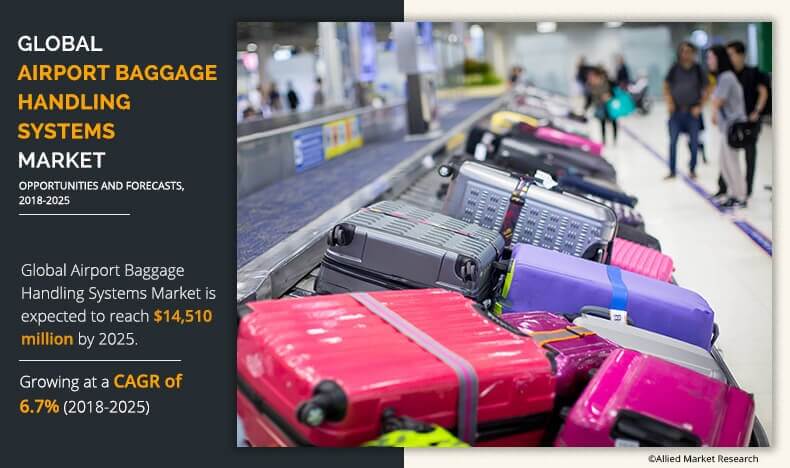 The global airport baggage handling system market is driven by anticipated growth in the air travel. In addition, modernization of new airports and technological advancements fuel the market growth. However, high upfront and maintenance cost of baggage handling system (BHS) and high consequences of system failure impede the growth of the market. Furthermore, utilization of robotization in the airports is expected to present lucrative growth opportunities for the market in the coming years.
The key players operating in the global airport baggage handling system market include Siemens AG, Beumer Group, G&S Airport Conveyor, Vanderlande Industries B.V., Daifuku Co. Ltd., Pteris Global Limited, Fives Group, Grenzebach Group, Logplan LLC, and Glidepath Group.
The global airport baggage handling system market is segmented based on airport class, service, type, and technology. Airport class segment covered in this study includes Class A, Class B, and Class C. Based on service, the market is bifurcated into self-service and assisted service. Based on type, the market is classified into conveyors, destination coded, and vehicles. By technology, it is categorized into barcode and RFID. By region, the market is analyzed across North America, Europe, Asia-Pacific, and LAMEA.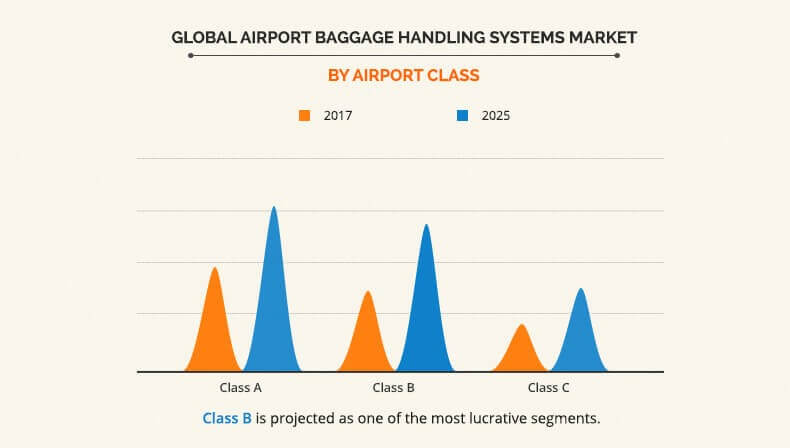 Top Impacting Factors
Anticipated growth in air travel
In the recent years, there is an increase in the number of passengers travelling via airways. For instance, according to data provided by The World Bank Group, the total scheduled traffic carried by all air carriers worldwide for both international and domestic increased from 2.9 billion in 2012 to 3.4 billion in 2017 growing at a CAGR of 7%. Also, the international air traffic is expected to roughly double from 2016 to 2035. Airports and airlines invest heavily in baggage handling technology with the increase in number of air passengers. This also helps cater passenger experience and airport operations, which in turn drive the growth of the global airport handling system market.
Renewal of Airports
The continuous rise in number of airport terminals and renovation of the existing airport infrastructure drive the airport baggage handling system market. The primary reason for such renovation or modernization is due to the technologies used that are gradually becoming obsolete. The rise in the frequency of passengers also boosts the renovation and modernization. In addition, the modernization of airports help meet present and future requirements of the passengers. For instance, in March 2018, the Chicago City Council's Aviation Committee raised $8.7 billion investment for the expansion of the Chicago's O'Hare international airport. Moreover, airline operators are adding on to new destinations, which in turn boosts the baggage handling systems. In addition to the existing operators, the demand for additional baggage handling system is expected to increase. For instance, in 2017, Zoom Air was launched in India with its operations that started from February 2017 with its routes limited within Indian cities.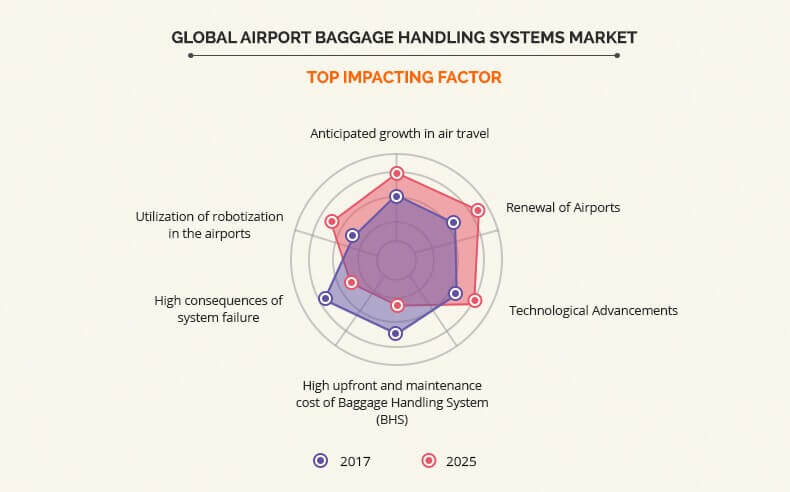 Technological Advancements
Similar to the other sectors, the aviation sector needs to be technologically updated to utilize maximum potential. The check-in process during peak travelling times generally consumes most of the time and is exhausting for the passengers. This process can be made convenient using automated kiosk, remote queue management system, and remote check-ins. Similarly, other technologies used in the baggage handling systems such as radio-frequency identification (RFID) and near field communication (NFC) are successfully implemented in numerous airports for automated check-in services. For instance, it was announced in June 2018 that an Italian company developed a new tagging technology incorporated with RFID chips for tracking passenger's luggage in real time at every stage of transfer, which is expected to decrease the amount of lost or delayed baggage that costs airlines billions of dollars every year. Using this technology, scanners on conveyor belts can scan the RFID tags attached to the baggage and reroute if they have been misplaced or moving in a wrong direction. This would prove to be a pivotal technology in the baggage handling system over the barcode hand scanning technology. Hence, incorporation of RFID technology in the baggage handling system is expected to boost the growth of this market.
High upfront and maintenance cost of baggage handling system (BHS)
High initial investment, due to the usage of conveyor belts, RFID sensors, X-ray screening machine, and others, and inflated cost of a baggage handling system hamper the market growth. In addition, the operational and maintenance services of the BHS add on to the basic cost of the system, which include cost of maintenance, staffing, and electricity.
A lot of developing nations have comparatively smaller terminals, which limits the installation of a baggage handling system. In addition, labor cost for manual baggage handling is affordable for developing regions with relatively smaller airports. These factors also hamper the growth of the airport baggage handling market to a certain extent.
Utilization of robotization in the airports
In coming years, the baggage handling robots are expected to help in the process of loading passenger baggage into unit load devices (ULD) and carts in airport operations. Also, some of the leading European airports are incorporating this technology. For instance, SITA Lab's baggage robot named Leo, a fully automated, self-propelling baggage robot can run tasks such as luggage check-in, print bag tags, and transport up to two bags with a maximum weight of 32kg. Also, it has functions that can avoid obstacles and can navigate in heavily crowded environment. In 2017, Leo, participated in a trial period at Geneva airport where passengers used the robot to check-in their bags. Due to the increase in work place safety norms, flexibility, flight traffic security, and cost optimization, these automated robots are expected to gradually become a regular process at airports all over the world in next 10 to 15 years.
Key Benefits for Airport Baggage Handling System Market:
This study comprises an analytical depiction of the global airport baggage handling system market along with the current trends and future estimations to depict the imminent investment pockets.
The overall market potential is determined to understand the profitable trends to gain a stronger foothold.
The report presents information related to key drivers, restraints, and opportunities with a detailed impact analysis.
The current market is quantitatively analyzed from 2017 to 2025 to benchmark the financial competency.
Porter's five forces analysis illustrates the potency of the buyers and suppliers in the industry.
 Airport Baggage Handling System Market Report Highlights
Aspects
Details
By AIRPORT CLASS
By SERVICE

Assisted Service
Self-service

By Type

CONVEYORS
DESTINATION CODED VEHICLES

By TECHNOLOGY
By Region

NORTH AMERICA (U.S, Canada, Mexico)
EUROPE (UK, Germany, France, Russia, Rest of Europe)
ASIA-PACIFIC (China, Japan, India, Australia, Rest of Asia-Pacific)
LAMEA (Latin America, Middle East, Africa)

Key Market Players
VANDERLANDE INDUSTRIES B.V, PTERIS GLOBAL LIMITED(CIMC GROUP), GLIDEPATH GROUP, DAIFUKU CO. LTD, SIEMENS AG, G&S AIRPORT CONVEYOR, BEUMER GROUP, GRENZEBACH GROUP, FIVES GROUP, LOGPLAN LLC