The global airport operations market was valued at $7.7 billion in 2021, and is projected to reach $13.8 billion by 2031, growing at a CAGR of 6.3% from 2022 to 2031.
Airport operations encompass range of processes, which ensure that an aircraft runs smoothly and effectively in range of different situations. The airport operations are mainly categorized into airside operations, landside operations, financial operations and information management. The airside operations include air traffic management, aircraft landing & navigation, runway management, and ground handling safety. The landside operations are inclined toward serving passengers and maintenance of airport terminals buildings. It includes operations such as passenger check in, baggage handling and tagging, parking facilities, vehicular traffic management, staff and resource allocation among others. The financial operations involves aeronautical and non-aeronautical billing and invoicing operations, staff pay rolls, and point of sales among others. The information management system relates to gather and distributing several information such as arrival and departure, daily flight information, important announcement and airline connections. The rise in air traffic across the globe and adoption of new operational technologies has increased the importance of airport operations over past decade.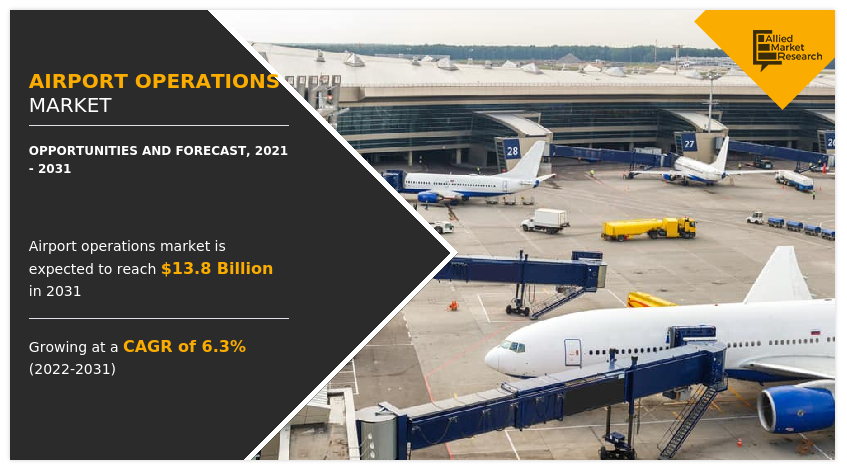 Airport traffic and income have been significantly and immediately impacted by COVID-19. Global passenger travel decreased as a result of the COVID-19 pandemic. The problem first appeared in Asia-Pacific, however according to ACI, the rapid spread of the virus and the containment measures put in place as a result, such as government advice to stay home and airport closures, led to a 22.9% decline in global air traffic in February and a 53.1% decline in March 2020. This amounted to a drop in passenger volume of 620 million in the first quarter of 2020. Owing to a 90% global reduction in passenger travel, April was an especially challenging month. Aeronautical and non-aeronautical revenues have virtually stopped growing as a result of the abrupt decline in air traffic. The aeronautical earnings that the airports get from airlines, such as aircraft landing fees and security fees, decline when airlines reduce capacity. As fewer people travel, non-aeronautical income from duty-free shops, restaurants, and parking lots at airports decline as well. ACI estimates that worldwide overall airport revenues decreased by 35% in Q1 2020, or $14 billion, and by 90% in Q2 2020, or $39 billion.
Airport Operations Market

---
By Platform
Software is projected as the most lucrative segment
Factors such as increase in investment to support brown filed and green field airport operations, rise in passenger traffic across the globe, and adoption of new technologies supporting automation and self-services. The COVID-19 is having a notable impact on airport operations market and have shifted the business dynamics within the forecast timeframe. Currently majority of airports are focused toward reducing their operational cost, increase operational efficiency and reduce their carbon footprint. For instance, In June 2022, the Delhi International Airport Limited (DIAL) announced acquisition of 62 electric vehicles that is anticipated to optimize their airside operations. The electric vehicles is anticipated to be gradually induced within three to four months and reduce approximately 10,000 tons of greenhouse emissions per annum.
The airport operations market is segmented on the basis of airport class, operation, platform and airport category. By airport class, it is categorized into class A, class B, class C, and Class D airports. Depending on operation, the airport operations industry is fragmented into airside operation, landside operation, financial operation and information management. By platform, it is divided into hardware, software and service. The airport category segment is categorized into commercial service airports, cargo service airports, reliever airports, and general aviation airports. Region-wise, the airport operations industry is analyzed across North America, Europe, Asia-Pacific, and LAMEA.
Airport Operations Market

---

By Airport Category
Reliever Airports is projected as the most lucrative segment
Companies have adopted product development and product launch as their key development strategies in the Airport operations industry. Moreover, collaborations and acquisitions are expected to enable leading players to enhance their product portfolios and expand into different regions. The key players operating in the airport operations market are Cisco Systems, Inc., Honeywell International Inc., IBM, Indra, QinetiQ, Raytheon Technologies Corporation, Siemens, SITA, Teledyne Technologies Incorporated, Thales, Daifuku Co., Ltd., Damarel Systems International Ltd., Amadeus IT Group, Inform GmbH, Aena, Huawei Technologies Co., Ltd., and ES_Mobility
Adoption of Total Airport Management (TAM)
The success of individual stakeholders is anticipated to determine the direction of airport management in the future. All agents, from landside to terminal & airside, are anticipated to be placed into a unified platform, enabling real-time analysis to assist decision-making. By connecting processes and systems across the airport, total airport management (TAM) promotes data-driven decision making, comprehensive KPI management, and the integration of operations. TAM includes performance-based airport operations that permit the development, adoption, and upkeep of the Airport Operational Plan (AOP) on the basis of performance. This ensures fairness and the resolution of potential conflicts of interest between stakeholders and makes sure that everyone is putting forth their best effort in the direction of a common objective.
Airport Operations Market

---
By Airport Class
Class B is projected as the most lucrative segment
Rise in air traffic, surpassing pre-COVID levels
The rise in aviation traffic is attributed to a variety of factors. The primary reason is population and economic expansion, which is being fueled by the burgeoning middle class. By 2035, the global economy is projected to increase by 3% annually, while aviation traffic is projected to grow by an average of 6% annually. The second development element is introducing low-cost airlines with competitive rates on well-travelled routes. They play a significant role in the intensification of air traffic in Europe; at present, they account for more than 40% of Europe's and 25% of traffic globally. By encouraging international airlines to lower ticket rates, these businesses significantly influence airline prices.
As consumers attempt to make up for two years of missed travel possibilities, the aviation industry has witnessed the long-anticipated rise in reservations with the relaxation of numerous border restrictions. Except for China, where travel is still heavily restricted. International revenue passenger kilometer (RPKs) increased 331.9% compared to April 2021, accelerating the 289.9% increase from March 2022 to the previous month. International RPKs for April 2022 decreased 43.4% from the same month in 2019. Some route areas—including Europe to Central America, the Middle East to North America, and North America to Central America—are above pre-pandemic levels.
Airport Operations Market

---
By Operation
Landside Operations is projected as the most lucrative segment
Change in consumer dynamics
The COVID-19 had a major impacting in changing consumer dynamics. Unlike pre-COVID phase where end users value human interaction, currently consumers prefer having human-machine interface or automated processes. In the future, all passenger operations from check-in to boarding the plane, are expected to be handled by the passengers. This is anticipated to increase non-aeronautical revenue, reduce operational costs, and improve resource utilization. Aligning with consumer demand, airports' degree of digitization is rising swiftly, supporting trends like increased automation and specialized passenger services. This is anticipated to result in a linked airport where the control center can better monitor and manage performance against key performance indicators and has insight across all activities (KPIs). Suppliers have created new, standardized products that support these services, such as e-boarding and self-service platforms. Passengers are anticipated to be able to control their trip plans, including keeping an eye on their luggage.
Threat of cybersecurity and data breach
The entire safe operation of the airport environment and passenger safety depend on airport security. Despite having multi-layered security systems for passport checks and luggage scans, many airports are becoming targets of cyber-attacks. Such assaults have occurred in the travel business, most especially in the airline industry. According to IATA, hacks cost the world economy $460 billion annually. In the next three years, cybersecurity is anticipated to account for a sizable chunk of the over $33 billion in IT spending anticipated for airlines and airports.
Airport Operations Market

---

By Region
Asia-Pacific would exhibit the highest CAGR of 6.8% during 2022-203
The airport operations market is segmented into Platform, Airport Category, Airport Class and Operation.
KEY BENEFITS FOR STAKEHOLDERS
This study presents the analytical depiction of the global airport operations market analysis along with the current trends and future estimations to depict imminent investment pockets.

The overall airport operations market opportunity is determined by understanding profitable trends to gain a stronger foothold.

The report presents information related to the key drivers, restraints, and opportunities of

the global airport operations market with a detailed impact analysis.

The current airport operations market is quantitatively analyzed from 2021 to 2031 to benchmark the financial competency.

Porter's five forces analysis illustrates the potency of the buyers and suppliers in the industry.
 Airport Operations Market Report Highlights
Aspects
Details
By Platform

Hardware
Software
Service

By Airport Category

Commercial Service Airports
Cargo Service Airports
Reliever Airports
General Aviation Airports

By Airport Class

Class A
Class B
Class C
Class D

By Operation

Information Management
Airside Operations
Landside Operations
Financial Operation

By Region

North America (U.S., Canada, Mexico)
Europe (U.K., Germany, France, Russia, Italy, Spain, Rest of Europe)
Asia-Pacific (China, India, Japan, Australia, South Korea, Rest of Asia-Pacific)
LAMEA (Latin America, Middle East, Africa)

Key Market Players
Cisco Systems, Inc., Honeywell International Inc., IBM, Indra, QinetiQ, Raytheon Technologies Corporation, Siemens, SITA, Teledyne Technologies Incorporated, Thales, Daifuku Co., Ltd., Damarel Systems International Ltd. , Amadeus IT Group, Inform GmbH, Aena, Huawei Technologies Co., Ltd. , ES_Mobility