Airport Robots Market Statistics 2030 -
The global airport robots market was valued at $565.15 million in 2020, and is projected to reach $2,568.14 million in 2030, registering a CAGR of 17.8%.    
The COVID-19 outbreak forced governments across the globe to implement strict lockdowns and made social distancing mandatory to contain the spread of the virus. As a result, thousands of airplanes were grounded internationally and the industry witnessed a huge slump in revenues. The losses witnessed by the aviation sector has impacted the adoption of innovative technologies such as airport robot systems. Airports and airlines suffered to a large scale by the pandemic that stopped the companies and authorities to invest in AI-powered robotic technologies to be deployed for different applications in the airports. With the ongoing vaccination across the globe, the aerospace industry is expected to come on track in sometime and the adoption of airport robots is projected to increase over the years.
The airport robots market includes different types of robots that are able to handle different operations in an airport. Robots that have been deployed across several airports, for instance, cleaning robot Neo in CVG Airport (U.S.), disinfectant robots at Heathrow Airport (London), Jomo Kenyatta International Airport (Kenya), and guide robots at Incheon International Airport (South Korea) are assisting the ground staff in offering services at the airports.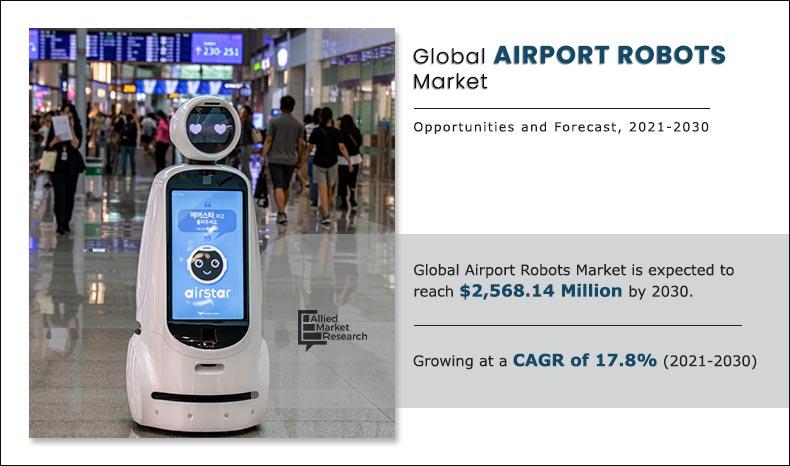 As technology is employed to communicate with passengers and increase productivity, robots are becoming more popular in airport terminals. Many robots can learn and improve their knowledge on account of artificial intelligence and machine learning technologies. With advancement in technologies, the robots will be able to provide passengers with more relevant information and offer airport operators and airlines additional operational benefits.
The market segmentation is based on end user, application, type, and region. The end user segment is further divided into airport security, boarding pass scanning, airport baggage system, passenger guidance, and others. The application segment is further bifurcated into landside and terminal. Based on type, the market is classified into humanoid and non-humanoid. Region-wise, the market is analyzed across North America, Europe, Asia-Pacific, and LAMEA.
Infographic for airport robots market
Key players operating in the global airport robots market include ABB Ltd., Avidbots Corp., Cyberdyne Inc., ECA Group, LG Electronics Inc., SITA, SoftBank Corp., Stanley Robotics, UVD Robots, and YUJIN ROBOT Co., Ltd. 
Increase in air passenger traffic across the globe
According to International Civil Aviation Organization's (ICAO) yearly worldwide statistics, the total number of commuters carried on scheduled flights rose to 4.38 billion in 2019, which is expected to be 3.65% higher than the previous year. The highest passenger traffic is expected to be witnessed in Asia-Pacific. In October 2018, the International Air Transport Association (IATA) publicized that the passenger count could double to 8.2 billion in 2037. The COVID-19 pandemic led to a severe downfall in air traffic figures, although recently, in May 2021, the International Air Transport Association (IATA) stated that the global air passenger traffic is anticipated to recover to almost 88% of pre-COVID-19 levels during 2022, and is projected to outdo this level during 2023. This signifies a robust demand for air travel globally.
The abovementioned statistics suggest a rise in air passenger traffic over the years across the globe. The rise in passengers would lead to the adoption of robotic technologies to handle security measures, carrying out health checks, cleaning protocols, and others. In 2019, a record 80.9 million passengers traveled through the Heathrow airport (London), delivering the ninth consecutive year of growth for the airport. To offer convenient solutions amid the rise in passengers, British Airways installed 80 automated bag-drop machines in the facility and also experimented with self-driving luggage vehicles. The adoption of robotic technologies led to a reduction in the number of lineups and made journeys faster and smoother. Such factors are anticipated to propel the growth of the global airport robots market during the forecast timeframe.
Benefits such as faster check-ins and easier baggage handling
The check-in processes across all the major airports are quite lengthy and time-consuming, owing to which, flyers have to reach airports several hours before the departure of the flight. Some airports that have implemented robotic technologies are benefitting as robots have simplified the check-in process for flyers and are helping airlines save time, human resources, and money. Passengers' boarding tickets are scanned, seats are assigned, and other check-in procedures are assisted by robots. They can work at a faster pace and for longer periods of time than their human counterparts, allowing airline businesses to save time and money. With the Spencer robot testing at Schiphol airport, robots have already proven effective in lowering airport check-in times. The robot scanned passengers' boarding tickets and directed them to the correct departure gate during the tests, which took place between November 2016 and March 2017.
From check-in at the origin airport to check-out at the destination airport, AI-powered robots make the baggage handling procedure easier. Passengers' luggage can be carried by robots, which can replace the manual procedure of passengers carrying their bags on trolleys. The robot can travel alongside the passenger, which is made possible by embedded sensors, minimizing their workload. Radio-frequency identification (RFID) tags on the bags may then be scanned by robots, and the information relayed to robots at the destination airport, making baggage handling easier. This way, robots can fully manage the passenger's concerns for baggage and simplify it significantly. Such benefits are expected to result in an increase in passengers selecting air travel over other modes as passengers value comfort while traveling, thus bolstering the demand for airport robots during the forecast timeframe.
High costs of airport robots
Airport robots offer higher convenience in passenger-intensive facilities like airports. They can help in easy check-ins, guiding passengers to their respective terminals, easing the issues with the luggage, sanitization, cleaning, security checks, and more. However, the adoption of airport robots is quite limited, owing to their high costs. For instance, Avidbots Corp.'s floor scrubbing robot Neo costs around $50,000. Urumuri - made by Zora Bots, currently deployed at the Kigali International Airport with the capacity to screen 50 to 150 people per minute and report abnormalities to officers on duty - costs around $30,000. Another robot Whiz by Robotics Group Corp. is available at $500 per month. These are very useful robots that are installed across different airports and handle their task quite well. Although, the high cost of these machines is anticipated to hinder the growth of airport robots during the forecast timeframe, thus limiting their adoption only across big and busy international airports.
Rise in the usage of taxibots
According to their planned path, aircraft need to travel from the taxiway to the runway and vice-versa. While the distance between the two points may seem insignificant, it results in increased operational costs for airlines in terms of fuel consumption. With the use of taxibots, airlines can significantly reduce fuel consumption. Taxibot is a self-driving aircraft tractor that moves planes from the parking bay to the runway and back. It's a pilot-operated semi-robotic towbarless aircraft tractor that is utilized as a taxiing alternative, and thus proves quite economical. This results in lower noise pollution and quicker turnaround for the aircraft. Taxibots can help airlines achieve enhanced on-time performance. It might even be feasible to pull the plane with the help of the taxibot without ever having to turn the plane on, saving a large amount of fuel. At major airports, operational and certification tests have already begun, and airlines have started deploying taxibots at airports throughout the world. For instance, in May 2021, Delhi's Indira Gandhi International (IGI) Airport became the first airport to register 1,000 taxibot movements. According to Delhi International Airport Limited (DIAL), taxibots have helped in reducing about 532 tons of carbon and 214,000 liters of aviation fuel. Such factors are anticipated to bolster the growth of the global airport robots market during the forecast timeframe.
COVID-19 Impact Analysis 
The COVID-19 impact on the airport robots market is unpredictable and is expected to remain in force till the second quarter of 2021. 
The COVID-19 outbreak forced governments across the globe to implement strict lockdowns and banned domestic and international travel for most of 2020. This led to sudden fall in demand for air travel and hampered the adoption of airport robots across the globe. 
Moreover, nationwide lockdowns forced robot hardware related parts manufacturing facilities to partially or completely shut their operations.
Adverse impacts of the COVID-19 pandemic have resulted in delays in activities and initiatives regarding development of robust and innovative airport robot solutions globally.
Key Benefits For Stakeholders
This study presents analytical depiction of the global airport robots market analysis along with the current trends and future estimations to depict imminent investment pockets.
The overall airport robots market opportunity is determined by understanding profitable trends to gain a stronger foothold.
The report presents information related to key drivers, restraints, and opportunities of the global airport robots market with a detailed impact analysis.
The current airport robots market is quantitatively analyzed from 2020 to 2030 to benchmark the financial competency.
Porter's five forces analysis illustrates the potency of the buyers and suppliers in the industry.
Key Market Segments
By End-User
Airport Security
Boarding Pass Scanning
Airport Baggage System
Passenger Guidance
Others
By Application
By Type
By Region
North America
Europe

Germany
UK
France
Russia
Rest of Europe

Asia-Pacific

China
Japan
India
South Korea
Rest of Asia Pacific

LAMEA

Latin America
Middle East
Africa
Key Players
ABB Ltd.
Avidbots Corp.
Cyberdyne Inc.
ECA Group
LG Electronics Inc.
SITA
SoftBank Corp.
Stanley Robotics
UVD Robots
YUJIN Robot Co., Ltd.