Airport Stand Equipment Market Statistics 2030 -
The global airport stands equipment market was valued at $3.97 billion in 2020, and is projected to reach $7.22 billion in 2030, registering a CAGR of 6.4%.    
The rapid spread of COVID-19 had a significant impact on the global airport stands equipment market in 2020, owing to the implementation of strict lockdown measures, and the grounding of aircraft across the world. COVID-19 pandemic led to several challenges for the aviation sector including logistics challenges, supply-demand gap, among others. On the other hand, the airport stands equipment manufacturers had to reduce expansion and investments to withstand the decline in revenue and operating performance of the airline industry. The reduced demand for airport stands equipment for lightweight and heavyweight aircraft were observed throughout the year, and is expected to continue for a few years.
Airport stand equipment are the maintenance or predetermined stands used at airports during maintenance of aircraft or arrival & departure of flights. Engineers and other maintenance professionals can use these platforms or stands to safely access the aircraft and perform routine maintenance and inspections. In addition, these equipment are used to ensure efficient operation of flights, provide adequate safety & comfort to passengers and airport staff, and ensure smooth functioning of all aircraft-related operations on the ramp. This equipment plays a key role in aircraft mobility, ground power operations, and cargo or passenger loading operations.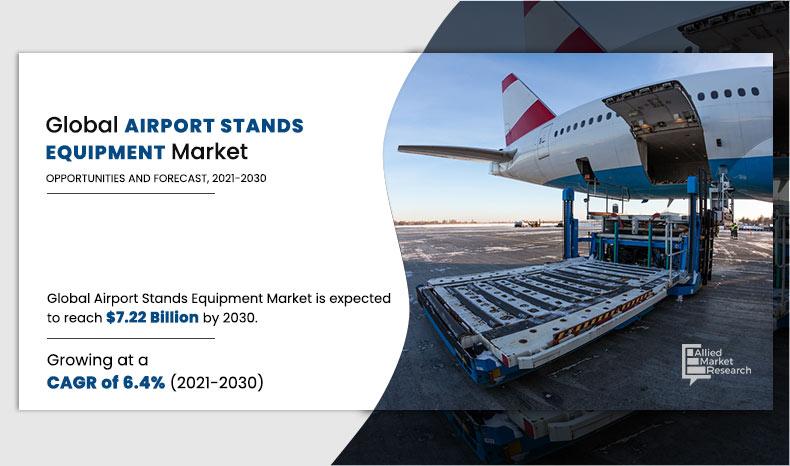 Factors such as increase in global freight & passenger traffic, upgrades at airports, and technological advancements in airport stands equipment drive the growth of the market. However, increase in expenses of low-cost operators and long service life of airport stand equipment are expected to hamper the market growth. On the contrary, countries with a high population base such as China, India, Russia, and Brazil have witnessed significant growth in working & middle-class population, which positively impact the income level and living standard of economic class. This is projected to fuel the occupancy of airlines in the near future. Proactive government support for infrastructural spending at airports and an increase in focus on non-aviation-related revenue are expected to create major opportunities for market expansion during the forecast period.
The airport stands equipment market is segmented into stand and application. By stand, the market is classified into engine access, landing gear access, wheel, aircraft entry, cabin interior, and others. On the basis of application, the market is categorized into aircraft operations and maintenance, repair, and overhaul (MRO). Region wise, the market is studied across North America (the U.S., Canada, and Mexico), Europe (the UK, France, Germany, and rest of Europe), Asia-Pacific (China, Japan, India, South Korea, and rest of Asia-Pacific), and LAMEA (Latin America, Middle East, and Africa). 
 
The key players profiled in this report include Aero Specialities, Dedienne Aerospace, Fabrication Authorities International, Inc., HHI Corporation, Hydro System KG, JETechnologies Solutions Inc. (JSI), OEM Group Pty Ltd., Semmco Ltd., Waag Aircraft, and  Wildeck, Inc.
Rise In Global Freight And Passenger Traffic
Global freight transport is a key component in the trade of goods and materials. Increase in transportation of pharmaceuticals, medical equipment, & personal protective equipment as well as sudden rise in price of shipping positively impact the air freight traffic. According to the International Air Transport Association (IATA), the demand for air cargo increased by 6.9% in 2021, compared to 2019 (pre-covid levels) and 18.7% compared to 2020, following a strong performance in December 2021, and is expected to continue increment in the upcoming year. This rise in global freight operations creates demand for regular maintenance of cargo aircraft and loading stands or platforms, which simultaneously creates demand for airport stand equipment. 
Moreover, surge in international tourism has led to the construction of new airports and expansion of existing ones. Furthermore, according to the International Civil Aviation Organization (ICAO), by 2035, passenger traffic and freight volume will double. Factors such as rise in disposal income of the middle-class population and the emergence of low-cost airlines have led to increase in number of airline passengers. With surge in number of airline passengers, the demand for new aircraft and number of flights have increased at a significant rate. Such increase in demand for aircraft & flights propels the growth of the airport stands equipment market.
Airport Stand Equipment Market

---
By Stands
Others is projected as the most lucrative segment
Modernization Of Airports
Upgrading airport infrastructure is expected to fuel the demand for airport stand equipment during the forecast period. Moreover, increase in international passenger traffic has enforced government agencies across the globe to make substantial investments to expand their transportation networks so as to accommodate high volume of visitors. In addition, government agencies have taken proactive measures to support airport infrastructure, which is opportunistic for the market. For instance, in February 2022, the Government of Canada provided the Regina International Airport with $2.6 million for critical infrastructure projects. In addition, Minister of Transport, the Honourable Omar Alghabra, announced funding of around$16 million to help the Regina International Airport. 
Furthermore, the developing countries such as China and India have heavily invested in upgrading their airport infrastructure, which, in turn, is expected to fuel the demand for airport stand equipment. For instance, in October 2019, the Indian Government planned to open 100 additional airports in the upcoming years, as part of a plan to revive economic growth in Asia's third largest economy. The government has committed investments of $13 billion (₹1 trillion) to build airports. 
Airport Stand Equipment Market

---
By Application
Maintenance, Repair and Overhaul (MRO) is projected as the most lucrative segment
Long Service Life Of Airport Stand Equipment
Materials used for airport equipment are high-grade materials. Aircraft maintenance and engine access stands use aluminum as ladder material and steel as a frame material. Aluminum alloys are the most used materials in the aerospace industry, as they provide high strength & ductility, high corrosion resistance, high processability, and long life. For instance, the DF071554-06 aircraft maintenance and engine access stand is made up of high-grade aluminum and steel material. Moreover, several manufacturers use composite materials as aircraft stand equipment material, as they are more effective and resourceful than traditional nonrenewable materials. In addition, they exhibit properties such as corrosion resistance, impact resistance, nonmagnetic nature, and high durability as per composition. For instance, Fabrication Authorities International, Inc. (FAI) uses FRP composite for aircraft maintenance stands such as B1 Aircraft Maintenance Platform, due to its high strength, durability, and weighs less than 1/2 of its steel counterpart. Increase in operational efficiency of airport stand equipment due to its longer service life, lesser repair, and maintenance issues, and lower life cycle costs are expected to hinder the market growth.
Rise In Focus On Non-aviation-related Revenue
Non-aviation revenue is the source of future expansion projects of airports. Duty-free shops at airports sell high-end luxury goods, which include jewelry, cosmetics, alcohol, and confectionery items. The profits gained from the sale of these duty-free products reduce the  reliance of airports on aeronautical revenues. In addition, such retail shops present at airports diversify the tax base of airports. The income generated from such shops caters to the procurement of maintenance stands, aircraft access stands, and passenger ramps.
Airport Stand Equipment Market

---
By Region
Asia-Pacific would exhibit the highest CAGR of 8.2% during 2021-2030.
Covid-19 Impact Analysis 
The COVID-19 impact on the airport stand equipment market is unpredictable, and is expected to remain in force for a few years. 
The COVID-19 outbreak forced governments across the globe to implement stringent lockdown and ban import–export of raw materials for most of 2020 & few months in 2021. This led to sudden fall in the availability of important raw materials for manufacturing airport stand equipment.
Moreover, nationwide lockdown forced airport equipment manufacturing facilities to partially or completely shut their operations.
Adverse impacts of the COVID-19 pandemic have resulted in delays in activities and initiatives regarding development of advanced airport stand equipment globally.
Key Benefits For Stakeholders
This study presents analytical depiction of the global airport stand equipment market analysis along with the current trends and future estimations to depict imminent investment pockets.
The overall airport stand equipment market opportunity is determined by understanding profitable trends to gain a stronger foothold.
The report presents information related to key drivers, restraints, and opportunities of the global airport stand equipment market with a detailed impact analysis.
The current airport stand equipment market is quantitatively analyzed from 2020 to 2030 to benchmark the financial competency.
The Porter's five forces analysis illustrates the potency of the buyers and suppliers in the industry.
 Airport Stand Equipment Market Report Highlights
Aspects
Details
By Stands

Engine Access
Landing Gear Access
Wheel
Aircraft Entry
Cabin Interior
Others

By Application

Aircraft Operations
Maintenance, Repair, & Overhaul (MRO)

By Region

North America
Europe

UK
Germany
France
Russia
Rest of Europe

Asia-Pacific

China
Japan
India
South Korea
Rest of Asia-Pacific

LAMEA

Latin America
Middle East
Africa

By KEY PLAYERS

Aero Specialities
Dedienne Aerospace
Fabrication Authorities International, Inc. (FAI)
HHI Corporation
Hydro System KG
JETechnologies Solutions Inc. (JSI)
OEM Group Pty Ltd.
Semmco Ltd.
Waag Aircraft
Wildeck, Inc.