The global airships market was valued at $349.2 million in 2021, and is projected to reach $608.1 million by 2031, growing at a CAGR of 6% from 2022 to 2031.
Airships also termed as dirigible balloon is a type of aerostat or lighter-than-air aircraft that can navigate through the air under its own power. Aerostats gain their lift from large gasbags filled with a lifting gas that is less dense than the surrounding air. In early airship, the lifting gas used was hydrogen, due to its high lifting capacity and ready availability. Unlike hydrogen, helium gas has almost the same lifting capacity and is not flammable, but is rare and relatively expensive. The main types of airships are non-rigid, semi-rigid, and rigid. Non-rigid airships, often called "blimps", rely on internal pressure to maintain their shape. Semi-rigid airships maintain the envelope shape by internal pressure, but have some form of supporting structure, such as a fixed keel, attached to it. Rigid airships have an outer structural framework that maintain the shape and carry all structural loads, while the lifting gas is contained in one or more internal gasbags or cells. These airships are highly used for advertising and covering sport events. Apart from this, airship also finds its applications in transporting cargo and military.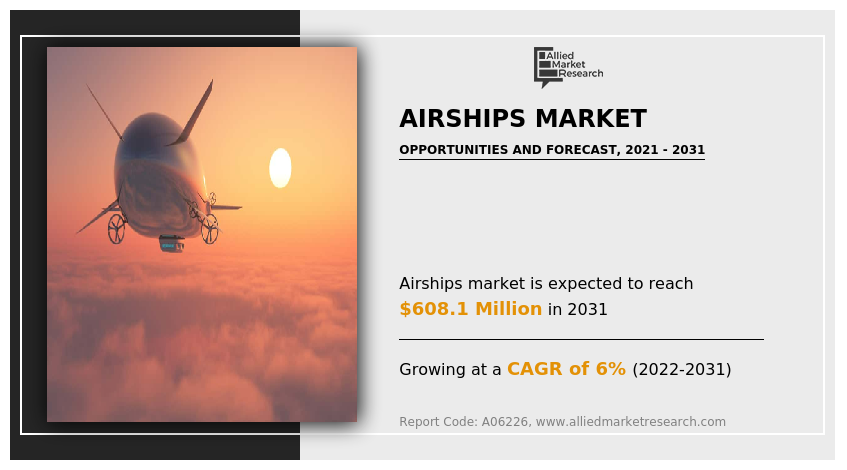 Growth of airship market is driven by factors such as increased demand of surveillance in confined areas, trend of mega advertisement, live streaming of events and bolstering aerial recreational and sightseeing activities to support the demand of airship within the forecast period. In addition, advertising on airships has been analyzed to be much more cost effective compared to other forms of advertising, which boosts the growth of the market. Apart from advertising, the tremendous capacity of these airships to handle weight and transport over distances with negligible cost is driving the airship industry in the logistic sector. However, factors that restrain the growth of the airships market include risky operation due to use of hydrogen gas which is highly inflammable, followed by complex and higher installation cost.
The global airship market is segmented on the basis of class, operation, architecture and application. By class the market is fragmented by small, medium and large. Based on operations, the market is bifurcated into manned and unmanned. With respect to architecture, the market is divided into non-rigid, rigid and semi-rigid. The application segment is divided into tourism and recreational, research and surveillance, advertisement and cargo, and military and communication. By region, the market is divided into North America, Europe, Asia-Pacific and LAMEA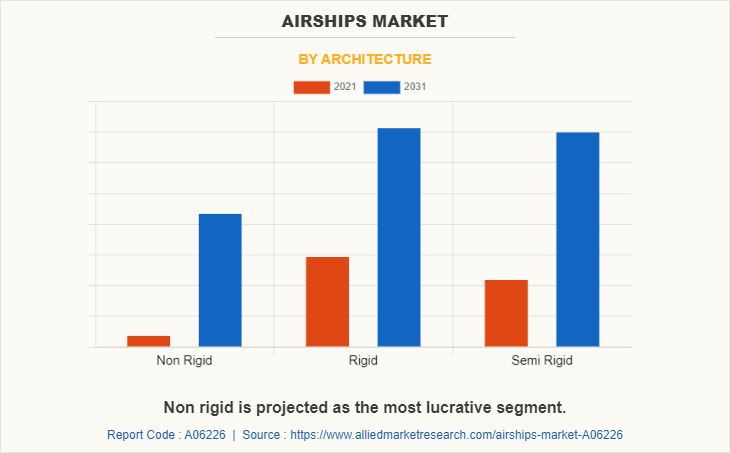 Companies have adopted product development and product launch as their key development strategies in the airship industry. Moreover, collaborations and acquisitions are expected to enable leading players to enhance their product portfolios and expand into different regions. The key players operating in the airship market are Lockheed Martin Corporation, Airborne Industries Inc., Zeppelin Luftschifftechnik GmbH, Hybrid Air Vehicles Ltd., Lindstrand Technologies Ltd., Shanghai Vantage Airship Manufacture Co. Ltd, Information Systems Laboratories Inc., Skyship Services Inc., RosAeroSystems s.r.a., GEFA-FLUG, Sceye Inc., Vantage Airship, West Deutsche Luftwerbung GmbH, Worldwide Aeros, CargoLifter AG, Boeing and Varialift Airships.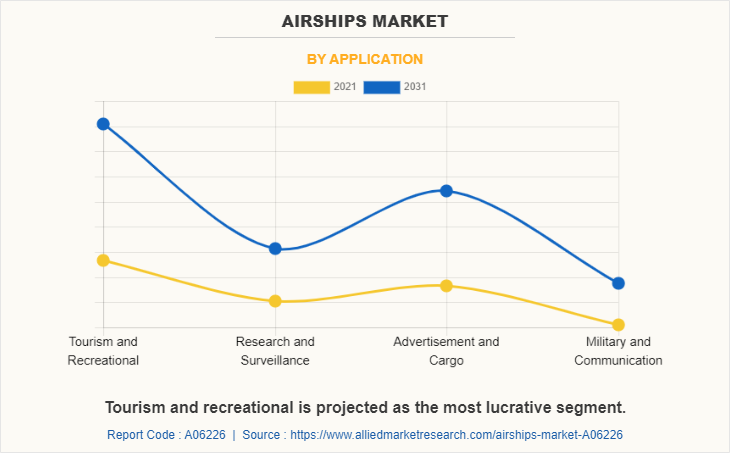 Surge in Need for Surveillance Driving Market Growth
Airships are one of the most economical aerial instruments for operations such as surveillance, transportation, logistic, and others. Airships had been used by military since World War I. For instance, Germany used its famous Zeppelin airships to carry out bombing raids in the First World War, inspiring the British Royal Navy to create their own B-Class airships for detecting German submarines. Since then, airships have mainly been used as aerial surveillance for military forces.
The rise in demand for environmental monitoring and remote communication is major factor supporting the growth of the airship market. Airships are cost effective means of surveillance, widely used by commercial, military and government bodies. Companies operating within the market are innovating semi-rigid airship as they are widely used across all industries and integrating them with several other technologies to proliferate its scope of operations. For instance, in June 2022, Scene Inc., that wants to bring broadband to more remote areas and monitor methane and other emissions from the oil and gas industry launched one of its airships from the New Mexico desert.
Increase in usage of airships in marketing activities
The rise in market competitiveness across the globe has allowed major brand to experiment with new ways of advertisement and branding. It has become essential to promote a particular product or service in front of targeted audience to establish brand recognition and create awareness. Airships is expected to play a major role in branding and marketing industry. Apart from the complex installation process, airships are easy to operate and minimal regulatory requirement to operate has allowed airship market to witness notable opportunities with mass communication and media industry. Branding on either side of a blimp, playing pre-recorded videos, or doing a live broadcast are among the major marketing activities performed via airships.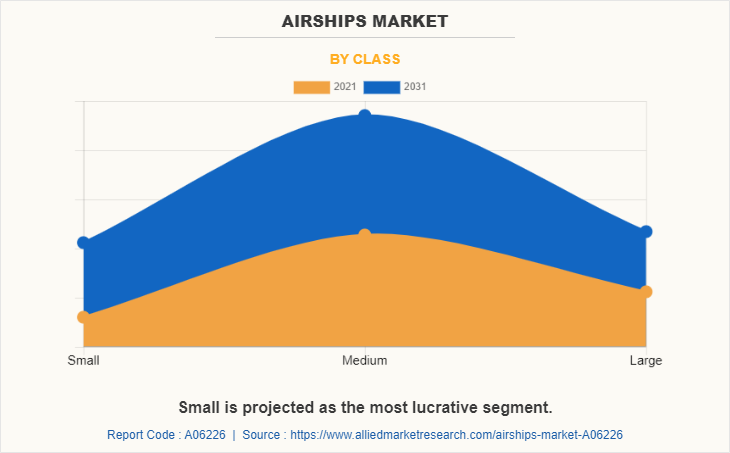 Electric Drones Hamper Demand for Airships
There is a rapid increase in the demand for electric drones, for surveillance purposes, which, in turn, are replacing airships. Drones are small in size, easy to transport and competitively economical as compared to a single blimp. Also, significant difference in initial acquisition cost and operating cost is also challenging the airship market. Ease of maneuver and more features and control over drone restrain the market within the surveillance segment. However, airship is predominantly used for surveillance of large areas whereas drones are used to survey small region with higher accuracy.
Apart from that the drones are much economical option as compared to airships. The initial installation cost, and high associated cost of storage and other operations along with potential risk associated with its operations are some of the major market challenges that hinder the market growth. Airships are considerably bigger in size and need specific hangers associated with the storage of airships, adding to its cost of ownership. Possibilities of fire, explosion, forces landing, and inoperability in strong winds are some of the other factors adding on to the challenges of airships. The rise in cost of helium gas in global market in line with increase in need of this gas for regular operations is impacting the operational cost of airships. Apart from that, scarcity of skilled individuals capable of operating airships is also one of the major factors limiting business opportunities. According to the Federal Aviation Administration, only 128 people in the U.S. are qualified to fly airships. And only 17 of them are paid to do it full time. On an average, it takes an average of 10 to 15 flight hours to gain experience of single engine general aviation aircraft whereas it takes unto 250 to 400 flight hours before conducting independent airship flights.
Sustainable & Eco-friendly Designs Growing Prominent in Airships
Key players operating at the global level are expanding their footprint by engaging in mergers and acquisitions with several players in the industry. Companies are receiving grants of their first patent to support the use of sustainable and eco-friendly transportation for designing & construction of airships that works on 100% green prototype. The airship market is likely to expand at a healthy growth rate during the forecast period. The rise in need for safety and security across the globe is driving the demand for surveillance, which, in turn, is propelling the growth of the airship market. Apart from advertisement and surveillance, companies in the market are tapping revenue opportunities through commercial tours by offering sightseeing trips over the German countryside.
Airships are a cost-effective means of surveillance, whether in military or in other areas. Semi-rigid and rigid airships are widely used across the globe. For instance, in May 2022, high-altitude inflatables airship, flying at between 60,000 and 90,000 feet, was be added to the Pentagon‐™s extensive surveillance network and could eventually be used to track hypersonic weapons.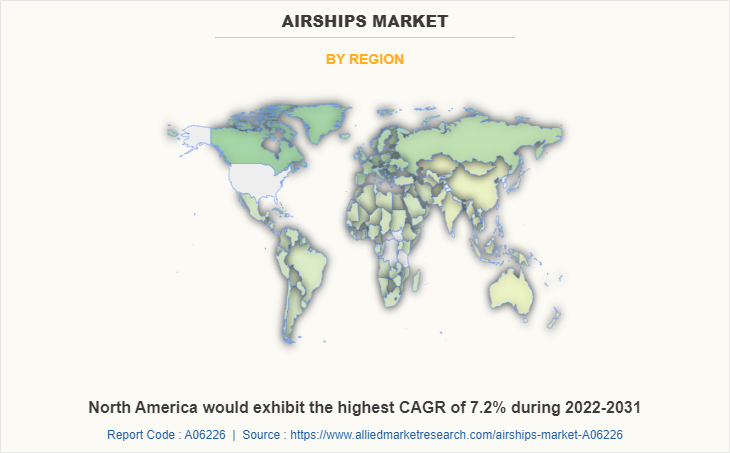 The airship market has witnessed a moderate impact of COVID-19. While there was no major impact towards its operation as airships were not grounded for longer timeframe. However, the manufacturing industry experienced a notable business impact due to lack of resources and raw materials. Also, the storage of airship in hangers attracted additional cost which impacted business profits.
Key Benefits For Stakeholders
This report provides a quantitative analysis of the market segments, current trends, estimations, and dynamics of the airships market analysis from 2021 to 2031 to identify the prevailing airships market opportunities.
The market research is offered along with information related to key drivers, restraints, and opportunities.
Porter's five forces analysis highlights the potency of buyers and suppliers to enable stakeholders make profit-oriented business decisions and strengthen their supplier-buyer network.
In-depth analysis of the airships market segmentation assists to determine the prevailing market opportunities.
Major countries in each region are mapped according to their revenue contribution to the global market.
Market player positioning facilitates benchmarking and provides a clear understanding of the present position of the market players.
The report includes the analysis of the regional as well as global airships market trends, key players, market segments, application areas, and market growth strategies.
 Airships Market Report Highlights
Aspects
Details
Market Size By 2031
USD 608.1 million
Growth Rate
CAGR of 6%
Forecast period
2021 - 2031
Report Pages
271
By Architecture

Non Rigid
Rigid
Semi Rigid

By Application

Tourism and Recreational
Research and Surveillance
Advertisement and Cargo
Military and Communication

By Class
By Operation
By Region

North America (U.S., Canada, Mexico)
Europe (UK, Germany, France, Russia, Italy, Spain, Rest Of Europe)
Asia-Pacific (China, India, Japan, Australia, South Korea, Rest Of Asia-Pacific)
LAMEA (Latin America, Middle East, South Africa)

Key Market Players
Aeros, Lindstrand Technologies Limited, Lockheed Martin Corporation, Skyship Services, Inc., Vantage Airship, RosAero Systems, Hybrid Air Vehicles, Cargolifter, Zeppelin Luftschifftechnik GmbH, WDL Luftschiffgesellschaft mbH, Sceye Inc., Boeing, Airborne, Varialift, GEFA-FLUG