The global allergy diagnostics market size was valued at $5 billion in 2021 and is projected to reach $16.7 billion by 2031, growing at a CAGR of 13.2% from 2022 to 2031. An allergy is a reaction or hypersensitivity triggered by the immunological system. A substance that causes allergic reactions is known as an allergen; examples include pollen, pet dander, dust mite secretion, and others. Some of the most common allergens include skin allergies, food allergies, insect allergies, mold allergies, and drug allergies. Additionally, an allergy diagnostic test can indicate the type of allergy and the best course of treatment. Allergy diagnosis techniques include blood testing, skin prick tests, patch tests, intradermal tests, and skin-prick tests.
The novel coronavirus pandemic had a devastating effect on several industries, including the allergy diagnostics market which experienced a declined growth during this period. Due to complete lockdowns and fear of spreading of corona virus, diagnostic procedures are avoided in most allergic reactions. Moreover, allergists across the globe are preferring the use of telemedicine for rhinitis and asthma during the COVID-19 outbreak. Therefore, such factors can modest the global market growth.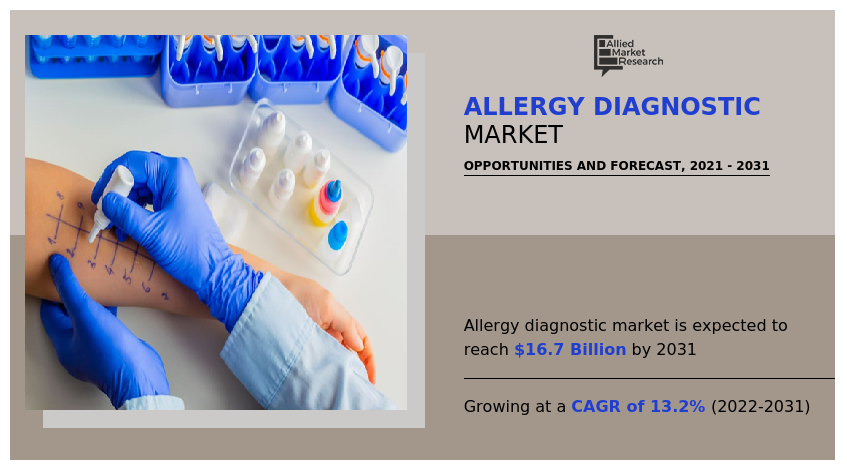 The market for allergy diagnostics is expected to grow as pollution levels rise. Exposure to allergens, occupational exposure, and exposure to indoor and outdoor air pollution are the key risk factors for chronic respiratory disorders. Urban residents are more likely to develop allergic diseases than rural residents because of their greater exposure to environmental pollution. The rise in food allergies is anticipated to fuel the market expansion for allergy diagnostic.
 Food allergy is a type of allergic illness that is more prevalent in urban and first-world environments than in rural and third-world environments. One of the most obvious variations between these locations is the degree of cleanliness and the possibility of infectious diseases. Immune system development is expected to be influenced by early exposures to bacterial, viral, and parasite illnesses as well as exposure to a variety of typical human body microorganisms. The incidence of sensitive skin and its propensity for irritation has increased as a result of climate change, air pollution, and the complexity of materials and cosmetic products. These factors are projected to propel the allergy diagnostics market growth in the near future.
Market competitors regularly update a number of allergy diagnostic tools, including luminometers, blot analyzers, scanners, ELISA analyzers, and immunoassay analyzers. These instruments cost more since they come with innovative features and functions (the price of each instrument varies based on its accuracy, flexibility, and TAT). For instance, luminometers range in price from $3,000 to $14,000, whereas immunoassay analyzers are priced between $10,000 and $20,000. In addition, running this technology requires additional costs such as maintenance and insurance, lab supervision, and overheads (such as electricity, space, and administration). Due to their substantial capital expenditures and ability to purchase high-volume systems, big hospitals and diagnostic labs hold a larger share of the market. However, due to financial limitations, the majority of small laboratories, doctor's offices, and independent practitioners cannot afford huge or extremely large systems. As a result, high fixed-cost requirements are anticipated to constrain the allergy diagnostics market share.
There are currently just a few mHealth tools for diagnosing Allergic Rhinitis (AR) that have been published in peer-reviewed publications, which limits the use of mHealth for the diagnosis of rhinitis. Recent advancements in integrated biosensors, wireless connection, and power harvesting techniques have created a new generation of point-of-care devices. However, AR is a relatively widespread illness. Peak nasal inspiratory flow meters and intranasal biosensors are only two examples of diagnostic tools that may be connected to smartphones. For instance, an allergy monitor aids in keeping track of the signs and dosage of medications, which are then matched to regional pollen concentrations. Similar to this, the MASK-Air (Mobile Airways Sentinel Network) employs a Visual Analogue Scale (VAS) for eye, nose, and asthma symptoms as well as for job impairment and a general evaluation. This app's user data has produced new understandings of the phenotypes of allergy disorders, treatment patterns, and job productivity. By incorporating mHealth, allergists and their patients would be able to communicate in novel ways using the smartphone's camera, sound recording system, motion sensors, messaging, and ultimately, diagnostic tools and algorithms built right into the device itself.
The key players profiled in this report include Thermo Fisher Scientific, PerkinElmer Inc., Danaher, Hitachi Chemicals, BIOMÉRIEUX, Omega Diagnostics Group PLC, Siemens, Eurofins Scientific, Stallergenes Greer, and Neogen Corporation.
The global allergy diagnostic market is segmented on the basis of test type, product/service, allergen, end-user, and region.  By test type, the market is sub-segmented into in vivo and in vitro. By product/service, the market is sub-segmented into consumables, instruments, and services. By allergen, the market is sub-segmented into inhaled allergens, food allergens, drug allergens, and other allergens. By end-user, the market is classified into diagnostic laboratories, hospital-based laboratories, academic research institutes, and others. By region, the market is analyzed across North America, Europe, Asia-Pacific, and LAMEA.
The allergy diagnostic market is segmented into Test Type, Product & Service, Allergen, and End-user.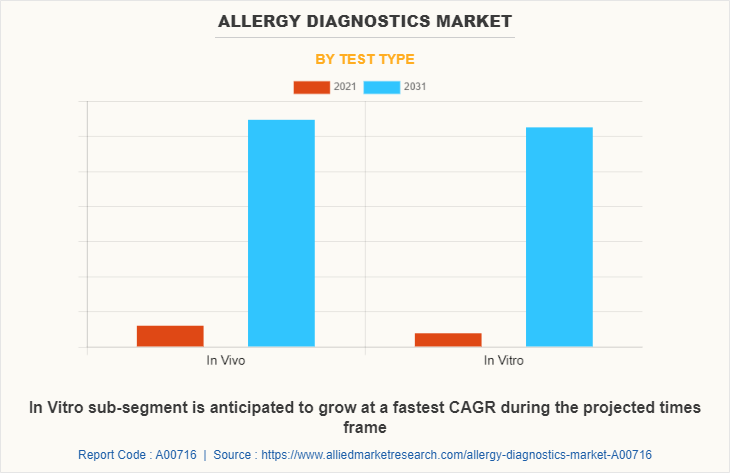 By test type, the in vivo sub-segment dominated the market in 2021. The two main types of in vivo allergy tests are organ challenge tests and skin tests. Both are intended to establish hypersensitivity and pinpoint the antigen that triggered the allergic response. The adoption of various in vivo tests, such as skin prick tests, is a major factor in this segment's growth. When compared to in vitro tests, these tests are more trustworthy, safe, practical, and economical. These are predicted to be the major factors affecting the allergy diagnostic market size during the forecast period too.
The in vitro sub-segment is expected to witness the fastest growth during the forecast period. The in vitro test is used to find the presence of allergen-specific immunoglobulin E (IgE). A radioallergosorbent test is an in-vitro approach for detecting allergen-specific antibodies of a novel immunoglobulin class, tentatively known as IgND. The benefits of in vitro testing include the absence of steroids or anti-histaminic effects, compatibility with any skin condition, and the absence of systemic reaction risk. For detecting aeroallergen (pollen and insect) sensitization, serum sIgE has a larger positive predictive value and superior specificity. These factors are predicted to be the major factors affecting the allergy diagnostics market size during the forecast period too.
[PRODUCT&SERVICEGRAPH]
By product & service, the consumables sub-segment dominated the market in 2021, as well as it is projected to continue its dominance over the forecast period. One of the factors accelerating the market growth is the rising number of allergies that demand prompt diagnosis. Additionally, major industry competitors are forming strategic agreements to offer better allergy diagnostics to consumers. Such as, bioMérieux India Private Limited, one of the industry's major companies, introduced the VIDAS Allergy panel, whose primary objective is to look at food and respiratory allergens. The expansion of the sub-segment throughout the predicted period may be supported by these variables and strategic agreements by important firms.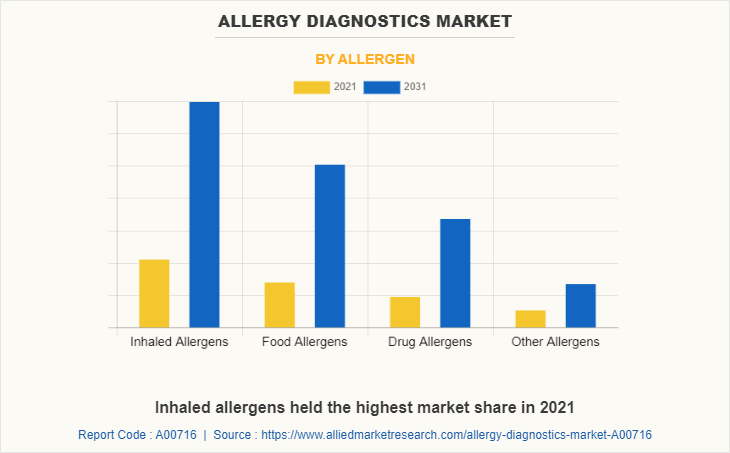 By allergen, the inhaled allergens sub-segment dominated the market in 2021. The allergy diagnostics market expansion in the inhaled allergens sub-segment may be attributed to rising levels of pollen and environmental pollution, along with other elements including dust, mold, and fungus. All of these factors might raise consumer demand for inhaled allergens and accelerate market expansion. These are predicted to be the major factors boosting the allergy diagnostic market size during the forecast period too.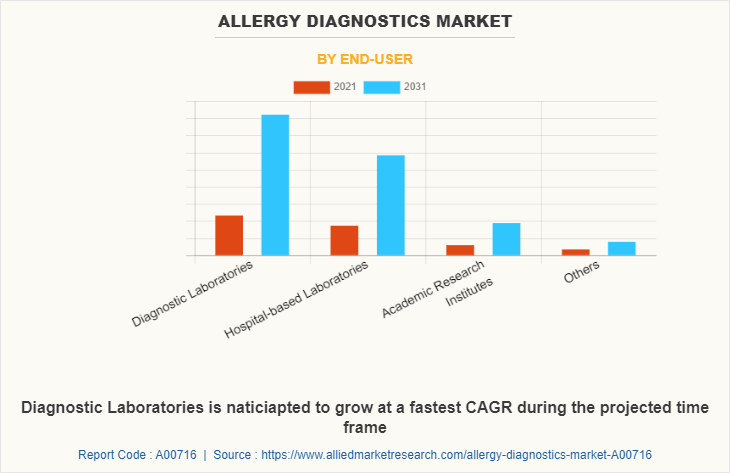 By end-user, the diagnostic laboratories sub-segment dominated the global allergy diagnostic market share in 2021, as well as it is anticipated to have the fastest growth during the forecast period. The expansion of the sub-segment is mostly due to rising diagnostic laboratory trends as a result of patients' demands for accurate diagnosis and an increase in the need for independent diagnostic laboratories. The significant market share is largely explained by the increasing public awareness about allergic disease management and the funding opportunities for the development of independent diagnostic laboratories. All of these factors are anticipated to raise the demand for diagnostic laboratories and accelerate the allergy diagnostic market share across the globe.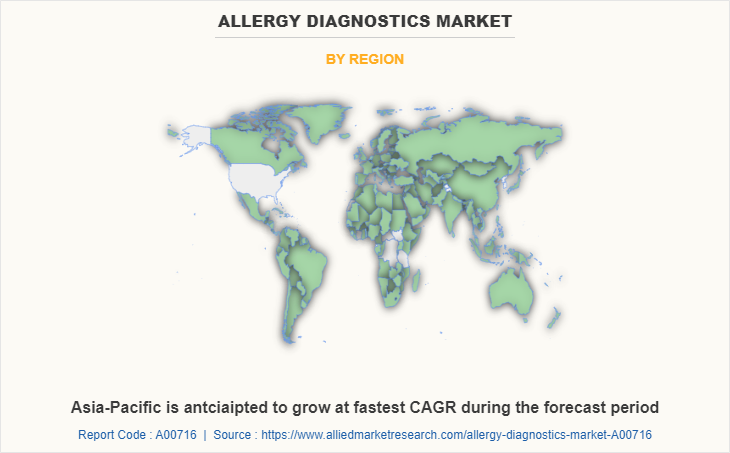 By region, North America dominated the global market in 2021. The number of allergy sufferers, better health care infrastructure, and cutting-edge diagnostic technologies are the primary drivers of the North America allergy diagnostic market expansion. Additionally, the market expansion is being fueled by the prominence of top allergy diagnostic suppliers and manufacturers that supply innovative allergy diagnostic tests. The demand for quick and accurate allergy diagnostic will increase as medication allergy-related fatalities increase. The prevalence of skin allergies in black Americans, particularly eczema and skin inflammation, as well as the high prevalence of allergic rhinitis (hay fever), will drive the growth of the allergy diagnostic market in the U.S. The need for allergy diagnostic in the healthcare sector would be favorably impacted by awareness campaigns launched by the government and non-government organizations to reduce food and medication allergy-related fatalities.
Impact of COVID-19 on the Global Allergy Diagnostic Industry
Due to the global COVID outbreak, there was a little reduction in the market for allergy diagnostic. Given that suffering patients are well-instructed about avoiding probable environmental triggers and treating acute occurrences, also based on written action plans, diagnostic tests were postponed in the majority of allergic disorders.

However, after the pandemic was under control, the diagnostic processes were restarted. To determine the impact of COVID-

19 on allergy diagnostic testing services, several research have been done.

According to a survey done in Turkey, telemedicine is preferred by allergists for treating asthma and rhinitis during the COVID-19 pandemic at a high rate. For more serious allergic conditions, such as anaphylaxis and hereditary angioedema, face-to-face interviews were recommended.

Other nations such as Italy and the U.S. also showed a similar tendency. Australia reduced the number of outpatient clinic face-to-face consultations for urgent patients with rheumatological disorders and switched approximately 80% of outpatient visits to telemedicine.

The expansion of the market was also constrained by this restriction and a decrease in

different diagnostic and treatment services
Key Benefits For Stakeholders
This report provides a quantitative study about the allergy diagnostics market analysis of the market segments, current trends, estimations, and dynamics of the allergy diagnostic market analysis from 2021 to 2031 to identify the prevailing allergy diagnostic market opportunities.
The study offers allergy diagnostics market trends, key drivers, restraints, and opportunities.
Porter's five forces analysis highlights the potency of buyers and suppliers to enable stakeholders to make profit-oriented business decisions and strengthen their supplier-buyer network.
An in-depth analysis of the allergy diagnostics market forecast segmentation assists to determine the prevailing market opportunities.
Major countries in each region are mapped according to their revenue contribution to the global market.
Market player positioning facilitates benchmarking and provides a clear understanding of the present position along with the allergy diagnostics market opportunity in the near future.
The report includes the analysis of the regional as well as global allergy diagnostics industry trends, key players, market segments, application areas, and market growth strategies.
 Allergy Diagnostics Market Report Highlights
Aspects
Details
By Test Type
By Product & Service

Consumables
Instruments
Services

By Allergen

Inhaled Allergens
Food Allergens
Drug Allergens
Other Allergens

By End-user

Diagnostic Laboratories
Hospital-based Laboratories
Academic Research Institutes
Others

By Region

North America (U.S., Canada, Mexico)
Europe (Germany, UK, France, Spain, Italy, Rest of Europe)
Asia-Pacific (China, Japan, India, South Korea, Australia, Rest of Asia-Pacific)
LAMEA (Brazil, Saudi Arabia, United Arab Emirates, South Africa, Rest of LAMEA)

Key Market Players
Eurofins Scientific, Hycor Biomedical Inc., Danaher, HollisterStier Allergy, ACON Laboratories, Inc., Siemens Healthcare Diagnostics, Inc., Omega Diagnostic Llc, Omega Diagnostics Group PLC, HOB Biotech Group Co. Ltd., Lincoln Diagnostics, Inc., Minaris Medical America, Inc., Hitachi chemical Diagnostic Inc., Danaher Corp, Neogen Corporation, Stallergenes SA, bioMérieux SA, Thermo Fisher Scientific Inc., Lincoln Diagnostics Inc., Thermo Fisher Scientific Inc., Alerchek Inc.