The global alopecia treatment market was valued at $2,736 million in 2018, and is projected to reach $3,935 million by 2026, registering a CAGR of 4.6% from 2019 to 2026. 
Alopecia is also called baldness or hair loss, a disorder that relates to hair loss from the scalp or any part of the body. It can happen in both male & female and at any age. There are different types of alopecia, which include androgenic alopecia, alopecia areata, alopecia totalis, and others. Alopecia is an autoimmune disorder where the immune system of the body attacks healthy hair follicles, leading to hair loss. Various drugs and surgical treatments such as hair transplantation, scalp reduction treatment, and others can be used for the treatment of alopecia condition. It is estimated that alopecia treatment market will show significant market growth over the forecast period, owing to rise in incidence and prevalence of chronic diseases such as arthritis, Polycystic Ovary syndrome (PCOS), cancer, and others; change in lifestyle along with rise in stress level; rise in geriatric population, hormonal imbalance, unhealthy diets; and increase in demand for alopecia treatment drugs. In addition, significant market potential in the developing regions is expected to offer lucrative opportunities for the market expansion during the forecast period.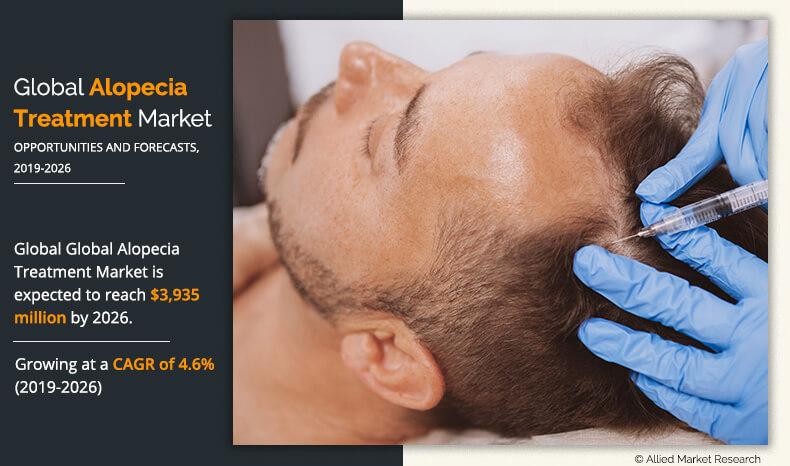 Alopecia Treatment Market Segmentation  
The alopecia treatment market is segmented into drug type, indication, distribution channel, and region. By drug type, the market is categorized into minoxidil, finasteride, and other drug types. The indication covered in the study include androgenic alopecia, alopecia areata, alopecia totalis, and others. Depending on distribution channel, the market is classified into hospitals pharmacies, drug stores & retail pharmacies, and online pharmacies. On the basis of region, the market is analyzed across North America (the U.S., Canada, and Mexico), Europe (Germany, France, the UK, Italy, Spain, and rest of Europe), Asia-Pacific (Japan, China, Australia, India, South Korea, and rest of Asia-Pacific), and LAMEA (Brazil, South Africa, Saudi Arabia, and rest of LAMEA).
Segment Review 
Based on drug type, the Alopecia Treatment Market is divided into minoxidil, finasteride, and other drug types. Presently, minoxidil dominates the global market, and is anticipated to continue this trend during the forecast period. The key factors that drive the market growth include increase in prevalence of chronic diseases such as depression, hypertension, arthritis, and cancer treatment that tend to hair loss from patient body; rise in demand for minoxidil drug for alopecia treatment; and increase in air & water pollution that harms the health of the hair and causes baldness & early breakage.
Alopecia Treatment Market

---
By Drug Type
Minoxidil is projected as one of the most lucrative segment.
Based on indication, the global alopecia treatment market is divided into androgenic alopecia, alopecia areata, alopecia totalis, and others. The androgenic alopecia segment accounted for the majority of market share, owing to surge in incidence of androgenic alopecia condition, hormonal imbalance, unhealthy lifestyle, and rise in patient awareness regarding alopecia treatments. 
Alopecia Treatment Market

---
By Indication
Androgenic Alopecia holds a dominant position in 2018 and would continue to maintain the lead over the forecast period.
Snapshot of the Asia-Pacific Alopecia Treatment Market  
Asia-Pacific presents lucrative opportunities for the key players operating in the alopecia treatment market, owing to growth in awareness regarding alopecia treatment and rise in adoption of alopecia treatment products. Moreover, improvement in healthcare infrastructure, rise in number of hospitals equipped with advanced medical facilities, development in R&D sector, rise in healthcare reforms, and technological advancements in the field of healthcare further contribute to the market growth. Some other factors such as surge in focus of leading manufacturers on expanding their geographic presence in emerging Asia-Pacific countries to capture high growth opportunities in the market, high population base, and high disposable incomes are expected to drive the growth of alopecia treatment market in Asia-Pacific.      
Alopecia Treatment Market

---
By Geography
Asia-Pacific region would exhibit the highest CAGR of 5.9% during 2019-2026.
The key players profiled in this report include Capillus, LLC, Cipla Inc., Daiichi Sankyo Company, Limited, GlaxoSmithKline Plc, Johnson & Johnson, Merck & Co., Inc., Sun Pharmaceutical Industries Ltd., Transitions Hair, Vitabiotics Ltd., and Vita-Cos-Med Klett-Loch GmbH. 
Key Benefits for Stakeholders:
The study provides an in-depth analysis of the alopecia treatment market size along with the current trends and future estimations to elucidate the imminent investment pockets.
It offers Alopecia Treatment Market analysis from 2018 to 2026, which is expected to enable the stakeholders to capitalize on the prevailing opportunities in the market.
A comprehensive analysis of all the geographical regions is provided to determine the prevailing opportunities.
The profiles and growth strategies of the key players are thoroughly analyzed to understand the competitive outlook and global alopecia treatment market growth.
 Alopecia Treatment Market Report Highlights
Aspects
Details
By Drug Type

Minoxidil
Finasteride
Other Drug Types

By Indication

Androgenic Alopecia
Alopecia Areata
Alopecia Totalis
Others

BY DISTRIBUTION CHANNEL

Hospitals Pharmacies
Drug Stores & Retail Pharmacies
Online Pharmacies

By Region

North America (U.S., Canada, Mexico)
Europe (Germany, France, UK, Italy, Spain, Rest of Europe)
Asia-Pacific (Japan, China, Australia, India, South Korea, Rest of Asia-Pacific)
LAMEA (Brazil, Saudi Arabia, South Africa, Rest of LAMEA)