The global alternate transportation market was valued at $206.7 billion in 2021, and is projected to reach $620.9 billion by 2031, growing at a CAGR of 11.6% from 2022 to 2031.
Alternate transportation is a service for commuting by using other means of transport than a car. Some well-known examples include public transportation, carpooling, walking, and biking. It can be availed by multiple passengers based on sharing basis. This service is often organized with many local branches, which are generally located near airports or busy areas in the city and are complemented by a website to allow online reservations. With the growth in pollution levels and population, the alternate transportation industry has experienced a drastic transformation over the past few years, becoming one of the most prominent industries in fleet transportation. The alternate transportation service providers primarily rely on cost-effective car rental schemes, such as leasing cars from their owners for years and then putting them for rent through app-based bookings. In addition, car rentals majorly help curb pollution by reducing volumetric sales of owned vehicles.
The COVID-19 crisis is creating uncertainty in the market. Governments of different regions have announced total lockdown and temporarily shutdown of industries, thereby adversely affecting the overall production and sales. It also resulted in flight cancellations, travel bans, and quarantines, which led to massive slowing of the supply chain and logistics activities across the world. In most of the countries across the world, shops and businesses have shuttered and offices have emptied out, and this has resulted in decrease in demand for taxi or cab services, which in turn, for ride sharing services. Social distancing norms and regulations implemented by government and healthcare authorities encourage citizens to maintain a two-meter distance from other persons for safety. This has restricted the usage of ride sharing services for daily commute. Users prefer to travel in their own vehicles due to health and safety concerns, hampering the market size in 2020. However, major ride-sharing companies such as Ola, Uber, Grab, Didi, Lyft, and others are already feeling the pressure from the coronavirus pandemic as travel restrictions and lockdowns are increasing across the world. Although, starting from September 2020 in line with the relaxation in lockdown restriction, domestic & international travel and government directives, taxi and cab services resumed gradually across the globe. The alternate transportation services provider companies are taking necessary proper measures to keep their passengers and drivers safe from the infectious and highly communicable COVID-19 disease. Also, the market is expected to fuel in post COVID situation as the service providing companies are likely to come up with additional precautions such as partition to maintain distance between the passengers and driver, installing devices to measure body temperature, and equipping the car with sanitizer to eliminate the threat of infection.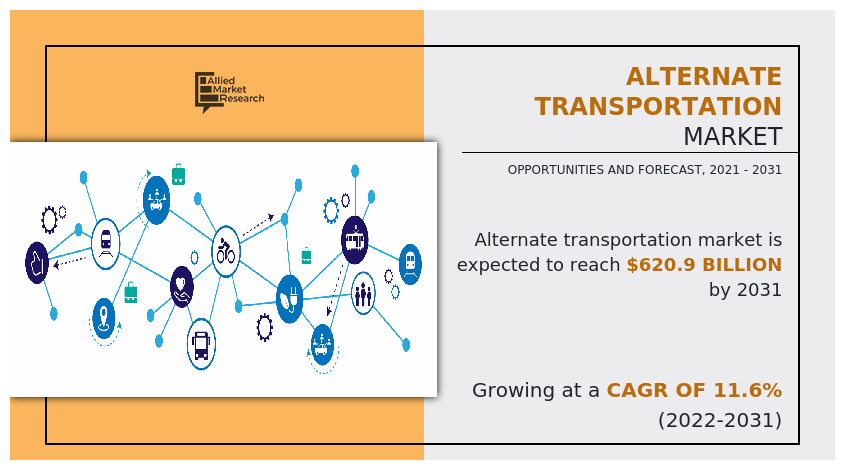 Currently, the government in emerging and emerging economies is very concerned about the environment and conserving limited resources. Continuous research and development in technology to make such transportation means feasible in terms of implementation is another factor that will drive the future of this market. For instance, in 2022, the Indian government's automotive testing agency, iCAT (International Centre for Automotive Technology), signed a memorandum of understanding (MoU) with Toyota to study and evaluate Toyota Mirai fuel cell electric vehicle (FCEV).
The factors such as rise in trend of on-demand transportation services, increase in cost of vehicle ownership, and rise in in demand from online booking channels supplement the growth of the alternate transportation market. However, low rate of internet penetration in developing regions and resistance from local transport services, coupled with varying government regulations in different countries are the factors expected to hamper the growth of the alternate transportation industry. In addition, emergence of eco-friendly electric cab services and adoption of car rental management software creates market opportunities for the key players operating in the alternate transportation market.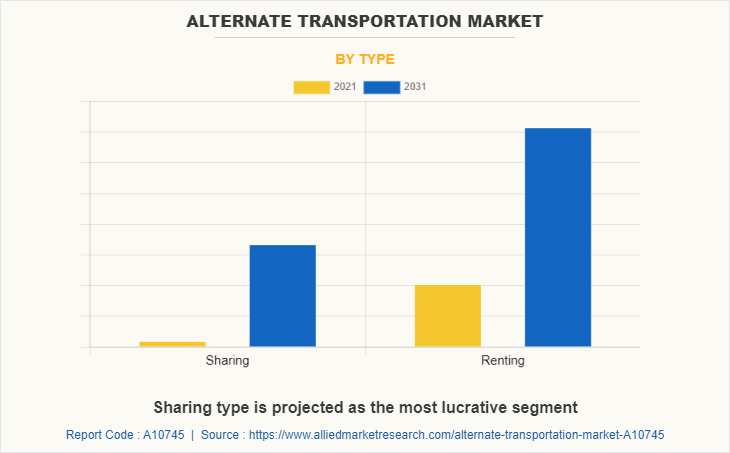 The alternate transportation market is segmented into type, booking type, commute type, vehicle type and region. By type, the market is divided into sharing and renting. By booking type, it is fragmented into online and offline. By commute type, it is categorized into intracity and intercity. By vehicle type, it is further classified into cars, motorcycles, and others. By region, it is analyzed across North America, Europe, Asia-Pacific, and LAMEA.
The leading players operating in the alternate transportation market are AECOM, AeroMobil, AeroVironment, Inc., Alternative Transportation Systems, LLC, Autel Robotics, Baidu, Inc., Carzonrent India Pvt Ltd., Delft Hyperloop, ANI Technologies Pvt. Ltd. (OLA), Kespry, Blablacar, Lockheed Martin Corporation, NuTonomy, SpaceX, Tesla, Inc., Virgin Hyperloop, and Yuneec Holding Ltd.
Rise in trend of on-demand transportation services
On demand service includes taxi, passenger vehicle, and charter vehicles that provides flexibility and other features such as real time feedback, tracking of vehicle, and rating to end customers. The availability of the car and comparison of fare with the correspondent to on-demand transportation services is facilitated by numerous mobile applications. For instance, in May 2022, The Capital Area Rural Transportation System (CARTS) launched a new on-demand transit service, CARTS to provide on-demand curb-to-curb rides that allow riders to travel anywhere quickly and reliably within the city limits. Moreover, such car rental service allows customers to make use of numerous functions. In addition, the facility to find exact location of customer, matching the demand with available supply are the factors that significantly drive the alternate transportation market.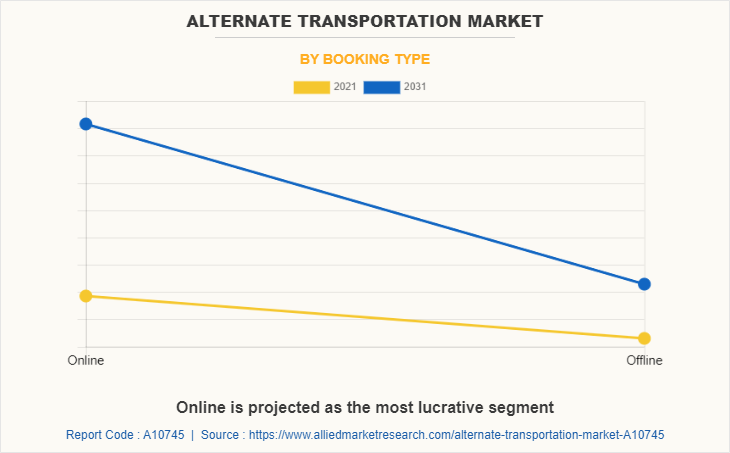 Rise in demand from online booking channels
Proficiency of booking through a mobile application and online websites has significantly attracted customers to prefer online booking services over offline booking, owing to the increase in in penetration of internet and smartphones across the world. In addition, online channels provide the information such as tracking the driver position, pre-estimated ride fare, driver contact, and vehicle details available within a smartphone app or website, which has further increased the customer preference toward online booking option. Moreover, owing to the online taxi booking channels, passengers can access various cab facility providers and book a cab, along with the co-passenger & driver information, live tracking, and cashless travel.
Furthermore, the rise in usage of digital money, such as digital wallet, different applications, net banking, and unified payment interface is anticipated to further fuel the growth of online booking service. Thus, this factor increases the demand from online booking channels such as website and smartphone, which in turn drives the alternate transportation market growth.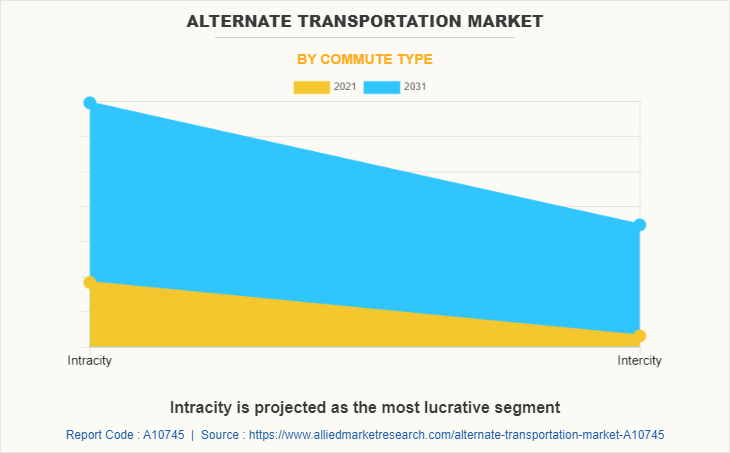 Low rate of internet penetration in developing regions
Generally, alternate transportation services require three parties for their operation i.e. driver, riders, and service providers. All the process such as matching rider with drivers, fare estimation & calculation, ride payment and reputation management are done by using smartphone with the mandatory internet connectivity. Some countries such as Eritrea, Burundi, Chad, Somalia, and others, have low penetration of internet that threaten the growth of the alternate transportation market in that region. The ride driver must have GPS equipped smartphone that has active internet connection to identify the exact pickup and drop location of customers. Therefore, this low penetration of internet hampers the alternate transportation industry globally.
Emergence of eco-friendly electric cab services
The players operating in the market are focusing on minimizing the carbon footprint of their business operations by adding electric cars to their taxi fleet. In addition, shift in consumer preference toward using sustainable mobility solutions for routine commute further supports the use of electric cab services. Moreover, the factors such as rise in government initiatives for the adoption of electric vehicles, increase in demand for emission-free vehicles, and stringent government regulations on carbon di-oxide (CO2) emission accelerate the adoption of electric vehicles in alternate transportation services. Furthermore, various market players are collaborating with automobile manufacturers to expand their taxi fleet of electric cars for alternate transportation purposes. For instance, in September 2020, Uber partnered with Volkswagen to add more electric cars to its sharing services in Europe. Through this partnership, Uber will add new electric cars to its carpooling fleet in Germany. The company aims to offer 100% of its rides in electric cars by 2030 in major North American and European countries. Therefore, the adoption of electric cab services in alternate transportation offers lucrative growth opportunities for the market.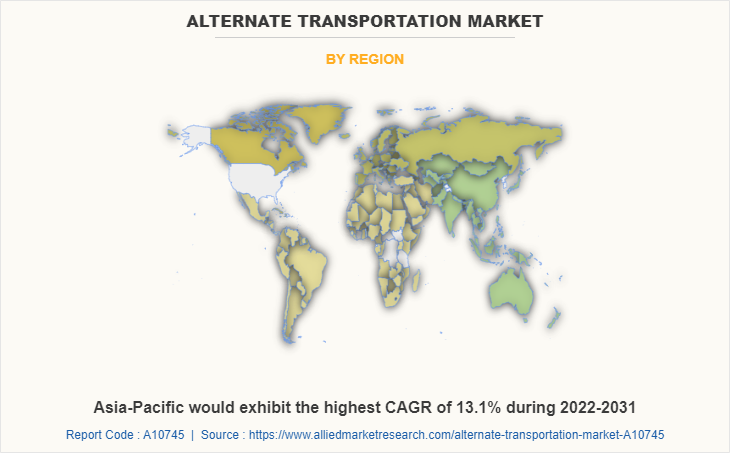 Key Benefits For Stakeholders
This study presents analytical depiction of the global alternate transportation market analysis along with current trends and future estimations to depict imminent investment pockets.

The overall alternate transportation market opportunity is determined by understanding profitable trends to gain a stronger foothold.

The report presents information related to the key drivers, restraints, and opportunities of

the global alternate transportation market with a detailed impact analysis.

The current alternate transportation market is quantitatively analyzed from 2021 to 2031 to benchmark the financial competency.

Porter's five forces analysis illustrates the potency of the buyers and suppliers in the industry.
 Alternate Transportation Market Report Highlights
Aspects
Details
By Type
By Booking Type
By Commute Type
By Vehicle Type
By Region

North America (U.S., Canada, Mexico)
Europe (Rest of Europe, UK, Germany, France, Russia, Spain)
Asia-Pacific (China, Japan, India, Australia, South Korea, Rest of Asia-Pacific)
LAMEA (Latin America, Middle East, Africa)

Key Market Players
Yuneec Holding Ltd., Tesla, Inc., Alternative Transportation Systems, LLC, AeroVironment, Inc., Delft Hyperloop, AeroMobil, Lockheed Martin Corporation, Autel Robotics, Kespry, ANI Technologies Pvt. Ltd. (OLA), Blablacar, AECOM, Virgin Hyperloop, Baidu, Inc., Carzonrent India Pvt Ltd., NuTonomy, SpaceX