Aluminum Market Research, 2031
The global aluminum market was valued at $148.1 billion in 2021, and is projected to reach $258.3 billion by 2031, growing at a CAGR of 5.82% from 2022 to 2031.
Aluminum primarily used in the transportation, building & construction, electricity, consumer goods, and machinery industries, which were severely affected by the COVID-19 pandemic owing to the lockdown imposed by various governments. Disruptions in raw material procurement and price volatility hampered the growth of the aluminum market during the COVID-19 pandemic.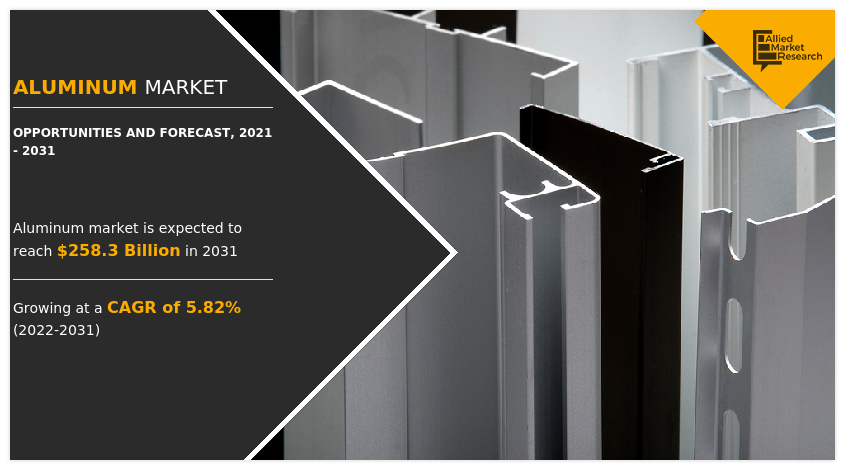 Aluminum is the sixth most ductile and second most malleable metal present on earth. It possesses strong affinity for oxygen. It is exceptionally light having 2.7g/cm density, is resistant to dust, possesses high degree of conductivity, and exhibits significant strength when alloyed. It is widely used in food & packaging and pharmaceutical industries, as it is nontoxic in nature, preserves food for a prolonged time, and inhibits growth of microorganisms.
The rapidly rising demand for this abundant base metal in China has been fueling the expansion of the global aluminum sector. China's government owns the majority of its industries. Many of these businesses are expanding and changing quickly. Thus, it creates a requirement for more aluminum. Construction, packaging, transportation, and electrical are a few of the industries in China that heavily utilize aluminum. The largest portion of the total aluminum used by the Chinese industry each year is consumed by these four industries collectively. The government is making a lot of effort to increase industrialists' access to aluminum. Its results are expected to significantly contribute to the expansion of the global aluminum market. However, a few things are preventing the global aluminum sector from expanding. One of these is the fact that mining and processing bauxite into aluminum is not environment-friendly at all. Many processors of aluminum are addressing this fact by making and selling secondary aluminum. This is expected to hinder the growth in the aluminum market in both short and long-term.
The aluminum market is segmented on the basis of series, processing method, end-user industry, and region. On the basis of series, the market is classified into series 1, series 2, series 3, series 4, series 5, series 6, series 7, and series 8. On the basis of processing method, the market is classified into flat rolled, castings, extrusions, forgings, pigments & powder, and rod & bar. On the basis of end-user industry, the market is categorized into transport, building & construction, electrical engineering, consumer goods, foil & packaging, machinery & equipment, and others. Region-wise, the market is analyzed across North America, Europe, Asia-Pacific, Latin America, and Middle East & Africa.
The major players operating in the industry include, Alcoa Corporation, Aluminium Corporation of China Limited, China Hongqiao Group Ltd., Hindalco Industries, East Hope Group Company Limited, Emirates Global Aluminum PJSC, Norsk Hydro ASA, Rio Tinto Alcan Inc., United Company Rusal Plc., and Xinfa Group Co., Ltd. These players have adopted product launch, acquisition, and business expansion as their key strategies to increase their market shares.
Aluminum Market

---
By End User Industry
Transport segment is projected as the most lucrative segment.
By end user industry, the transport segment accounted for around 32.0% of the global aluminum market share in 2021 owing to more people around the world driving motor vehicles; thus, growth in the global transport industry is also expected to drive growth in the global aluminum industry.
Aluminum Market

---
By Series
Series 1 is expected to be most lucrative segment.
By series, the series 1 segment dominated the global aluminum market in 2021, and is projected to remain the fastest-growing segment during the forecast period. This type of Series 1 aluminum is used in manufacturing products such as drawn tube, chemical equipment, sheets, plates, foil and metal tableware (sugar bowls, creamers, coffee pots and other).
Aluminum Market

---
By Processing Method
Extrusions segment is expected to be most lucrative segment
By processing method, the extrusion segment accounted for the highest market share of around 31.2% in 2021 and expected to show significant growth rate over the forecast period. Aluminum extrusion products are increasingly used in automobile radiators & air conditioners, condenser tubes, nuclear reactors, audio/visual systems & electronics, and others.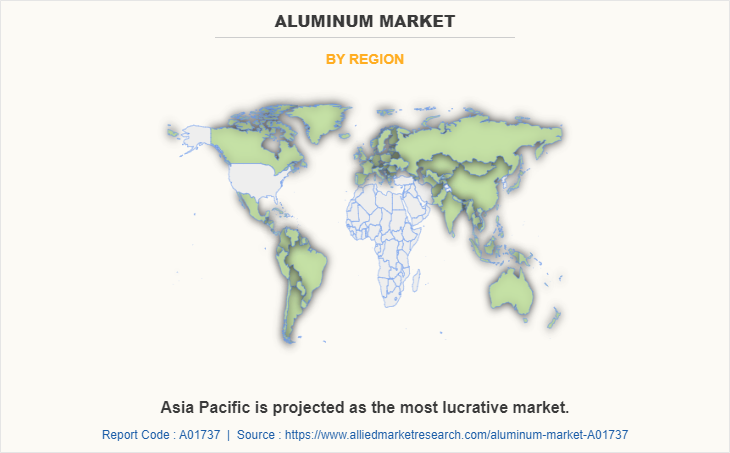 By region, Asia-Pacific is projected to be the fastest growing market, owing to factors such as rapid and vast industrialization, rapid and vast urbanization, increased investment and activity in the construction of buildings and infrastructure, and expansion in the automotive industry.
IMPACT OF COVID-19 ON ALUMINUM MARKET
COVID-19 has spread to almost 213 countries around the globe with the World Health Organization declaring it a public health emergency on March 11, 2020. Some of the major economies suffered from the COVID-19 crises include Germany, France, Italy, Spain, UK, and Norway. Transport limitations were implemented due to the COVID-19 pandemic, which resulted in reduced industrial production and disrupted supply chains. Thus, affecting the global economic growth by a substantial proportion and severely impacting the market growth.

The COVID-19 pandemic is constantly causing significant uncertainty in the market. The fall in the GDP of the countries and slowdown in the manufacturing sector have further reduced the activities for aluminum production. Mining activities of bauxite ore have been put on hold. The demand for semi-finished product from consumers is declining due to shortage of workers in the manufacturing sectors as well as fall in demand from aerospace and automotive industries. However, foil and can producers are exhibiting positive growth due to rise in consumption of packaged food.
Key Benefits For Stakeholders
This report provides a quantitative analysis of the market segments, current trends, estimations, and dynamics of the aluminum market analysis from 2021 to 2031 to identify the prevailing aluminum market opportunities.
The market research is offered along with information related to key drivers, restraints, and opportunities.
Porter's five forces analysis highlights the potency of buyers and suppliers to enable stakeholders make profit-oriented business decisions and strengthen their supplier-buyer network.
In-depth analysis of the aluminum market segmentation assists to determine the prevailing market opportunities.
Major countries in each region are mapped according to their revenue contribution to the global market.
Market player positioning facilitates benchmarking and provides a clear understanding of the present position of the market players.
The report includes the analysis of the regional as well as global aluminum market trends, key players, market segments, application areas, and market growth strategies.
 Aluminum Market Report Highlights
Aspects
Details
By End User Industry

Transport
Building & Construction
Electrical Engineering
Consumer Goods
Foil & Packaging
Machinery & Equipment
Others

By Series

SERIES 1
SERIES 2
SERIES 3
SERIES 4
SERIES 5
SERIES 6
SERIES 7
SERIES 8

By Processing Method

Flat Rolled
Castings
Extrusions
Forgings
Pigments & Powder
Rod & Bar

By Region

North America (U.S., Canada, Mexico)
Europe (Germany, France, U.K., Italy, Spain, Rest of Europe)
Asia-Pacific (China, India, Japan, South Korea, Australia, Rest of Asia-Pacific)
Latin America (Brazil, Argentina, Rest of Latin America)
Middle East and Africa (Western Africa, Northern Africa, Rest Of Africa, Saudi Arabia)

Key Market Players
EMIRATES GLOBAL ALUMINIUM PJSC, ALCOA CORPORATION, XINFA GROUP CO., LTD., NORSK HYDRO ASA, CHINA HONGQIAO GROUP LTD., EAST HOPE GROUP COMPANY LIMITED, CHINA POWER INVESTMENT CORP. (CPI), RIO TINTO ALCAN INC., ALUMINIUM CORPORATION OF CHINA LIMITED (CHALCO), UNITED COMPANY RUSAL PLC