Aluminum Curtain Wall Market Research, 2031
The global aluminum curtain wall market size was valued at $35.3 billion in 2021, and is projected to reach $73.3 billion by 2031, growing at a CAGR of 7.4% from 2022 to 2031. Curtain wall is a thin non-structural building wall meant for covering the building and making it energy efficient, along with enhancing the looks. An aluminum curtain wall consists of aluminum frame that holds transparent, translucent or an opaque panel, such as glass, metal panels and thin stone panel.
The aluminum curtain wall market was hampered during the outbreak of COVID-19 pandemic, owing to restrictions on manufacturing activities. In addition, aluminum curtain walls could not be effectively installed during the lockdown period.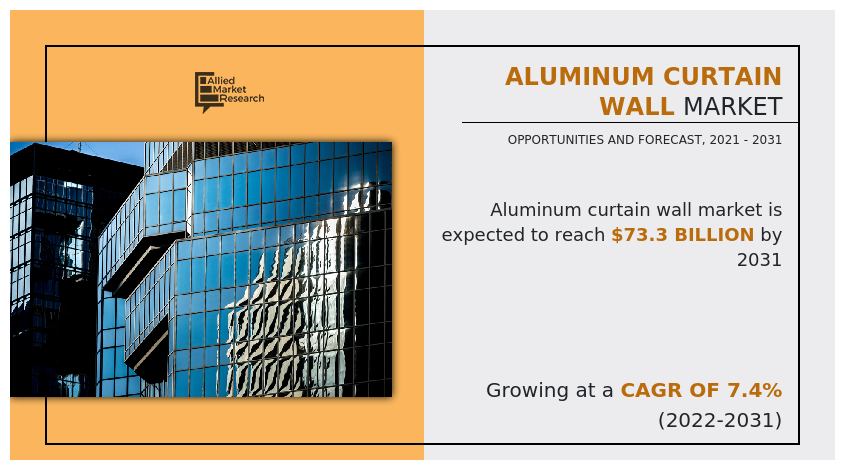 Apart from making the building attractive, aluminum curtain wall offers numerous functional benefits to the building. It performs better than a masonry wall in protecting the building from wind and rain. Moreover, aluminum curtain wall is very easy and cost-effective to maintain, making it ideal for environments that get a lot of rain. Furthermore, the biggest advantage of aluminum curtain wall is that it allows external light if glass is used. In addition, it effectively regulates the temperature of the building. This way the building saves a significant amount of money on electricity bill. Aluminum being lightweight reduces sway in the building, especially the taller buildings, and allows it to withstand very strong winds. Such advantages associated with the aluminum curtain walls are expected to positively influence the aluminum curtain wall market growth.
Aluminum curtain wall experiences an increase in demand, especially in the commercial real estate market of developing regions such as Asia-Pacific, and Latin America. This is owing to high investments being made in the residential and commercial building construction projects in these regions. In addition, most parts of these regions have a tropical environment, and Aluminum curtain wall suits best for such regions, owing to the inherent weatherproofing feature. Further, the home remodeling is witnessing growth in all the developed countries in the regions such as Europe and North America. These factors have fostered the growth of the Aluminum curtain wall market. Furthermore, building improvement projects that are aimed towards making building more sustainable and energy efficient are positively affecting the Aluminum curtain wall market.
In addition, major manufacturers of Aluminum curtain wall offer a wide range of products and services, to meet the customer needs. They constantly innovate their offerings of curtain walls to stay competitive. For instance, in December 2021, EFCO Corporation and Armoured One have signed a partnership agreement, to develop industry's first complete fenestration assemblies to successfully pass the Shooter Attack Certification Testing method. The assemblies include EFCO's aluminum-framed curtain wall, storefront, entrance and window systems.
Aluminum Curtain Wall Market

---
By Type
Unitized segment is expected to hold a majority share of the market throughout the study period.
The novel coronavirus had rapidly spread across various countries and regions, causing an enormous impact on the lives of people and the overall community. It began as a human health condition and later became a significant threat to global trade, economy, and finance. The COVID-19 pandemic had halted the production of many components of aluminum curtain wall due to lockdown. The economic slowdown initially resulted in reduced spending on various building residential and non-residential building construction projects. However, owing to the introduction of various vaccines, the severity of COVID-19 pandemic has significantly reduced. As of mid-2022 the number of COVID-19 cases have diminished significantly. This has led to the full-fledged reopening of Aluminum curtain wall manufacturing companies at their full-scale capacities. Furthermore, it has been more than two years since the outbreak of this pandemic, and many companies have already shown notable signs of recovery.
Furthermore, increased popularity of glass facades for enhancing the aesthetical appearance of buildings is anticipated to provide lucrative opportunities for the aluminum curtain wall industry.
Aluminum Curtain Wall Market

---

By End User Industry
Commercial segment held a dominant position in 2021 and would continue to grow at significant CAGR during the study period.
The aluminum curtain wall market is segmented into Type, Installation and End user industry. By type, the market is categorized into stick built, semi-unitized, and unitized. On the basis of Installation, the market is bifurcated into new construction, and refurbishment. On the basis of end-user industry, it is categorized into residential buildings, and commercial buildings. Region wise, the market is analyzed across North America, Europe, Asia-Pacific, and LAMEA. Asia Pacific held the largest aluminum curtain wall market share in 2021, accounting for the highest share, and is anticipated to maintain this trend throughout the forecast period. This is attributed to increased investments in building construction projects for residential and non-residential purpose.
Aluminum Curtain Wall Market

---
By Region
Asia-Pacific is the largest market throughout the study period.
Competition Analysis 
Key companies profiled in the Aluminum curtain wall market forecast report include Apogee Enterprises, Inc., C.R Laurence Co., Inc., Capitol Aluminum & Glass Corporation, DMC Global (Arcadia, Inc.), Extech Exterior Technologies, Inc., Hansen Group, Kawneer, Inc., Petra Aluminum, Reynaers Aluminum, and Technal UK.
Key Benefits For Stakeholders
This report provides a quantitative analysis of the market segments, current trends, estimations, and dynamics of the aluminum curtain wall market analysis from 2021 to 2031 to identify the prevailing aluminum curtain wall market opportunities.
The market research is offered along with information related to key drivers, restraints, and opportunities.
Porter's five forces analysis highlights the potency of buyers and suppliers to enable stakeholders make profit-oriented business decisions and strengthen their supplier-buyer network.
In-depth analysis of the aluminum curtain wall market segmentation assists to determine the prevailing market opportunities.
Major countries in each region are mapped according to their revenue contribution to the global market.
Market player positioning facilitates benchmarking and provides a clear understanding of the present position of the market players.
The report includes the analysis of the regional as well as global aluminum curtain wall market trends, key players, market segments, application areas, and market growth strategies.
 Aluminum Curtain Wall Market Report Highlights
Aspects
Details
Type

Stick built
Semi unitized
Unitized

Installation

New Construction
Refurbishment

End user industry
By Region

North America (U.S., Canada, Mexico)
Europe (Germany, France, UK, Italy, Rest Of Europe)
Asia-Pacific (China, Japan, India, South Korea, Rest Of Asia-Pacific)
LAMEA (Latin America, Middle East, Africa)

Key Market Players
Apogee Enterprises, Inc., C.R Laurence Co., Inc., Capitol Aluminum and Glass Corporation, DMC Global (Arcadia, Inc.), Extech Exterior Technologies, Inc., Hansen Group, Kawneer, Inc., Petra Aluminum, Reynaers Aluminum, Technal UK