The global ammunition market size was valued at $22 billion in 2021, and is projected to reach $31.7 billion by 2031, growing at a CAGR of 3.9% from 2022 to 2031. 
The ammunition market refers to the industry involved in the manufacturing, distribution, and sale of ammunition, which includes bullets, cartridges, shells, and other components used in firearms. This market serves both military and civilian customers, and its size and scope vary depending on factors such as political stability, regional conflicts, and the demand for firearms.
During the pandemic period, every country across the world has governments turned their focus from counter-terrorism operations to addressing the public health crisis. The shortage of critical components/materials required in the manufacturing and assembly of ammunition due to imposed measures of lockdown has led to a reduction in the production of ammunition which is expected to moderately impact the ammunition market.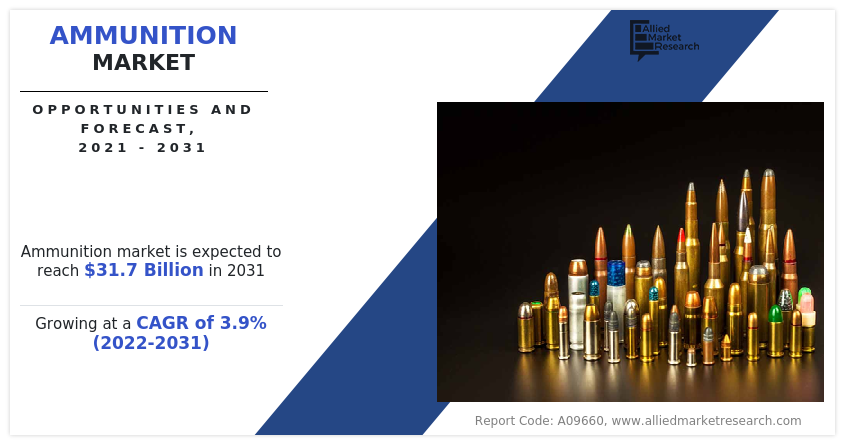 Defense spending is a significant driver of the ammunition market, as countries invest heavily in their military capabilities to maintain national security and deter potential threats. This includes not only the purchase of ammunition, but also the development and production of new and advanced weaponry systems. As defense spending increases, so does the demand for ammunition, which includes small arms ammunition, artillery shells, rockets, and missiles. Governments around the world allocate significant amounts of their budgets towards defense spending, and this trend is expected to continue in the future.
Government regulations can have a significant impact on the ammunition market. The sale, purchase, and possession of ammunition are subject to various federal, state, and local laws and regulations, including licensing requirements, age restrictions, background checks, and limitations on the types of ammunition that can be sold or possessed. Changes in these regulations, such as the imposition of stricter licensing requirements or limitations on the types of ammunition that can be sold, can have a significant impact on the market. For example, a ban on certain types of ammunition or restrictions on the size of magazines could reduce demand for those products and cause prices to drop. Such developments are expected to hinder the ammunition market growth.
The technology advancements have led to the development of new types of ammunition that offer improved performance and increased accuracy. For instance, new developments in smart ammunition technology can make it possible to track and control ammunition remotely, reducing the risk of accidental discharge or unauthorized use. Advancements in technology have the potential to revolutionize the ammunition industry, providing opportunities for companies to gain a competitive advantage. For example, the development of new materials and manufacturing processes can lead to more advanced and efficient ammunition that performs better than traditional ammunition. While there are potential opportunities for companies that invest in research and development to create more advanced and efficient ammunition, there are also challenges that must be carefully considered and addressed.
The key players profiled in this ammunition market report include Northrop Grumman Corporation, FN Herstal, Olin Corporation, General Dynamics Corporation, BAE Systems, Inc., Rheinmetall Defense, Nexter KNDS Group, Hanwha Corporation, ST Engineering, and Remington Arms Company LLC.
The global ammunition market is segmented on the basis of product type, caliber size, application, and region. By product type, the market is sub-segmented into centrefire and rimfire. By caliber size, the market is classified into small, medium, large, and others. By application, the market is classified into defense and civil & commercial. By region, the market is analyzed across North America, Europe, Asia-Pacific, and LAMEA.
The ammunition market is segmented into Application, Product Type and Caliber Size.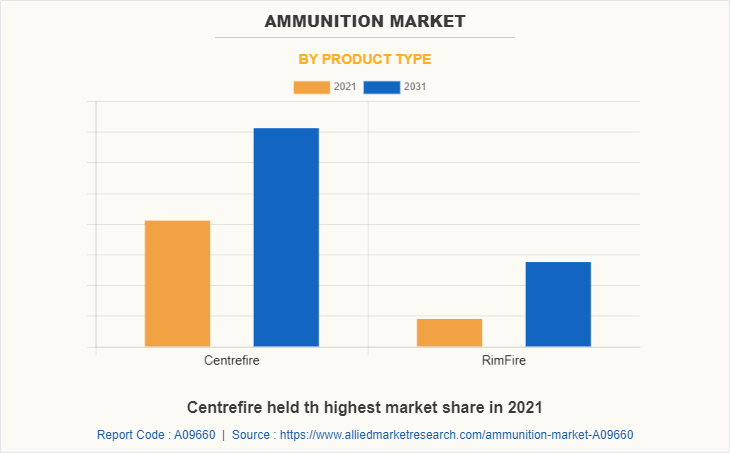 By product type, the centrefire sub-segment dominated the market in 2021. Centerfire ammunition is used for rifles, shotguns, and handguns. In this type of ammunition, the primer is located in the center of the casing base. Most centerfire ammunition is reloadable. Many individuals participate in these activities, and they require a steady supply of high-quality ammunition to use in their firearms. Additionally, there has been an increase in the number of individuals who own firearms for personal protection, which has also driven market for centrefire ammunition. Consumers are increasingly seeking ammunition that provides more power and range, and manufacturers are responding by producing larger calibers and higher-powered cartridges. These are predicted to be the major factors affecting the ammunition market size during the forecast period too.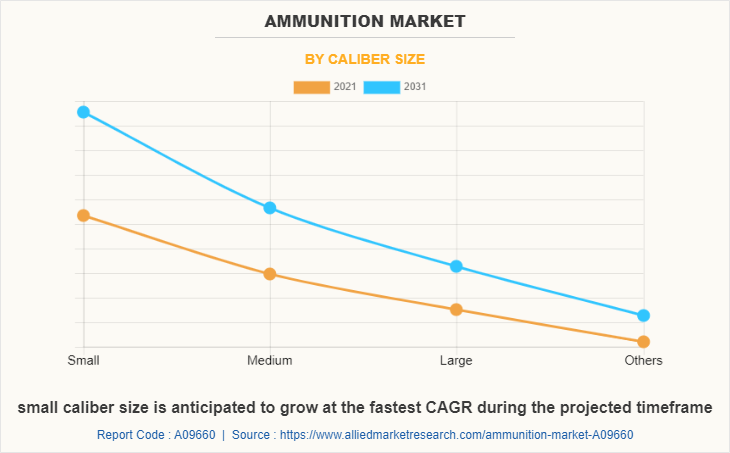 By caliber size, the small size sub-segment dominated the global market share in 2021. The small caliber size ammunition is widely available and can be used for a variety of purposes, including target shooting, plinking, and small game hunting. This versatility makes it an attractive option for many shooters. Advances in ammunition technology have made caliber small size ammunition more accurate and reliable, further increasing its popularity among shooters. The sport shooting industry is growing rapidly, and many participants prefer smaller caliber ammunition for its lower cost and reduced recoil. This has led to increased demand for caliber small size ammunition. These factors have contributed to the growing demand for caliber small size ammunition in the market.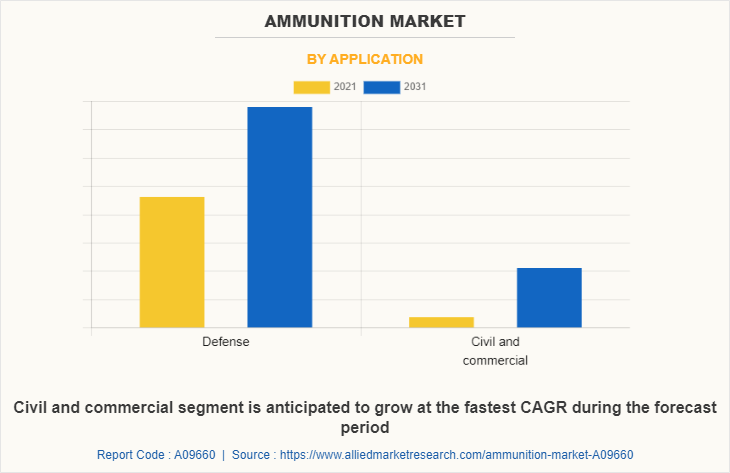 By application, the defense sub-segment dominated the global market share in 2021. The defense segment is driven by several factors, including the ongoing modernization and upgradation of military and law enforcement equipment, increasing global security threats, and rising defense budgets in several countries. These factors are driving the demand for advanced and technologically advanced ammunition, which can provide greater accuracy, range, and lethality. The defense segment of the market includes a wide range of products, such as small caliber ammunition, medium caliber ammunition, large caliber ammunition, artillery ammunition, and missiles. These products are used by armed forces around the world for a variety of purposes, including training, operations, and defense.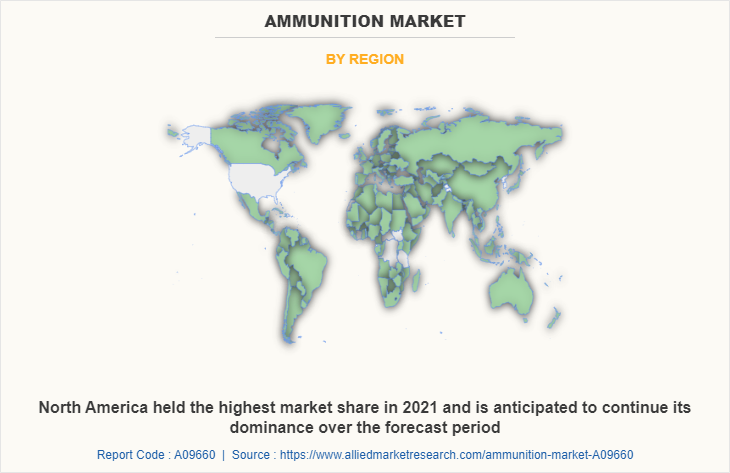 By region, Asia-Pacific dominated the global market in 2021 and is projected to be the fastest-growing sub-segment during the forecast period. The Asia-Pacific region has witnessed several regional conflicts, which have led to an increase in demand for ammunition by various countries to strengthen their defense capabilities. This has resulted in an increase in defense spending by several countries in the region, which has further boosted the growth of the market. Many countries in the region are investing heavily in their defense capabilities to counter potential security threats, which has led to an increase in the procurement of ammunition. The modernization of military equipment is also driving the market in the Asia-Pacific region. Many countries in the region are upgrading their defense systems and equipment to keep up with changing technological advancements. As a result, the demand for modern and advanced ammunition is increasing in the region. The Asia-Pacific region's market is expected to continue to grow in the coming years, driven by these.
Impact of COVID-19 on the Global Ammunition Industry
The Covid-19 pandemic has had a significant impact on many industries, including the ammunition market. The market includes companies that manufacture, distribute, and sell ammunition for military, law enforcement, and civilian use.

The pandemic has also disrupted supply chains and manufacturing operations, leading to delays and shortages in the production and distribution of ammunition. This has been due to lockdowns, reduced capacity, and social distancing measures that have slowed production and transportation.

The pandemic disrupted global supply chains, which impacted the production and distribution of ammunition. This led to shortages in some areas, which further increased demand and prices. COVID-19 safety measures, such as social distancing and reduced workforce, led to challenges in manufacturing ammunition. This resulted in delays in production and delivery of ammunition.

Economic slowdown has affected the setup of new ammunition projects across the world as majority of government fundings were diverted towards healthcare sector owing to rapid spread of the COVID-19 virus

, impacting the market to a great extent.
Key Benefits For Stakeholders
This report provides a quantitative analysis of the market segments, current trends, estimations, and dynamics of the ammunition market analysis from 2021 to 2031 to identify the prevailing ammunition market opportunities.
The market research is offered along with information related to key drivers, restraints, and opportunities.
Porter's five forces analysis highlights the potency of buyers and suppliers to enable stakeholders make profit-oriented business decisions and strengthen their supplier-buyer network.
In-depth analysis of the ammunition market segmentation assists to determine the prevailing market opportunities.
Major countries in each region are mapped according to their revenue contribution to the global market.
Market player positioning facilitates benchmarking and provides a clear understanding of the present position of the market players.
The report includes the analysis of the regional as well as global ammunition market trends, key players, market segments, application areas, and market growth strategies.
 Ammunition Market Report Highlights
Aspects
Details
Market Size By 2031
USD 31.7 billion
Growth Rate
CAGR of 3.9%
Forecast period
2021 - 2031
Report Pages
320
By Application

Defense
Civil and commercial

By Product Type
By Caliber Size

Small
Medium
Large
Others

By Region

North America (U.S., Canada, Mexico)
Europe (Germany, UK, France, Spain, Italy, Rest of Europe)
Asia-Pacific (China, Japan, India, South Korea, Australia, Rest of Asia-Pacific)
LAMEA (Brazil, Saudi Arabia, United Arab Emirates, South Africa, Rest of LAMEA)

Key Market Players
RUAG, Northrop Grumman, Olin Corporation, Rheinmetall and Hornady Manufacturing Company Inc., Nexter, BAE Systems, Vista Outdoor Inc., General Dynamics Corporation, Nammo AS
Analyst Review
Increase in defense spending is a key driver of the ammunition market, as governments around the world invest in their military and defense capabilities. The demand for ammunition from military and law enforcement agencies across the world in increasing. The increasing geopolitical tensions, conflicts, and threats from terrorism have resulted in a rise in military spending, which includes the procurement of ammunition. However, the production, sale, and possession of ammunition are regulated by federal, state, and local laws. These laws can limit the availability of certain types of ammunition or restrict who can purchase them. The ammunition market is subject to supply chain disruptions, which can impact the availability and cost of ammunition. For example, natural disasters, political unrest, or pandemics can disrupt the production and transportation of ammunition. The market is also influenced by civilian demand for ammunition for hunting, shooting sports, and self-defense purposes. In recent years, the ammunition market has seen significant growth due to increasing global security concerns and rising demand for weapons and ammunition from emerging economies. These factors are significant opportunities for the ammunition market.
Among the analyzed regions, Asia-Pacific is expected to account for the highest revenue in the market by the end of 2031, followed by North America, Europe and LAMEA. Technological advancements and military and law enforcement applications are the key factors responsible for leading position of Asia-Pacific and Europe in the global ammunition market.