The global amphibious aircraft market size was valued at $164.4 million in 2021, and is projected to reach $502 million by 2031, growing at a CAGR of 12.1% from 2022 to 2031.
Amphibious aircrafts is an aircraft that can take off and land on both solid ground and water.  It is also known as flying boat or floatplane. Furthermore, fixed-wing amphibious aircraft are seaplanes which are fitted with retractable wheels, at the expense of extra weight, reduced range, complexity, and fuel economy in comparison to other types of aircraft. Also some amphibians are fitted with reinforced keels which act as skis, which allows them to land on snow or ice with their wheels up.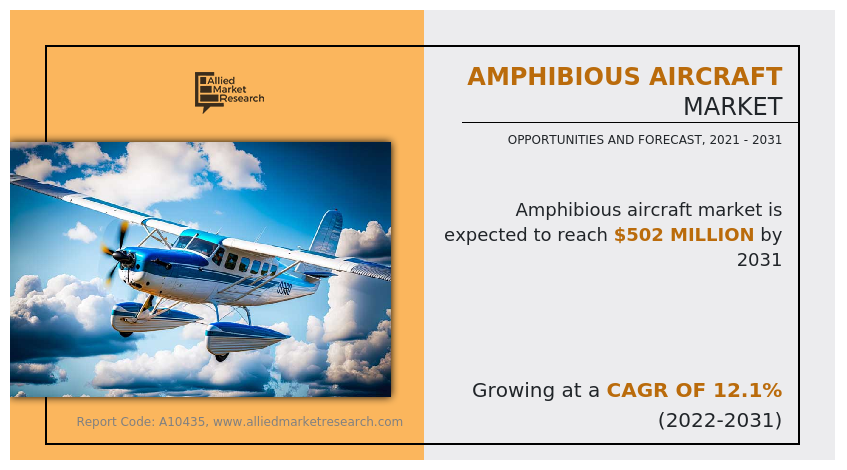 Furthermore, the most prominent factor driving the global amphibious aircraft market is its suitability for offshore applications, where due to the inaccessibility of a landing surface, the aircraft has to be landed on water. These aircraft were developed for general aviation, military and rescue operation. Amphibious aircraft have been used for exploration function, due to the flexibility in their landing mechanism. It is favorable in exploring rural areas with rough terrain or with limited areas for proper runways. With the continued growth of the amphibious aircraft market, it is expected a demand for commercial amphibious aircraft in service for passenger transports.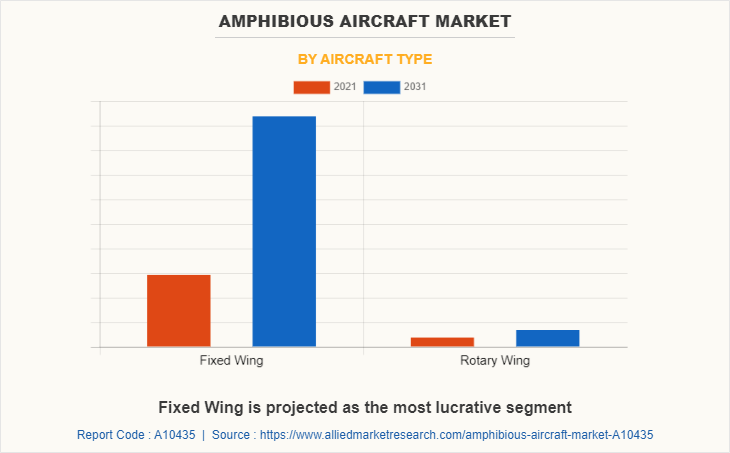 The global amphibious aircraft market is expected to experience significant growth due to increase in tourism, increasing demand for commercial applications and growing defense budget & procurement of next-gen seaplanes. However, rising number of aircraft accidents and high capital cost hamper the growth of the market. On the contrary, growing focus of transportation companies on aircraft acquisition to increase air transportation and advancement in technology to foster growth are the major factors that are expected to provide lucrative opportunities for the market growth during the forecast period.
The amphibious aircraft market is segmented into aircraft type, engine type, end-use, and region. By aircraft type, the market is classified into fixed wing, and rotary wing. On the basis of engine type, it is segregated into turboprop, and turbine. Depending on end-use, it is bifurcated into Civil Aviation, general aviation and military aviation. Region wise, the market is analyzed across North America, Europe, Asia-Pacific, and LAMEA.
The key players profiled in this amphibious aircraft market report include Aero Adventure LLC., Airtime Aircraft Inc., Atol Aviation, BERIEV Aircraft Company, China Aviation Industry Corporation, Dornier Seawings GmbH, Equator Aircraft AS, ICON Aircraft Inc, Lisa Airplanes and ShinMaywa Industries.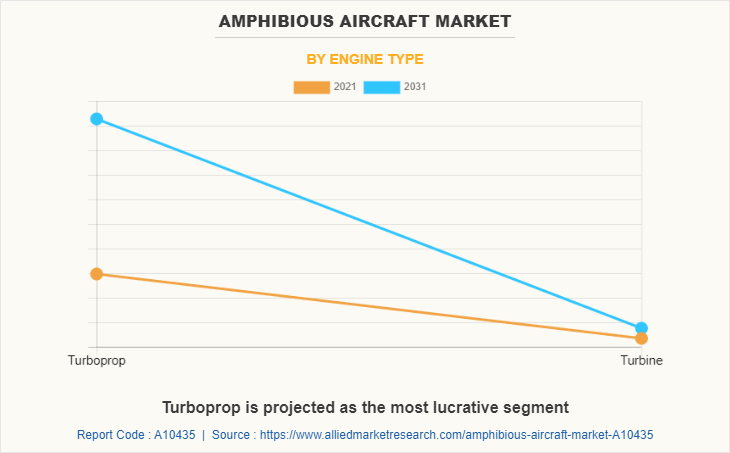 Increase in tourism
Amphibious aircraft offers connectivity to areas that do not have landing runways. Launching the amphibious aircraft services will have a number of benefits such as boosting tourism. It will not only be an attractive option for tourists to try but will also help in generating employment opportunities in the region, which will consequently contribute to the country's GDP. Seaplane service will make the journey easier and save time by providing air connectivity to numerous remote, religious, tourist places and unexplored locations near the water bodies time. Several countries are boosting their country's tourism sector by developing seaplane services. For instance, in June 2021, The Ministry of Ports, Shipping and Waterways signed a memorandum of understanding (MoU) with the Ministry of Civil Aviation to develop seaplane services in India. The MoU will play a major role in boosting tourism and enhancing seamless connectivity across the country. The launch of the seaplane services in India will have a number of benefits such as boosting tourism, generating employment opportunities in the region, and making the seaplanes project a reality in the country. Thus, tourism will further increase the demand for the amphibious aircraft market.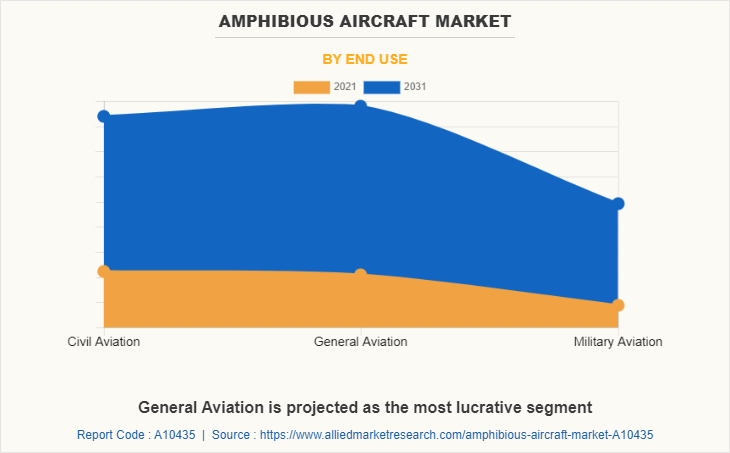 Increasing demand for commercial applications
Amphibious aircraft are used for various commercial purposes such as search, rescue, firefighting, etc. Moreover, the surging demand of amphibious aircraft for patrol drives, passenger transportation and ambulances, will further help in increasing demand of amphibious aircraft market. For instance, in October 2020, India launched the country's first seaplane service that connects Ahmedabad and Kevadia. Furthermore, Fishing must be monitored, planned and regulated for business, trade, as well as aquatic life health and safety. Amphibious aircraft are one of the essential way of keeping a lookout on the fishing industry. It is also capable of observing and tracking poaching criminals who profit from fish that is not theirs or that may, in fact, be illegal to catch at all.
One of the most vital uses for amphibious aircraft is firefighting in forests. Forest fires are extremely dangerous because they catch fast and move quickly. It requires a huge capacity of water to overcome and eventually extinguish the fire. For instance, many national parks like the U.S. National Parks System keep seaplanes for this and many other reasons. It can scoop up thousands of gallons of water into its hull and drop onto a fire. Seaplanes have an advantage because they can move faster than boats and will be able to get closer to the accident. They will also be able to quickly disembark with any survivors in need of medical treatment. Air-sea rescue is an important job for seaplanes both in terms of military as well as civilian mishaps. Thus, the increasing demand for amphibious type of aircraft for commercial is anticipated to drive market growth.   
Rising number of aircraft accidents
According to the study, between 1976 and 1990, there were 1,432 seaplane accidents in Canada, in which 452 people died in 234 seaplane accidents. Most accidents involved losses of control, propeller contacts, nose down/over, and collisions. Several countries facing problems of seaplane crashes. For instance, in July 2022, a seaplane carrying seven people destined for Katmai National Park and Preserve in Alaska crashed into the water with two people suffering serious injuries. An incident such as these will further dampen demand in the amphibious aircraft market.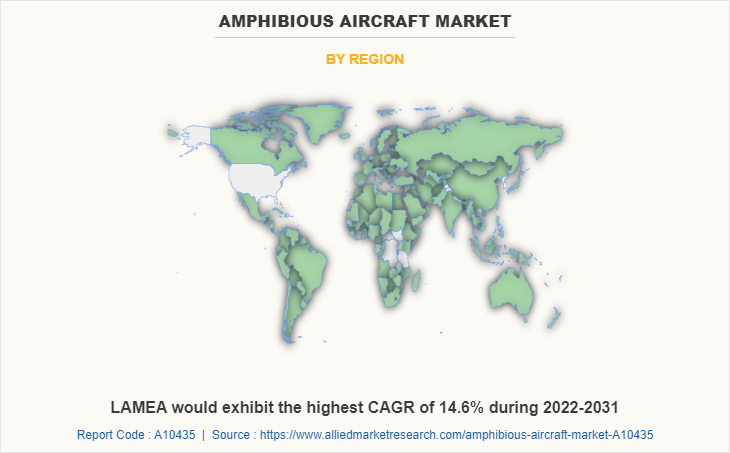 Advancement in technology to foster growth
Technological advancements play a vital role in improving the performance and efficiency of an aircraft. In addition, the global amphibious aircraft market is witnessing various innovations in terms of increasing speed, reducing fuel consumption, and reducing the cost of manufacturing which in turn is proliferating the demand for amphibious aircraft. Moreover, companies like LISA Airplanes have innovated the concept of using sea foils for amphibious aircraft to eliminate the need for designing traditional hull-shaped amphibious aircraft. In addition, while taking off from the water, the sea foils fitted to the fuselage of the aircraft are used for lifting the fuselage of the aircraft at high speeds.
According to the International Civil Aviation Organization (ICAO), there was a 60% drop in passenger traffic in 2020 than in 2019. In addition to that, approximately $271 billion loss of gross passenger operating revenues for airlines was encountered during the COVID pandemic. Moreover, substantial disruption in the supply chain, a slow production rate, a slowdown in the economy, and others impacted the growth of the market.
Key Benefits For Stakeholders
This study presents an analytical depiction of the global amphibious aircraft market analysis along with current trends and future estimations to depict imminent investment pockets.

The overall amphibious aircraft market opportunity are determined by understanding profitable trends to gain a stronger foothold.

The report presents information related to the key drivers, restraints, and opportunities of

the global amphibious aircraft market with a detailed impact analysis.

The current amphibious aircraft market are quantitatively analyzed from 2022 to 2031 to benchmark the financial competency.

Porter's five forces analysis illustrates the potency of the buyers and suppliers in the industry.
 Amphibious Aircraft Market Report Highlights
Aspects
Details
Market Size By 2031
USD 502 million
Growth Rate
CAGR of 12.1%
Forecast period
2021 - 2031
Report Pages
309
By Aircraft Type
By Engine Type
By End Use

Civil Aviation
General Aviation
Military Aviation

By Region

North America (U.S., Canada, Mexico)
Europe (UK, Germany, France, Russia, Rest of Europe)
Asia-Pacific (China, Japan, India, Australia, Rest of Asia-Pacific)
LAMEA (Latin America, Middle East, Africa)

Key Market Players
Airtime Aircraft Inc, China Aviation Industry Corporation, Equator Aircraft AS, AERO ADVENTURE LLC, ICON Aircraft, Inc., lisa airplanes, Atol Aviation, dornier seawings gmbh, ShinMaywa Industries, BERIEV Aircraft Company