Anesthesia Devices Market Overview 2030:
The global anesthesia devices market size was valued at $13,560.00 million in 2020, and is projected to reach $28,381.86 million by 2030, registering a CAGR of 8.10% from 2021 to 2030, Anesthesia devices are used during surgical procedures to control pain, breathing, blood pressure, blood flow, and heart rate & rhythm. A medical state in patients induced by use of anesthesia leads to loss of sensation or awareness, which include analgesia (relief from or prevention of pain), paralysis (muscle relaxation), amnesia (loss of memory), or unconsciousness.
The pandemic creating barriers in the hospital activities like surgeries and patient visits. Most of the surgeries were postponed and only acute surgical emergencies were addressed. Therefore, the COVID-19 pandemic is expected to have a negative impact on the market.
There is an increased focus of key vendors in the anesthesia devices market in emerging markets that offers lucrative opportunities as the number of cardiac, neuro, and other chronic conditions are increasing in countries like Brazil and the U.S. at an alarming rate, which propels use of anesthesia devices.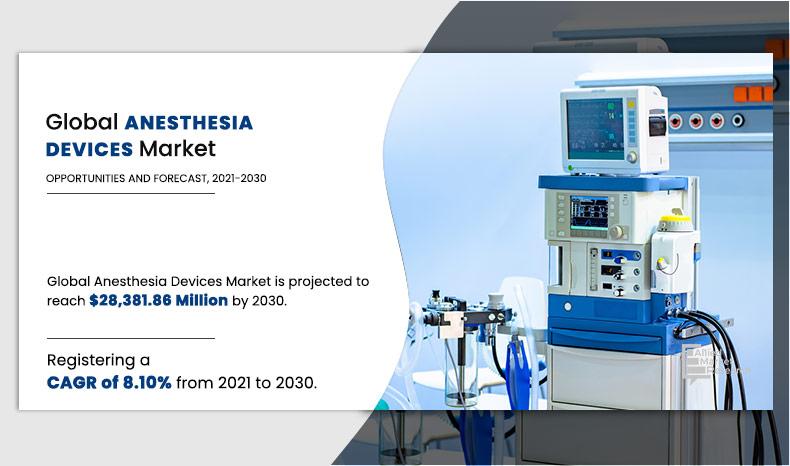 Surgical procedures are increasing globally at an alarming rate, owing to prevalence of various diseases. Anesthesia plays a key role, since every patient that undergoes surgery is anesthetized to manage the pain during the course of surgery. The major surgical procedures performed globally are orthopedics, cardiology, and neurology, owing to high prevalence of these medical conditions. Such high number of surgical procedures are expected to propel growth of the global anesthesia devices market.
Impact Of Covid-19 On Anesthesia Devices Market (Pre And Post Analysis)
The outbreak of COVID-19 (SARS-CoV-2) has been spreading globally outside the first Chinese outbreak since January 2020 and the World Health Organization (WHO) declared a pandemic situation on March 11, 2020. The epidemic situation has led to a drastic reduction in hospital activities. In the early phase of the pandemic, due to the increasing cases of COVID-19, all hospitals, globally, had canceled their scheduled and elective surgeries. Acute surgical emergencies were still inevitable and were being addressed in a timely and sensible manner. According to the report published by the British Journal of Surgery, in May 2020, an estimated 585,000 elective surgeries were postponed in the 12-week lockdown in India alone, and millions of elective surgeries worldwide were canceled and postponed.
The pandemic has led to chronic disease management and patient monitoring were severely disrupted, and many patients were unable to visit hospitals and surgeries were delayed. Reduction in non-essential surgeries has led growth of the market. The general anesthesia devices market is witnessing challenges in the manufacturing and supply chain, such as delivering devices to end users on time and attending an uneven demand for products. The market has faced a slight negative impact on the anesthesia devices market. As soon as lockdown restrictions were relaxed, demand for anesthesia devices increased. These machines are used in surgical operations to relieve pain, general growth in number of surgeries conducted had a significant impact on the market. Anesthesia devices were also used for ventilation for COVID-19 patients, which created a positive impact on the anesthesia devices market.
Anesthesia Devices Market Segmentation
The report segments the market based on product, application, end user, and region. Based on product, it is classified into anesthesia delivery machines, anesthesia disposables & accessories, anesthesia monitors, and anesthesia information management systems (AIMS). The anesthesia disposables & accessories are further divided into anesthesia circuits, anesthesia masks, laryngoscopes, HME and others.
Anesthesia Devices Market

---
By Product
Anesthesia Delivery Machines segment dominated the market in 2020 and would continue to maintain the lead over the forecast period.
Based on application, it is classified into cardiology, neurology, dental, ophthalmology, urology, orthopedics, and others. Based on end user, the market is divided into hospitals, ambulatory service centers, and clinics. Based on the region, it is analyzed across North America, Europe, Asia-Pacific, and LAMEA.
Segment review
By product, the Anesthesia Delivery Machines segment currently dominates the global anesthesia devices market and is expected to continue during the forecast period owing to continuous technological advancements, which propels their adoption for providing anesthesia during the surgical procedure.
Anesthesia Devices Market

---
By Application
Orthopedics segment held a dominant position in 2020.
By application, the orthopedics segment dominated the global anesthesia devices market in 2020. This is attributed to rise in the incidence and prevalence of orthopedic disorders, growing geriatric population, increasing awareness among people for the orthopedic surgeries and constant innovations are encouraging towards increase in the orthopedic surgeries which will help in propelling the growth of the anesthesia devices market. 
By end user, the hospital segment dominated the global anesthesia devices market in 2020 and is anticipated to presence of technologically advanced devices and instruments to cater large population base with maximum patient comfort inclination of major players towards selling their devices in the hospitals and favorable reimbursement rules for hospital procedures. 
Anesthesia Devices Market

---
By End User
Hospital segment held a dominant position in 2020.
Region segment review
Region wise, North America dominated the market in 2020, owing to increase in prevalence of diseases, surgical procedures carried out for disease treatment, and high acceptance of technological developments contributing to the growth of the market in the region.
The key players in this anesthesia devices market have adopted product launch as one of their key developmental strategies. The major companies profiled in this report include General Electric, 3M Company, Ambu A/S, Becton, Dickinson and Company, Draegerwerk AG & Co. KGAA., Smith Medical, SunMed, Teleflex Incorporated, Koninklijke Philips N.V., and B. Braun Melsungen AG.
Anesthesia Devices Market

---
By Region
Asia- Pacific region would exhibit the fastest CAGR of 10.8% during the forecast period.
Key Benefits For Stakeholders
The study provides an in-depth analysis of the global anesthesia devices market along with the current trends and future estimations to explain the imminent investment pockets.
A comprehensive analysis of the factors that drive and restrict the anesthesia devices market growth is provided in the report.
Comprehensive quantitative analysis of the industry from 2020 to 2030 is provided to enable the stakeholders to capitalize on the prevailing anesthesia devices market opportunities.
Extensive analysis of the key segments of the industry helps to understand the application and products of anesthesia devices used across the globe.
Key market players and their strategies have been analyzed to understand the competitive outlook of the anesthesia devices market.
 Anesthesia Devices Market Report Highlights
Aspects
Details
By Product

Anesthesia Delivery Machine
Anesthesia Disposables & Accessories

Anesthesia Circuits
Anesthesia Masks
Laryngoscopes
HME
Others

Anesthesia Monitors
Anesthesia Information Management Systems (AIMS)

By Application

Cardiology
Neurology
Dental
Ophthalmology
Urology
Orthopedics
Others

By End User

Hospital
Clinics
Ambulatory Service Centres

By Region

North America (U.S., Canada, Mexico)
Europe (Germany, France, UK, Italy, Spain, Rest of Europe)
Asia-Pacific (Japan, China, Australia, India, South Korea, Rest of Asia-Pacific)
LAMEA (Brazil, Saudi Arabia, South Africa, Rest of LAMEA)

List of key players profiled in the report:

General Electric
3M Company
Ambu A/S
Becton, Dickinson and Company
Draegerwerk AG & Co. KGAA.
Smith Medical
SunMed
Teleflex Incorporated
Koninklijke Philips N.V.
B. Braun Melsungen AG