The anesthesia machinery market was valued at $2,001.6 million in 2018, and is estimated to reach $3,288.0 million by 2026, registering a CAGR of 6.3% during the analysis period.
Anesthetic machinery is a device used to deliver a hypoxic mixture of gas to patients as they undergo a medical procedure. Gases such as oxygen (O2), air, and nitrous oxide (N2O) are provided to patients. There are various anesthesia monitors, which are used to inspect the functioning of the system, to detect equipment malfunctions, and to provide information about the patient. The equipment are used for inhalation of anesthesia include flowmeter and vaporizer. Continuous developments in the design of anesthesia machinery helps in operating efficiency and patient outcome, which provides lucrative opportunities for the anesthesia machinery market.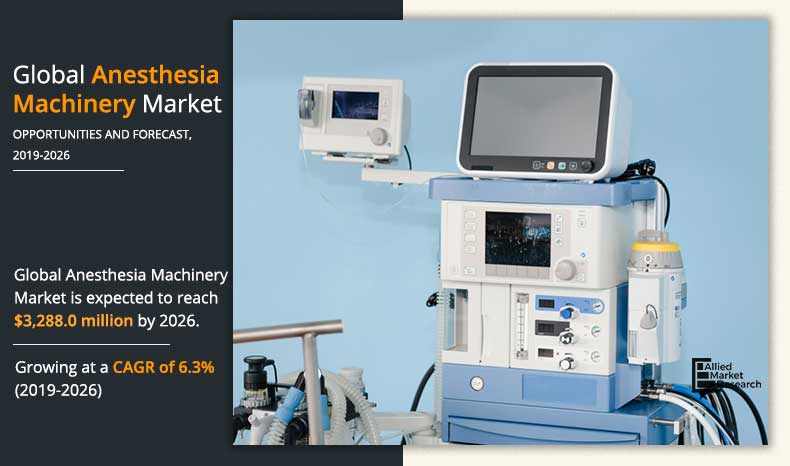 The launches of new features of the anesthesia machines by the key players. For instance, in 2020, the Drägerwerk AG has launched a new product which includes ICU ventilators and anesthesia workstation at the Arab Health 2020 which is held in Dubai, UAE. The company has launched a new Evita V600 and V800 ventilators designed to support daily clinical tasks in the ICU.
Surge in number of surgical procedures; rise in geriatric population, which is highly vulnerable to injuries or medical conditions that require surgery; and rise in technological advancements such as electroence phalographic depth of anesthesia monitoring, advanced neuromuscular transmission monitoring systems, and bedside ultra sonography are the key drivers of the global anesthesia machinery market. However, high maintenance and installation cost of anesthesia machinery and side effects due to overdose of anesthesia restrain the anesthesia machinery market growth. Moreover, anesthesia plays a key role, since every patient that undergoes surgery is anesthetized to manage pain during the course of surgery. The major surgical procedures performed globally are musculoskeletal, respiratory, cardiology, and neurology, owing to high prevalence of these medical conditions. Such high number of surgical procedures are expected to propel the growth of the global anesthesia devices market.
Product solution segment review
Depending on product, the global anesthesia machinery market is categorized into continuous and intermittent anesthesia machinery. The continuous anesthesia machinery segment accounted for the largest market share in 2018,owing to its enormoususe in hospitals due to its effectiveness & steady flow of air and prevalence of surgical procedures.
Anesthesia Machinery Market

---
By Product
Continuous anesthesia machinery segment holds a dominant position in 2019 and would continue to maintain the lead over the forecast period.
Subject segment review
On the basis of subject, the market is categorized into human and veterinary. The human segment is expected to grow at the highest rate during the forecast period, owing to surge in chronic diseases in geriatric population, rise in the pipeline researches and launches for human anesthesia machinery. Factors such as large number of surgical procedures conducted on in human is expected to attribute to increasing usage of anesthesia machineries ultimately leading to high growth of the market in near future.
Anesthesia Machinery Market

---
By End User
Hospitals segment is projected as one of the most lucrative segment.
Application segment review
On the basis of application, the market is categorized into nervous system surgeries, respiratory system surgeries, musculoskeletal system surgeries, cardiovascular system surgeries, digestive system surgeries, urinary system surgeries, and ENT system surgeries. The musculoskeletal system surgeries acquired largest market share in 2018, owing to surge in rate of musculoskeletal surgical procedures which resulted into increased usage of anesthesia machinery for this application.
Region segment review
Region wise, the anesthesia machinery market is analyzed across North America, Europe, Asia-Pacific, and LAMEA. North America held the largest anesthesia machinery market share in 2018, owing to large number of surgeries and sizeable public expenditure on healthcare and rise in pipeline activities in research and development institutes to improve efficiency of anesthesia machinery. In addition, rise in geriatric population and surge in prevalence of chronic diseases such as musculoskeletal and respiratory in North America are projected to propel the market growth. However, Asia-Pacific is anticipated to witness highest anesthesia machinery market growth, owing to increase inpatient base and rise in healthcare expenditure.
Anesthesia Machinery Market

---
By Region
Asia-Pacific region would exhibit the highest CAGR of 7.8% during 2019-2026.
The major companies profiled in this report include Cardinal Health Inc, Drägerwerk AG & Co. KGaA, Fisher &Paykel Healthcare Limited, General Electric Company, HEYER Medical AG, Koninklijke Philips N.V., Mindray DS USA Inc, Smiths Group Plc., Teleflex Incorporated, and Vyaire Medical Inc.
Key Market Benefits
This report entails a detailed quantitative analysis along with the current global anesthesia machinery market trends of the market from 2018 to 2026 to identify the prevailing opportunities along with the strategic assessment of the global market. 

The global anesthesia machinery market forecast is studied from 2019 to 2026. 

The global anesthesia machinery market application is studied from 2018 to 2026. 

The global anesthesia machinery market size and estimations are based on a comprehensive analysis of key developments in the anesthesia machinery industry.

A qualitative analysis based on innovative products facilitates strategic business planning.

The development strategies adopted by the key market players are enlisted to understand the competitive scenario of the market.
 Anesthesia Machinery Market Report Highlights
Aspects
Details
BY TYPE

Continuous anesthesia machine
Intermittent anesthesia machine

By Subject
By Application

Nervous system surgeries
Respiratory system surgeries
Cardiovascular system surgeries
Digestive system surgeries
Urinary system surgeries
ENT system surgeries
Musculoskeletal system surgeries
Others

By End User

Hospitals
Point of care
Others

By Region

North America (U.S., Canada, Mexico)
Europe (Germany, France, UK, Italy, Spain, Rest of Europe)
Asia-Pacific (Japan, China, India, Australia, Rest of Asia-Pacific)
LAMEA (Brazil, Saudi Arabia, South Africa, Rest of LAMEA)

Key Market Players
CARDINAL HEALTH INC., DRÄGERWERK AG & CO. KGAA, FISHER & PAYKEL HEALTHCARE LIMITED, GENERAL ELECTRIC COMPANY (GE HEALTHCARE), HEYER MEDICAL AG, KONINKLIJKE PHILIPS N.V., MINDRAY DS USA INC, SMITHS GROUP PLC., TELEFLEX INCORPORATED, VYAIRE MEDICAL INC