The global aneurysmal subarachnoid hemorrhage drugs market size was valued at $323.51 million in 2020, and is projected to reach $456.31 million by 2030, growing at a CAGR of 3.6% from 2021 to 2030. Aneurysmal subarachnoid hemorrhage (aSAH) is a life-threatening type of stroke caused by bleeding in the area around the brain. The major factors that drive the growth of the global aSAH drugs market include surge in geriatric population and increase in population suffering from hypertension. Furthermore, lifestyle changes such as alcohol consumption and smoking increase risk of aSAH, which, in turn, propel the market growth.
The outbreak of COVID-19 has disrupted workflows in the healthcare sector across the globe. The disease has forced a number of industries to shut their operations temporarily, including several sub-domains of healthcare. The COVID-19 pandemic led to disruptions in healthcare facilities. COVID-19 pandemic positively impacted key players in aSAH drugs market. Hemorrhagic cerebrovascular events, either due to aneurysmal rupture or spontaneous subarachnoid hemorrhage (SAH), are not rare in COVID-19. Several mechanisms such as coagulopathy, cytokine storm, viral endotheliopathy, hypertension, and immune modulation might play a role in the pathogenesis of SAH in COVID-19. Furthermore, during lockdown, patients faced difficulties with their ongoing treatment. However, community-dwelling individuals with disability were given special permission to go out for physical therapy and rehabilitation services. Moreover, patients suffering from aSAH had to switch to tele-medicine during the lockdown as they could not visit the hospitals.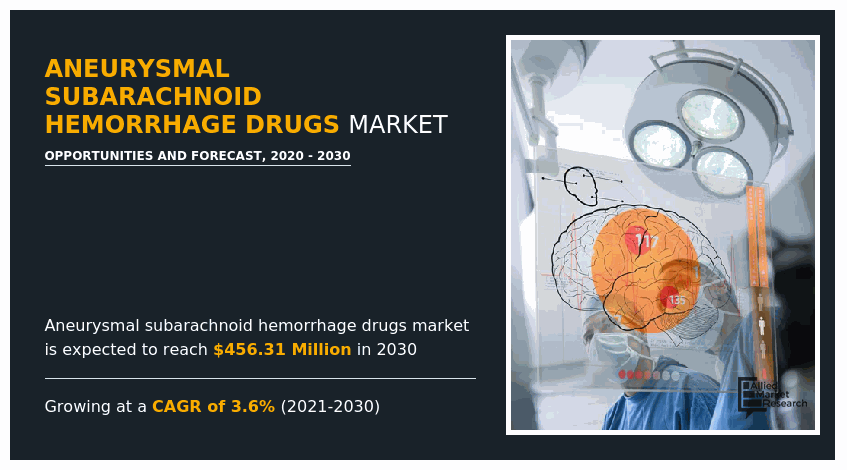 Hypertension is one of the major factors that can lead to aSAH. As per the Centers for Disease Control and Prevention, about 70.0 million American adults suffer from high blood pressure, of which the condition of only 52.0% is under control. Moreover, according to the Centers for Medicare and Medicaid Services the U.S. healthcare expenditures grew from 4.6% to $3.8 trillion in 2019 and accounted for 17.7% of gross domestic product (GDP). In addition, the federal government accounted for 29 % of total health expenditures, followed by households with 28.4%. State and local governments accounted for 16.1% of total health care expenditures, while other private revenues accounted for 7.5%.
Furthermore, incidence of high blood pressure has increased, costing the U.S. $46.0 billion annually, which include the cost of healthcare services, medications to treat high blood pressure, and missed days of work.
In addition, increase in prevalence diseases such as stroke and hypertension and surge in geriatric population drive the growth of the aSAH drugs market. In addition, lifestyle changes, including increase in alcohol consumption and smoking rise the risk for aSAH, which, in turn, stimulates the market growth.
However, the associated side effects of drugs and medication taken during the treatment of aSAH restrain the aSAH drugs market share.
The aSAH drugs market is segmented on the basis of drug class and region. On the basis of drug class, the market is classified into opioid analgesic, calcium channel blocker, anticonvulsants, stool softeners, osmotic agents/diuretics, and other drugs. Region wise, it is analyzed across North America, Europe, Asia-Pacific, and LAMEA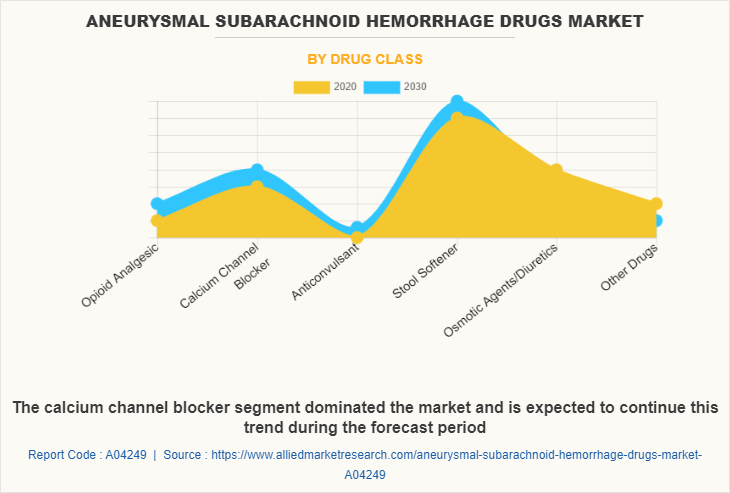 Depending on drug class, the calcium channel blocker segment dominated the market and is expected to continue this trend during the forecast period, owing to increasing prevalence rate of cardiovascular diseases, changing lifestyle and hypertension. Rising assistance to people with anxiety disorders or bipolar disorder is also expected to help in the growth of the aneurysmal subarachnoid hemorrhage drugs market. In addition, increase patient awareness level, availability of the treatment options and vulnerable geriatric population are some of the influencing factors propelling the growth of the calcium channel blocker aSAH drugs market growth.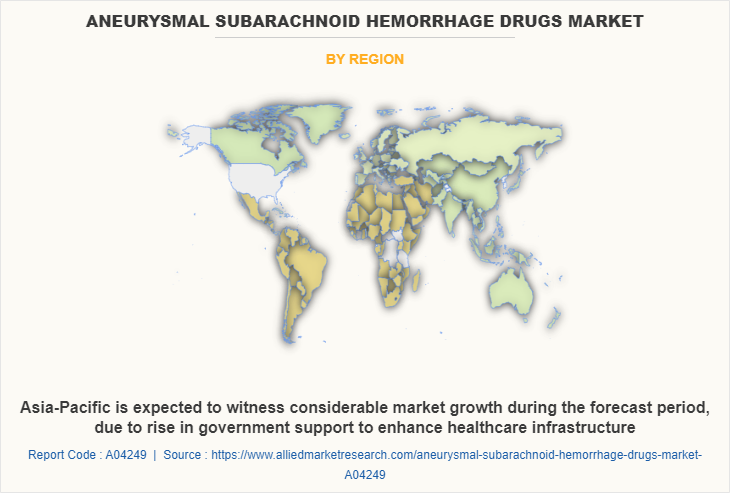 Region wise, North America dominated the market in 2020, owing to favorable healthcare infrastructure, which facilitated access to advanced aSAH drugs. In addition, government initiatives, including the Precision Medicine and Affordable Care Act, along with well-planned reimbursement policies, contributed to the market growth in North America. Moreover, surge in awareness among people and high purchasing parity resulted in increased demand for these devices. However, Asia-Pacific is expected to witness considerable market growth during the forecast period, due to rise in government support to enhance healthcare infrastructure. Economic developments in countries, including India and China, with higher disposable incomes fuel the demand for product. Moreover, China is expected to grow at high CAGR in, thereby making Asia-Pacific a aSAH drugs market opportunity.
The major companies profiled in this report include Azurity Pharmaceuticals, Johnson & Johnson, MediCure, NeurOp, Orexo AB, Pfizer, Inc., Pharmaxis, Ltd., Sun Pharmaceutical Industries Ltd., Teva Pharmaceutical Industries Ltd., and Vitrais, Inc.
Key Benefits For Stakeholders
This report provides a quantitative analysis of the market segments, current aSAH drugs market trends, estimations, and dynamics of the aneurysmal subarachnoid hemorrhage drugs market analysis from 2020 to 2030 to identify the prevailing aneurysmal subarachnoid hemorrhage drugs market opportunities.

The aSAH Drugs Market analysis research is offered along with information related to key drivers, restraints, and opportunities.

Porter's five forces analysis highlights the potency of buyers and suppliers to enable stakeholders make profit-oriented business decisions and strengthen their supplier-buyer network.

In-depth analysis of the aneurysmal subarachnoid hemorrhage drugs market segmentation assists to determine the prevailing market opportunities.

Major countries in each region are mapped according to their revenue contribution to the global market.

Market player positioning facilitates benchmarking and provides a clear understanding of the present position of the market players.
The report includes the analysis of the regional as well as global aSAH drugs industry trends, key players, market segments, application areas, and market growth strategies.
 Aneurysmal Subarachnoid Hemorrhage Drugs Market Report Highlights
Aspects
Details
By Drug Class

Calcium Channel Blocker
Anticonvulsant
Stool Softener
Osmotic Agents/Diuretics
Other Drugs
Opioid Analgesic

By Region

North America (U.S., Canada, Mexico)
Europe (Germany, France, United Kingdom, Italy, Rest of Europe)
Asia-Pacific (Japan, China, Australia, India, Rest of Asia-Pacific)
LAMEA (Brazil, Turkey, South Africa, Rest of LAMEA)

Key Market Players
teva pharmaceutical industries ltd., orexo ab, Azurity Pharmaceuticals, Sun Pharmaceutical Industries Ltd., Vitrais, Inc, medicure, Pfizer, Inc., NeurOp, Johnson and Johnson, Pharmaxis, Ltd.