Animal biotechnology is the branch of biotechnology, which deals with the molecular biology techniques for developing genetically engineered animals which is appropriate for pharmaceutical, industrial or agricultural applications. Biotechnology was introduced in animal healthcare in 19th century. When the first vaccines were prepared for its use in animals. Biotechnology applications help in detecting and treating both infectious and parasitic diseases of animals. To reduce the risk and prevent the outbreak of infectious diseases, the World Organization for Animal Health (OIE) help to detect the infectious disease and provide particular treatment for the animal.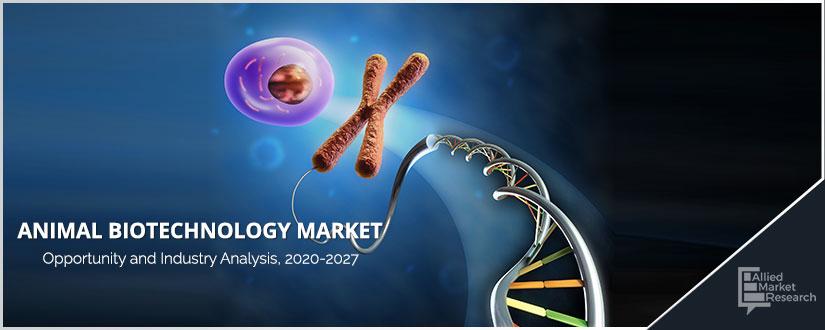 For preventing the disease several reagents, diagnostic techniques and vaccine have been manufacture, which are more specific, sensitive, rapid, reproducible that have been updated through recent discoveries in biochemistry, immunology and molecular biology such as monoclonal antibodies, nucleic probes, DNA amplification and others. Vaccination is an effective way to reduce disease burden in animals and plays an important role in preventive health and disease control. The development of new vaccines include subunit vaccines, anti-idiotype vaccines, synthetic vaccines, recombinant vaccines, which is effective, duration of protection, ease of use, stability and multivalence. Thus, the important aim of animal health biotechnology is to serve human healthcare as well as its environment at the same time.
COVID-19 Scenario Analysis:
The coronavirus pandemic is having a huge impact on businesses and has already caused an unprecedented collapse of economic activities. The COVID-19 impact is straining the healthcare systems globally. The rapidly increasing demand for healthcare facilities and healthcare workers may leave only a few healthcare systems to fulfill the increasing demand during the pandemic situation. 
The COVID-19 pandemic cases are because of direct or indirect contact between humans. There has been no evidence or confirmation that animals can spread COVID-19 to humans. The myth animals can spread the virus to humans has increased the number of abandoned pets. Furthermore, COVID-19 has weakened the supply chain and has created shortage of animal health products such as nutritional feed as well as vaccines globally. The animal health industry has been impacted largely as many manufacturers in animal health industry are left with a significantly reduced workforce. Also, stringent government policies such as restrictions of import of raw materials from China is expected to hamper the animal health market. 
Ongoing spread of covid-19, positively impacted on animal biotechnology market.  For the first time, one of the many COVID-19 vaccines in development has protected an animal, rhesus macaques, from infection by the new coronavirus. The vaccine, an old-fashioned formulation consisting of a chemically inactivated version of the virus, produced no obvious side effects in the monkeys, and human trials. Recently in April 2020 "Sinovac Biotech", researcher gave two different doses of their COVID-19 vaccine to a total of eight rhesus macaques. 
Top impacting factors: Market Scenario Analysis, Trends, Drivers and Impact Analysis:
Globally North America and Europe dominate the overall animal biotechnology market due to the increasing incidence of various animal diseases, rising awareness levels of the population about cloning and transgenic rising animal meat consumption, large investment in research and development activities from both public and private firms the rising animal healthcare expenditure, and others. Whereas, Asia-Pacific region is expected to drive the market growth due to dependency of various regions on animals for their daily activities, increasing demand for animal and availability of huge livestock population.
As per the "Statistics of Scientific Procedures on Living Animals Great Britain" in 2017, reported that in 2017, 3.79 million animal diagnosis procedures were carried out. According to US Food and Drug Administration (FDA), in 2019, scientists have successfully cloned many livestock species, including cattle, swine, sheep, and goats. Globally, animal cloning has gained popularity and acceptance, as a method to produce genetically identical animals. Also state that United Kingdom involving living animals, out of which, total 1.89 million were approved out for experimental purposes, and 1.90 million were counted under the breeding of genetically altered animals. According to Veterinary Cancer Society estimates, every year more than 6 million cats and dogs are diagnosed with cancer in the United States.
Major factors such as increasing production of vaccines, advancements in cloning and development of transgenic animals will add to the animal's ability to fight diseases, favorable government policies and supportive approval agencies, growing research and development activities, the rising regulatory approvals, rising demand for animals will further help in the growth of this market in future, are drive the growth of animal biotechnology market.  
New product launches to flourish the market:
Manufacturers have been focusing on producing new products for specific applications as there are varying demands based on the utilization. Leading market players have determined how improved accuracy can be influential in many applications. It is a promising compound for the therapy and prophylaxis of all forms of theileriosis. In 2018, "Arka Pharmaceutical" has launched new veterinary vaccines such as "Buparvaquone Injection" has been shown to have anti-leishmanial activity in vitro. It can be used to treat in vitro bovine east coast fever protozoa. In 2019, "Sayavet" has launched new medicinal drug product such as "Carprofen Caplets" is a non-steroidal anti-inflammatory drug (NSAID) that is used to reduce pain and inflammation (soreness) due to osteoarthritis and pain following surgery in dogs. Carprofen Caplets is a prescription drug for dogs. It is available as a caplet and is given to dogs by mouth.
Key benefits of the report:
This study presents the analytical depiction of the global animal biotechnology market along with the current trends and future estimations to determine the imminent investment pockets.
The report presents information related to key drivers, restraints, and opportunities along with detailed analysis of the animal biotechnology market share.
The current market is quantitatively analyzed to highlight the global animal biotechnology market growth scenario.
Porter's five forces analysis illustrates the potency of buyers & suppliers in the market. 
The report provides a detailed global animal biotechnology market analysis based on competitive intensity and how the competition will take shape in coming years. 
Questions answered in the Animal Biotechnology Market research report:
Who are the leading market players active in the animal biotechnology market?
What are the current trends will influence the market in the next few years?
What are the driving factors, restraints, and opportunities in the market?
What are the projections for the future that will help in taking further strategic steps?
 Animal Biotechnology Market: Global Opportunity Analysis and Industry Forecast, 2020–2027 Report Highlights
Aspects
Details
By Product

Vaccine
Drug
Diagnostic Test
Reproductive And Genetic Product

By Application

Food Safety And Drug Development
Development Of Animal Pharmaceutical
Others

By Region

North America (U.S., Canada, Mexico)
Europe (France, Germany, Italy, Spain, UK, Rest of Europe)
Asia-Pacific (China, Japan, India, South Korea, Australia, Rest of Asia-Pacific)
LAMEA (Brazil, South Africa, Saudi Arabia, Rest of LAMEA)

Key Market Players
Merck and Co. Inc, Zoetis Inc, Santa Cruz Biotechnology, Inc., Boehringer Ingelheim GmbH, Pfizer Inc, Biogenesis Bago, Virbac, Ivaoes, LLC, Bayer AG, Sanofi