The global animal vaccines market size was valued at $9,093.9 million in 2020, and is projected to reach $15,201.5 million by 2030, registering a CAGR of 5.2% from 2021 to 2030. Animal vaccines control the transmission of diseases, thus providing protection to animal and human health, which is essential considering the public dependency on animals. Animals serve as an important source of food, meat, milk, protein, and other commercial products such as leather and wool. Most commonly used veterinary vaccines include rabies vaccines, foot & mouth diseases vaccines, and equine influenza virus vaccines, which prevent the transmission of infectious agents by mimicking the naturally acquired immunity. Constant development of vaccines is essential with rise in emergence of different animal diseases. Increase in pet ownership has significantly accelerated the growth of the market.
The animal vaccines market is expected to experience steady growth due to increase in pet ownership in developed countries and rise in number of cattle & poultry in developing countries. Furthermore, surge in investment for R&D of vaccines, which inhibit the growth of antibiotic-resistant organisms boost the growth of the animal vaccines market growth. For instance, in August 2016, Elanco invested two-thirds of the budget for food‐animal unit to develop vaccines and reduce the use of antibiotics. Moreover, rise in demand for animal vaccines has led to the emergence of multiple new vaccines. For instance, Cevac IBron a new vaccine was launched by Ceva in February 2017 that prevents against infectious bronchitis virus (IBV).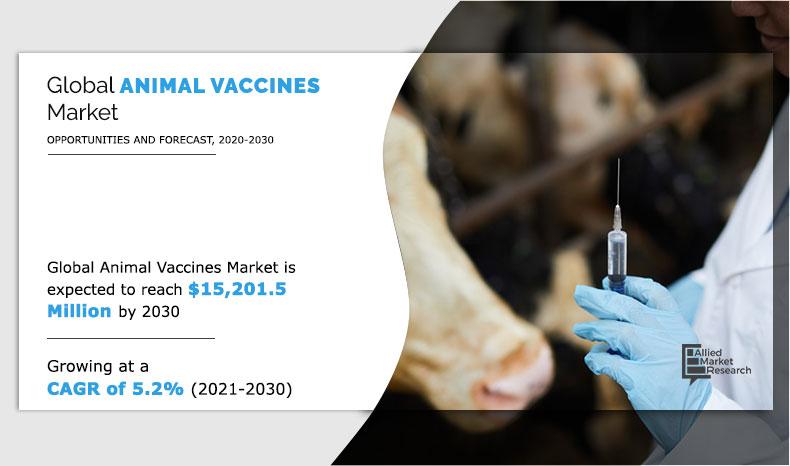 Get more information on this report : Request Sample Pages
However, lack of animal health awareness and possibility of adverse impact on veterinary vaccines on human and other animal health restrain the growth of the animal vaccines market. Furthermore, advancements in vaccine products and production of animal vaccines for hybrid animals help open new avenue for the growth of the animal vaccines market.
COVID-19 Impact
COVID-19 pandemic has affected the market unfavorably. For instance, after COVID-19 was declared as a pandemic by WHO, countries worldwide adopted nationwide lockdowns to observe social distancing as a measure to contain the spread. This led to disruption, limitation, challenges, and changes in each sector of every industry. Similarly, animal vaccines industry was also impacted by the pandemic. For instance, veterinary organizations across the globe have recommended limiting animal patient care to acutely ill animals and emergencies. Furthermore, the lockdowns have led to rescheduling of annual checkup exams and elective vaccination procedures. However, various key players have ensured the supply of animal vaccines as the governmental institutions across the globe are taking strict measures to maintain the supply to avoid zoonotic viruses from spreading into communities. However, the overall impact of COVID-19 on the animal vaccines market remains fairly negative, owing to fall in demand as veterinary visits are limited, and animal healthcare approach is changed to providing care to emergency cases and critically ill animals.
Product Segment Review
By product type, the market is categorized into attenuated vaccines, inactivated vaccines, subunit vaccines, toxoid vaccines, conjugate vaccines, recombinant vaccines, and DNA vaccines. The attenuated vaccines segment dominated the product type segment with maximum share in 2020 in the animal vaccines market size. Attenuated vaccines can provide stronger immunity as compared to other vaccines by activating a wide range of immune response. Moreover, it helps reduce the need for booster vaccines that can be administered via oral route, and induces long-lasting and rapid onset of immunity, which positively contributes toward the growth of the animal vaccines market.
Animal Vaccines Market

---
By Product
Attenuated Vaccines

segment held a dominant position in 2020 and would continue to maintain the lead over the forecast period.
Get more information on this report : Request Sample Pages
Animal Type Segment Review
By animal type, the global animal vaccines market is segmented into companion animal, livestock animal, and aquaculture. The companion animal segment is further segmented into cats and dogs. The livestock animal segment is further classified into cattle, pigs, poultry, sheep, and others (goats, horses, asses, camel, others). The livestock segment contributed the maximum revenue in 2020 for the growth of the animal vaccines market, attributable to increase in consumption of meat, milk, and dairy products, making sustainable animal health a vital aspect in disease management. However, the companion animal segment is expected to be the fastest growing segment as a large number of these animals are commonly in contact with humans and the infections such as rabies can affect humans too. Moreover, increase in number of adoptions of these companion animals and rise in awareness regarding the importance of vaccines for dogs and cats help to fuel the market growth.
Animal Vaccines Market

---
By Animal Type
Livestock Animal

segment is projected as one of the most lucrative segment.
Get more information on this report : Request Sample Pages
Region Segment Review
By region, the animal vaccines market is analyzed across North America, Europe, Asia-Pacific, and LAMEA. North America accounted for the highest revenue in the global animal vaccines market. This is attributable to high adoption of companion animals, rise in the consumption of meat and milk, and surge in awareness regarding the benefits of using animal vaccines. Asia-Pacific possesses high market potential that could affect the animal vaccines market trends due to increase in pet ownership and rise in incidence of various zoonotic diseases. Moreover, ongoing research on innovative vaccine production technology has increased due to high demand for animal-based food products and companion animals. In addition, increase in investments in animal healthcare companies has improved the production of innovative vaccines.
Animal Vaccines Market

---
By Region
North America

was holding a dominant position in 2020 and would continue to maintain the lead over the analysis period.
Get more information on this report : Request Sample Pages
The report provides a comprehensive analysis of the key players operating in the animal vaccines industry. These players include Merck & Co., Inc., Zoetis Inc., Ceva Santé Animale, Sanofi S.A., Romvac, Vaxxinova, Biovac, Merial, Boehringer Ingelheim GmbH and Anicon Labor GmbH. The other players that operate in animal vaccines market include Nexvet, PHL Associates, Inc., Hygieia Biological Laboratories, Colorado Serum Company, Pfizer, and Arko Laboratories, Ltd.
Key Benefits For Stakeholders
This report provides a detailed quantitative analysis of the current global animal vaccines market trends and forecast estimations from 2020 to 2030, which assists to identify the prevailing market opportunities. 
An in-depth animal vaccines market analysis includes analysis of various regions, which is anticipated to provide a detailed understanding of the current trends to enable stakeholders formulate region-specific plans.
A comprehensive analysis of factors that drive and restrain the growth of the global is provided.
The projections in this report are made by analyzing the current trends and future market potential from 2021 to 2030, in terms of value.
An extensive analysis of various regions provides insights that are expected to allow companies to strategically plan their business moves.
Key market players within the global animal vaccines market are profiled in this report and their strategies are analyzed thoroughly, which helps in understanding competitive outlook of the global animal vaccines market.
Key Market Segments
By Product
Attenuated Vaccines 
Inactivated Vaccines 
Subunit Vaccines 
Toxoid Vaccines
Conjugate Vaccines
Recombinant Vaccines 
DNA Vaccines
By Animal Type
Companion animal
Livestock animal

Cattle
Pigs
Poultry
Sheep
Others

Aquaculture     
By Region
North America
Europe

Germany
France
UK
Italy
Rest of Europe

Asia-Pacific

Japan
China
Australia
India
South Korea
Rest of Asia-Pacific

LAMEA

Brazil
Saudi Arabia
Rest of LAMEA