Secure packaging is one of the essential techniques to avoid counterfeiting. Anti counterfeit packaging is defined as the process of assigning secure packaging to the product in order to minimize counterfeiting or infringement. Anti-counterfeiting packaging is the process of secure packaging that prevents imitation and confirms safety of the goods. Anti-counterfeit measurements are taken by companies, which is helping them in minimizing loss due to counterfeiting in-term of revenue and loyalty. Global anti-counterfeit packaging market was accounted for $57.4 billion in 2013, which is forecast to generate revenue of $142.7 billion by 2020 at 13.9% CAGR from 2013-2020.
Two major factors influencing the adoption of anti-counterfeit packaging are, economical damage to the company and consumer health risks. Pharmaceutical companies experienced loss of approximately $514 billion in the year 2012 This revenue loss is mainly due to counterfeiting activities for non-prescribed drug. Thus, adoption of novel technologies for product tracking would decrease the economical damage and further boost the adoption of anti-counterfeit packaging market. Moreover, Anti-counterfeit technologies are supported by favorable government policies in food and pharmaceutical packaging, which are major driving factor for this market.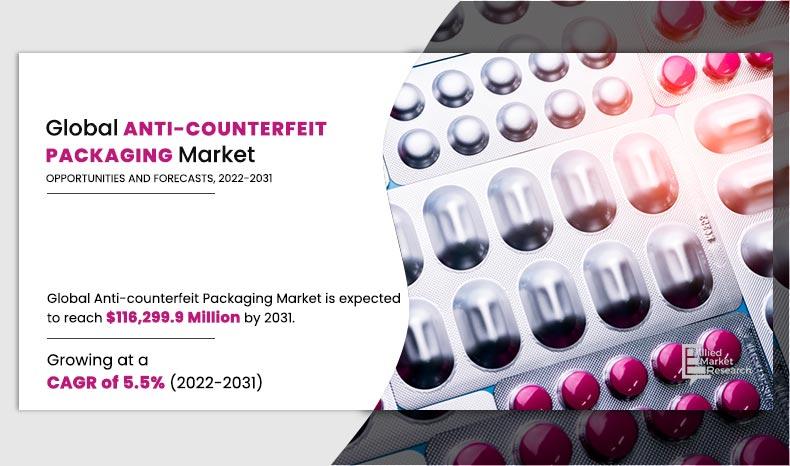 Counterfeiting practice is more common in developing countries as compared to developed countries. However, lack of awareness for authenticating pharmaceutical and food products among the consumers is affecting the market growth. Anti-counterfeit packaging market is facing challenges due to globalization of retail sectors which gives advantage to counterfeiters. Market of food, pharmaceutical and other retail products are experiencing loss due to counterfeiting in terms of revenue and intangible assets. Any change in the brand recall packaging method can create barriers to identify the original product and it can easily help counterfeiters to produce fake products in the name of original one. Trends in packaging technology with respect to anti-counterfeit packaging are explained in this report with market intelligence on packaging trends. This report provides intelligence on current market trends in anti-counterfeiting packaging to overcome counterfeiting activities and expected transformation of these trends.
The key players profiled in this report are Alien Technology Corp., Alpvision, Zebra Technologies, Inksure Technologies, Avery Dennison, Flint Group, Catalent Pharma Solution Inc., TraceLink Inc., Authentix Inc. and Sicapa
Key Benefits
The report provides market scenario of current trends and revenues that are forecast from 2012- 2020
The report identifies key developmental strategies adopted by top companies in the market
Practical evaluation of key market drivers and restraints for anti counterfeit packaging market segments such as applications and technologies
This report provides emphasis on key factors affecting the growth of anti-counterfeit packaging market. These factors are critically analyzed to reveal the most influencing factors
Patent analysis of recently granted patents according to geographies gives market intelligence of future trend transition to provide forecast of trends
 Anti-Counterfeit Packaging Market Report Highlights
Aspects
Details
By TECHNOLOGIES

AUTHENTICATION PACKAGING TECHNOLOGY

Ink And Dyes
Security Inks
Holograms
Overt Holograms
Covert Hologram
Watermarks
Physical Paper Watermark
Digital Watermark
Taggants
Detection Taggants
Identification Taggants

By TRACK AND TRACE PACKAGING TECHNOLOGY

Barcode Technology

Bar Code Labels
Paper Barcode Labels
Aluminum Barcode Labels

Polyester Barcode Labels
RFID Technology

Low Frequency RFID
Ultra-high Frequency RFID
High Frequency RFID

By APPLICATION

Food Packaging

Canned Food Packaging
Convenience Food Packaging
Baby Food
Packaged Bakery Products
Confectionery
Packaged Dairy Products
Packaged Meat Products
Packaged Seafood
Pharmaceutical Packaging
Over The Counter Drugs
Prescription Based Drugs

By GEOGRAPHY

North America
Europe
Asia-Pacific
ROW

By KEY AUDIENCES

Food And Beverages Packaging Industries
Pharmaceutical Industries
Logistics And Shipment Companies
Government And Private Regulatory Authorities
Logistics Management Companies