Anti-glaucoma Management Market Overview:
Glaucoma is a group of eye conditions that damages the optic nerve, which is vital for good vision. The damage is often caused when there is abnormal pressure on the eyes. Glaucoma is one of the major causes of blindness in people aged above 60 years. It may occur at any age but it is known to be more common in adults. The change in vision due to glaucoma is gradual, which is why a huge change in vision is not seen until the condition is at an advanced stage. The vision loss due to glaucoma cannot be recovered, it is, therefore, important to have regular eye exams that include the measurement of eye pressure; this will help in early-stage diagnosis.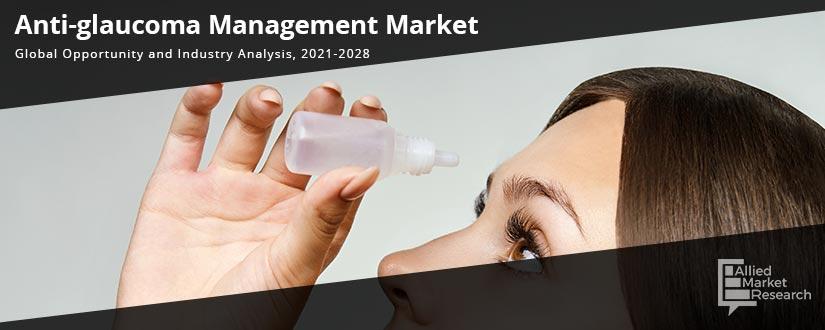 COVID-19 Impact Analysis
COVID-19 is an infectious disease that originated in the Hubei province of the Wuhan city in China in late December. The highly contagious disease, caused by a virus, severe acute respiratory syndrome coronavirus 2 (SARS-CoV-2), is transmitted from human to human. Since the outbreak in December 2019, the disease has spread to almost 213 countries around the globe with the World Health Organization declaring it a public health emergency on March 11, 2020.
Pharmaceutical and biotech companies together with governments around the globe are working to address the COVID-19 outbreak, from supporting the development of vaccines to planning for medicine supply chain challenges. Currently, around 115 vaccine candidates and 155 molecules are in the R&D pipeline. Moreover, commonly used drugs such as hydroxychloroquine have witnessed a dramatic surge in demand for the management of COVID-19. Such high demand for these drugs has presented huge opportunities for manufacturers of COVID-19 management drugs, as many developed countries are facing a shortage of these drugs. Thus, the pharmaceutical and biotechnology industry industries are expected to witness significant growth in the future, owing to the demand for vaccines and treatment drugs for COVID-19. This, in turn, is expected to have a significant impact on the anti-glaucoma management market.
Top Impacting Factors
Increase has been witnessed in the prevalence of glaucoma among the geriatric population. Increase in screen time of various gadgets such as smartphones and laptops among this population is further aiding the rising cases of glaucoma. According to the International Agency for the Prevention of Blindness (IAPB), around 80 million people across the world suffer from glaucoma.
There are numerous products under development for glaucoma treatment that can accelerate the growth of the anti-glaucoma management market. On May 15, 2019, Aerie Pharmaceuticals announced the submission of a new drug application (NDA) to the FDA for roclatan, which is a fixed-dose combination for glaucoma therapy.
However, there have been many drugs recalls for drugs that were launched as part of the glaucoma therapy program. For instance, Allergan had to call its lot of lumigan and combigan due to failure to meet purity qualifications and regulatory standards.
High cost of the therapies and treatment for glaucoma further hinder the growth of the anti-glaucoma market in developing economies. The research and development activities for glaucoma therapies need more extension for companies to launch better products.
Key Market Trends
There has been an increase in prostaglandin analog research, which led to a shift toward the acceptance of this drug class among the patients suffering from glaucoma. In addition, this drug class promises lower side effects and better efficiency as compared to other therapeutic products and treatment options.
Allergan and Novartis AG are focused on the distribution and manufacturing of prostaglandin analogs lumigan and travatan, respectively. A strong focus on mergers and partnerships as well as increase in adoption of product developments are some of the vital strategies that have been adopted by the key players in the anti-glaucoma management market.
In May 2020, the strategies acquisition of Allergan was completed by AbbVie Inc. This acquisition helped AbbVie Inc. to become one of the leaders in the market.
In December 2019, the launch of AIBETA, a product from Senju Pharmaceutical Co., Ltd. was announced. AIBETA is a combination drug to manage hypertension and glaucoma in Japan.
Key Benefits of the Report
This study presents the analytical depiction of the anti-glaucoma management industry along with the current trends and future estimations to determine the imminent investment pockets.
The report presents information related to key drivers, restraints, and opportunities along with a detailed analysis of the anti-glaucoma management market share.
The current market is quantitatively analyzed to highlight the anti-glaucoma management market growth scenario.
Porter's five forces analysis illustrates the potency of buyers & suppliers in the market.
The report provides a detailed anti-glaucoma management market analysis depending on competitive intensity and how the competition will take shape in the coming years.
Questions Answered in the Global Anti-glaucoma Management Market Report
Which are the leading players active in the anti-glaucoma management market?
How is each segment of the market expected to grow during?
What are the adoption trends for anti-glaucoma management in emerging economies and established economies across the world?
What are the current trends that will influence the market in the next few years?
What are the driving factors, restraints, and opportunities of the market?
What future projections would help in taking further strategic steps?
What is anti-glaucoma management?
What is anti-glaucoma management market prediction in the future?
What are the current trends and predicted trends?
 Anti-glaucoma Management Market Report Highlights
Aspects
Details
By Drug Class

Prostaglandin Analogs
Beta-Blockers
Alpha Adrenergic Agonists
Carbonic Anhydrase Inhibitors
Combination Drugs
Others

By Indication

Open-angle Glaucoma
Angle Closure Glaucoma
Others

By End User

Hospitals and Clinics
Surgical Centers
Diagnostic Centers
Others

By Region

North America (U.S., Canada, Mexico)
Europe (Germany, France, UK, Italy, Spain, Rest of Europe)
Asia-Pacific (China, Japan, India, South Korea, Australia, Rest of Asia-Pacific)
LAMEA (Brazil, Saudi Arabia, South Africa, Rest of LAMEA)

Key Market Players
SIFI S.p.A, Novartis AG, Allergan Plc, Merck & Co. Inc., Inotek Pharmaceuticals Corp., Teva Pharmaceutical Industries Ltd., Santen Pharmaceutical Co. Ltd., Aerie Pharmaceuticals Inc., Bausch & Lomb Incorporated (Bausch Health Companies Inc.), Pfizer Inc.