Antibody Drug Conjugates Market Overview:
Antibody Drug Conjugates Market are highly effective biopharmaceutical medications designed as a targeted therapy for cancer treatment. ADC's are designed to eliminate cancer cells only without harming the normal cells. This is a major advantage of ADC's as the unharmed healthy cells enable patients to recover faster. The antibody drug conjugates market was valued at $1,387 million in 2016, and is estimated to reach $3,198 million by 2023, registering a CAGR of 12.9% from 2017 to 2023.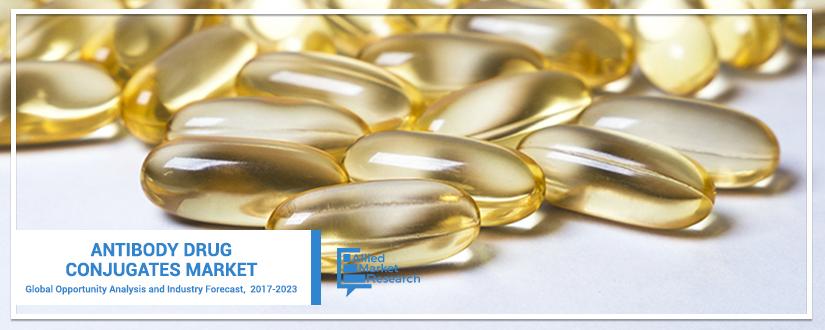 The report segments the market based on drugs, technology, mechanism of action, application, and region. Based on drugs, the market is bifurcated into Adcetris and Kadcyla. Based on mechanism of action, it is classified into CD30 antibodies and HER2 antibodies. Based on application, the antibody drug conjugates market is categorized into breast cancer, lymphoma, and others. By geography, it is analyzed across North America, Europe, Asia-Pacific, and LAMEA.
Global Antibody Drug Conjugates Market Segmentation

Increase in prevalence of cancer worldwide and unhealthy urban lifestyle and surge in consumption of tobacco and alcohol across geographies pose as major cancer risk factors. According to National Cancer Institute "the number of people living beyond cancer diagnosis is expected to reach approximately 19 million by 2024." Increase in demand for cost-effective and quality cancer treatment is expected to drive the ADC's market during the study period.
Global Antibody Drug Conjugates Market, by Geography, 2016 (% Share)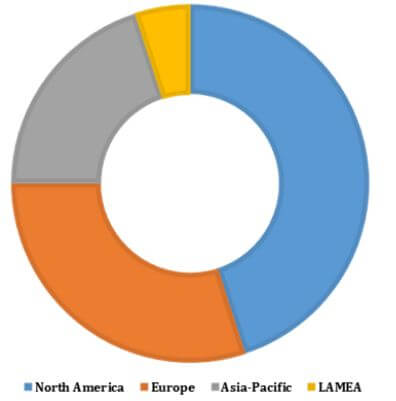 The report provides extensive competitive analysis and profiles of key market players, such as, include F. Hoffman-La Roche Ltd., Novartis AG, Takeda Pharmaceutical Company Limited, Pfizer, Inc., Seattle Genetics Inc., Genentech Inc., Immunogen Inc., Immunomedics, Inc., Progenics Pharmaceuticals Inc. and Bayer Healthcare Pharmaceuticals.
The other players in the value chain include Agensys, Inc., Concortis Biotherapeutics, Sanofi S.A., Celldex Therapeutics Inc., and Synthon Holding B.V.
Key Benefits :
This report entails a detailed quantitative analysis of the current market trends from 2016 to 2023 to identify the prevailing opportunities.
Market estimations are based on comprehensive analysis of the key developments in the industry.
In-depth analysis based on geography assists to understand the regional market and the strategic business planning.
The development strategies adopted by key manufacturers are enlisted to understand the competitive scenario of the antibody drug conjugates market.
Antibody Drug Conjugates Market Key Segments:
By Drugs
By Mechanism Of Action
CD30 Antibodies
HER2 Antibodies
By Application
By Region
North America
Europe

France
Germany
UK
Italy
Spain
The Netherlands
Norway
Russia
Sweden
Switzerland
Rest of Europe

Asia-Pacific

Japan
China
India
Australia
South Korea
New Zealand
Taiwan
Thailand
Rest of Asia-Pacific

LAMEA

Brazil
Saudi Arabia
South Africa
Chile
Columbia
Egypt
Iran
Israel
Turkey
Venezuela
Rest of LAMEA
 Antibody Drug Conjugates Market Report Highlights
Aspects
Details
By DRUGS
By MECHANISM OF ACTION

CD30 ANTIBODIES
HER2 ANTIBODIES

By APPLICATION
By GEOGRAPHY

North America
Europe

France
Germany
Italy
Spain
UK
Russia
Rest of Europe

Asia-Pacific

China
Japan
India
South Korea
Australia
Thailand
Malaysia
Indonesia
Rest of Asia-Pacific

LAMEA

Brazil
South Africa
Saudi Arabia
UAE
Argentina
Rest of LAMEA

Key Market Players
SYNTHON HOLDING B.V., GENENTECH INC., CELLDEX THERAPEUTICS INC., SEATTLE GENETICS INC., BAYER HEALTHCARE PHARMACEUTICALS, PFIZER, INC., SANOFI S.A., IMMUNOMEDICS, INC., IMMUNOGEN INC., PROGENICS PHARMACEUTICALS INC.