Anticoagulants Market Overview:
The global anticoagulants market was valued at $24,265 million in 2017, and is expected to reach $43,427 million by 2025, growing at a CAGR of 7.5% from 2018 to 2025.
Anticoagulant drugs (also known as blood thinners) are chemical substances that prevent or reduce coagulation of blood and prolong the blood clotting time. These drugs are majorly used for high risk of blood clots in various medical conditions, such as atrial fibrillation, deep vein thrombosis, myocardial infarction, pulmonary embolism, stroke, and others. The global anticoagulants industry is anticipated to show significant growth during the forecast period, owing to increasing prevalence of venous thromboembolism (VTE) and cardiovascular disorders, growing adoption of novel oral anticoagulants (NOACs), and rising awareness of NOACs in the developing region. Furthermore, increase in number of obese and elderly people, higher unmet needs, and surge in demand of novel therapeutics further support the market growth. However, higher price of NOACs and lack of antidots for NOACs impede the market growth.
Anticoagulants Market Segmentation
The global anticoagulants market is segmented based on drug class, route of administration, application, and region. On the basis of drug class, the anticoagulants market is classified as NOACs, heparin and LMWH, vitamin K antagonist, and others. By route of administration, the market is segmented as oral anticoagulant and injectable anticoagulant. The various application markets are atrial fibrillation & heart attack, stroke, deep vein thrombosis (DVT), pulmonary embolism (PE), and others. Region-wise, the market is studied across North America (U.S., Canada, and Mexico), Europe (Germany, France, UK, Italy, Spain, and rest of Europe), Asia-Pacific (China, Japan, Australia, India, South Korea, and rest of Asia-Pacific), and LAMEA (Brazil, South Africa, Saudi Arabia, and rest of LAMEA).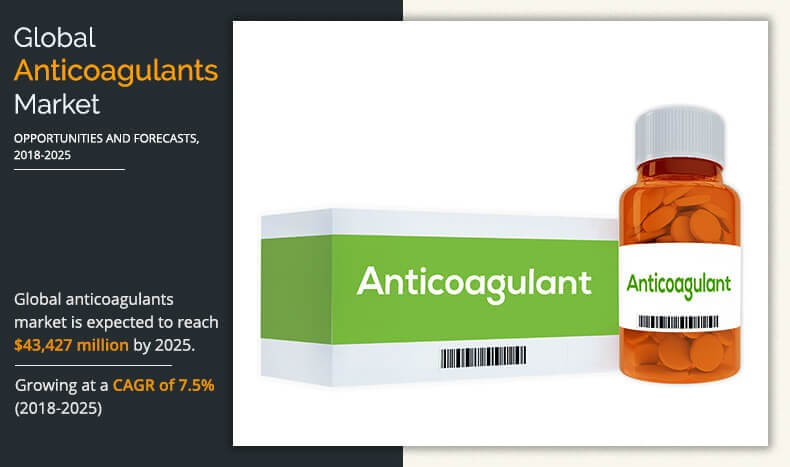 Segment Review
Presently, the NOACs segment is a major revenue-generating segment in the anticoagulants market and is anticipated to show dominance during the forecast period, owing to growing adoption of NOACs in developing countries and rising use of NOACs over the warfarin. Presently, NOACs drugs, such as rivaroxaban, betrixaban, apixaban, edoxaban, and dabigatran, are available in the market. Furthermore, NOACs offer various advantages over the warfarin, such as rapid onset action, lesser interaction with drugs and food, predictable pharmacokinetic action, shorter half-life, and no dietary restriction. These have been further supporting the market growth. On the other side, lack of antidote for NOACs and higher price impede the anticoagulants industry growth.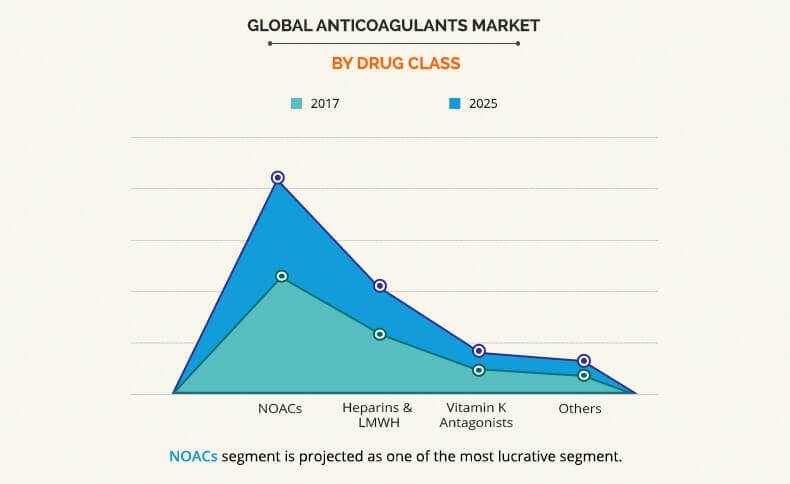 Presently, the atrial fibrillation & heart attack segment is a major revenue contributor and is anticipated to show dominance throughout the forecast period, owing to large target population and increased use of anticoagulants in treatment of these conditions. However, DVT is expected to witness fastest market growth, owing to  increased prevalence of DVT and technological advancement in diagnosis of DVT.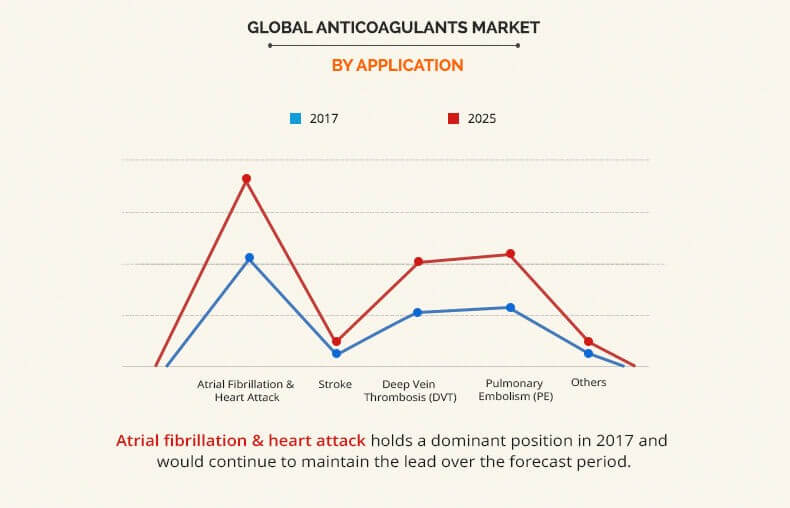 Snapshot of the Asia-Pacific Anticoagulants Market
The Asia-Pacific region represents lucrative opportunities for players operating in the anticoagulants market, attributable to its increasing population base, rising prevalence of cardiovascular disease and VTE, developing economies, improving diagnosis rate, and growing demand for ideal therapeutics. Furthermore, continuous economic development with developing healthcare infrastructure and improving healthcare awareness have been further supporting the market growth. However, treatment expenses for anticoagulant drugs are anticipated to hamper the market growth in Asia-Pacific.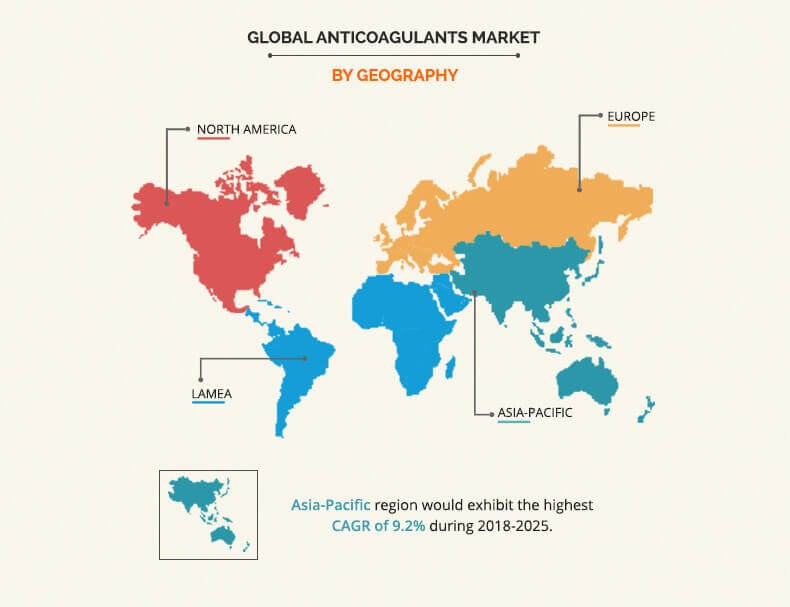 The key players profiled in this report of anticoagulants market include Aspen Holdings, Bayer AG, Boehringer Ingelheim GmbH, Bristol-Myers Squibb Company, Daiichi Sankyo Company, Limited, GlaxoSmithKline plc., Johnson & Johnson (Janssen Pharmaceuticals, Inc.), Pfizer, Inc., Portola Pharmaceuticals, Inc., and Sanofi S.A.
Key Benefits
The study provides an in-depth analysis of the anticoagulants market size along with the current trends and future estimations to elucidate the imminent investment pockets.
It offers a quantitative analysis from 2017 to 2025, which is expected to enable the stakeholders to capitalize on the predominant anticoagulants market opportunities.
A comprehensive analysis of all the geographical regions is provided to determine the prevailing opportunities.
The profiles and growth strategies of the key players are thoroughly analyzed to understand the competitive outlook of the global anticoagulants market.
Anticoagulants Market Key Segments:
By Drug Class
NOACs

Eliquis
Bevyxxa
Xarelto
Savaysa & lixiana
Pradaxa

Heparin & LMWH
Vitamin K Antagonist
Others
By Route Of Administration
Oral anticoagulant
Injectable anticoagulant
By Application
Atrial fibrillation & heart attack
Stroke
Deep vein thrombosis (DVT)
Pulmonary embolism (PE)
Others
By Region
North America
Europe

Germany
France
UK
Italy
Spain
Rest of Europe

Asia-Pacific

Japan
China
Australia
South Korea
India
Rest of Asia-Pacific

LAMEA

Brazil
South Africa
Saudi Arabia
Rest of LAMEA