Antipsychotic Drugs Market Overview:
The global antipsychotic drugs market size was valued at $12,417.60 million in 2020, and is estimated to reach $26,041.00 million by 2030, growing at a CAGR of 8.0% from 2021 to 2030. Antipsychotic drugs are medications used in treatment of psychosis including schizophrenia and bipolar disorder. Psychosis is a critical symptom that occurs due to mental illness, including loss with reality affecting how one processes information.  
COVID-19 have had a huge impact on the antipsychotic drugs market and caused disruption to care and treatment. Some specialized mental health provision has been cut to increase capacity to treat physical impact of COVID-19. A number of general hospital psychiatric wards have been converted into COVID-19 wards, meaning large number of severally ill people are moved out.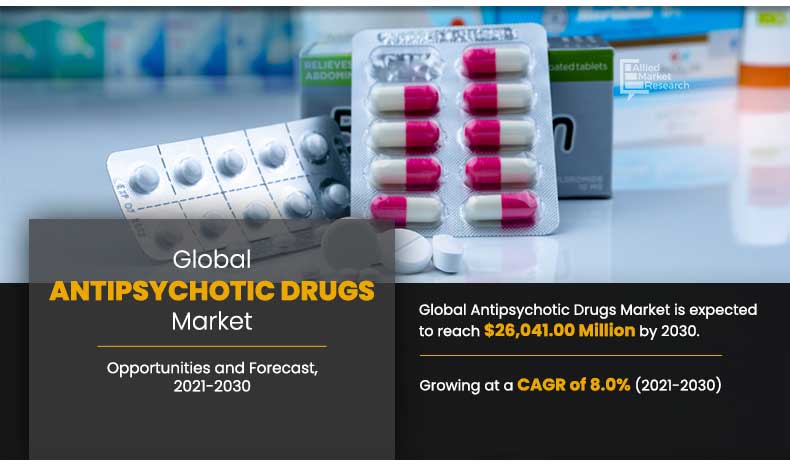 In Buenos Aires, Argentina, a neurological institute reported over 99% reduction in patient encounters since COVID-19. Community-based psychosocial support activities have also been severely impacted with many countries seeing groups, associations, and community-based initiatives that brought people together regularly before the pandemic unable to meet for months. Demand for face-to-face mental health services has reportedly decreased due to fear of infection, especially among older people. In addition, many services have had to switch to remote healthcare, providing consultations through digital platforms or by phone, to varying degrees of success. Moreover, many patients have been nervous about going to the pharmacy to pick up prescriptions, and physicians can recommend useful over-the-counter medicines and provide instructions on how to administer prescription and non-prescription medicines all through telemedicine. This is anticipated to increase the market growth in the future.
Increase in prevalence of mental disorders, rise in geriatric population, and growth in awareness program regarding mental health drive the market growth. Moreover, growing awareness about mental disorders through education and advocacy for more respect of human rights and less stigma drive growth of the global antipsychotic drugs market. However, rise in cost of mental health programs and substance abuse is expected to hamper the market growth.
The global market for antipsychotic drugs is anticipated to witness positive growth trends, owing to strong increase in prevalence of psychotic disorders. This increase in number of patient pools across the globe is anticipated to drive growth of the market. For instance, according to the Global Burden of Disease Study, there is an increase in disease burden due to schizophrenia globally, especially in middle-income countries and low-income countries.
According to the data published by Medscape in 2019, lifelong prevalence rate of bipolar disorder was estimated to be 0.3–1.5%. However, in recent years, the prevalence of the bipolar disorder has increased substantially. This has led several pharmaceutical companies to engage in R&D of antipsychotic medications, leading to new product launches. Such factors are expected to drive growth of the global antipsychotic drugs market during the forecast period.
Antipsychotic Drugs Market

---
By Therapeutic Class
Second Generation segment holds the dominant position in 2020 and would continue to maintain the lead over the forecast period.
Antipsychotic Drugs Market Segmentation
The global antipsychotic drugs market is segmented into therapeutic class, application, distribution channel, and region. By therapeutic class, the market is categorized into first-generation and second-generation. By application, it is categorized into schizophrenia, dementia, bipolar disorder, depression and others. By distribution channel, it is divided into a hospital pharmacies, retail pharmacies, and online pharmacies. 
Region wise, the market is analyzed across North America (the U.S., Canada, and Mexico), Europe (Germany, France, the UK, Italy, Spain, and rest of Europe), Asia-Pacific (Japan, China, India, Australia, and rest of Asia-Pacific), and LAMEA (Brazil, South Africa, Saudi Arabia, and rest of LAMEA).
Antipsychotic Drugs Market

---
By Application
Schizophrenia segment is projected as one of the most lucrative segments.
Segment review
Depending on therapeutic class, the second-generation segment was the major revenue contributor in 2020, and is anticipated to remain dominant during the forecast period. Long-acting injectable antipsychotic drugs have the efficacy of daily pills and eliminate the need to monitor drug intake of patients. Hence, the number of benefits attributed to this form of antipsychotic has led to a greater degree of product adoption.
On the basis of application, the schizophrenia segment dominated the market in 2020, and is anticipated to continue this trend during the forecast period. This is attributed to rapidly increase in incidences of schizophrenic disorders, owing to change in lifestyle. 
Antipsychotic Drugs Market

---
By Distribution Channel
Retail Pharmacies segment holds the dominant position in 2020 and would continue to maintain the lead over the forecast period.
North America was the largest shareholder in the global antipsychotic drugs market in 2020, owing to its well-established healthcare infrastructure, surge in adoption of mental healthcare services, increase in geriatric population, and rise in prevalence of mental diseases. However, Asia-Pacific is anticipated to register the highest CAGR during the forecast period, owing to increase in health awareness, development in healthcare infrastructure, and rise in number of hospitals equipped with advanced medical facilities. 
The key players operating in the global market include Eli Lily and Company, AstraZeneca plc, GlaxoSmithKline plc, Johnson & Johnson, Otsuka Pharmaceutical Co, Ltd., Pfizer Inc., AbbVie Inc., Bristol-Myers Squibb, Teva Pharmaceuticals, and Dr. Reddy's Laboratories.
Antipsychotic Drugs Market

---
By Region
Asia-Pacific region would exhibit the highest CAGR of 9.8% during 2021-2030
Key Benefits For Stakeholders
The study provides an in-depth analysis of the antipsychotic drugs market, and the current trends and future estimations to elucidate the imminent investment pockets.
It presents a quantitative analysis of the market from 2021 to 2030 to enable stakeholders to capitalize on the prevailing antipsychotic drugs market opportunities.
Extensive analysis of the market based on procedures and services assists to understand the trends in the industry.
Key players and their strategies are thoroughly analyzed to understand the competitive outlook of the antipsychotic drugs market.
 Antipsychotic Drugs Market Report Highlights
Aspects
Details
BY THERAPEUTIC CLASS

First-generation
Second-generation

BY APPLICATION

Schizophrenia
Dementia
Bipolar disorder
Depression
Others

BY DISTRIBUTION CHANNEL

Hospital Pharmacies
Retail Pharmacies
Online Pharmacies

BY REGION

North America (U.S, Canada, Mexico)
Europe (Germany, France, UK, Italy, Spain, .Rest of Europe)
Asia-Pacific (Japan, China, Australia, India, South Korea, Rest of Asia-Pacific)
LAMEA (Brazil, Saudi Arabia, South Africa, Rest of LAMEA)

Key Market Players
ABBVIE INC. (ALLERGAN INC.), ALKERMES PLC., ASTRAZENECA PLC., BRISTOL-MYERS SQUIBB, DR. REDDY'S LABORATORIES LIMITED, ELI LILLY AND COMPANY, JOHNSON & JOHNSON (JANSSEN PHARMACEUTICALS), OTSUKA HOLDINGS CO., LTD. (OTSUKA PHARMACEUTICAL CO., LTD.), PFIZER INC., TEVA PHARMACEUTICAL INDUSTRIES LTD.