Application Server Market Research, 2031
The global application server market was valued at $17 billion in 2021, and is projected to reach $53.3 billion by 2031, growing at a CAGR of 12% from 2022 to 2031.
COVID-19 has forced billions of organizations around the world to adopt remote work policies. The transition has led to a rapid increase in demand for tools to support remote teams and workflows. The current estimation of 2031 is projected to be higher than pre-COVID-19 estimates. The COVID-19 outbreak has high impact on the growth of the application server market, as increasing number of smartphone users, growing adoption of connected devices, and surging e-commerce sector provide lucrative opportunities for the growth of the application server market. COVID has caused crises in social, economic, and energy areas and medical life worldwide throughout 2020.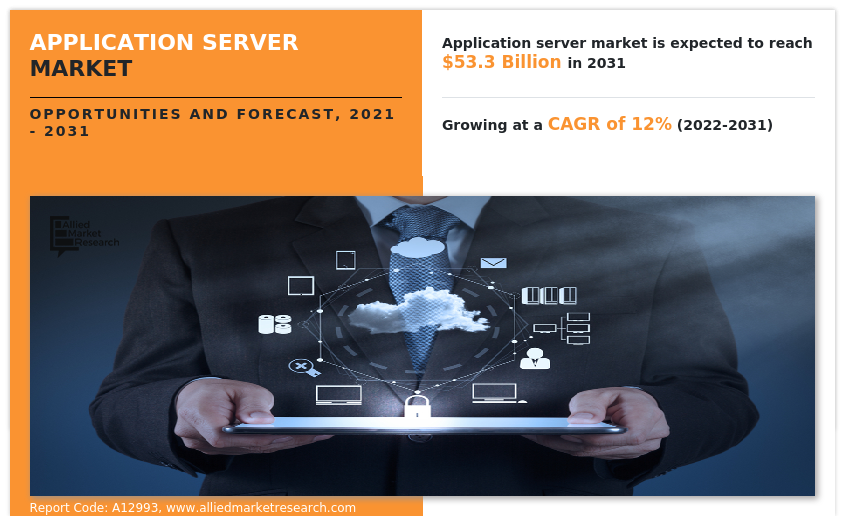 The application server market is segmented into application server, deployment model, end-use vertical and region.
Application servers are created particularly to host, operate, and install web - based applications. They operate as server environments for executing applications, tools for developing web applications, middleware services for security and maintenance, and simple data access.
The spectrum of application servers is further expanded by other fields including mobile device systems, data distribution, and fast changes in wireless networks. Web application servers are widely used by businesses to manage their databases and back-end operations. Additional features offered by contemporary application servers include security, scalability, database administration, end-user traffic control, and others.
The application server market is expected to witness notable growth during the forecast period, owing to increase in spending on data center infrastructures. Furthermore, rising adoption of seamless P2P networks along with increasing dependency on smart device applications have driven the growth of the market. However, high initial cost of installation and maintenance is the prime factor restraining the market growth. On the contrary, surge in rapid development in IT and cloud-computing solutions is expected to propel the application server market growth during the forecast period.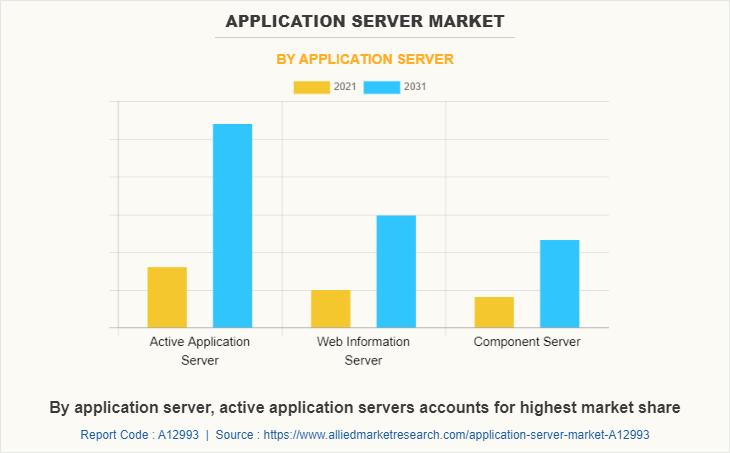 A web information server is one that does not need a receiver to retain session state from earlier queries. Sender delivers relevant session state to the receiver in such a way that each request may be understood without reference to the session state of previous requests, which the receiver retains. HTTP (hypertext transfer protocol) is an example of a web information server since each request is performed independently of ones that came before it. This means that after a transaction is done, connection between browser and server is automatically deactivated. Web information server often known as stateless servers are largely used for generating pages from database by employing HTML templates.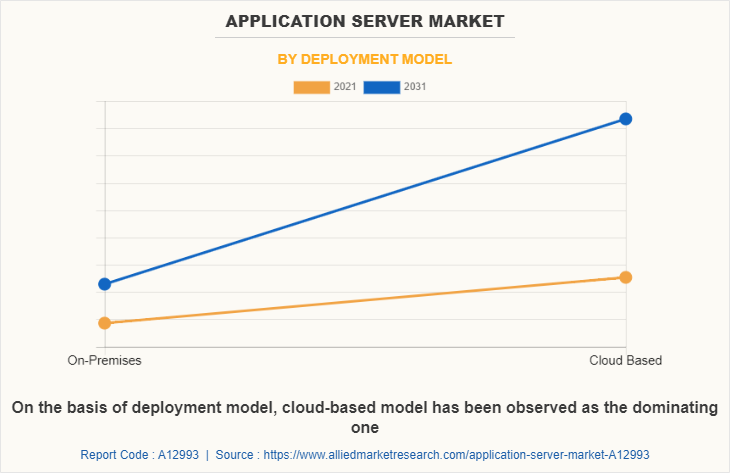 Due to the practical options and substantial customization provided by on-premise software deployment, many businesses increasingly embrace this type on-premises model. On-premise setup offers superior data protection while allowing businesses to comply with various regulatory standards. The on-premise implementation also enables big businesses to manage who has access to private information. Hence, adoption of on-premise-based application server is fuelled by the fact that on-premise deployments provide targeted users, enhanced control on how security is established, monitored, and contained. In addition, on-premise deployment models are frequently simpler for new users of HTTP and TFTP server.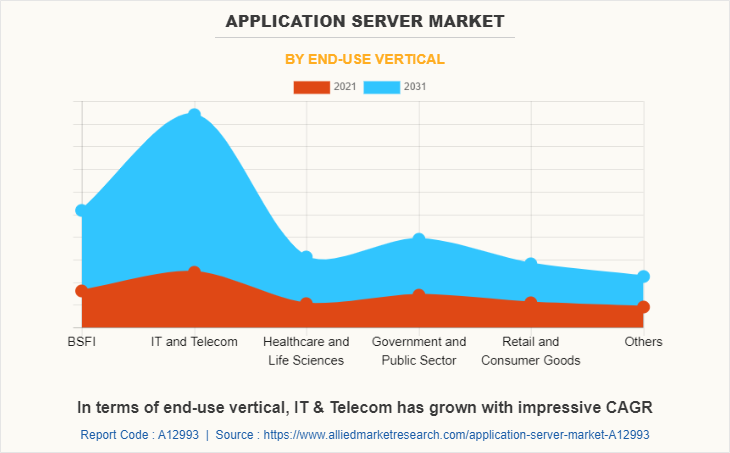 The primary drivers for the market growth in the BFSI industry include increase in requirement to optimize banking processes such as maintaining current accounts, on boarding new customers, and servicing mortgages. In addition, rise in consumer demand for retail banking services such as rapidity, civility, and correctness is anticipated to boost the market expansion. Other significant aspects that contribute toward the market expansion in the BFSI sector include expanding need for tools necessary to meet these demands and desire to forge closer bonds with consumers. Moreover, surge in demand for complete, sector-specific solutions to optimize back- and front-office operations and enhance customer service in various branches propel the market growth.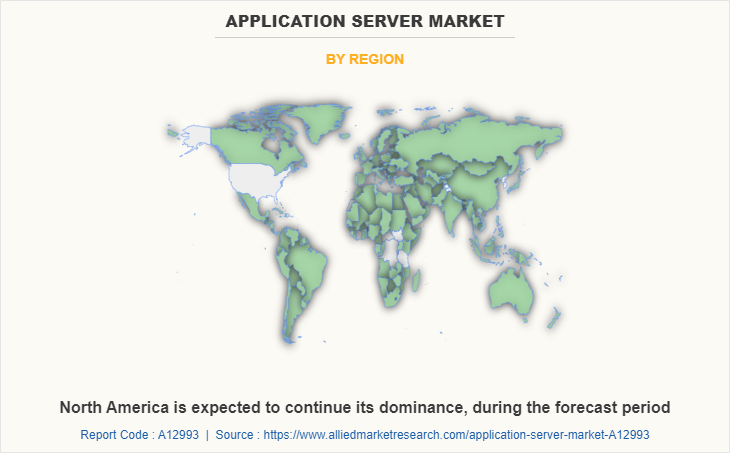 Region-wise, the application server market trends are analyzed across North America (U.S. and Canada), Europe (Germany, Italy, France, Spain, UK, and Rest of Europe), Asia-Pacific (China, Japan, India, South Korea, Australia and Rest of Asia-Pacific), and LAMEA (Latin America, the Middle East, and Africa). North America, specifically U.S. and Canada, remains a significant participant in the global application server industry. Major organizations and government institutions in the country are have been actively using application servers.
TOP IMPACTING FACTORS
Significant factors that impact the growth of the global application server market share include rapid cloud computing solutions, rising adoption of digitalization along with dependency on smart device applications. Growing demand for effective data center infrastructure and surge in adoption of seamless P2P networks have positively impacted the market's growth. However, high initial cost of integration and deployment, hampers the growth of this market. On the contrary, surge in development in IT and cloud-computing solutions have provide potential rise in prevalence for cloud-based application servers that is expected to provide lucrative market opportunity during the forecast period.
COMPETITION ANALYSIS
Competitive analysis and profiles of the major application server industry players, such as Adobe Inc., Apache Software Foundation, Dell Technologies, Inc., Hitachi Ltd., International Business Machines (IBM) Corporation, Microsoft Corporation, Oracle Corporation, SAP SE, TIBCO Software Inc. and VMware, Inc. are provided in this report.
KEY BENEFITS FOR STAKEHOLDERS
This study comprises analytical depiction of the application server market size along with the current trends and future estimations to depict the imminent investment pockets.

The overall application server market analysis is determined to understand the profitable trends to gain a stronger foothold.

The report presents information related to key drivers, restraints, and opportunities with a detailed impact analysis.

The current application server market forecast is quantitatively analyzed from 2021 to 2031 to benchmark the financial competency.

Porter's five forces analysis illustrates the potency of the buyers and suppliers in the smart display.

The report includes the market share of key vendors and application server market trends.
 Application Server Market Report Highlights
Aspects
Details
Market Size By 2031
USD 53.3 billion
Growth Rate
CAGR of 12%
Forecast period
2021 - 2031
Report Pages
192
By Application Server

Active Application Server
Web Information Server
Component Server

By Deployment Model
By End-Use Vertical

BSFI
IT and Telecom
Healthcare and Life Sciences
Government and Public Sector
Retail and Consumer Goods
Others

By Region

North America (U.S., Canada)
Europe (Germany, Italy, France, Spain, UK, Rest Of Europe)
Asia-Pacific (China, Japan, India, South Korea, Australia, Rest Of Asia-Pacific)
LAMEA (Latin America, Middle East, Africa)

Key Market Players
SAP SE, International Business Machines Corporation, Microsoft Corporation, Oracle Corporation, TIBCO Software Inc., Dell Technologies Inc., Adobe Inc., Hitachi,Ltd, the apache software foundation, VMware, Inc.