Augmented Reality (AR) in Healthcare Market Opportunity:
The global AR in Healthcare market size was valued at $609.60 million in 2018 and is projected to reach $4,237.60 million by 2026, registering a CAGR of 27.4% from 2019 to 2026. Augmented reality is the use of cameras, displays, and sensors to superimpose digital information onto the real world, thereby allowing users to bring the most useful data into perception of the environment. Advances in display and sensor technology along with various software's has made the AR revolution possible in healthcare. AR in healthcare has helped surgeons as well as nurses and doctors to interact with patients using AR applications. These applications gives the healthcare professionals the ability to visualize and interact with 3D representations of the bodies. 
AR not only helps the medical professionals, but it is benefitting the patients with medical education by allowing them to understand several surgical procedures. The most common practical application of AR used currently is vein visualization. AR has helped eliminating the uncomforting caused by being injected or difficulty finding the nerve. Augmented reality market finds its application in surgical visualization along with medical training.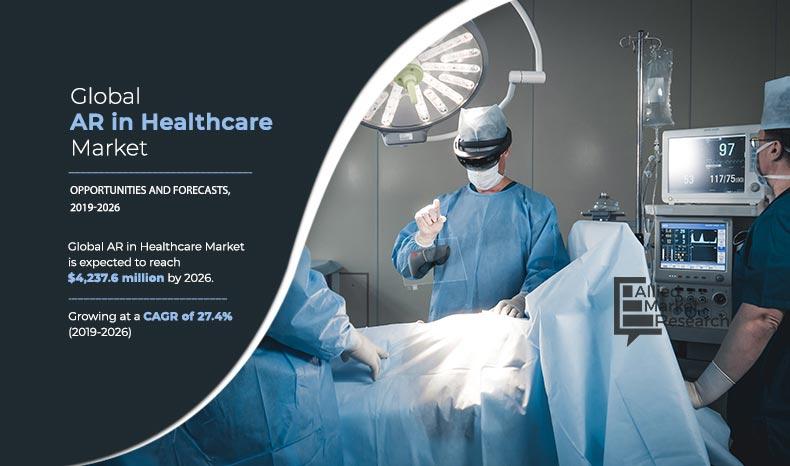 The major factors driving the AR in healthcare market growth consist of increasing usage of augmented reality in diagnostic imaging, surgical simulation, rehabilitation, and patient care management. Furthermore, increasing number if AR based startups and growing investment in these technologies are expected to further boost the growth of AR in healthcare market across the globe. On the contrary, concerns regarding data privacy and lack of proper healthcare infrastructure are some of the foremost barriers hampering the market growth. Conversely, increasing private investments and growing government support for integration of these technologies into the healthcare system are likely to provide newer opportunities for the growth of the AR in Healthcare market in coming future.
AR in healthcare Market

---
By End User
Hospitals and Clinics segment holds a dominant position in 2018 and would continue to maintain the lead over the forecast period.
The AR in healthcare market is segmented on the basis of product type, technology, end-user, and region. By product type, it is classified into AR Displays, AR sensors, AR input devices, AR semiconductor components, and others. By technology, it is divided into head mounted devices and handheld devices. On the basis of end-user, it is segmented into hospitals & clinics, research laboratories, and others. Region wise, the market is analyzed across North America, Europe, Asia-Pacific, and LAMEA. 
AR in healthcare Market

---
By Product
AR Input Devices segment is projected as one of the most lucrative segment.
Segment review
Based on product type, the AR input devices segment was the major contributor in 2018 and is anticipated to continue this trend during the forecast period due to increasing usage of AR devices in healthcare procedures and practices. Based on end user, the hospitals and clinics segment is the highest revenue contributor owing to growing adoption of AR in medical training and education. Augmented reality allows the surgeons to study the patient's anatomy precisely in hospitals before actually opting for the surgery. 
AR in healthcare Market

---
By Region
North America segment holds a dominant position in 2018 and would continue to maintain the lead over the forecast period.
Region Segment Review
North America held a dominant share in the global AR market for healthcare in 2018, in terms of revenue and is anticipated to maintain its dominant position over the forecasting period. Increasing private and government funding towards developing these technologies in healthcare sector and availability of advanced healthcare infrastructure in the region is responsible for the growth of AR in healthcare market. For instance, the U.S. government is making considerable investments in order to integrate AR across various industry verticals thereby providing start-ups, vendors and manufacturers with business opportunities. Furthermore, use of AR in medical training by several universities and institutions are factors driving the market growth. 
The report provides a comprehensive analysis of the key players operating in the global AR in healthcare market, which include Microsoft Corporation, Alphabet Inc. (Google), Sony Corporation, Siemens (Siemens Healthcare), Koninklijke Philips N.V. (Philips), AccuVein Inc., EchoPixel, DAQRI, Atheer, Inc, and Orca Health, Inc. Some of the other players operating in the market are Augmedix, VirtaMed, Blippar, CAE Healthcare, Magic Leap, Inc., Virtually Better and Osterhout Design Group, among others.
Key Benefits for Stakeholders:
This report provides a detailed quantitative analysis of the current AR in healthcare market trends and estimations from 2018 to 2026, which assists to identify the prevailing opportunities.
An in-depth market analysis of various regions is anticipated to provide a detailed understanding of the current trends to enable stakeholders formulate region-specific plans.
A comprehensive analysis of the factors that drive and restrain the AR in healthcare market growth is provided.
Region-wise and country-wise market conditions are comprehensively analyzed in this report.
The projections in this report are made by analyzing the current trends and future market potential from 2019 to 2026 in terms of value.
An extensive analysis of various regions provides insights that are expected to allow companies to strategically plan their business moves.
The key players within the market are profiled in this report and their strategies are analyzed thoroughly, which helps understand the competitive outlook of the global augmented reality in healthcare market.
 AR in healthcare Market Report Highlights
Aspects
Details
By Technology

Head Mounted Devices
Handheld Devices

By Product

AR Displays
AR Sensors
AR Input Devices
AR Semiconductor Components
Other

By End User

Hospitals and Clinics
Research Laboratories
Others

By Region

North America (U.S., Canada, Mexico)
Europe (Germany, France, UK, Italy, Spain, Rest of Europe)
Asia-Pacific (Japan, China, India, Rest of Asia-Pacific)
LAMEA (Brazil, Saudi Arabia, South Africa, Rest of LAMEA)

Key Market Players
Microsoft Corporation, Siemens (Siemens Healthcare), Sony Corporation, Alphabet Inc. (Google), Koninklijke Philips N.V. (Philips), EchoPixel, Atheer, Inc, Orca Health, Inc., AccuVein Inc., DAQRI