Artificial Intelligence as a Service (AIaaS) Market Statistics: 2025
The global AI as a service market size is expected to reach $77,047.7 million in 2025, from $2,397.2 million in 2017, growing at a CAGR of 56.7% from 2018 to 2025. Artificial Intelligence as a Service (AIaaS) is a third-party provision of artificial intelligence (AI) outsourcing. It enables people and organizations to explore different avenues for different purposes without high investment for initial installation and involves low risk. Most smart vendors, whether software firms, consultants, or professional service firms, offer or partner with firms that can offer a full suite of services to help support a large-scale AI solution. This is due to the fact that AI market service companies are aware about the fact that it is no longer sufficient to simply offer AI software or AI tool sets to their clients. Companies such as Google, IBM, Microsoft, and other leading players have actively implemented AI services as an important part of their technologies.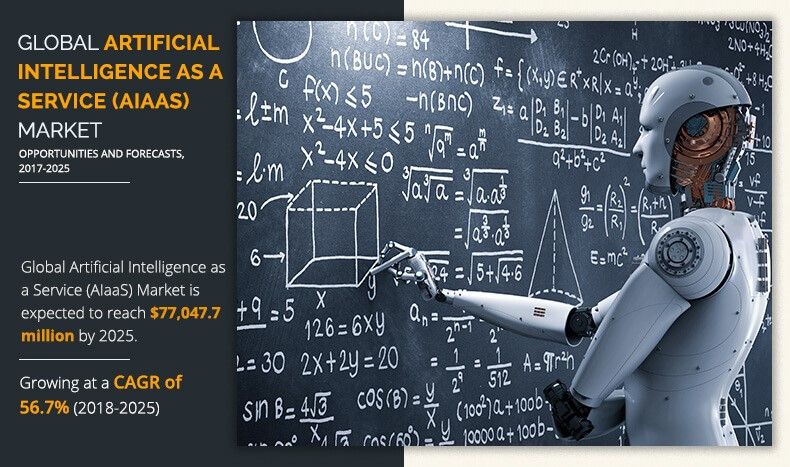 The growth in expenditure on adoption of artificial intelligence and technological advancement for workflow optimization increase the demand for advanced analytical systems in the market. Moreover, rise in adoption of cloud-based solutions and surge in requirement for artificial intelligence and cognitive computing market are the major factors that boost the growth of the market. However, dearth of trained professionals is expected to hinder the growth. Furthermore, increased application areas and growth in demand for IoT are projected to provide lucrative opportunities for the artificial intelligence as a service market.
Segmentation
The global AIaaS market is segmented by technology, organization size, industry vertical, and region. The technology segment is divided into machine learning, computer vision, natural language processing, and others. In 2017, the machine learning segment dominated the market, in terms of revenue, and is expected to remain dominant during the forecast period, owing to increase in adoption of artificial intelligence industry solutions.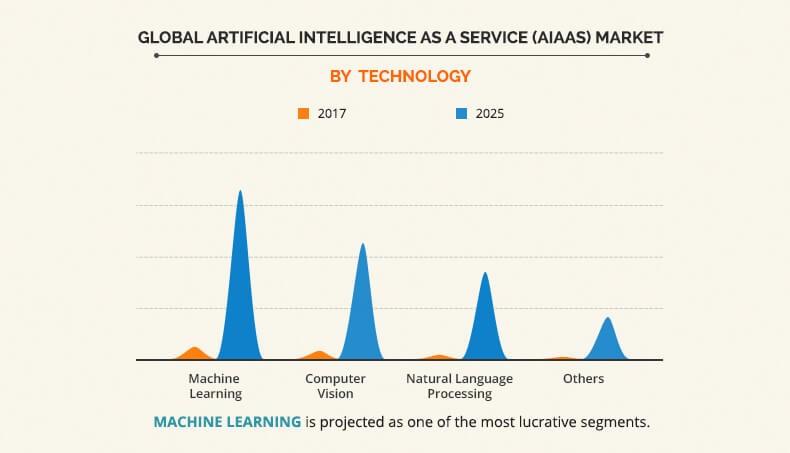 Based on organization size, the AIaaS market is bifurcated into small & medium enterprise and large enterprise. The large enterprise segment secured the highest market share during 2017, owing to increased demand for artificial intelligence in various end-user industries, and it is anticipated to grow at the highest CAGR during the forecast period. Based on industry vertical, the market is categorized into BFSI, retail, telecom & IT, healthcare, manufacturing, public sector, energy & utility, and others (agriculture, law, media & advertising, and educational institution). The IT & telecom segment is anticipated to dominate the global artificial intelligence as a service market throughout the forecast period.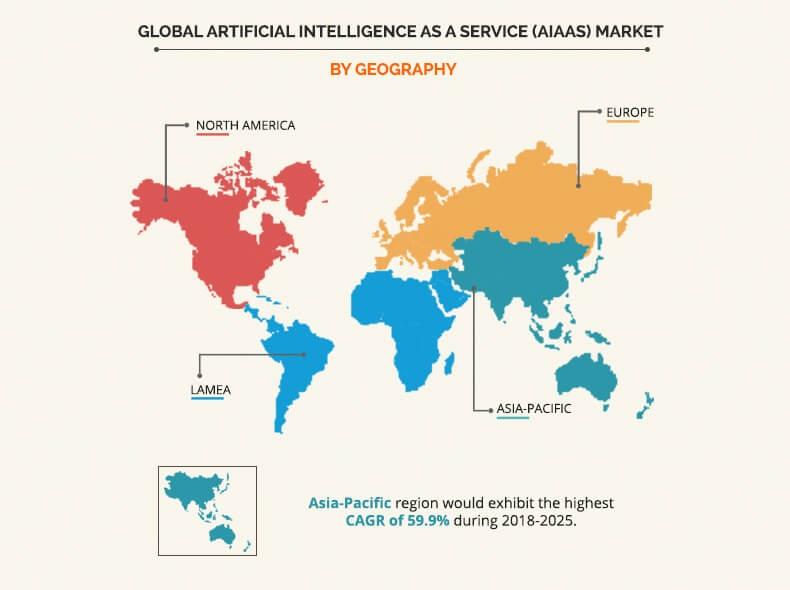 Based on region, the AIaaS market is analyzed across North America, Europe, Asia-Pacific, and LAMEA. In 2017, North America contributed the highest share in the artificial intelligence market and is anticipated to secure the leading position during the forecast period, owing to the presence of large enterprises and IT infrastructure.
Competition Analysis
Competitive analysis and profiles of the major artificial intelligence as a service market players, such as Alphabet Inc. (Google Inc.), IBM Corporation, Apple Inc., Intel, Inc., SAP SE, Salesforce, Inc., Fair Isaac Corporation, and CognitiveScale, Inc. are provided in this report. The key strategies adopted by the key players from 2016 to 2018 were product launches, acquisitions, and collaborations. The companies focus on the development of new platforms and services to deal with growth in competition in the market. For instance, Amazon Web Service launched Amazon Transcribe, a fully managed and continuously trained automatic speech recognition service, which offers speech-to-text conversion and helps differentiate between speakers.
Key Benefits for Stakeholders
The report provides an extensive analysis of the current and emerging market trends, and dynamics in the global artificial intelligence as a service market.
In-depth analysis is conducted by constructing market estimations for the key market segments between 2018 and 2025.
Extensive analysis of the AIaaS market is conducted by following key product positioning and monitoring of the top competitors within the market framework.
A comprehensive analysis of all regions is provided to determine the prevailing opportunities in these geographies.
Key market players within the AI as a service market are profiled in this report and their strategies are analyzed thoroughly, which help understand the competitive outlook of the global AI as a service market.
 Artificial Intelligence as a Service (AIaaS) Market Report Highlights
Aspects
Details
By Technology

Machine learning (ML)
Computer Vision
Natural Language Processing (NLP)
Others

By Organization Size

Small & Medium Enterprise
Large Enterprise

By Industry Vertical

BFSI
IT & Telecom
Retail
Manufacturing
Public Sector
Energy & Utility
Healthcare
Others

By Region

North America (U.S., Canada, Mexico)
Europe (Germany, UK, France, Russia, . Rest of Europe)
Asia-Pacific (China, Japan, India, Australia, Rest of Asia-Pacific)
LAMEA (Latin America, Middle East, Africa)

Key Market Players
Microsoft Corporation, SAP SE, Apple Inc., CognitiveScale, Inc., Alphabet Inc. (Google LLC), Intel Corporation, Fair Isaac Corporation, salesforce.com, inc., International Business Management Corporation, Amazon.Com, Inc. (Amazon Web Services, Inc.)