Artificial Intelligence in Cyber Security Market Insights 
Artificial Intelligence (AI) is a technology that enables machinery, software, and systems to replicate human intelligence and behavior in the form of computer interactions. Major adoption of AI system is driven by the use of complex algorithms to grasp information and perform various monotonous tasks automated. AI plays an important role in cyber security. AI in cyber security enables expertise to analyze, study, and recognize cyber-crime features such as facial recognition software, speech recognition technology, and Google's search engine. Emergence of AI improves cyber security technologies and are used to act against cybercriminals. AI in cyber security is designed in such a way that it responds to the cyber-attacks within a milliseconds. The concept is widely applicable in anti-fraud techniques, vulnerability, and security management.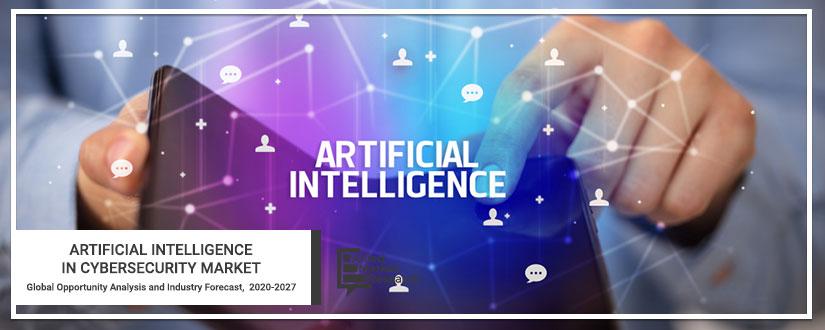 COVID-19 Scenario Analysis: 
The COVID-19 pandemic has led many employees to work from home and students to learn virtually, therefore, enterprise virtual private network (VPN) servers have now become a support to major companies/schools. Protection of one's IT infrastructure through security and availability of security framework is expected be a major focus going forward. There is a possibility that an organization's unpreparedness can lead to security misconfiguration in VPNs, thereby exposing sensitive information on the internet and  devices to Denial of Service (DoS) attacks. In addition, some users use personal computers to perform official duties, which could also pose a great amount of risk for organizations.
Working of many security teams is likely to be reduced, owing to the COVID-19 pandemic, thereby making detection of malicious activities difficult and response to these activities even more complicated. Revising patches on systems may also act as a challenge if security teams are not operational.
Organizations should take hands-on steps by advising their staff and customers to be more attentive and cautious especially while opening links, emails, or documents related to the subject COVID-19.
Organizations should safeguard their detection and alerting capabilities, while keeping an eye on the impact of having many remote workers.
Top impacting factors: Market Scenario Analysis, Trends, Drivers, and Impact Analysis
Rise in number of cybercrimes drives the artificial intelligence (AI) in cyber security market. Global increase in IoT adoption and number of connected devices have simultaneously severed the risk of cyber attacks. Most mutual cyber frauds occurred and registered by large companies such as payment card thefts and identities, if not resolved on time can lead to huge financial losses. Thus, adoption of advance security AI solutions is expected to propel growth of the market. AI security solutions not only provide broader security as compared to human capabilities but also streamline complete acknowledgment and recognition procedures related to cyber frauds. Thereby, rise in cyber security risk occurrences is further expected to boost the adoption of AI technology in cyber security market. However, dearth of AI technical expertise for advance software implementation can hamper the AI in cyber security market growth. Contrarily, rise in demand for cloud-based security solutions among small and medium businesses and increase in use of digital media for business expansion are the opportunity factors for the global market. 
Rise in instances of cyber threats
Ongoing digitization  is expected to  increase with a fast pace in the coming years. One of the most significant and critical threats it poses is that our personal information is at risk like never before. Cyber-attacks are prevalent and affect every individual, business, and government. AI has proven to be enormously useful when it comes to identifying and detecting cyber threats based on analyzing data and recognizing a threat before it exploits a susceptibility in information systems. Developers are using AI to improve biometric authentication and get rid of limitations to make it a reliable system. The best example is Apple's iPhone X devices, which uses face recognition technology. The technology 'Face ID,' identifies user's facial features via neural engines and built-in infra-red sensors. This AI software creates a sophisticated model of user's face by identifying key patterns and correlation. Apple claims that with this technology, there is only one-in-a-million chance of misleading the AI and opening your device with another face. Thus, AI is proven to be a prominent technology to help companies be prepared against cyber threats.
Lack of technical expertise for AI
Major industries are investing in AI but owing to dearth of in-house skilled talent, industries are lack to execute their AI strategies. Implementing an AI system requires technical expertise, which helps AI to deal with high-level machine reasoning, talent search with applications, and implementation of client models. Recruitment and up skilling are intertwined problems when it comes to addressing AI skill gaps.  Certainly, deficiency of skilled talent is expected to be a major barrier in progressing AI initiatives among industries, followed by lack of budget, lack of access to right technology, and lack of access to useful data. A report published by (ISC)², Inc. predicted that the U.S. cyber security workforce would grow by 62% in the coming years to meet business needs for business operational abilities. Globally, the numbers are even more intimidating, as organizations that adopted cyber security solutions calculated that the global cyber security workforce needs to grow by 145% to eliminate skill gaps.
Key benefits of the report:
This study presents the analytical depiction of the global artificial intelligence in cyber security industry along with the current trends and future estimations to determine the imminent investment pockets.
The report presents information related to key drivers, restraints, and opportunities along with detailed analysis of the market share.
The current market is quantitatively analyzed to highlight the market growth scenario.
Porter's five forces analysis illustrates the potency of buyers & suppliers in the market. 
The report provides a detailed market analysis based on the present and future competitive intensity of the market. 
 Artificial Intelligence in Cyber Security Market Report Highlights
Aspects
Details
By Component

Software
Service
Hardware

By Deployment
By Technology

Context-Aware Computing
Machine Learning
Natural Language Processing

By Industry Vertical

Automotive & Transportation
Retail
BFSI
Manufacturing
Government & Defense
Enterprise
Oil & Gas
Education
Others

By Security Type

Network Security
Endpoint Security
Application Security
Cloud Security

By Application

Identity and Access Management
Risk and Compliance Management
Data Loss Prevention
Unified Threat Management
Security and Vulnerability Management
Antivirus
Fraud Detection
Intrusion Detection and Prevention System
Threat Intelligence
Others

By Region

North America (US, Canada)
Europe (Germany, UK, France, Spain, Italy, Rest of Europe)
Asia-Pacific (China, Japan, India, Australia, South Korea, Rest of Asia-Pacific)
LAMEA (Latin America, Middle East, Africa)

Key Market Players
NVIDIA Corporation, Cylance Inc., Amazon Web Services, Inc., Micron Technology, Inc., Darktrace, Vectra AI, Inc., Samsung Electronics Co., Ltd, Xilinx Inc., Intel Corporation, IBM Corporation