Artificial Intelligence In Sports Market Statistics: 2030
The global artificial intelligence in sports market was valued at $1.4 billion in 2020, and is projected to reach $19.2 billion by 2030, growing at a CAGR of 30.3% from 2021 to 2030. Artificial intelligence in sports is emerging all over the industry, covering post-game analysis, in-game activity, and the fan experience. AI is further being used to enhance the performance of players. Apps such as HomeCourt, ESPN Player, and MaxOne (M1) AI SmartCoach make use of computer vision and machine learning to assess basketball players' skills, giving them a good medium to improve. In addition, the recording of these performance metrics of athletes helps players to understand the areas where they have maximum potential to excel and the areas that still need improvement.
The COVID-19 outbreak had a negative impact on the growth of artificial intelligence in sports market owing to, shutdown of majority of the stadiums and decrease in overall investment in AI by sports industry. However, the number of application being used in sports industry increased exponentially during the lock down to keep the fan base growing
Increase in demand for monitoring and tracking data of players and surge in demand of chatbots and virtual assistants to interact with followers boost the growth of the global artificial intelligence in sports market. In addition, increase in demand for real-time data analytics positively impacts the growth of the market. However, lack of trained & skilled professionals and high implementation and maintenance cost hamper the market growth. On the contrary, increasing demand of AI for making future predictions is expected to offer remunerative opportunities for expansion of the market during the forecast period.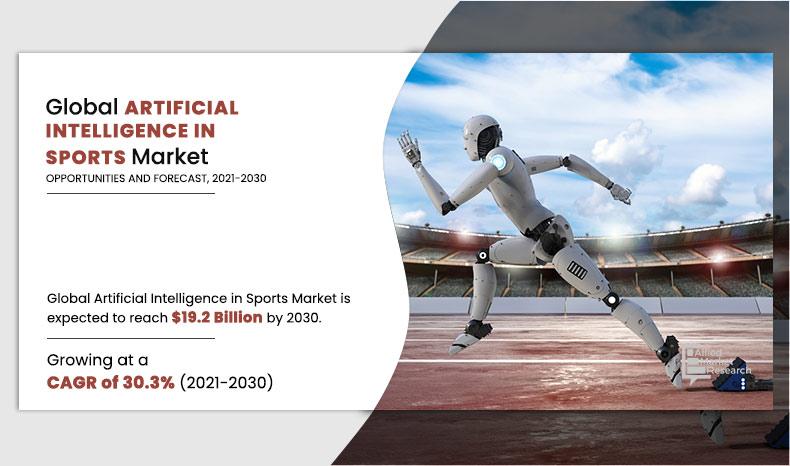 In terms of component, software segment holds the largest share of the artificial intelligence in sports market. This is atributed to the fact that the AI software is widely used by sports industry for several applications such as player tracking, training planning, customer management, and customer behavior analysis. However, the service segment is expected to grow at the highest rate during the forecast period, owing to increase in number of skilled workforce and need to maintain the security and working of the software. 
Region wise, the AI in sports industry was dominated by North America in 2020, and is expected to retain its position during the forecast period, owing to abundance of AI in sports solutions vendors such as Microsoft Corporation, IBM, and SAS, thus aiding the growth of the artificial intelligence in sports market. However, Asia-Pacific is expected to witness significant growth during the forecast period, owing to increase in technological investments in sectors such as cloud and digital technologies.
The report focuses on growth prospects, restraints, and analysis of the global artificial intelligence in sports market trends. The study provides Porter's five forces analysis to understand the impact of various factors, such as bargaining power of suppliers, competitive intensity of competitors, threat of new entrants, threat of substitutes, and bargaining power of buyers on the global artificial intelligence in sports market share.
Segment Review
The global artificial intelligence in sports market is segmented into component, deployment model, technology, application, sport type, and region. Depending on component, the market is bifurcated into solution and services. By deployment model, it is categorized into cloud and on-premises. On the basis of technology, it is fragmented into machine learning, natural language processing, computer vision, data analytics, and others. As per application, it is segregated into game planning, game strategies, performance improvement, injury prevention sports recruitment, and others. According to game type, it is classified into football, cricket, tennis, basketball, baseball, and others.Region wise, it is analyzed across North America, Europe, Asia-Pacific, and LAMEA.
Some of the key players operating in the global AI in sports industry include Catapult Group International Ltd, Facebook Inc., IBM Corporation, Microsoft Corporation, Salesforce.com Inc, SAP SE, SAS Institute Inc., Sportradar AG, Stats Perform, and Trumedia Networks. These players have adopted various strategies to increase their market penetration and strengthen their position in the industry.
Artificial Intelligence in Sports Market

---
By Component
Software segment is projected as one of the most lucrative segments.
Covid-19 Impact Analysis
The outbreak of COVID-19 is anticipated to have a positive impact on the growth of artificial intelligence in sports market. This is attributed to the fact that fans are experiencing the future of virtual contact sports firsthand—and some are starting to embrace it. In addition, owing to increase in COVID-19 cases, majority of sports stadiums restricted the number of viewers are adoption virtual spectatorship. Moreover, not only is AI-powered equipment allowing real-time streaming of sports events without the need for a camera operator but it is also be able to generate statistical models, tactical analysis, and prediction analytics that can assist coaches in maximizing the potential of their players. Furthermore, COVID-19 has forced many sports fans to consider the health and safety of players in an entirely new and acute way. Not only have fans become aware of the immediate need to protect players from the novel coronavirus but they are also re-evaluating how AI could reduce the risk of serious health consequences such as chronic traumatic encephalopathy (CTE).
Top Impacting Factors
Increase In Demand For Monitoring And Tracking Data Of Players
Emerging technologies such as AI, big data, and IoT are becoming essential components of sport in recent years, and are being used on a regular basis, especially in team sports for various applications such as monitoring movement patterns, which reveal important results regarding sport performance. In addition, AI analytics is helping to quantify these results and the kinematic profile of players using global positioning systems (GPS). These devices have been defined as a valid tool for evaluating the external load in intermittent sports, with capacity to record real-time data about time, speed, distance, position, altitude, and direction, which make them common in the analysis of team sports. Furthermore, the technology of a multiple-camera match analysis system, implemented in almost all European professional leagues and international competitions, has been demonstrated to be as reliable as GPS; it can obtain results in quantification with less than 5% of error, and has been proven valid for investigation. Thus, increase in use of these systems for physical and tactical performance studies in different elite competitions drives the growth of the global AI  in sports industry. 
Artificial Intelligence in Sports Market

---
By Technology
Machine learning segment is projected as one of the most lucrative segments.
Surge In Demand For Chatbots And Virtual Assistants To Interact With Followers
The demand for social media virtual assistants is growing at a significant pace, as they do everything a social media manager does. In addition, they take care of time-intensive social media tasks so that players can focus on their practices and team management. Furthermore, increase in popularity of players along with sports, has made it difficult for players to interact with each fan. 
This, in turn, can cause severe losses to the management of the team and the player, as majority of the income is generated from fans. In this case, virtual assistants can reply to comments, research hashtags, optimize their post, and send follow-up messages. Moreover, as virtual assistants operate from their own space, the player or the manager do not have to pay any operational costs such as investing in an office, furniture, and equipment, which would be indispensable if they were to hire a full-time employee. In addition, with advancement in chatbot technology, players can leave replying to messages to chatbots, which are now able to carry human-like conversations and adjusting their replies to fit different situations. Thus, surge in penetration of virtual assistants and chatbots to interact with fans and followers notably contribute toward the growth of the global AI in sports market.
Artificial Intelligence in Sports Market

---
By Region
Asia-Pacific would exhibit the highest CAGR of 34.6% during 2021-2030.
Key Benefits For Stakeholders     
The study provides an in-depth analysis of the global artificial intelligence in sports market forecast along with current & future trends to explain the imminent investment pockets.
Information about key drivers, restraints, & opportunities and their impact analysis on global deep learning market trend is provided in the report.
The Porter's five forces analysis illustrates the potency of the buyers and suppliers operating in the industry.
The quantitative analysis of the market from 2021 to 2030 is provided to determine the market potential.
 Artificial Intelligence in Sports Market Report Highlights
Aspects
Details
By Component
By Deployment Model
By Technology

Machine Learning
Natural Language Processing
Computer Vision
Data Analytics
Others

By Application

Game Planning
Game Strategies
Performance Improvement
Injury Prevention Sports Recruitment
Others

By Game Type

Football
Cricket
Tennis
Basketball
Baseball
Others

By Region

North America (U.S., Canada)
Europe (UK, Germany, France, Italy, Spain, Rest of Europe)
Asia-Pacific (China, Japan, India, Australia, South Korea, Rest of Asia-Pacific)
LAMEA (Latin America, Middle East, Africa)

By Key Market Players

Catapult Group International Ltd.
Facebook Inc.
IBM Corporation
Microsoft Corporation
Salesforce.com Inc.
SAP SE
SAS Institute Inc.
Sportradar AG
Stats Perform
Trumedia Networks