Artificial Marble Market Research, 2031
The global artificial marble market size was valued at $2.88 billion in 2021, and is projected to reach $4.58 billion by 2031, growing at a CAGR of 4.7% from 2022 to 2031.
Artificial marble is different from natural marble in terms of geological features and activities. Artificial marble is a man-made stone, which is made from stone powder, small marble debris, sand, plastic, quartz, cement, acrylic glue and composites. Artificial marble are of various types which include polyester, composite, cement and sintered artificial marble. Artificial marbles are used in residential and non-residential sectors. Its application consists of flooring, walls, countertops, furniture and others.
The COVID 19 outbreak has affected the growth of the artificial marble industry owing to the lockdown measure in different countries and delay in manufacturing and production of artificial marbles such as polyester, cement, composite, and other artificial marbles.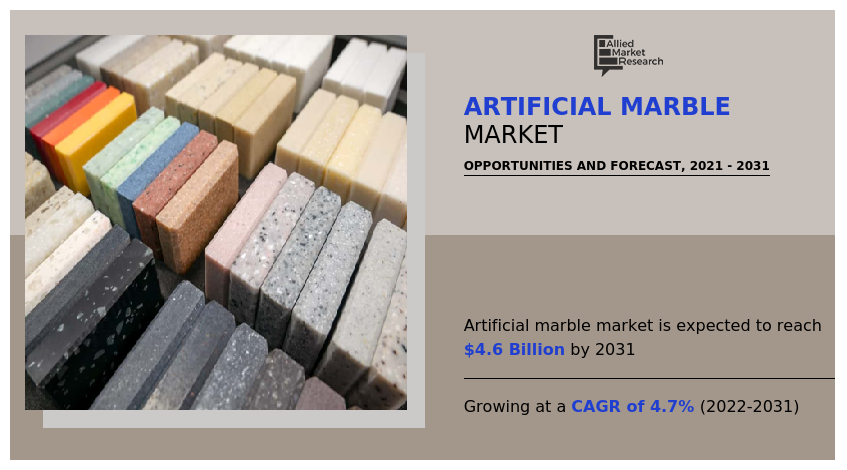 The market is expanding due to increase in use of artificial marble in various palliations such as walls, flooring, furniture, countertops and others. Moreover, artificial marble has various advantages over natural marble such as cost effectiveness, easy remodeling and reshaping according to customer preference, high durability, easy maintenance and better appearance. In addition, rise in construction sector in countries such as India, the U.S., Brazil, Germany and Spain, are providing lucrative growth opportunities for artificial marble during the forecast period. For instance, according to the Oxford Economics, the construction sector is projected to witness growth by 85% to $15.5 trillion across the world by 2030, with three countries China, the U.S., and India, leading the way and accounting for 57% of the global growth. Hence, such new construction activities are projected to positively impact the market growth during the forecast period. 
The artificial marble market is experiencing growth as a result of expanding rehabilitation and infrastructure activities. A change toward visually pleasing interior designs has occurred as a result of rising in personal disposable income, which is predicted to support market development. In addition, it is anticipated that increased construction spending in developing nations would favorably impact total market demand. Artificial marbles are used in the new constructed apartments, buildings, commercial complexes, and others for flooring purposes. The rise in new construction activities is one of the major factors that drive the growth of the market.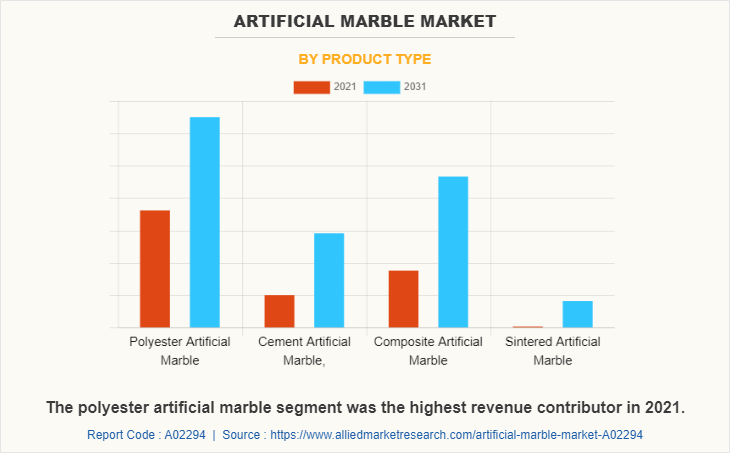 On the basis of product type, the polyester artificial marble segment generated the largest artificial marble market share in 2021, due to the increase in adoption of artificial marble in decorative mosaics and landscaping due to its high resistance to water damage and attractive appearance is a key factor that boosts the growth of the market. In addition, artificial marbles are required in the construction of temples and religious places in developing countries. An increase in investments in expansion and renovation of buildings and tourist places are anticipated to drive the artificial marble market growth in the near future.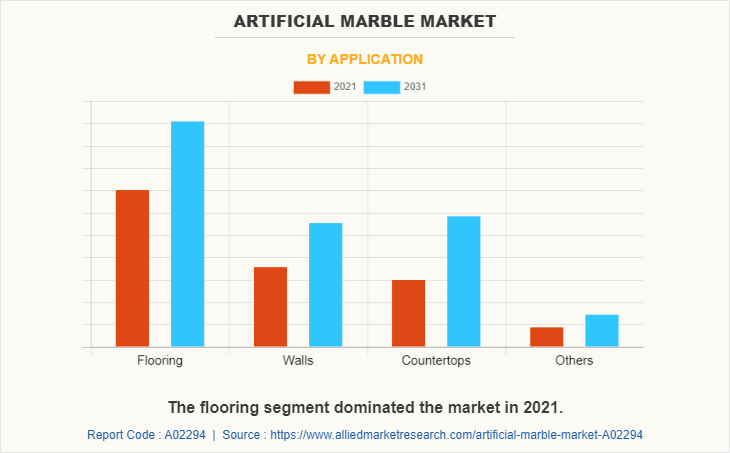 On the basis of application, the flooring segment accounted for the highest revenue in the global market in 2021 owing to the expanding market for artificial marble in commercial structures including malls, universities, and large complexes.
The novel coronavirus (COVID-19) rapidly spread across various countries and regions in 2019, causing an enormous impact on lives of people and the overall community. It began as a human health condition and has now become a significant threat to global trade, economy, and finance. The COVID-19 pandemic halted production of many products in the artificial marble market, owing to lockdowns. Furthermore, the number of COVID-19 cases is expected to reduce in the future with the introduction of the vaccine for COVID-19 in the market. This has led to reopening of artificial marble companies at their full-scale capacities. This is expected to help the market recover by the end of 2022. After COVID-19 infection cases begin to decline, equipment & machinery producers must focus on protecting their staff,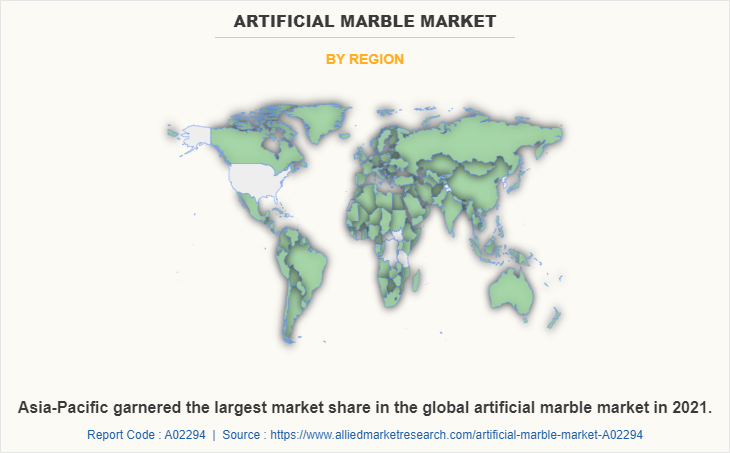 On the basis of region, Asia-Pacific registered the highest revenue in 2021 and is expected to register the highest CAGR in the artificial marble market forecast period. Owing to the rise in infrastructure activity in the region. Moreover, growth in construction activities owing to rapid urbanization & industrialization is estimated to boost the demand for artificial marble. Hence, the utilization of artificial marble market in new construction for a sustainable environment is expected to provide lucrative growth in the market in the future. operations, and supply networks to respond to urgent emergencies and establish new methods of working.
The artificial marble market is segmented into Product type, Application, and End User. On the basis of product type, the market is divided into polyester artificial marble, cement artificial marble, composite artificial marble, and sintered artificial marble. On the basis of application, the market is divided into new construction and renovation & reconstruction. On the basis of end-user, the market is divided into residential and non-residential. Region-wise, the market analysis is conducted across North America (the U.S., Canada, and Mexico), Europe (UK, France, Germany, Italy, Spain, Russia, Poland, Netherland, Sweden, and the Rest of Europe), Asia-Pacific (China, Japan, India, South Korea, Australia, Thailand, Indonesia, Vietnam and Rest of Asia-Pacific), and LAMEA (Brazil, Argentina, Saudi Arabia, UAE, South Africa, Nigeria and Rest of LAMEA).
The key players that operating in the artificial marble industry are Aristech Surfaces LLC, Classic Marble & Stone, Cupa Group, DuPont, Guangdong Legend Stone Co. Ltd, Hari Stones Ltd, Hfrtub Co. Ltd., Hyundai L & C Europe GMBH, Kalinga Stone, Lotte Chemical, LX HAUSYS, MARMIL S.A, Owell, Southland Stone, WANFENG, XISHI GROUP LTD and Yunfu City Liji Stone Co., Ltd.
Key Benefits For Stakeholders
This report provides a quantitative analysis of the market segments, current trends, estimations, and dynamics of the artificial marble market analysis from 2021 to 2031 to identify the prevailing market opportunities.
The market research is offered along with information related to key drivers, restraints, and opportunities.
Porter's five forces analysis highlights the potency of buyers and suppliers to enable stakeholders make profit-oriented business decisions and strengthen their supplier-buyer network.
In-depth analysis of the artificial marble market segmentation assists to determine the prevailing artificial marble market opportunities.
Major countries in each region are mapped according to their revenue contribution to the global market.
Market player positioning facilitates benchmarking and provides a clear understanding of the present position of the market players.
The report includes the analysis of the regional as well as global artificial marble market trends, key players, market segments, application areas, and market growth strategies.
 Artificial Marble Market Report Highlights
Aspects
Details
By Product type

Polyester Artificial Marble
Cement Artificial Marble,
Composite Artificial Marble

Construction type

New Construction
Renovation

Sintered Artificial Marble

By Application

Walls
Countertops
Others
Flooring

By End User

Residential
Non-Residential

By Region

North America (U.S., Canada, Mexico)
Europe (UK, Italy, Spain, Russia, Poland, Netherlands, Sweden, Rest of Europe, Germany, France)
Asia-Pacific (China, India, Japan, South Korea, Australia, Thailand, Indonesia, Vietnam, Rest of Asia-Pacific)
LAMEA (Brazil, Argentina, Saudi Arabia, UAE, South Africa, Nigeria, Rest of LAMEA)

Key Market Players
Hyundai L & C Europe GMBH, Yunfu City Liji Stone Co., Ltd. Engineering, Cupa Group, Hari Stones Ltd, Classic Marble & Stone, XISHI GROUP LTD, Aristech Surfaces LLC, Owell, DuPont, Guangdong Legend Stone Co., Ltd, Kalinga Stone, WANFENG, MARMIL S.A, Lotte Chemical, Southland Stone, Hfrtub Co. Ltd., LX HAUSYS