MICE Industry Market Overview:
The Asia-Pacific MICE industry generated revenue of $229.0 billion in 2017, and is expected to grow at a CAGR of 8.6% to reach $441.1 billion by 2025. The term MICE in the context of travel is an acronym for meetings, incentives, conferences, and exhibitions. It represents tourism that includes business events and activities. The attendees of MICE are basically business travelers engaged in business activities such as client meetings, brand promotions, employee training activities, & others. These business travelers are connected to different sectors of the tourism and hospitality industry through their MICE activities. Substantial development of the travel & tourism sector has fueled the demand for MICE industry.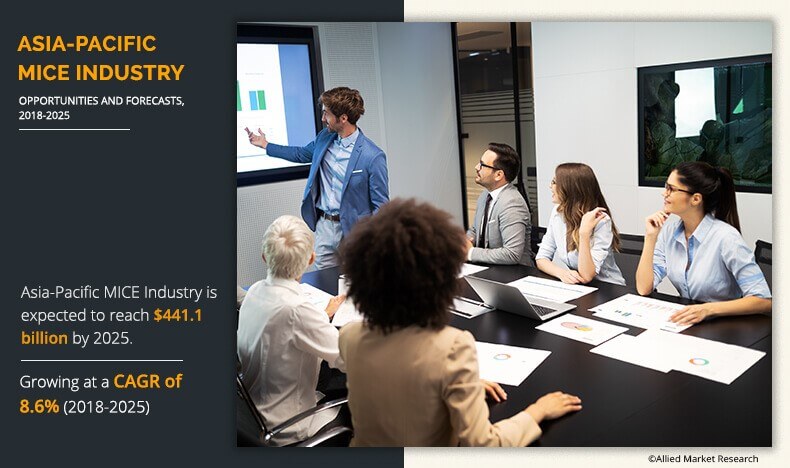 Asia-Pacific MICE industry is segmented based on event type and country. Based on event type, the market is classified into meetings, incentives, conventions, and exhibitions. By country, it is analyzed across China, India, Singapore, Thailand, Indonesia, Australia, New Zealand, Japan, Malaysia, South Korea, Vietnam, Hong Kong, and rest of Asia-Pacific.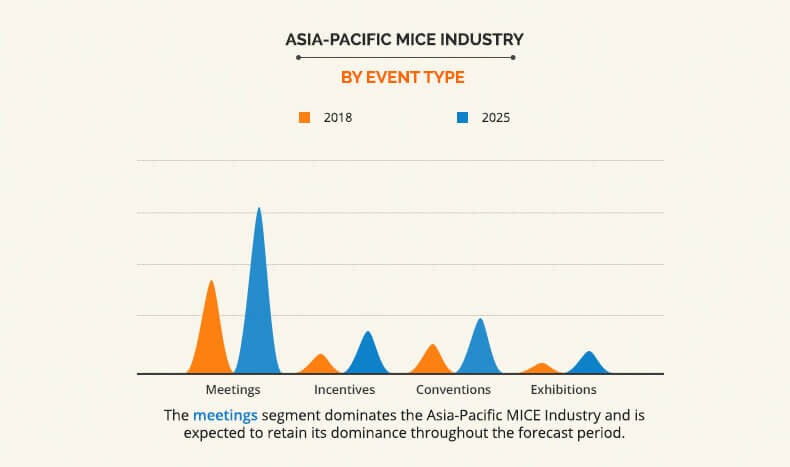 In 2018, the meetings segment dominated the Asia-Pacific MICE industry accounting for $159.4 billion, and is expected to grow at a notable CAGR of 8.5% during the forecast period. This is attributed to positive economic trends, improvement in the infrastructure, and enhanced tourism combined with global expansion of Asian companies. Recent trends of organizing hybrid meetings and use of social media and meeting apps are also expected to boost market growth in the near future.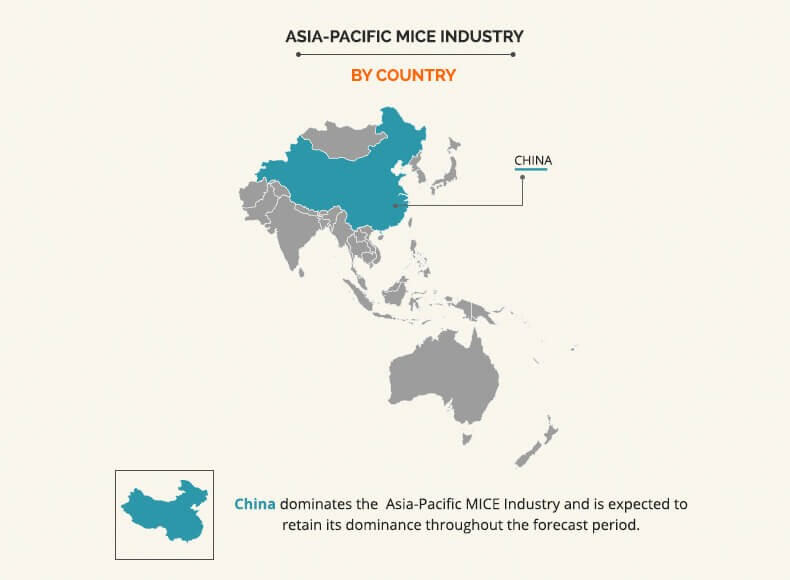 By country, China is expected to remain dominant and grow at a steady pace in the Asia-Pacific MICE industry. Shanghai and Beijing hosted the majority of MICE trips in China over the last 12 months, followed by Guangzhou, Hong Kong, and Macau. The key industry segments boosting the growth for MICE industry in China are manufacturing, utility & agriculture, and forestry & fishing. Moreover, increase in aging population is anticipated to boost the growth of the healthcare industry and social work segment. Increase in business travel activities from these industries is further anticipated to support the growth of the market
The leading players in the FMCG market focus on providing customized solution to consumers as their key strategies to gain a significant share in the market. The key players profiled in the report include Questex, LLC, CWT Meetings & Events, IBTM Events, BCD Meetings and Events, Capital Travel and Events, CiEvents, Conference Care Ltd., The Freeman Company, ATPI Ltd., and Interpublic Group of Companies, Inc.
Key Benefits for MICE Industry Market:
This report provides a quantitative analysis of the current trends, estimations, and dynamics of the Asia-Pacific MICE industry from 2018 to 2025 to identify the prevailing market opportunities.

The key countries in all the major regions are mapped based on their market share.

Porters five forces analysis highlights the potency of buyers and suppliers to enable stakeholders to make profit-oriented business decisions and strengthen their supplierbuyer network.

In-depth analysis of the market segmentation assists in determining the prevailing market opportunities.

Major countries in Asia-Pacific MICE industry are mapped according to their revenue contribution to the industry. Market player positioning segment facilitates benchmarking and provides a clear understanding of the present position of market players.

The report includes the analysis of the key players, market segments, application areas, and growth strategies.
 Asia-Pacific MICE industry by Event Type Report Highlights
Aspects
Details
By Event Type

Meetings
Incentives
Conventions
Exhibitions

By Country

China
India
Singapore
Thailand
Indonesia
Australia
New Zealand
Japan
Malaysia
South Korea
Vietnam
Hong Kong
Taiwan
Rest of Asia-Pacific

Key Market Players
IBTM EVENTS, CWT MEETINGS & EVENTS, ATPI LTD., CONFERENCE CARE LTD., QUESTEX LLC, INTERPUBLIC GROUP OF COMPANIES, INC., CIEVENTS, BCD MEETINGS AND EVENTS, THE FREEMAN COMPANY